Last updated on September 23rd, 2023
Read through our Osaka food post and review to decide on the best Okonomiyaki in Osaka. The top 3 best Okonomiyaki in Osaka are Kiji, Fukutaro, and Mizuno.
Okonomiyaki is one of the best delicacies of Osaka. One couldn't resist the try on this Osaka specialty when visiting here. Okonomiyaki is a kind of savory pancake. The main recipe is made from eggs, flour, grated yam, and shredded cabbage. You can add different ingredients to make your flavor of Okonomiyaki. For example pork, squid, shrimp, beef, seafood, and more.
Osaka is known for the best okonomiyaki in Japan. This local specialty is always one of the must-eat food when visiting Osaka. However, there are so many okonomiyaki shops. I am sure you'd find it difficult to decide where to eat the best okonomiyaki. I tried on a few Okonomiyaki restaurant in Osaka. All are very delicious and unique by its taste. Still, it is very hard to judge for the best okonomiyaki in Osaka.
Looking at this common question. We listed the top 3 Okonomiyaki restaurant in Osaka to ease on your Osaka food hunt. All are highly recommended by locals.
1. Kiji: Local's Favorite Okonomiyaki in Osaka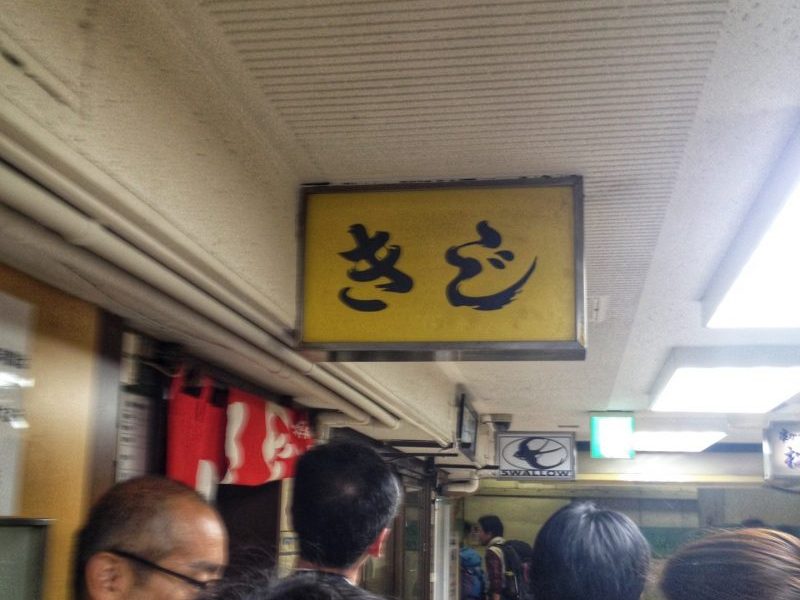 First of all, we recommended Kiji (きじ 本店) as one of our top 3 best okonomiyaki in Osaka. Kiji is a popular little shop located at the quaint basement of Umeda sky building. There is no sign to point you to this best Okonomiyaki shop in Osaka. However, there is always a line in front to try on their okonomiyaki.
Okonomiyaki from Kiji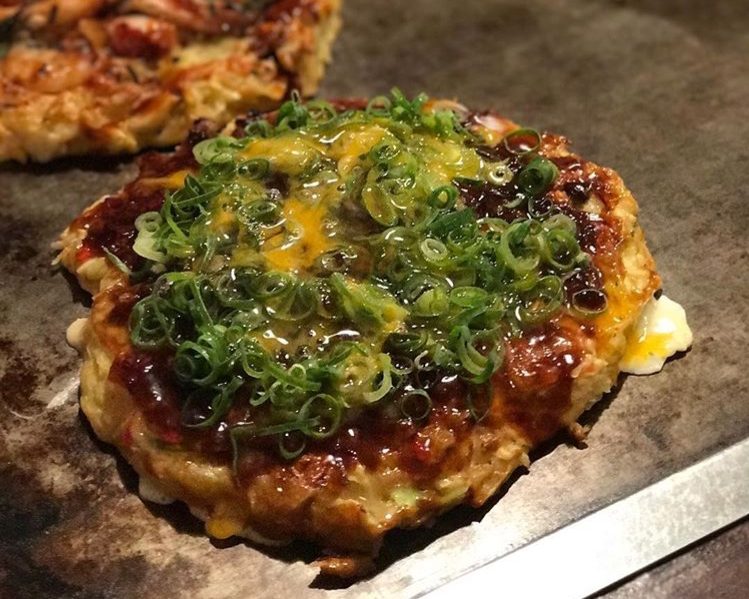 Kiji only served okonomiyaki and yakisoba. You can choose from seafood, beef or pork. Besides, depend on where you are seated. You can choose to seat at the counter bar or table. The chef is cooking at the hotplate in front of the bar seats. Next, it will be transferred and keep warm at your hotplate build at the table.
Eating in Kiji is an enjoyable moment. The staffs were super friendly and attentive even when they didn't speak English very well. They try their best to explain if you have any questions.
The Okonomiyaki served in Kiji was flavorful and filling. It is well deserved for the best Okonomiyaki in Osaka with its reputation. Moreover, Kiji is listed in the Michelin Guide Kyoto/Osaka 2017 Bib Gourmand. So expected to wait especially during peak hour. A must try in Osaka.
Top 1 Okonomiyaki in Osaka: Kiji
Address: Shin-Umeda Shokudogai, 9-20 Kakuta-cho, Kita-ku, Osaka-shi, Osaka.
Operating hours: Daily from 11:30 to 21:30. Closed on Sunday.
How to get to Kiji: It is located inside the basement of the Umeda Sky Building. To get there, there is within walking distance from Osaka station.
2. Fukutaro: Okonomiyaki or Negiyaki?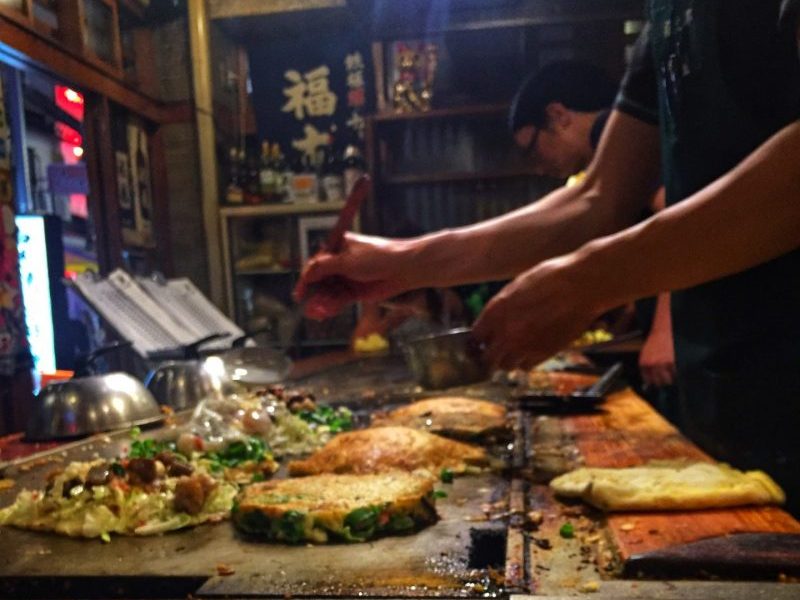 Secondly, Fukutaro (福太郎) is one of the top three must-try Okonomiyaki restaurant in Osaka. Fukutaro is an Okonomiyaki-specialized restaurant in Osaka, especially in the Namba area. It is located within 5 minutes' walk from Namba station from Midosuji Line. So it is easy access to the shop.
We visited Fukutaro in the early evening during our 2 days in Osaka. However, there already have people line up and waiting for their table to try on the Okonomiyaki. Added, friendly reminder for those who want to try okonomiyaki in Fukutaro. Remember to write down your name and party on the waiting list.
Okonomiyaki from Fukutaro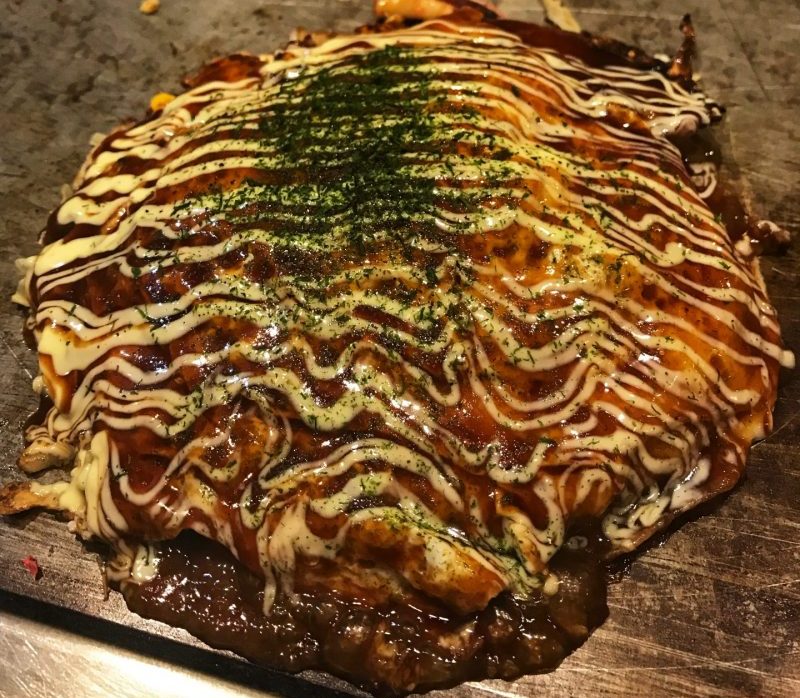 Compare with Kiji and Mizuno, Fukutaro is slightly bigger and can fit for 20 to 25 people. The preparation of Okonomiyaki is in the middle of the shop with customers seated surround the square counter. It will be cooked and then served on the hot plate in front of you.
We had our best seated close to the cooking hotplate. The okonomiyaki was being made in front of us. We were able to watch all the cooking processes of okonomiyaki before served to all the customers. While the chef was cook all the Okonomiyaki orders while you watch. It was a truly amazing experience.
Aside from the regular okonomiyaki, Fukutaro is particularly popular for its Negiyaki with lots of green onions in place of cabbage. We ordered Negiyaki, Yakisoba, and Okonomiyaki to try on different varieties. All of us agree that Negiyaki was the best choice we made. It is slightly thinner compare with regular Okonomiyaki. But it has some freshness taste, probably due to the green onion.
Related food blog: Fukutaro: The Taste of Best Okonomiyaki in Osaka
All in all, eating Okonomiyaki in Fukutaro is a great dining experience. Reasonable price for a tasty meal with a great atmosphere in Osaka. Side note, Fukutaro also listed in the Michelin Guide Kyoto/Osaka 2017 Bib Gourmand.
Top 2 Okonomiyaki in Osaka: Fukutaro
Address: 2 Chome-3-17 Sennichimae, Chuo Ward, Osaka, 542-0074, Japan
Operating hours: Weekday from 17:00 to 23:30 and weekend from 12:00 to 23:00
How to getting to Fukutaro: 5 minutes' walk from Namba station.
3. Mizuno: Michelin Star Okonomiyaki in Osaka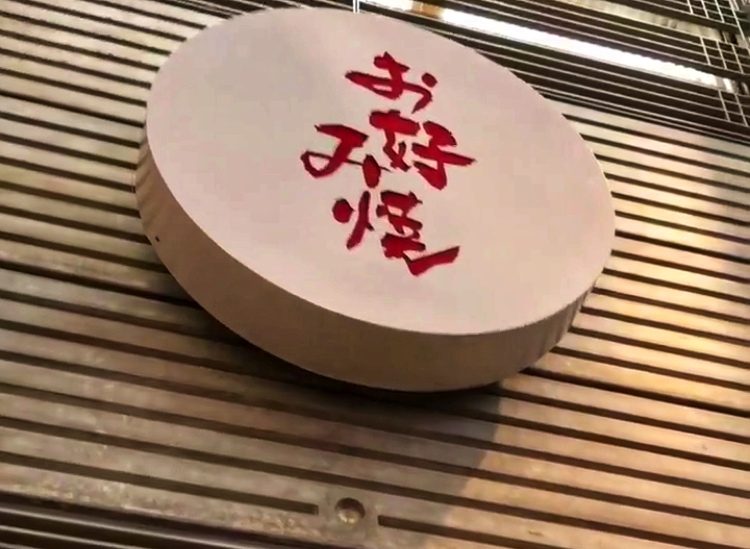 Lastly, Mizuno (美津の) is the Michelin star Okonomiyaki restaurant in Osaka. It has been awarded 4 consecutive years of Osaka Michelin guide since 2016. The shop is located nearby Dotonburi and easy to drop by while you are at Dotonburi.
Prepare to wait in line especially in peak hour to try on this best Okonomiyaki restaurant in Osaka. Similar to most of the traditional Japanese restaurant. Mizuno is a small restaurant with limited seats. However, the queue moved pretty fast. The staff will take your orders in advance while waiting in line. Meanwhile, the kitchen was ready to start preparing your order as soon as you're seated.
Wide menu with multiple types of okonomiyaki available for you to choose on. Additionally, you can also opt for more or less sauces, spring onions, and flakes. Due to the extra popularity, you are not allowed to add on any other orders. Added, take note that the minimum one dish per person.
Okonomiyaki from Mizuno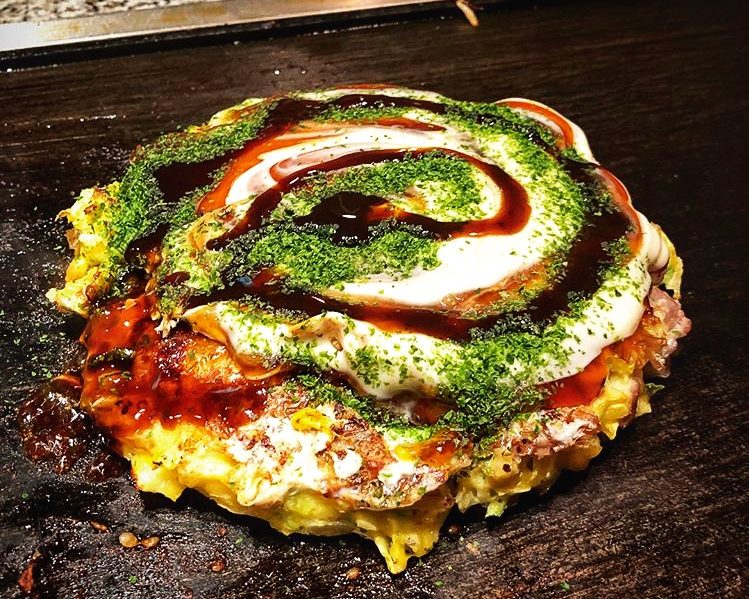 The okonomiyaki served from Mizuno is tasty and with decent quality. As per what we had expected, the flavors are amazing and melt in your mouth. Added, the price was reasonable for the Michelin star restaurant dining experience in Osaka.
Due to the efficient ordering, we finished our meal within 40 minutes. However, the service may not as good as other Japanese restaurants due to its popularity. That is to say, we take this as one of the food tour adventures in Osaka. In short, Mizuno one of our favorites, and must eat while we were in Osaka.
Top 3 Okonomiyaki in Osaka: Mizuno
Address: 1 Chome-4-15 Dotonbori, Chuo Ward, Osaka, 542-0071, Japan
Operating hours: Daily from 11:00 to 22:00.
How to get to Mizuno: 5 minutes' walk from Namba station.
Conclusion: Best Okonomiyaki in Osaka
All in all, eating okonomiyaki is an inexpensive meal in Osaka. The top three Okonomiyaki restaurants above are highly recommended if you look for what to eat in Osaka. All the shops are very popular among locals and visitors. Don't be discouraged by the line of people, the wait is worth it!
Meanwhile, this okonomiyaki food review is part of my travel post during my Kansai trip. We truly enjoy the sightseeing itinerary and food tour to Osaka, Kyoto, Uji, and Nara. If you are interested, continue to read on my travel itinerary below. Happy travel and food hunting in Osaka!
To sum up, our Kansai Japan itinerary for 7 days including:
Osaka itinerary
Osaka Must Eat Food: Top 8 Unique Food To Eat in Osaka
Kyoto itinerary: 
Next, Kyoto Must Try Food Guide: Top 7 Must Eat Food in Kyoto
Best Day trip from Kyoto or Osaka:
Kansai Japan Transport Guide: