Last updated on September 23rd, 2023
Pablo's original cheesecake is one of Osaka must-try desserts. Be sure to try this freshly bake cheesecake that can just melt in your mouth.
Japan's kitchen, Osaka is world-renowned for its culinary delights. There are so many mouthwatering foods such as takoyaki, okonomiyaki, ramen, and other delicious food that are offering a culinary experience when visiting Osaka. PABLO, an original cheesecake house that original from Osaka, is one of the must-try food that you hardly can't miss once in Osaka.
In fact, I am not a dessert lover but still, I am highly recommended their freshly baked cheesecake. The excellent original cheesecake and cheese tart from Pablo is so delicious and creamy.
Definitely one of the places to include in your Osaka itinerary is to try on the Pablo Cheesecake at their flagship store in Shinsaibashi. Read on my visit to the Pablo Dotonbori Osaka for their signature cheesecake here!
Osaka Travel Tips:
When looking for the best price and biggest selection of hotels in Osaka check prices for
Osaka Best Hotel from Booking.com
. We found they are the best option and have a great cancelation policy.
PABLO Dotonbori Osaka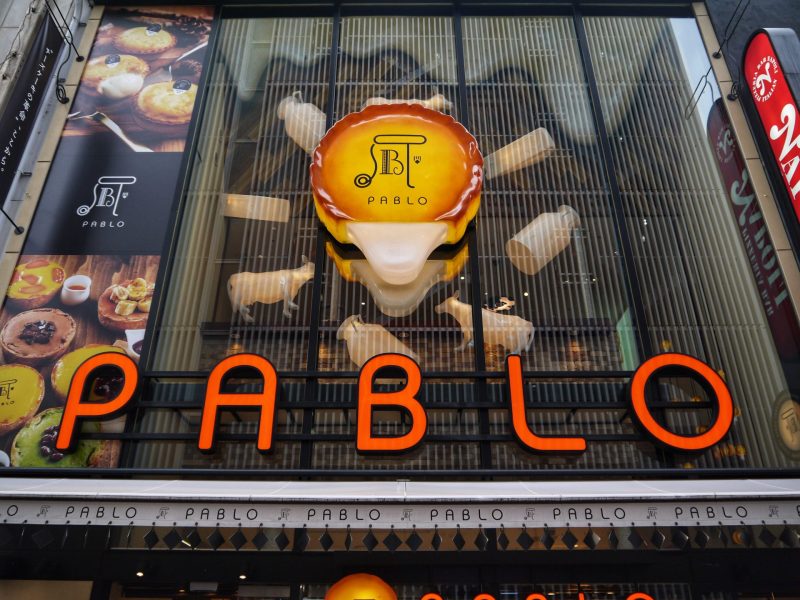 First starting in Osaka, Pablo now with more than 20 shops in Japan, primary in Osaka, and Tokyo. Although Pablo Cheesecake had been expanding their business with branches in foreign countries, we highly recommended trying their here. The reason is simple. The cheesecake in Pablo Japan is much more delicious than the one in a foreign country.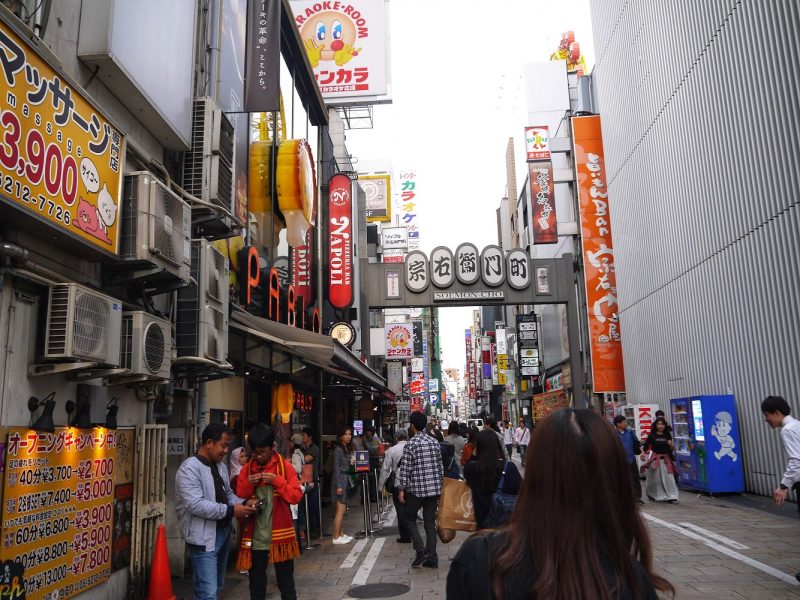 We visited PABLO Dotonbori, located nearby the Shinsaibashi bridge. Pablo has several stores in Osaka but the Dotonbori Pablo is the largest one with a cafe setting. It was about easy walking distance from our hotel stayed in Osaka, Cross Hotel Osaka.
Our day was an itinerary-packed with Osaka Amazing Pass and we decided to have a dessert break in the late afternoon. It was about 4 pm with a long queue when we reached the Pablo Dotonbori Osaka. We joined the line and luckily the wait time wasn't too bad with about 15 minutes for our turn.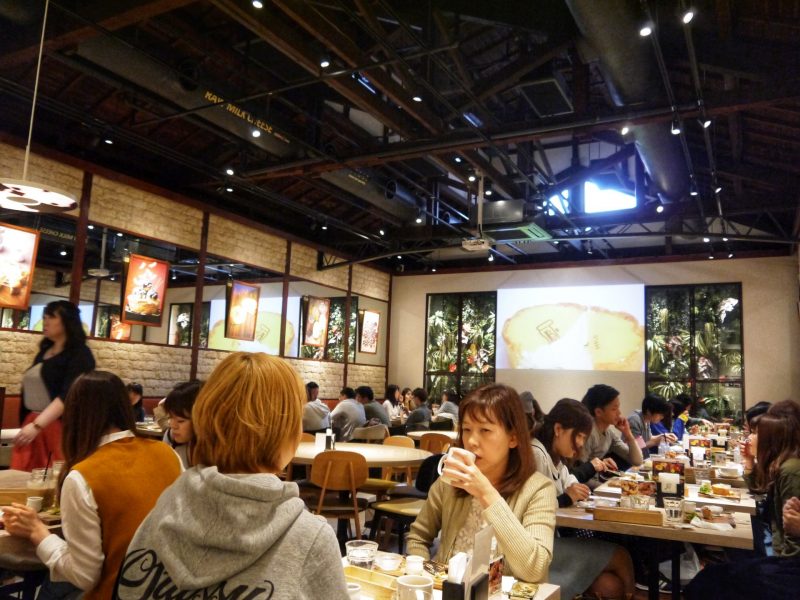 We were served on the second floor with a spacious seating area. The whole dining area was full of people including locals and visitors. Many people are enjoying their afternoon break with these popular delicacies of cheesecake in Pablo.
Pablo Dotobori Osaka with a wider product line up with various flavors such as green tea, melon, chocolate, and more. The original cheesecake is great to try and they even have a seasonal limited that introduced every month.
Delicious Cheesecake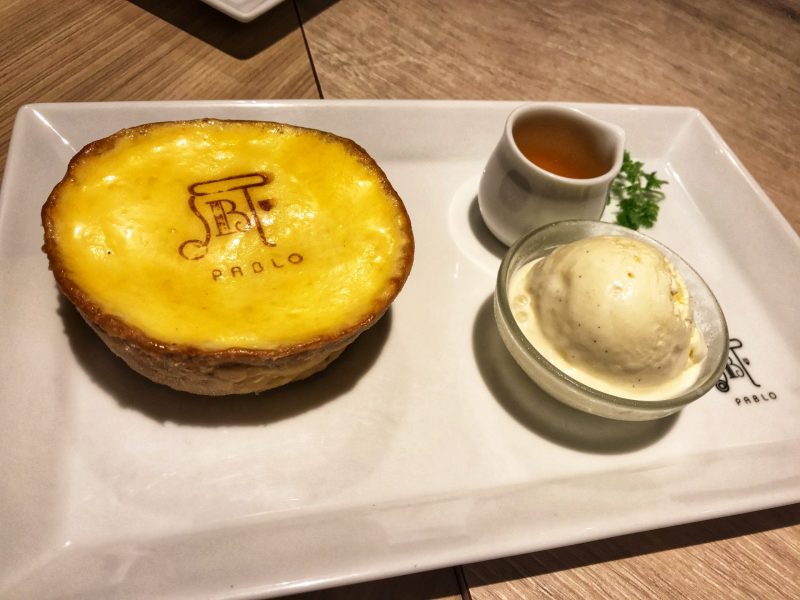 We ordered the original cheesecake and green tea cheesecake with ice-cream to try on. Without a long wait, our Pablo cheesecakes were served. It looks so soft and creamy. Can't wait to have our first try.
The cheesecake itself was quite big and can be catered to 2 to 3 people. Once cut open, the cheese would flow slowly! The cheesecakes are made fresh daily which guarantees their freshness.
My first attack was the original cheesecake that can be dipped into the vanilla ice cream. The cheesecake is so smooth, creamy, and tasty. The tart baked crust was so crispy and the cheese filling was so soft with a nice texture. It was expectedly delicious but the cheese ice cream makes it even more amazing!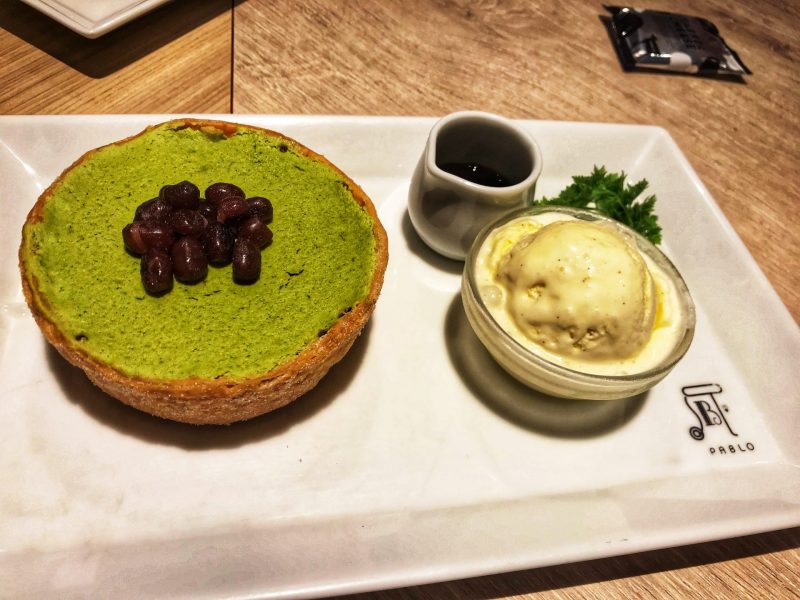 We also try the matcha cheesecake and it was full of matcha flavor. It was perfectly matched with the crispy crust. It was not too sweet and melts in my mouth. Highly recommended to try it!
We enjoyed our afternoon break with this delicious Pablo cheesecake in Dotonbori Osaka.
Besides the popular signature cheesecake, PABLO also serves a wider variety such as cheese-tart, biscuits, cookies, and more. Take a look if you are interested to try on.
Osaka Best Dessert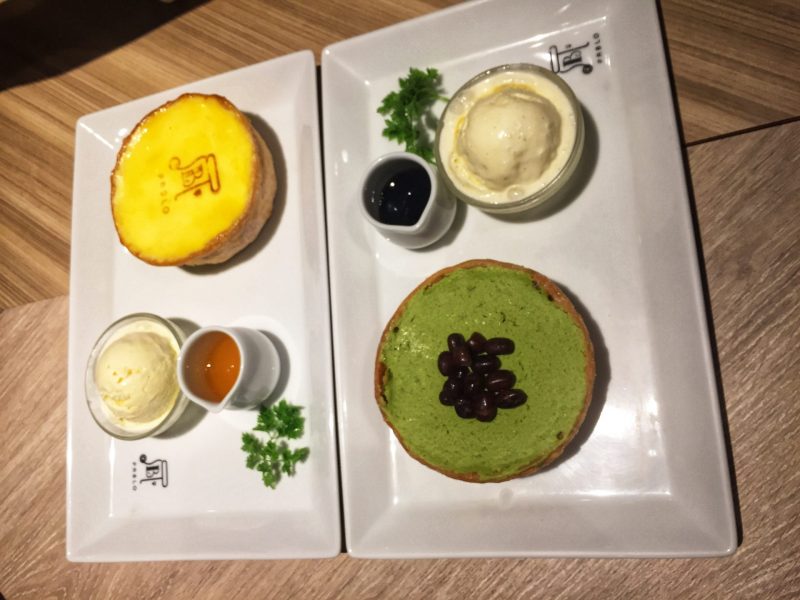 All in all, I am truly fall in love with Pablo cheesecake. My top favorite, of course, is the original one, and the matcha goes in the second. Although the price for this Osaka best dessert is not cheap but definitely one of the best cheesecakes we have tasted. Worth the money!
If the waiting line is too long, you may consider taking away options. Friendly reminder, the cheesecake will keep for about 6 hours and it will stay fresh in your fridge for up to 3 days just in case you can't finish it. But, my advice is to always eat it after you purchase it so that the cheese will still freshly melt.
Lastly, this Osaka food blog is part of our Japan Kansai Travel Series. If you are interested, continue to read also our other blog posts on How to Plan Your 7 Days Kansai Japan itinerary.
Related Kyoto and Osaka travel blog:
Kyoto Food Guide: Top 7 Must Eat Food in Kyoto
Osaka Food Guide: Top 8 Unique Food To Eat in Osaka
For transportation guide on How to travel to Osaka, Kyoto & Nara: