Last updated on September 23rd, 2023
We tried on Takayama Kotte Ushi Hida beef sushi, a signature dish that just melted in your mouth. Must-try food in Takayama and highly recommended.
Hida beef is always one of my must-try food when visiting Takayama. This signature food is served with yakiniku style, steak skewer, burger, steam bun and variety of cooking methods. But for sure the most unique is served in nigiri sushi.
Located at the old town of Takayama, Hida Kottegyu (こって牛) is easily spotted when wandering around in Sanmachi Street. It is a small shop but always a long queue in front. People lined up just taste on its best Hida beef sushi in Takayama. Kotte Ushi's Hida beef sushi is popular among foreign and even local Japanese.
We visited and tasted on Kottegyu's beef sushi as part of my Takayama itinerary. It was located in the center of Sanmachi street with 10 minutes of walk from my stay Takayama Country Hotel.
Read on my food experience on Takayama Kottegyu Hida beef sushi. One of the must-try food in Takayama.
What To Order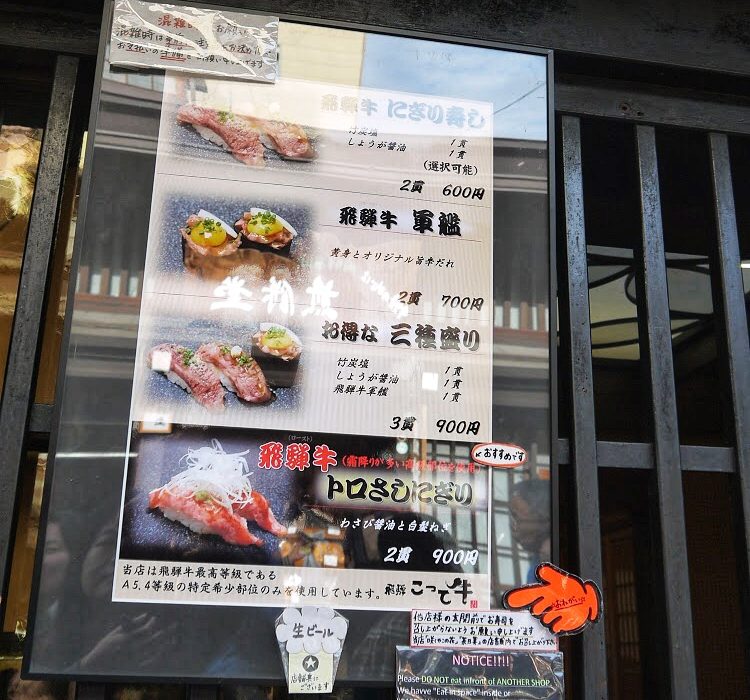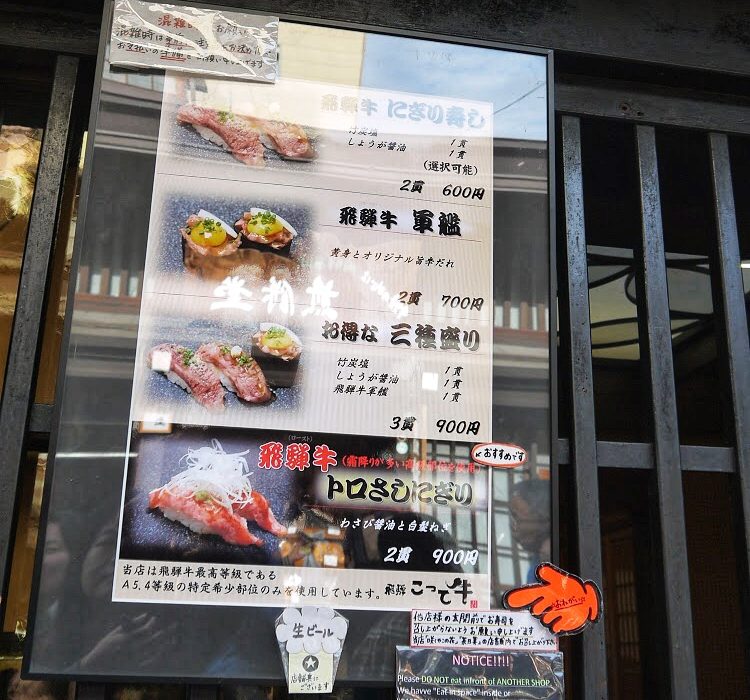 The menu of Kotte Ushi is very simple and easy to order. There are only 4 things to choose which labeled as Set A, B, C, and X.
Set A: A pair of roasted Hida beef sushi simply with salt and soy sauce.
Set B: A pair of Gunkan beef sushi with diced Hida beef and raw quail egg.
Combo Set C: Three pieces of Hida beef sushi from Set A and Set B.
Set X: A premium raw Hida beef sushi in sirloin cut
While Set C is a nice option as it has all types of combo from A and B. However, my friend was not a big fan of quail raw egg. So we decide to go the Set A and Set X to share.
Note: The price increase since our last visit to Takayama.
The Taste of Best Hida Beef Sushi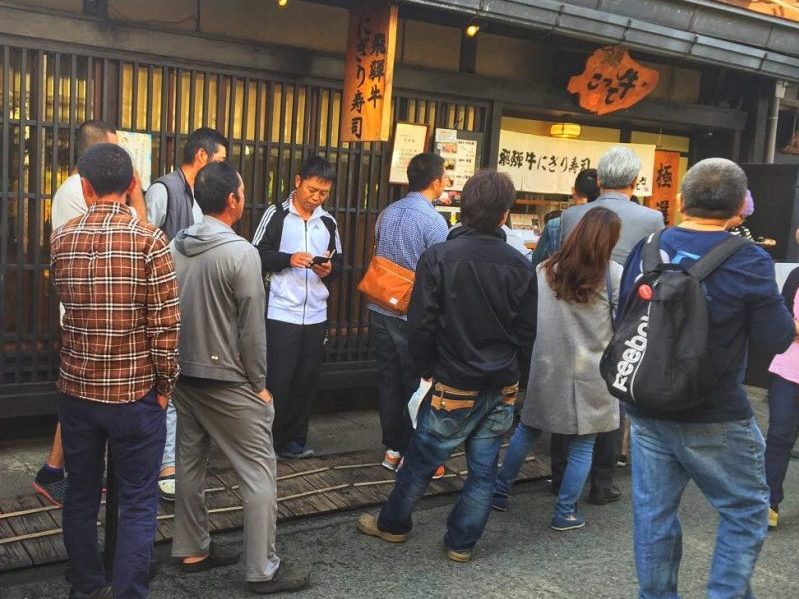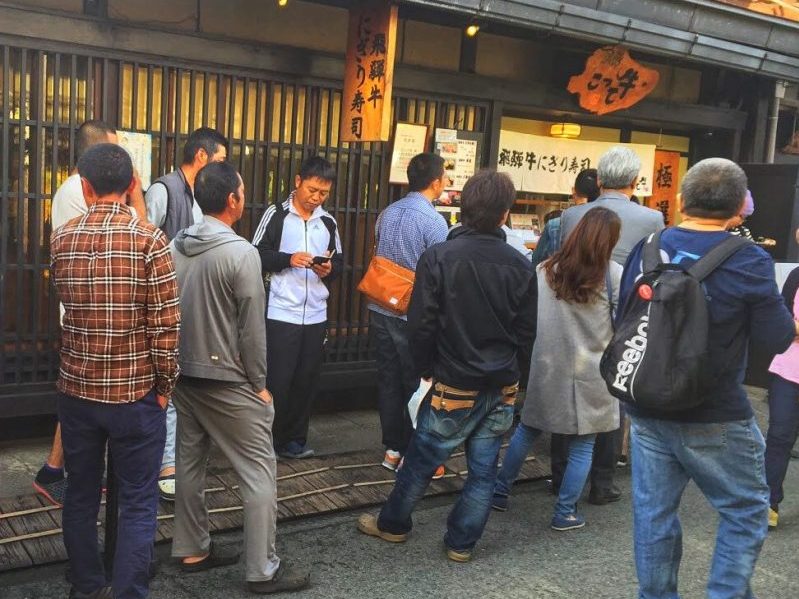 As expected, there were already people lined up at Takayama Kotte Ushi when we reached. We followed the line to order our Hida beef sushi. Although there were about 20 people lined up in front, the queue moved pretty fast.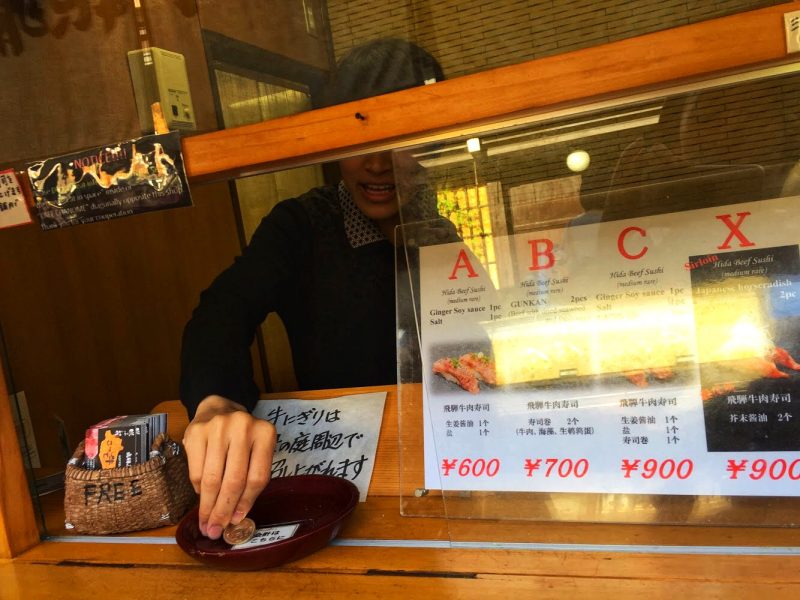 We paid through an open window and a woman worked on serving out our Hida beef nigiri. The best thing is the food is made as you order so you will receive guaranteed freshness.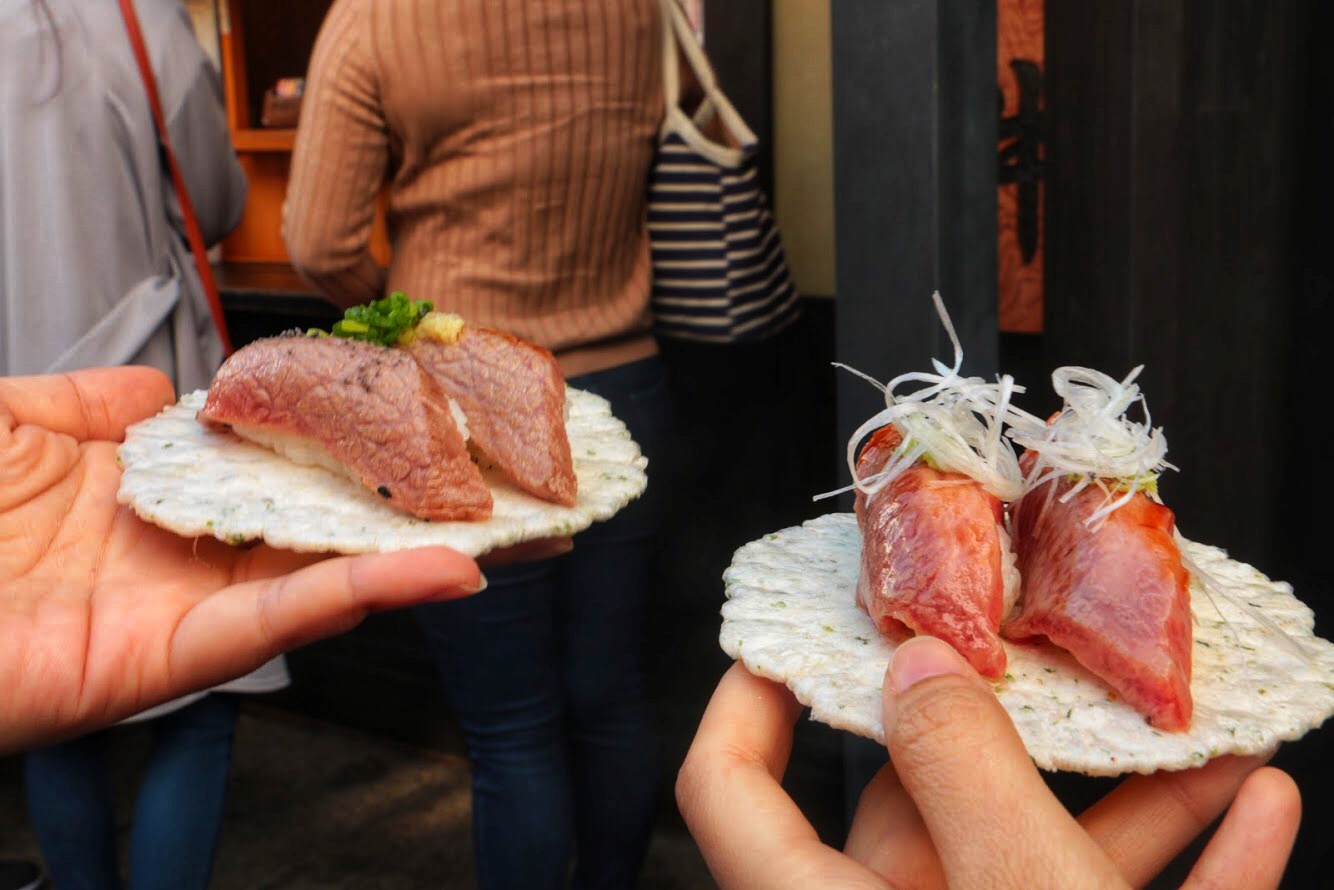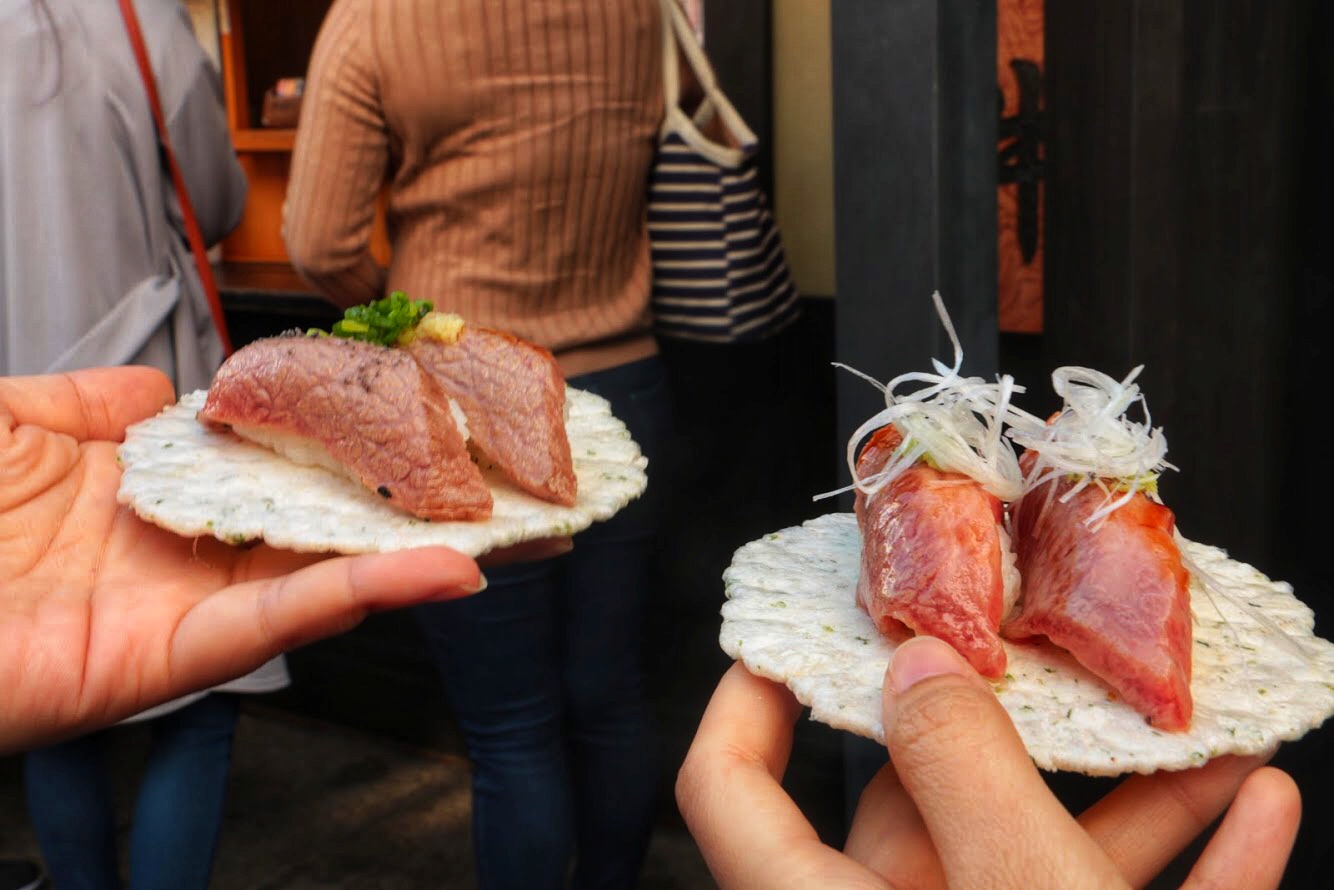 We managed to get our order in about 15 minutes. It looked so pretty and beautifully plated on a senbei rice cracker.
See the difference between Set A and Set X.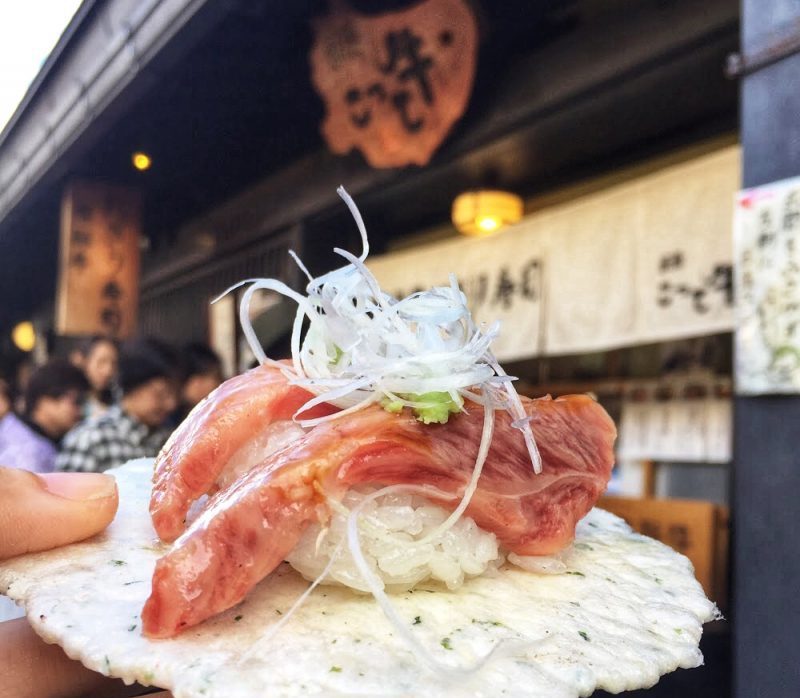 We all agree that Set X was our favorite. It was so juicy and melted flavorful once put inside the mouth. I even can feel my mouth was full of the flavor of beef.
The taste was similar to flavorful toro sushi. But you will never realized that it was beef sushi. Amazingly delicious!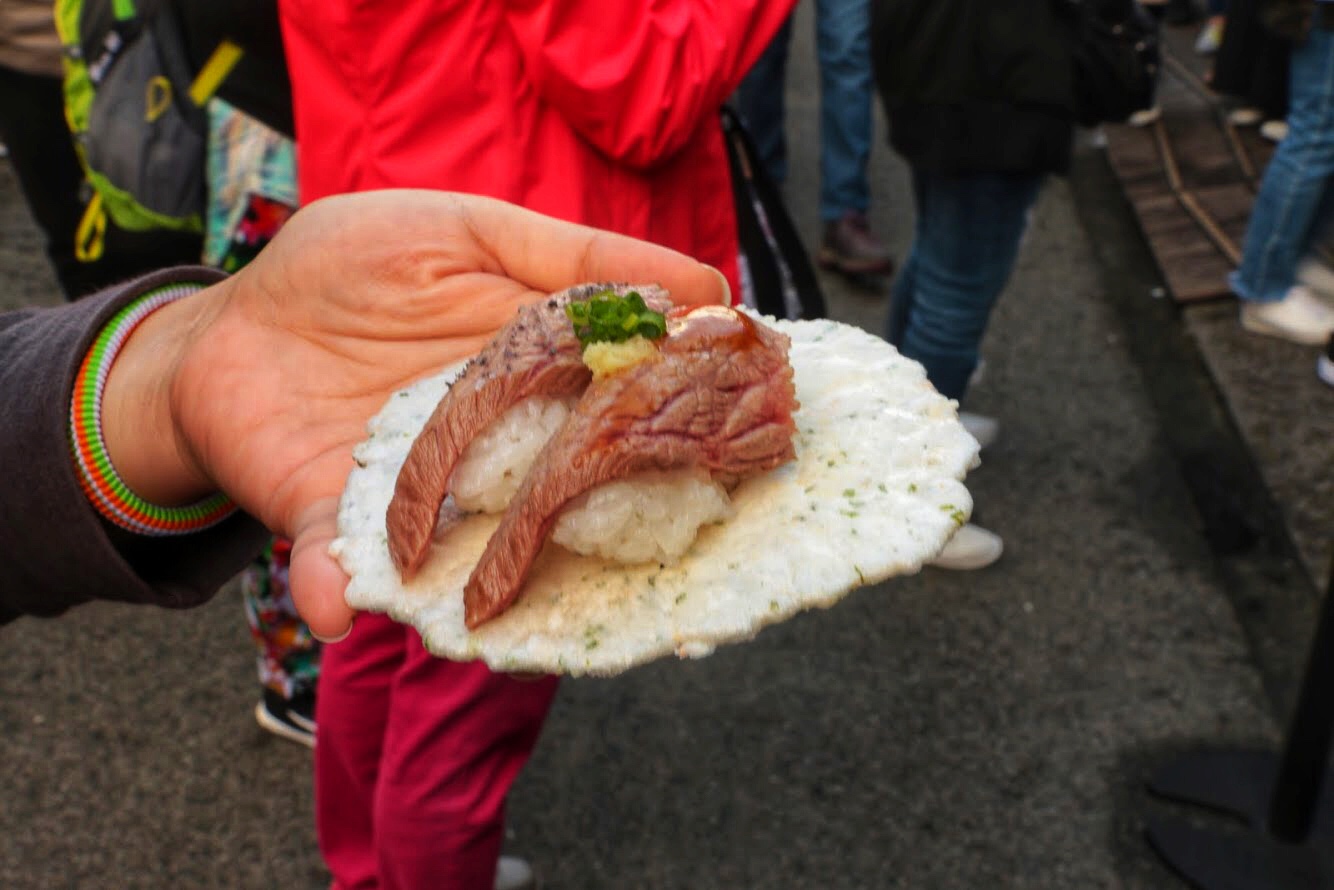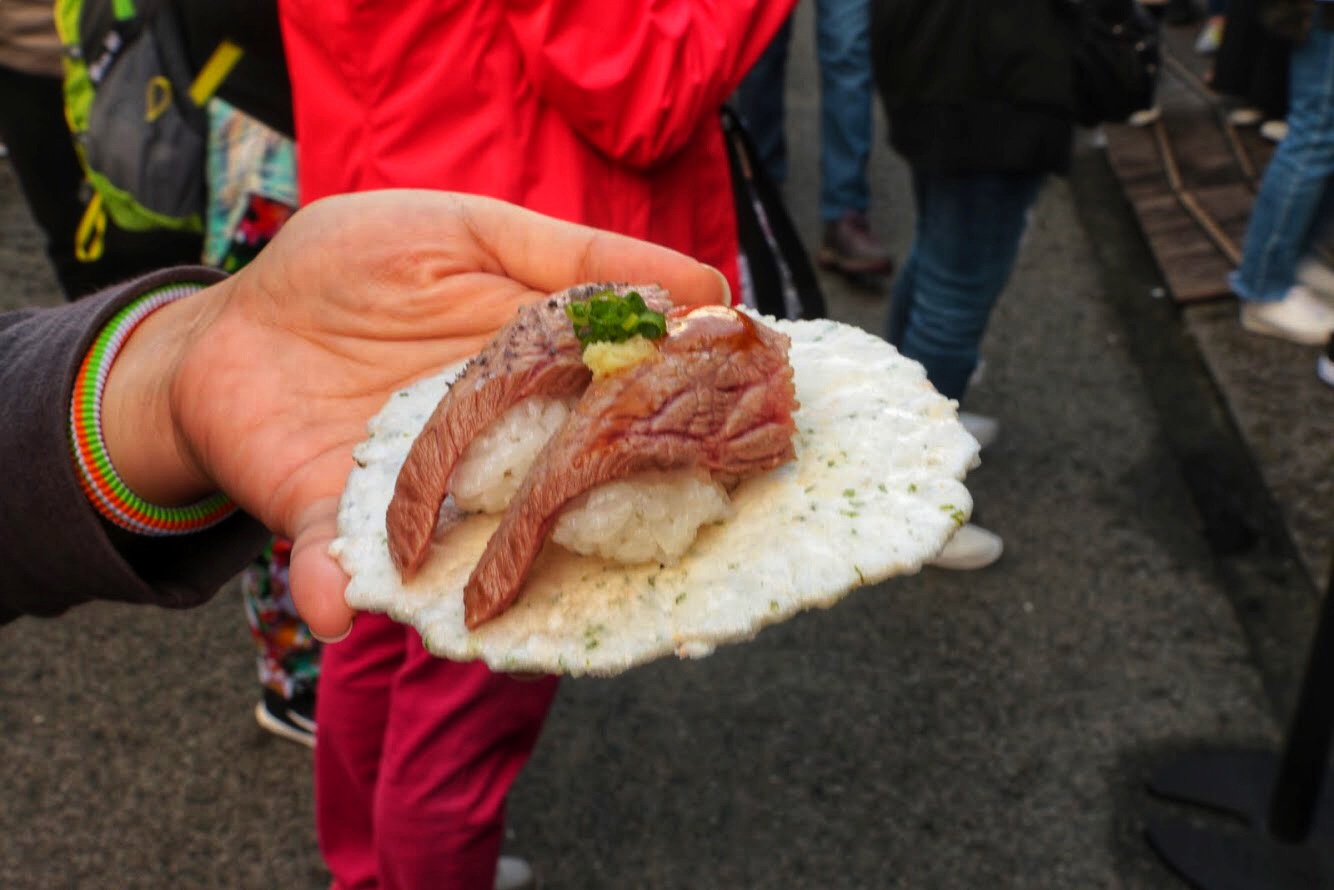 Set A was nice too. It perfected cooked in medium rare with lightly topped with seasoning. However, when compared with Set X, the flavor might not too strong that gave us the "WOW" feeling. But don't get me wrong, the Set A was excellent too.
Kotte Ushi Sushi: Must Try Food in Takayama
In short, Takayama Kotte Ushi sushi was one of the best things that I've ever tasted. It was so seriously amazing and melted in mouth once bite on it. The beef was so flavorful and the rice goes perfectly on it. It might sound costly but worth the splurge. Make sure to try it when visit to Takayama.
This Kotte Ushi Hida beef sushi is part of the food review on Takayama itinerary. Don't forget to read on my Takayama travel guide if you need help on things to do and what to eat in Takayama. Happy food trip in Takayama.
Related Travel Guide and Itinerary:
Local and Best Food in Takayama: