Last updated on September 23rd, 2023
For food lovers who craving noodles dishes in the midst of insanely busy Shinjuku, let's try the Tokyo best udon in Shin Udon Tokyo. It served the freshly made udon with quality ingredients.
During one of our Japan visits, we stopped by the Udon Shin (うどん 慎) to try for the best Udon in Tokyo. It is a famous Tokyo Udon shop, listed by Trip Advisor as the "2020 Travelers Choice" and Time Out as the "Best Udon in Tokyo", For a ramen lover, generally, we prefer ramen to soba and udon. But Shin Udon change my mind on how good high quality, slurpy smooth, and thick chewy udon could be.
One of the must-eat in my Tokyo food guide.
Shin Udon Tokyo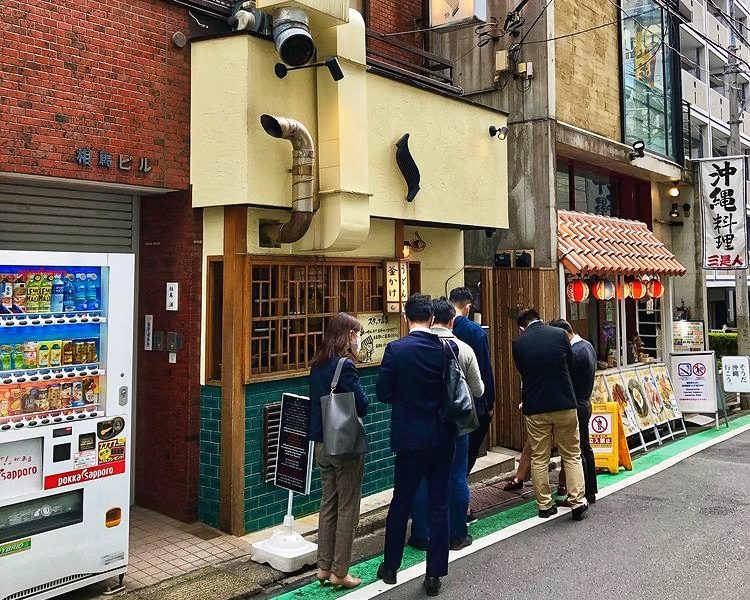 Tokyo has an amazing array of restaurants and it's not hard to find a great meal in the most unexpected place. Located in a stone's throw away from the Shinjuku station, tucked in a quiet alley is this small udon eatery popular with food lovers.
Udon Shin (うどん 慎) is a tiny little shop that only comes with six seats at the counter and two tables on the other side. So it was always packed with people since opening. There is a consistent queue throughout the day so be prepared to wait for this best Udon in Tokyo.
We arrived in Shin Udon in the early evening before dinner peak hour time. So glad there are only a few people waiting in line. If you are visiting Shin Udon in peak hours, most probably you will need to wait in a segregated line where the front half is in front of the restaurant and the second half a half of a block down to avoid blocking the establishment in between.
During our waiting time, we were giving the food menu by a friendly staff, and your order is taken while you wait in line. It will help to cuts down on the wait times once we get into the restaurant. The line moves decently and people are in and out pretty fast. We only waited for less than 30 minutes to get seated for our bowl of best Tokyo Udon.
Udon Shin (うどん 慎)
Address: 2 Chome-20-16, Yoyogi, Shibuya City, Tokyo 1F
Opening Hours: 11:00 to 23:00 (Fri – Sat), 11:00 to 22:00 (Sun – Thu)
Freshly Made Udon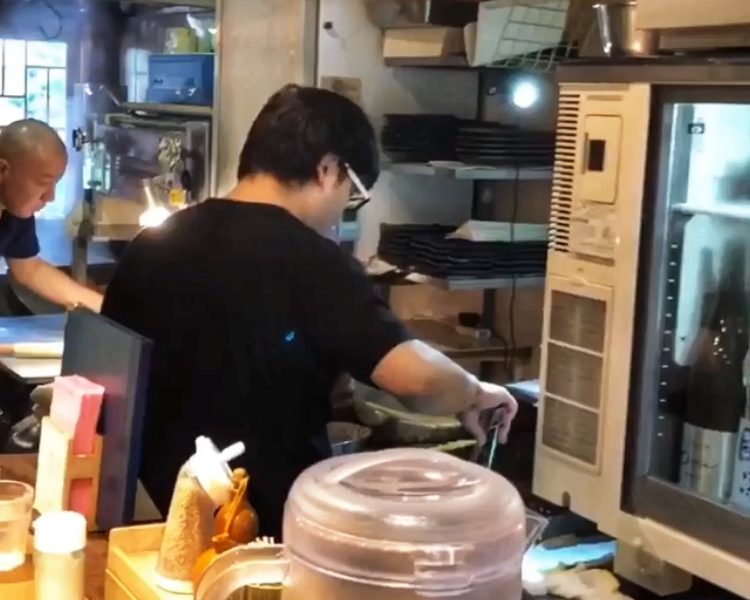 Inside Shin Udon, we can see the fresh udon noodles being made in front of us. The udon from Shin Udon Shinjuku is hand-made and the ingredients are top quality. When we were seated, our food is ready fairly immediately and served.
There is a variety of Udon with a flavourful selection that can be ordered in Shin Udon. The Udon can be served in cold, hot soup, or just warm with butter and egg. We order the signature "carbonara" cold dipping udon with tempura and the hot udon with beef and egg added. None of them were disappointed.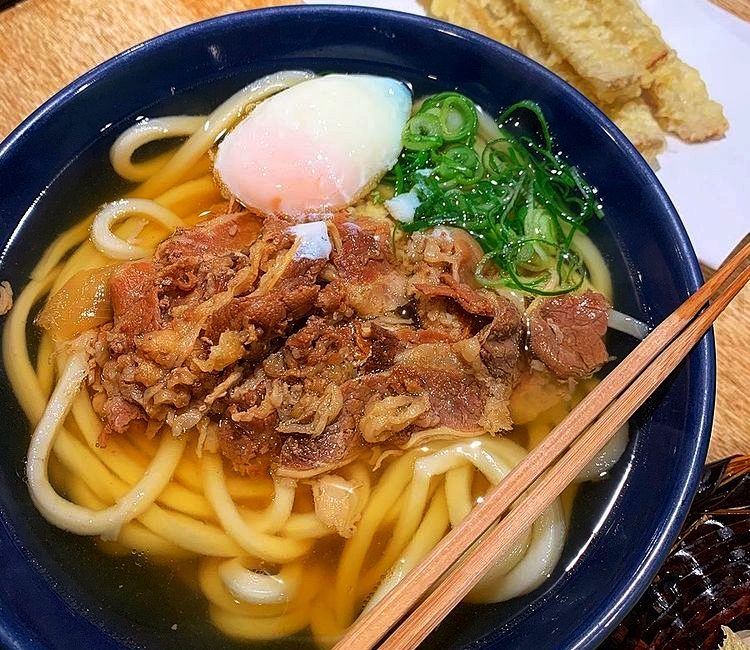 Firstly, the hot udon soup with beef and egg topping. The noodles were the perfect softness in my hot soup. It was perfectly chewy and the broth/topping combinations were delicious.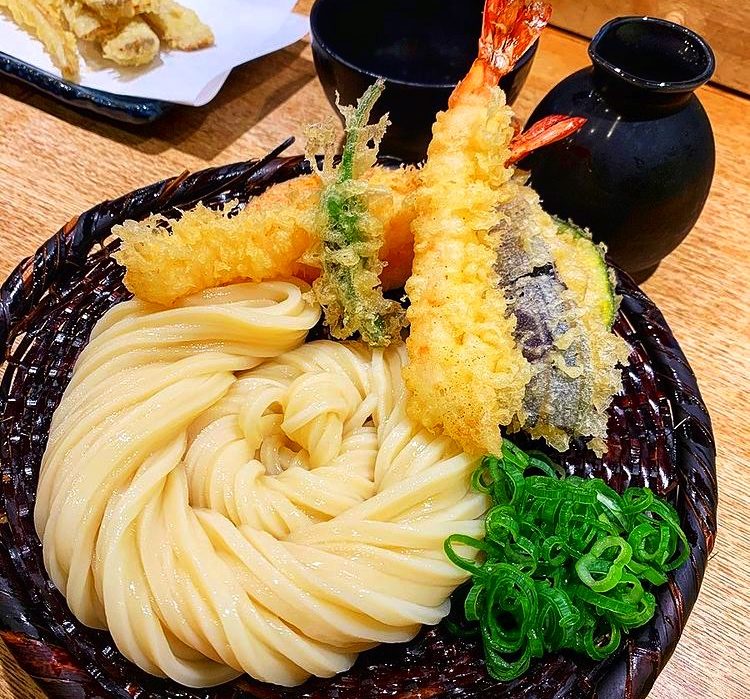 Next was the signature cold-dipped Udon with tempura. We were impressed with the Tempura batter. It was crispy and not too thick. Just dipped into the dashi stock and it was insanely amazing! The freshness and perfect texture of the noodles, the sublime smokiness of the dashi in the stock, the balance of the flavors were superb.
Perfection in a bowl!
Both the texture of the udon is amazing. You can't go wrong with anything here, but the broth had to be some of the best broth I've ever in Japan. The freshly made food is always a joy to eat, and I highly recommended Shin Udon. The taste of the fresh udon is so amazing. Make sure to try it immediately before you pour the sauce in.
Shin Udon: Tokyo Must Eat
All in all, we highly recommended Shin Udon if you are looking for what to eat in Tokyo. We had the cold and hot Udon to try on in Tokyo Shin Udon. It's such a vast difference in taste between hot and cold so depends on your preference. There were so different but equally delicious. But make sure to get some tempura and you won't regret it!
Friendly reminder, Shin Udon is pretty small and it is ideal to go with a party of one or two. So a family with a party for more than three, dining in Shin Udon seems pretty hard as the seating is tight. In short, we would recommend Shin Udon restaurant to anyone who loves udon..
Continue Read On:
Are you visiting Tokyo and would like to share your best eats in Tokyo? We'd love to hear from you.
How To Plan your trip to Tokyo (Must read for first time visitor):
Tokyo Food Blog:
Planning on a day trip to Hakone: