Last updated on September 23rd, 2023
If you're visiting Bangkok and enjoy Thai food as much as we do, then this Bangkok food guide with a list of must-eat food and the best restaurant will be very useful to help you decide where and what to eat when visiting the city.
Bangkok is one of the world's greatest food cities. When looking for the best Thai food, Bangkok is always the best place to try the most authentic Thai dishes in the country. From Thai curry rice, Pad Thai, Papaya Salad, Mango Sticky Rice, and many more, there is so sure something suits your taste bud.
As food lovers, we enjoy the Thai food in Bangkok so much and are always excited to come back to the city just for food. From local Thai food to street food, there is an extensive range of Thai food to eat when visiting Bangkok. Travelers might be overwhelmed by the number of restaurants, food stalls, and street food vendors stretching along the streets of Bangkok. Everywhere you walk around the city, you'll be tempted by something delicious.
To make it as well-rounded as possible, we are going to share some of the best food in Bangkok that you should not miss in the city. We'll also list out some of the best restaurants serving up the most delicious food for you to try when visiting the city.
Here is the Bangkok food guide for all the must-eat food in the city.
Bangkok Food Guide: What To Eat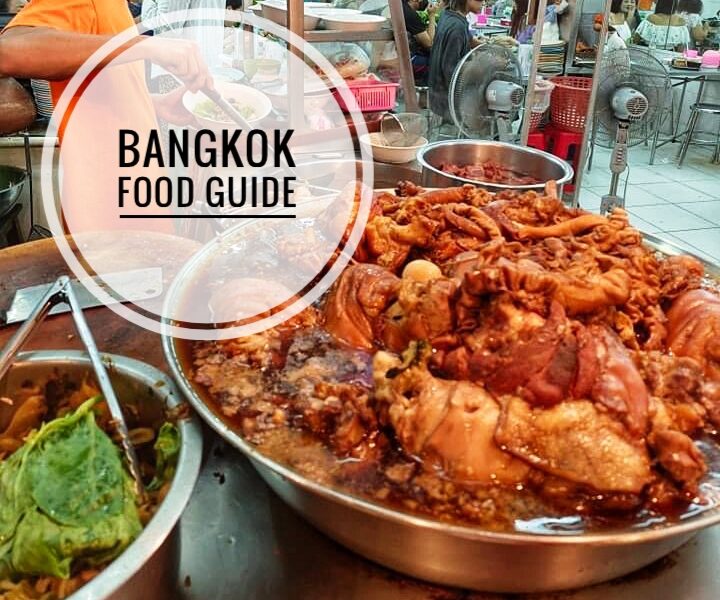 The list of the best food in Bangkok is long and compressive. Here is a quick view of this Bangkok food guide for the best Thai food in Bangkok to help you decide where and what to eat.
Bangkok Food Guide for the Must-Try Bangkok Food Place:
Tom Yam Mama Noodles from Jeh O Chula
Tom Yum Pork Noodle from Rung Rueang
Braised Pork Trotter (Khao Kha Moo)
Peppery Noodle Soup (Kuay chap)
Pad Thai from Thip Sa Mai
Chicken Rice (Khao Man Gai) from Go-Ang Pratunam
Crab Omelette (Kai Jeaw Poo) from Jay Fai
Fried Rice with Crab Meat (Khao Pad Poo) from Here Hai
Spicy Pork Spine Soup (Leng Saap)
Yaowarat Street Food and Seafood Restaurant
Yaowarat T&K Seafood Restaurant
After You Dessert
Tom Yam Mama Noodles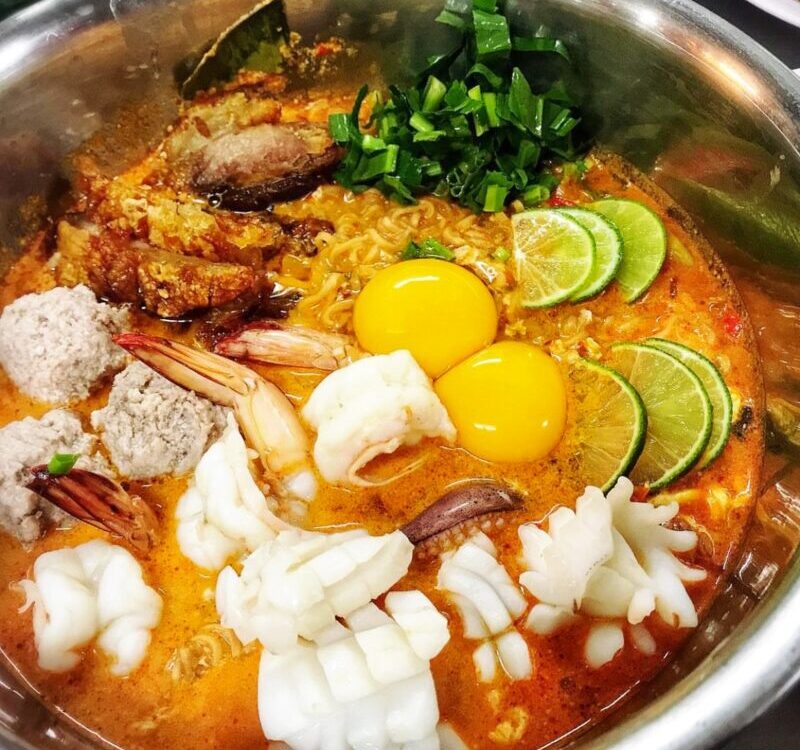 Located near Chulalongkorn University, Jeh O Chula used to be popular amongst students. But this shop gain its popularity after being featured in the Michelin Guide Big Gourmand for exceptionally good food at a reasonable price. Local foodies and foreign tourists flock over to slurp down a bowl of Tom Yum Mama Noodles. So be prepared to wait for hours.
The shop is open daily from 17:00 but their signature "Tom Yum Mama" is only available after 10:30 pm to 2:00 am. The favorite place for Bangkok late-night supper!
The hearty bowl is filled with mama instant noodles and generous toppings such as seafood, well-marinated handmade meatballs, a bright orange yolk, and some fresh greens in an iconic savory broth. The tom yum broth is so addictive and appetizing. Definitely flavorful and pleasant. High recommended for a bowl of authentic Thai noodle soup.
Jeh O Chula – Michelin Guide Big Gourmand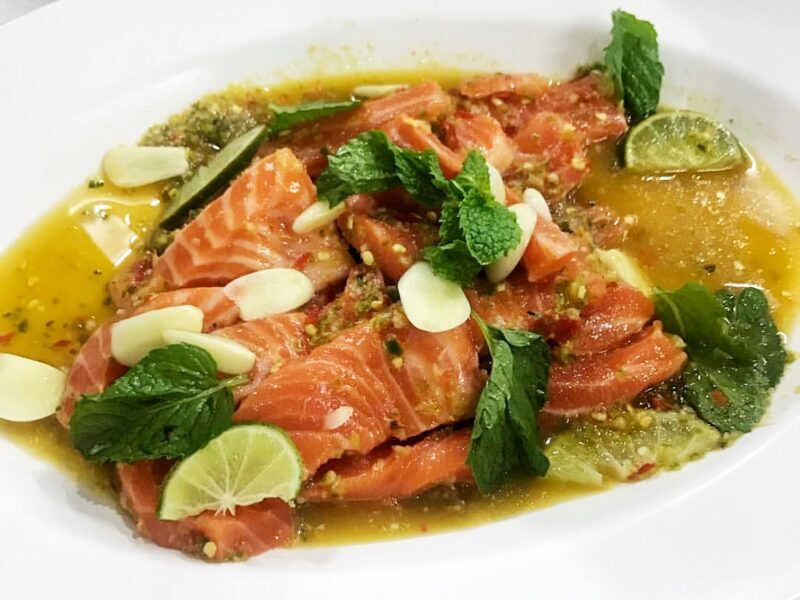 Besides the mama noodles, Jeh O Chula also serves numerous top-notch street food snacks such as Thai-style shrimp omelet, crispy roast pork belly, pork neck, morning glory, and more. Overall all the food is excellent and locally priced. Do order the Thai-style marinated spicy salmon with herb and garlic, it is very fresh!
Pro Tips: Being the long wait time, I would suggest reserving online at Klook with a shorter waiting time. The price is slightly higher but no need to wait in line if booked through Klook.
Jeh O Chula in Siam (Michelin Guide 2020)
Address: 113 Khwaeng Rong Muang, Khet Pathum Wan, Bangkok, 10330.
Business Hours: Daily from 16:30 to 00:00. Tom Yum Mama is only available after 22:30.
Getting there: The nearest metro station is the National Stadium BTS station.
Price Range: About THB250 for a bowl of mama noodles.
Tom Yum Pork Noodle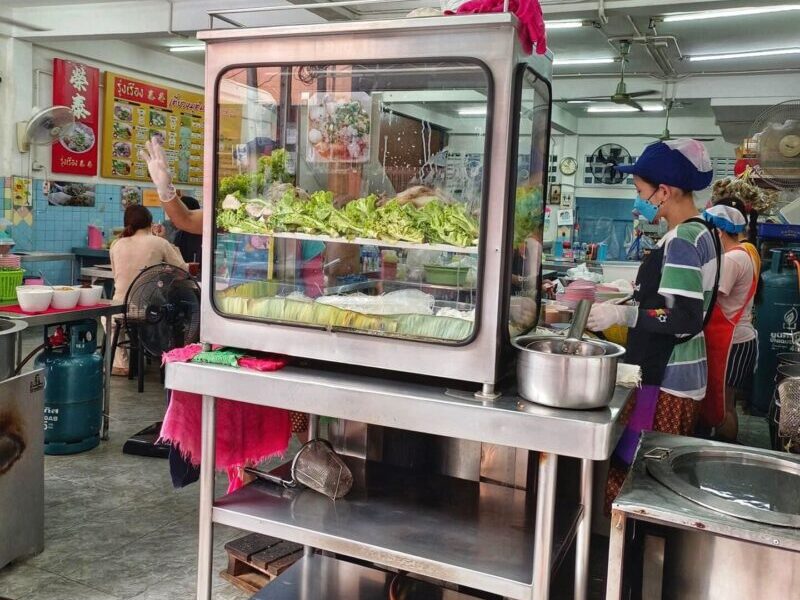 For over 50 years, Rung Rueang is best known for its Tom Yum pork noodles in Bangkok. It is a local's favorite shop and has been rewarded with Michelin Bib Gourmand in Bangkok.
Rung Rueang is always packed with locals and that's how you know it's good! During the weekday, you can even see those working in Sukhumvit queuing for a table during lunch hour.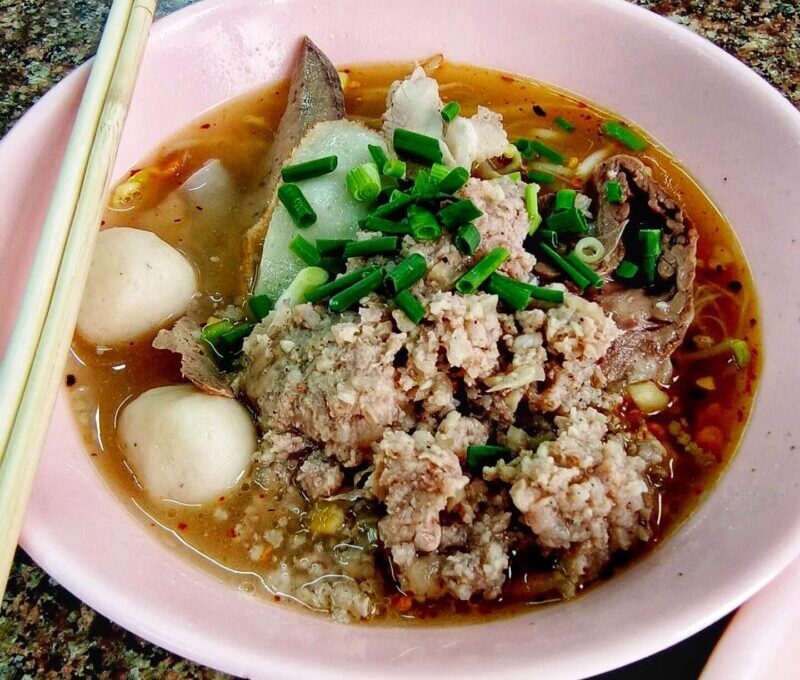 The bowl of tom yum pork noodles is served with their homemade fish balls, and tasty pork minces. Foodies can also opt to add on the pork liver and intestine. The broth has been cooked for hours and it's so thick and full of flavors. With the choice of noodles topped with quality ingredients, giving you the best in each bowl.
For more information about the food: Rung Rueang: Bangkok Michelin Bib Gourmand Pork Noodles
Rung Rueang Pork Noodles
Address: 10/3 Soi Sukhumvit 26, Khlong Tan, Khlong Toei, Bangkok 10110.
Business Hours: Daily from 8:00 to 17:00.
Getting there: Less than 5 minutes walk from the Phrom Phong BTS Station.
Price Range: Less than THB100 for a bowl of noodles (Small – THB50, medium – THB60, Large – THB70).
Braised Pork Trotter (Khao Kha Moo)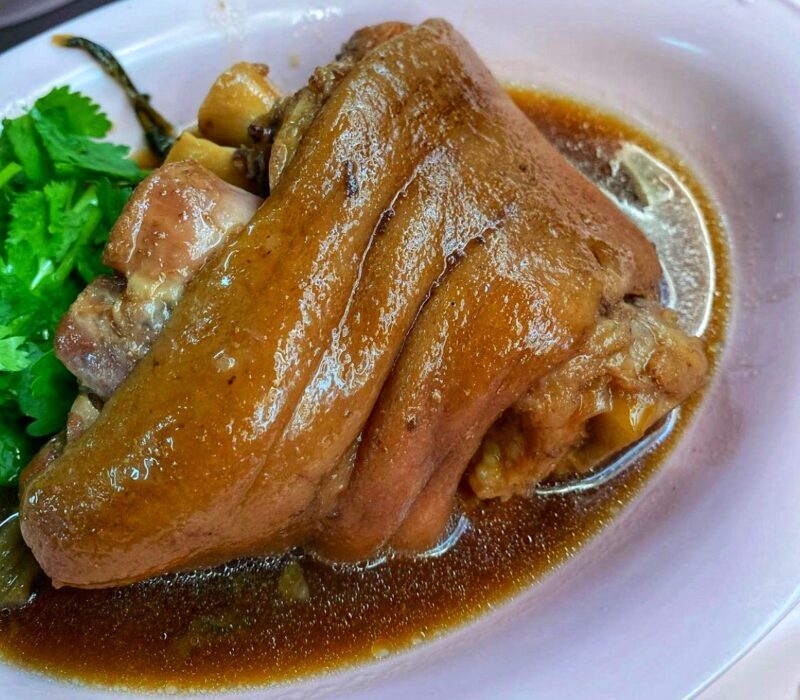 Braised Pork Trotter (Khao Kha Moo) is one of the popular Thai street food dishes. You can find this tender sweet-salty pork leg stew all over the streets of Bangkok and all over the country.
The succulent pork leg is braised and then simmered for long hours in a broth made with Herb until the pork meat, skin, and fat are just melted in your mouth when you eat. The soft braised pork trotter is so tender, juicy, and flavorful. Something to die for. It is normally served together with steamed rice with spicy and sour sauce, boiled eggs, and some pickled vegetables for a complete meal.
We highly recommended the authentic braised pork trotter from Charoen Saeng at Silom Road. The shop has been running for more than 50 years and it is hidden down an alley side street in downtown Bangkok. It can be hard to find but you will be surprised there are so many locals and tourists who come to Saeng Silom to eat this juicy pork leg. Get there early as the pork legs sold out pretty fast.
Charoen Saeng Silom
Address: 492/6 Soi Charoen Krung 49, Bangrak, Bangkok 10500.
Business Hours: Daily from 7:30 to 13:00.
Getting there: About 5 minutes walk from BTS Saphan Taksin.
Peppery Noodle Soup (Kuay Chap)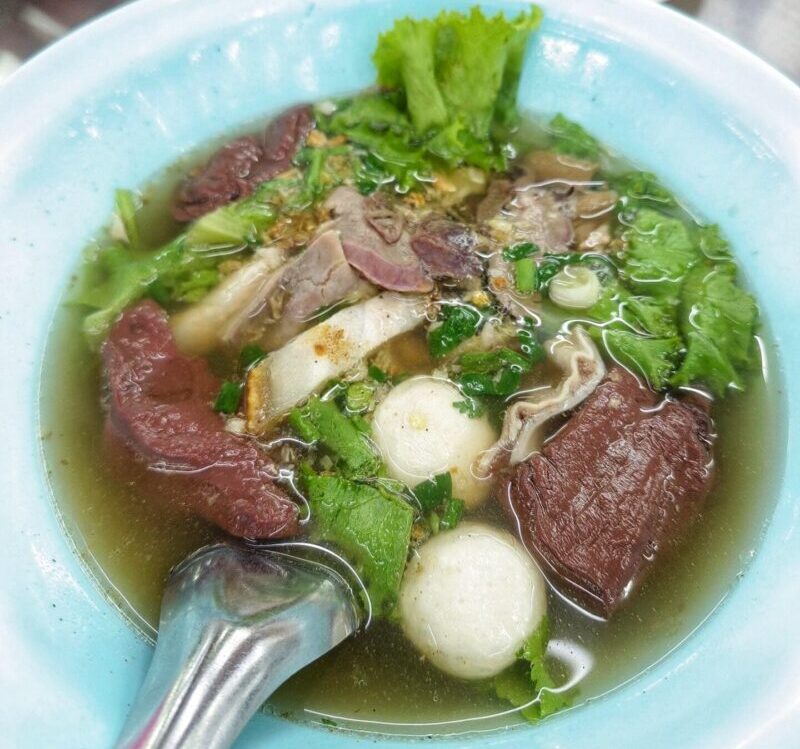 Also known as Peppery Noodle Soup, Kuay Chap is another must-try food in Bangkok if you are comfortable with eating pork innards. This unique noodles dish is loaded with tasty peppery broth with a side of rice noodle rolls. While mixed in with the noodles are crispy pork belly and pork offal such as pork liver, pork intestines, pork kidney, and pork lung.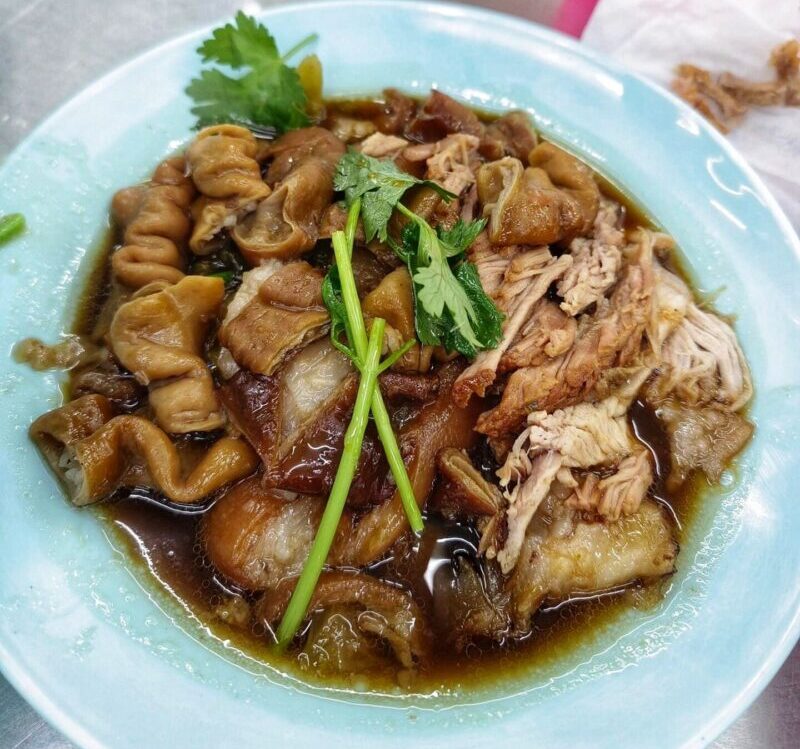 Two main types of Kuay Jab are commonly found in Bangkok.
Kuay Chap Nam Sai (clear soup) is the Thai version of pepper pork soup. It is made from pork bones with lots of pepper so it has a strong aromatic pork flavor. The best Kuay Jab Nam Sai can be found in Yaowarat (Chinatown).
Kuay Chap Nam Kon (dark soup) is a dark brown, thicker soup broth. The soup has a mild Chinese spice braised flavor to it.
Sirichai Pork Leg & Seafood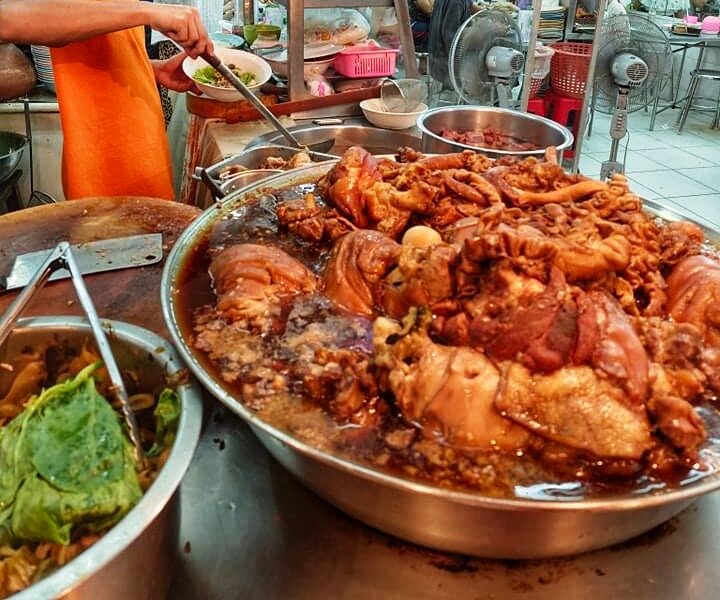 Kuay Jap can be easily found around the streets of Bangkok. We tasted the mouthwatering Kuay Chab at the Sirichai Pork Leg and Seafood on Pracha Songkhro Road. The shop is famous for incredible Thai braised pork, but they also served the mind-blowing delicious kuay Chap.
The Kuay Chap here are wonderful, each with its own unique texture. It is cooked to tender perfection and excellent in taste. I personally prefer the Kuay Chab Nam Sai as the broth is intensely peppery. It is so flavorful that it doesn't need any extra seasoning. The bowl is not entirely filled with offal though, as there are also come with pork meat and crispy pork belly.
Sirichai Pork Leg & Seafood
Address: 40 Pracha Songkhro Rd, Din Daeng, Bangkok 10400
Business Hours: Monday to Saturday from 16:00 until next day 6:00. Sunday from 16:00 until 00:00.
Price Range: Depending on the order. Wide variety of seafood and Thai dishes available.
Kway Chap Uan Photchana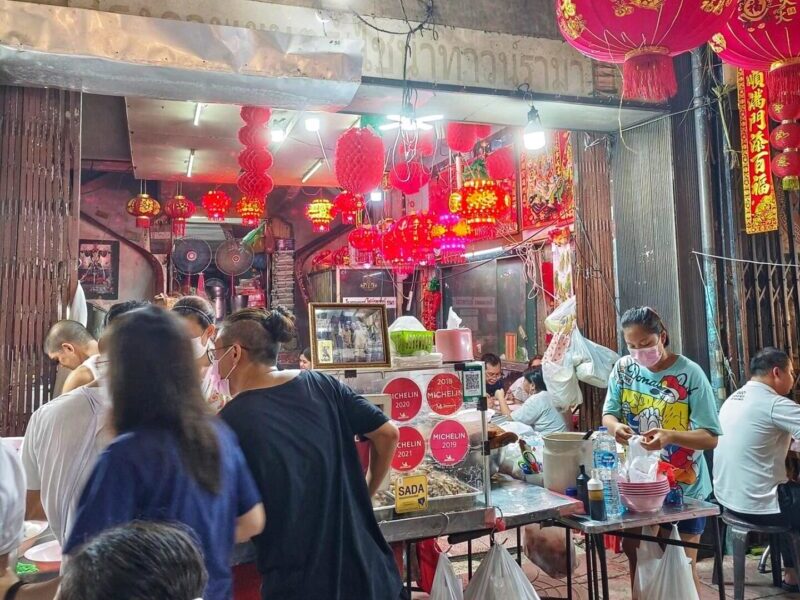 Another popular Kuay chap shop is "Guay Jub Ouan Pochana" or "Kway Chap Auon Pochana" located at Yaowarat. This tiny shop has been serving this street eater for over 50 years and was awarded the Michelin Bib Gourmand.
They are best known for serving handmade rolled noodles in thick aromatic peppery pork broth.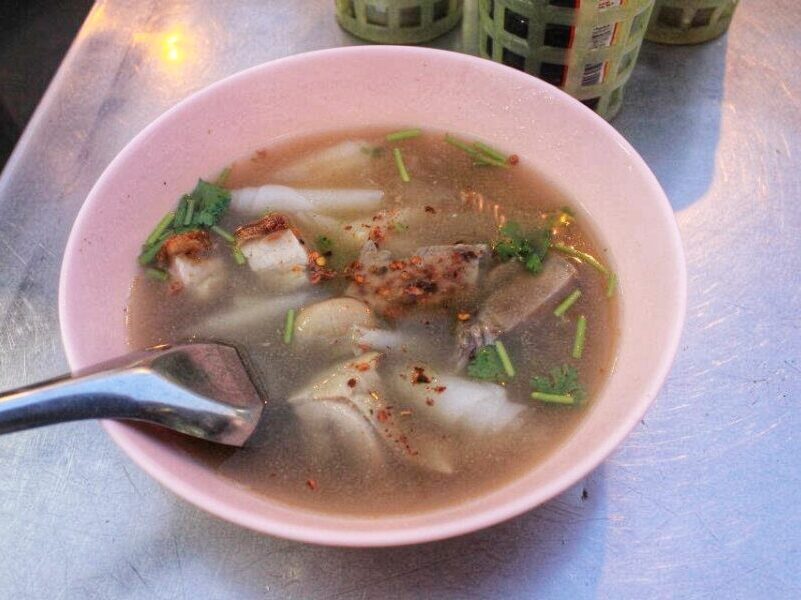 The rice noodles are chewy and tender and the fragrant, hot peppery soup here is to die for. It is simply bursting with peppery flavors and will make you want more and more. You'll have to try it for yourself to see how good it is.
Kway Chap Uan Photchana
Address: Address: 408 ถ. เยาวราช Chakkrawat, Chakkaphat, Bangkok 10100.
Business Hours: Daily from 11:00 until 00:00. Closed on Monday.
Price Range: About THB30-50 per bowl.
Pad Thai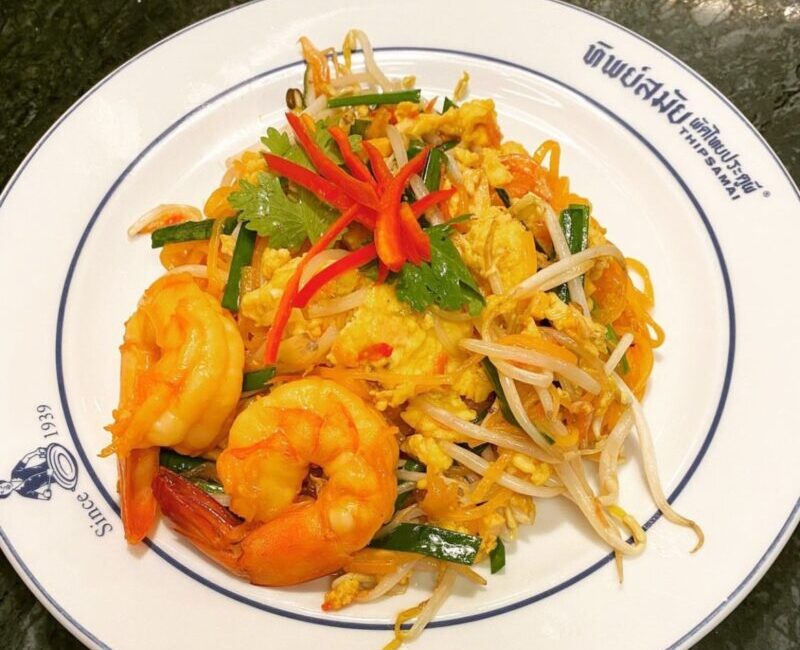 Pad Thai is definitely a dish that you shouldn't miss when you visit Bangkok. The thick handfuls of dry rice noodles are stir-fried and then soaked in sauces. It is then added with other ingredients such as tofu, baby shrimp, leeks, and bean sprouts as per the recipe and tossed into the mixture before this tasty plate is served hot to you. Pad Thai goes great with a squeeze of lime and a spoon of ground peanuts. The condiments such as chili flakes and vinegar can be added to bring a perfect taste.
Pad Thai stalls are available around every city in Thailand. But if you need a further recommendation, locals suggest the Thip Sa Mai for the best Pad Thai in Bangkok. The original shop is located in the old town area but now you can find Thip Samai in many famous malls around Bangkok. Recommended Pad Thai with shrimp with or without egg cover. The Pad Thai is tasty and the price is very reasonable.
Pad Thai Thip Sa Mai
Address: 313 315 Maha Chai Rd, Samran Rat, Phra Nakhon, Bangkok 10200.
Business Hours: Open daily from 10:00 until 00:00. Closed on Wednesday.
Getting there: The shop is located on Maha Chai Road near Khao San Road.
Price Range: Around 70 THB for a plate of Pad Thai.
Chicken Rice (Khao Man Gai)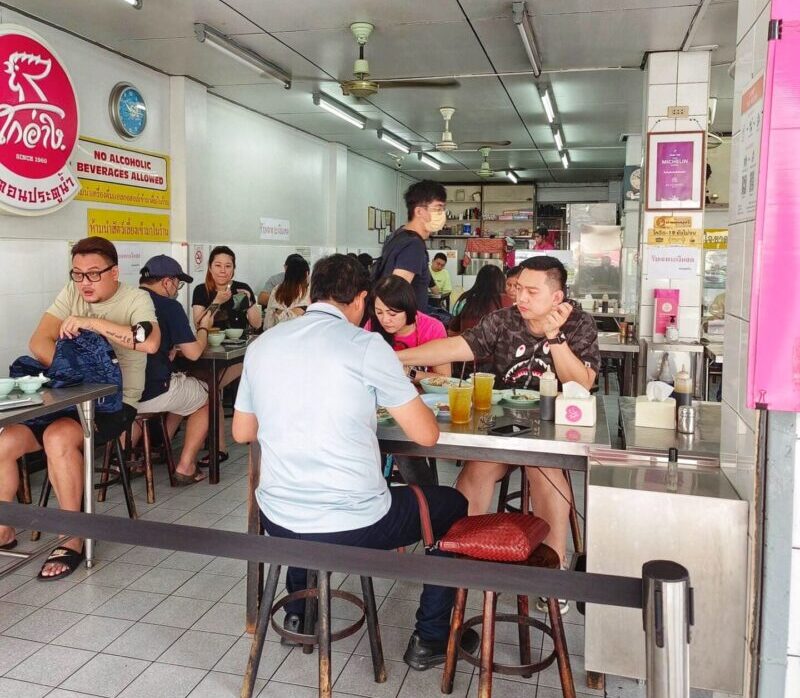 Established in 1960, Go Ang Pratunam Chicken Rice (Pink Shop) offers a Thai version of Hainanese-style chicken rice in Bangkok. It is the best well-known chicken rice shop among both locals and tourists. Besides, the shop is listed under Michelin Bib Gourmand for its quality food.
The location is convenient and situated within a 5-minute walk from the Platinum Fashion mall, making it a quick shopping break for some local food in Bangkok.
The chicken rice is a plate of light fluffy fragrant rice with perfectly poached chicken. The rice is cooked to perfection, and it is flavorful without being too oily. While the boneless chicken was succulent, moist, and tender. It is best paired with their homemade chili sauce which gave a nice touch to the rice and chicken.
The Go Ang chicken rice in Bangkok is reasonably priced, so make yourself a food visit if you are nearby!
For more information about the food: Bangkok Best Food: Go-Ang Pratunam Chicken Rice
Go-Ang Pratunam Chicken Rice
Address: 962 Phetchaburi Rd, Makkasan, Ratchathewi, Bangkok 10400
Business Hours: Daily from 6:00 to 22:30.
Getting there: 5-minute walk from the Platinum Fashion mall.
Price Range: About THB40 for a plate of chicken rice.
Crab Omelette (Kai Jeaw Poo)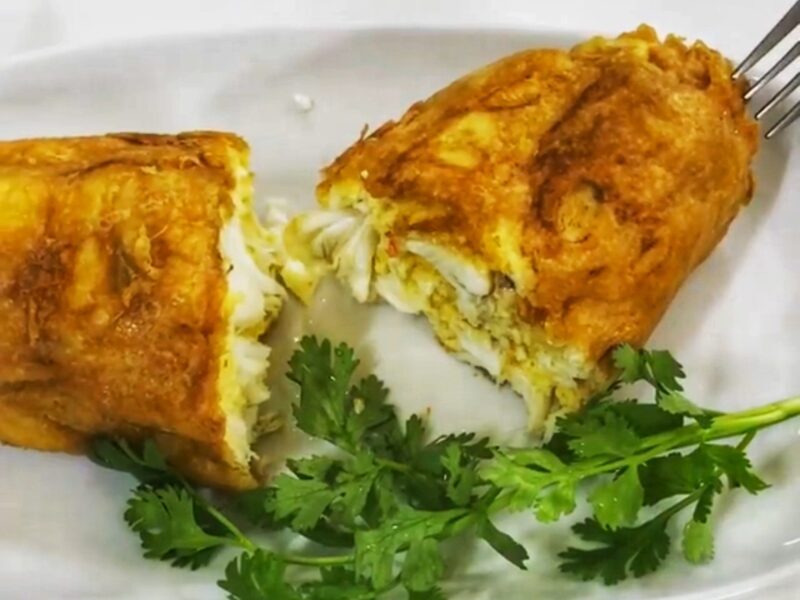 Thai crab omelette (Kai Jeaw Poo) is a very famous Bangkok street food thanks to the Jay Fai. This street-side Thai shop is a legendary food stall that awarded a Michelin Star in the Bangkok Michelin Guide for four years in a row (2018-2022). It is so popular and even getting featured in Netflix's Street Food series!
The crispy golden-brown crab omelets are simply unparalleled! It comes at a price tag of THB 1,200 which is insane for street food. But you'll understand what you're paying for once you see the amount of crab meat stuffed into that omelette.
The owner, Supinya Junsuta, better known as Jay Fai cooks each dish on her own. So expect an incredibly long wait for a plate of this crab omelette. We'd highly recommend booking a table thought you might need to book it a few months ahead!
Jay Fai
Address: 327 Maha Chai Rd, Samran Rat, Phra Nakhon, Bangkok 10200.
Getting there: 8 minutes walk from Sam Yot MRT station (Blue Line).
Price Range: Expected at least THB 1,200 to taste the insane crab omelette.
Fried Rice with Crab Meat (Khao Pad Poo)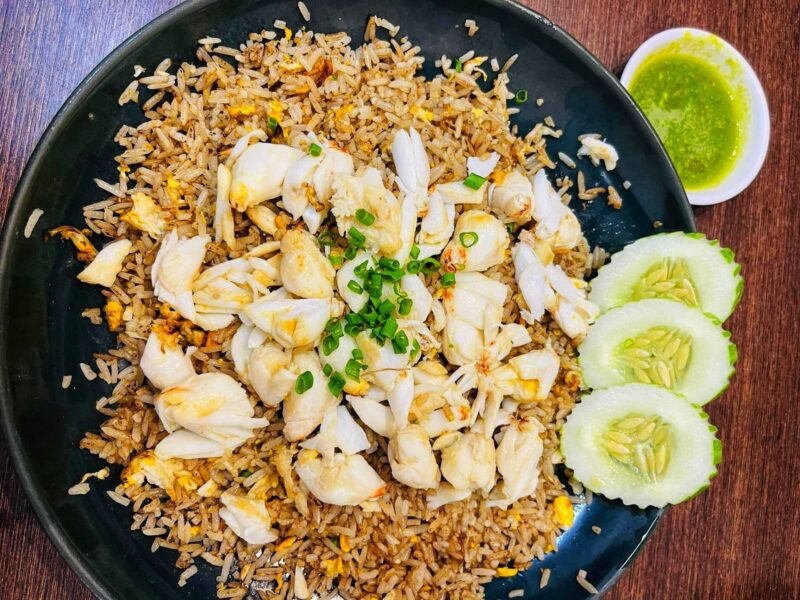 Located at the small shophouse on Ekamai road, Here Hai serves Bangkok's best seafood fried rice and quality seafood dishes. You'll be delighted to know that their seafood is as fresh as fresh can be. This eatery is popular among seafood lovers and awarded the Bangkok Michelin bib gourmand.
Their specialty is the crab meat fried rice (Khao Pad Poo), another popular Thai dish in Bangkok. The plate of fried rice is loaded with numerous amounts of succulent crab meat. It is so delicious and lives up to expectations.
Besides the popular crab fried rice, the stir-fried mantis shrimp with garlic and pepper is also highly recommended. The food prices may be considered high for street food, but the ingredients are superb. Plus, the portions are large and it even comes in an XXL version that is enough for four to six people.
Here Hai Restaurant
Address: 112, 1 Ekkamai Rd,Khwaeng Khlong Tan Nuea, Watthana, Bangkok 10110.
Business Hours: Daily from 10:00 to 14:30 and 15:30 to 17:00. Closed on Wednesday.
Getting there: About 20 minutes walk from BTS Ekkamai. Alternative, take a grab motor (THB20) to the shop!
Price Range: Average THB500 for a plate of crab fried rice per person.
Spicy Pork Spine Soup (Leng Saap)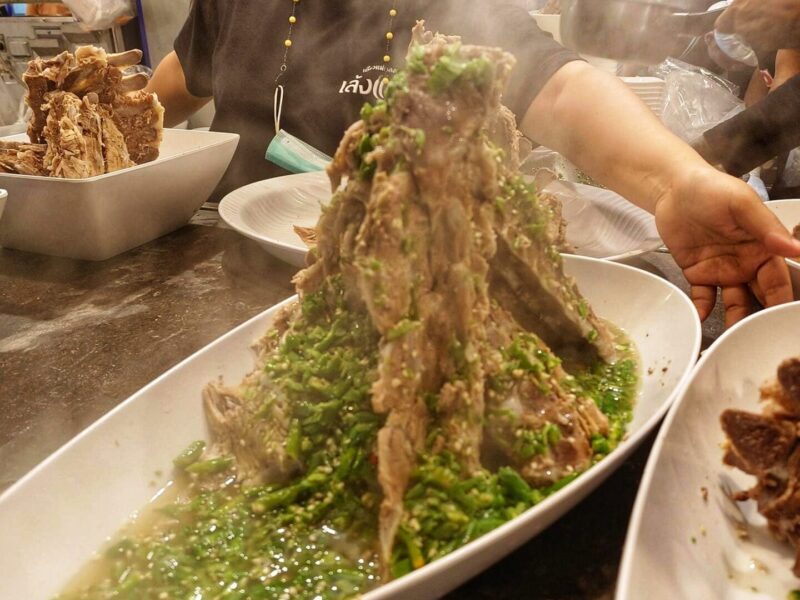 Known as "volcano ribs", Leng Saap is a Thai dish of boiled pork spine bones served with spicy sauce. It is one of the trending food dishes in Bangkok and is popular among locals and visitors. Leng Saap can be found in the railway market in Bangkok but the more popular spots are at the Jodd Fairs Mae Klong Noodles (the new version of Ratchada Train Night Market).
A high mountain of pork spine is stacked to form a tower with spicy soup, dressed with chilies, herbs, and spice. It comes in four sizes, ranging from THB150 to THB 599, We ordered a medium portion which came flooded in chili and lime. The meat was really tender and mouthwatering!
Jodd Fair's Mae Klong Noodles
Address: Rama IX Rd, Huai Khwang, Bangkok 10310.
Getting there: 8 minutes walk from Sam Yot MRT station (Blue Line).
Price Range: Range from THB 150 to THB599 depending on the size.
Yaowarat Street Food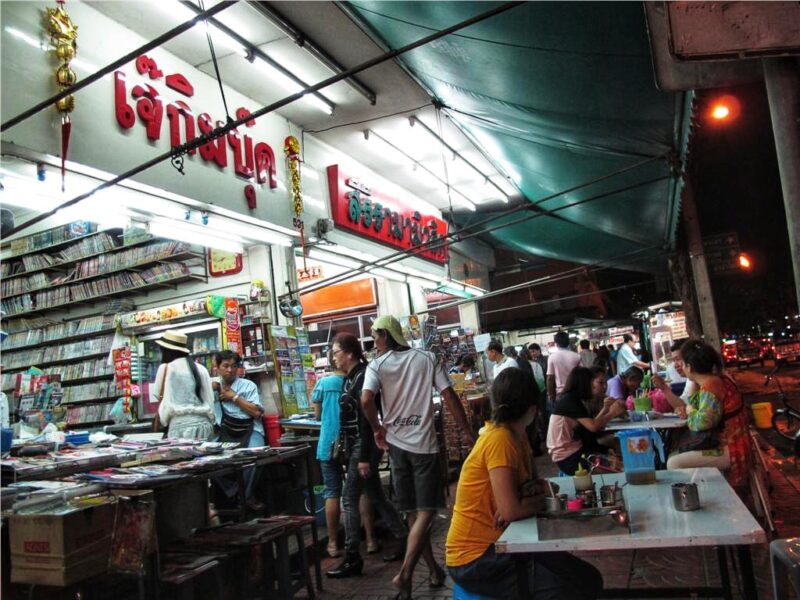 Bangkok's famous Chinatown, known as Yaowarat is a popular place for street food in Bangkok. In the daytime, you'll find markets and some food shops, but the area is completely lit up by neon lights and street food carts at night!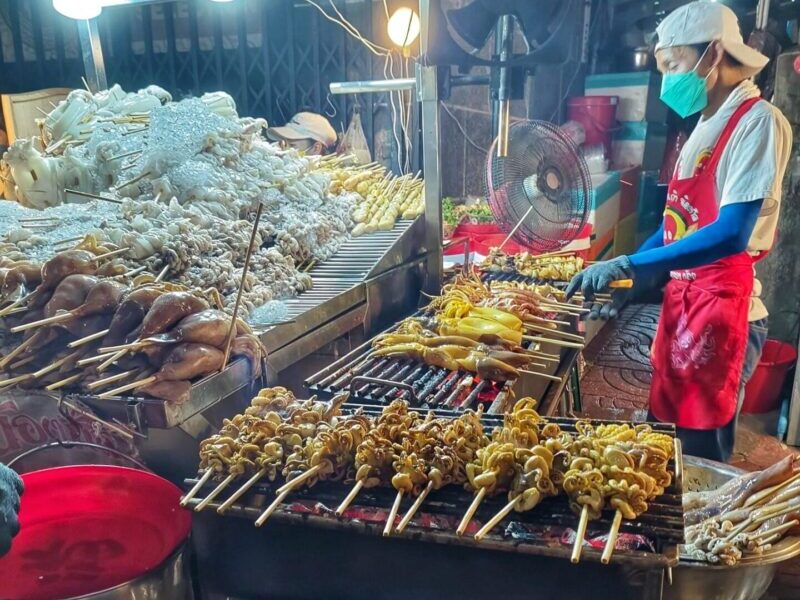 Many street vendors will set up their food carts along the small alleys and boast of a thriving food scene. The street is full of food gem surprises and packed with delectable eats. You'll discover a variety of Thai and Chinese street food with the food smells everywhere.
Don't be afraid to explore down a dark side alley or follow the instinct of your nose when you smell something delicious. It was an experience sitting on the streets and eating the food just like locals.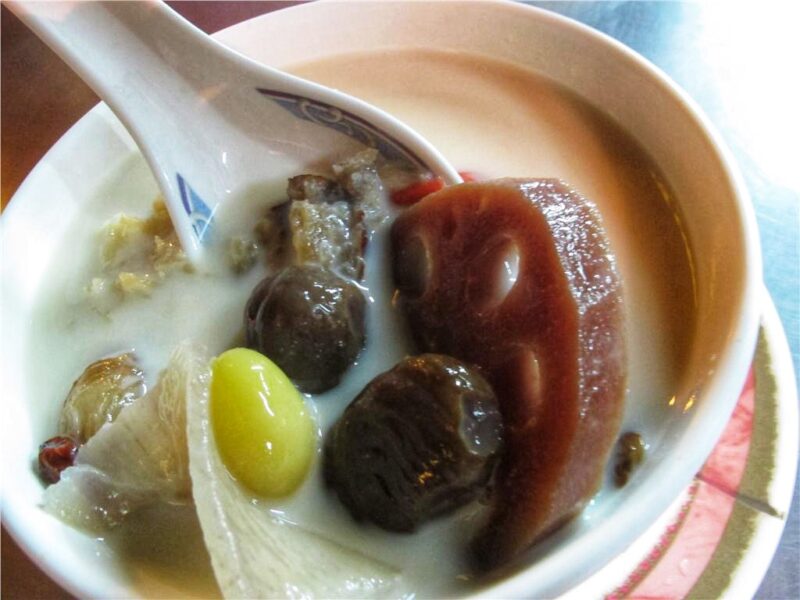 Here are some of the recommended food to eat in Yaowarat Chinatown Bangkok:
Roll Noodle Soup from Nai-Ek Roll Noodles.
Fish Ball Egg Noodle from Lim Lao Ngow Fishball Noodle.
Cheng Teung Mhee Dessert from Aaii Waan Yen.
Roll Noodle In Peppery Soup With Crispy Pork from Nay Lek Uan.
Bangkok Food Guide Tips: Mondays are the street cleaning day in Bangkok. Avoid visiting Yaowarat on Monday as many street food cart vendors take the day off.
Yaowarat T&K Seafood Restaurant
T&K Seafood Restaurant is a must-try seafood restaurant if you are in Bangkok. It is one of the most popular restaurants in Chinatown (Yaowarat Road) and is always super packed with locals and visitors. You'll recognize the staff by their bright green shirts and the crowd waiting in line.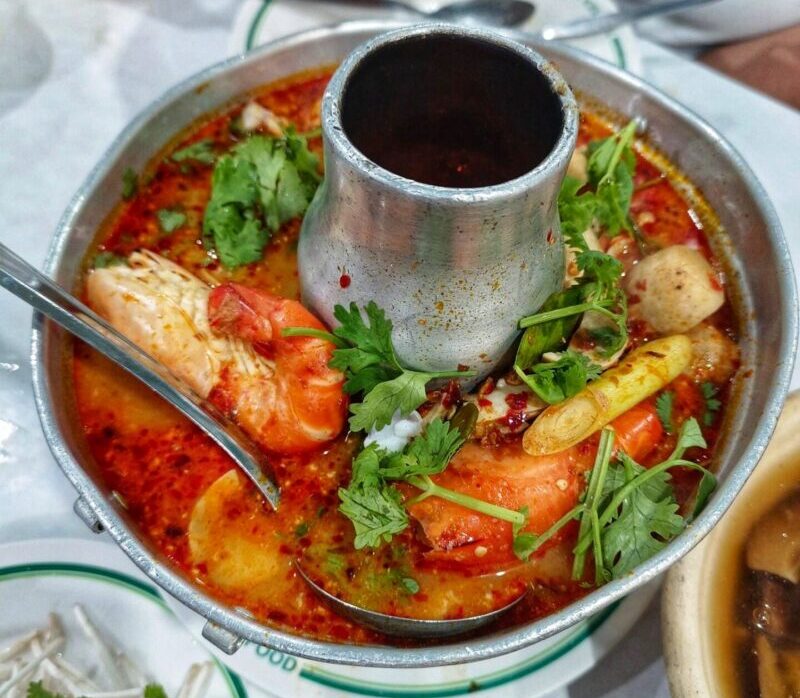 We personally have been visiting Bangkok for years and always come back here for their amazing seafood. The food is cooked fresh and tasty with Thai authentic flavor. We recommended the tom yum soup, clay pot glass noodles with fresh river prawn, grilled crab, and steamed fish with lemon and garlic, so delicious!
The seafood was incredible with wide variety of dishes at attractive prices. The restaurant is always packed so please expected to wait in line to get a table.
T & K Seafood
Address: 49, 51 Phadung Dao Rd, Samphanthawong, Bangkok 10100.
Business Hours: Daily from 16:00 to 00:00.
Getting there: Coupled your trip with Yaowarat visit. Best to get there by taxi or Grab.
Price Range: Average THB800 per person, depending on the food order.
After You Dessert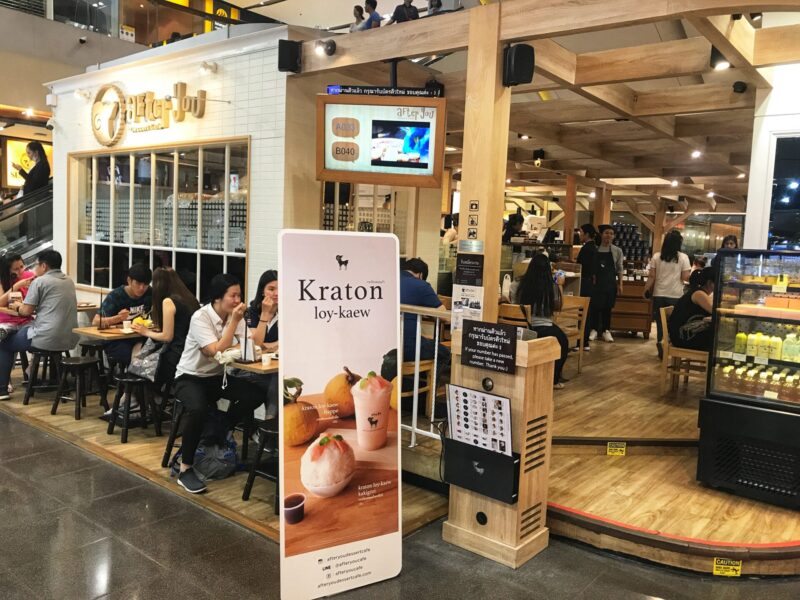 For those with a sweet tooth, After You Dessert is the best option for a refreshing icy treat in Bangkok. It is a popular dessert cafe and gaining popularity among dessert lovers. So it is no surprise you are seeing many people waiting in line to get seats, especially on weekends.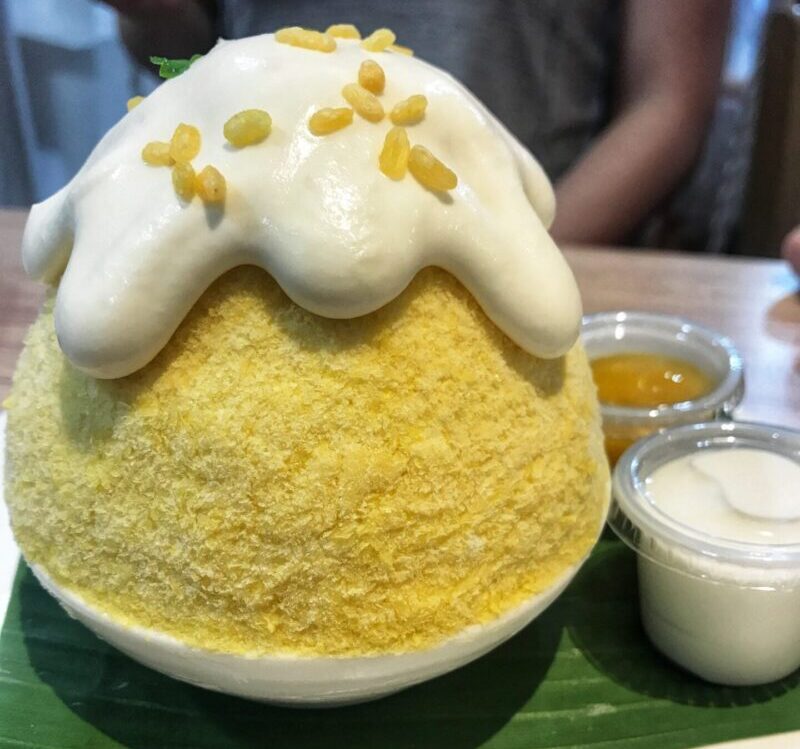 The menu is attractive with a wide variety of unique dessert choices that you can also give a try when in Bangkok, such as flavor shaved ice, Shibuya Honey Toast, Nutella Toast, traditional Thai sweet Toast, and Western dessert options, like chocolate lava, brownie, or cookie dough topped with ice cream. It's good if you go with a group so you can try different desserts.
Whenever I am in Bangkok, for sure I will try some of the unique desserts in After You. So far all the desserts I tried never disappoint me. My personal preference is Thailand's unique mango sticky rice kakigori and Shibuya Honey Toast is amazing! The flavor of shaved ice was delectable and perfect for a sunny day in Bangkok. It is so satisfying and melts in your mouth.
After You Dessert Cafe Bangkok
Getting there: There are aver 10 branches opened up around Bangkok. Get the one near you.
Price Range: Average THB400 per person.
Overview: Bangkok Food Guide
All in all, we hope this Bangkok Food Guide is helpful when looking for where and what to eat in Bangkok. There are so many mouthwatering foods that you can eat when you explore the city. Enjoy a bowl of piping hot noodles, Pad Thai, Tum Yum, green curry and rice, green papaya salad, and many of the foods you'll encounter when looking for what to eat in Bangkok.
For me, Thai food is always one of the ultimate joys of being in Bangkok. The atmosphere of dining on the streets and in the restaurant is amazing. I truly love Bangkok street food and never have an empty stomach when I am in Bangkok. If you love food, Bangkok is the best place for your ultimate food adventure!
Traveling to Bangkok? Here is the inspiration for Bangkok travel stories:
More detail on the food journey listed in the Bangkok Food Guide: