Last updated on September 23rd, 2023
In this Kifune travel guide blog, we're sharing our Kibune itinerary highlighting the must-see attractions, what to eat, how to get to Kibune, and other helpful tips.
Kifune (貴船) is a beautiful small village nestled in the hills north of Kyoto. It is located deep in beautiful mountains and offers a perfect opportunity to explore the tranquility of a Japanese village. Though the location is slightly far from downtown, Kibune is the perfect place to take a day trip from Osaka or Kyoto. Many locals and visitors love visiting this area as a short half-day trip since the environment is laid-back and peaceful. It is even best to couple their visit to Kibune with an easy hike to Kurama-dera.
Kyoto is one of our favorite cities in Japan and we have visited Kyoto quite a few times. Kibune has not been on our itinerary in our previous trips as it is easily been skipped due to the long traveling journey from downtown. We finally make our visit during our recent trip to Kansai and we fall in love with the area.
Keep reading for more about how to plan your Kibune itinerary in this handy travel guide blog.
How To Get To Kibune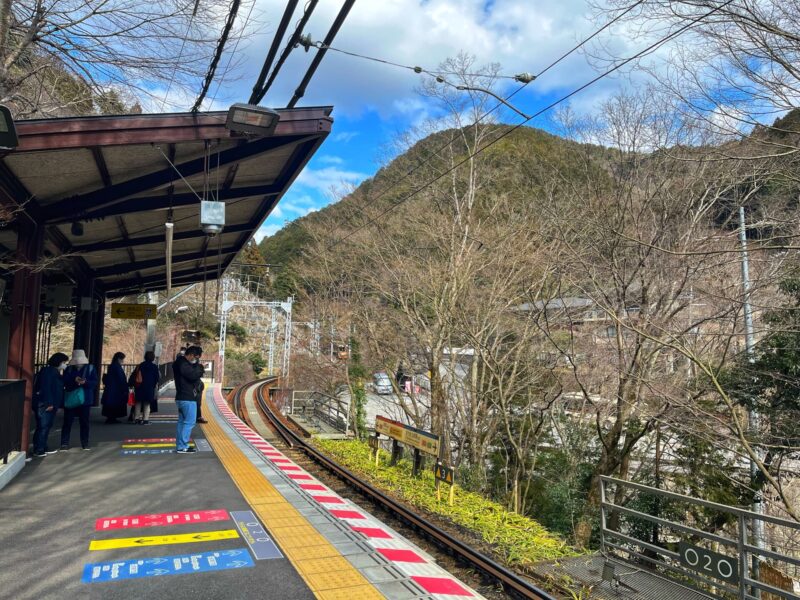 Depending on your starting location, it can take a while to get to Kibune. But generally, the trip to Kibune and Kurama takes about 40 minutes from central Kyoto.
If you are getting to Kibune by train, we recommended you get to the Demachiyanagi Station and then switch to the Eizan Main Line in the direction of Kurama. Next, get off at Kibuneguchi Station and proceed to the Kifune village either by shuttle bus or walk.
How To Get To Kibune from Kyoto: Travelers can choose to access Kibune by train or bus. The journey takes about 30 minutes.
By train: Get to the nearest Keihan Line and board the train to the northernmost stop, Demachiyanagi Station. From there, switch to the Eizan Line in the direction of Kurama and get off at Kibuneguchi Station.
By Bus: Get to the Kokusai Kaikan (subway station) and take a local bus directly to Kibune.
How To Get To Kibune from Osaka: The easiest way is to take the Keihan Train from Osaka such as Yodoyabashi Station or Temmabashi Station to Demachiyanagi Station. It is around 1 hour without transfer. We recommended getting the Kyoto-Osaka Sightseeing Pass to save you on the transportation fee. From there, board the Eizan train to the destination of Kibuneguchi Station. The trip will take you another 30 minutes at ¥430.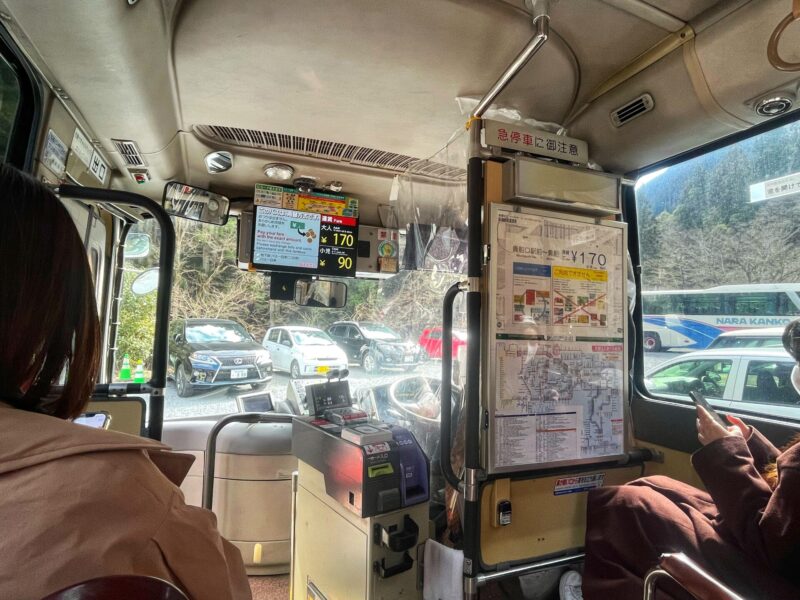 Lastly, from Kibuneguchi Station, you can take the local shuttle bus. The ride is affordable at ¥170 per ride for adults and takes about 5 minutes. The bus only accepts coins, but you can exchange a ¥1,000 bill for coins. Alternatively, a 30-minute peaceful stroll passing by tall cedar trees and flowing streams will take you to the Kifune village.
Kibune Travel Guide Tips: Depending on your itinerary, you can choose to get off at either Kurama or Kibuneguchi Station. These two locations are only 1 station away. If you choose to get off at Kurama station, you can hike to the Kibune via a beautiful hiking trail that connects Kurama-dera to Kifune village.
Read more on Kurama Hiking itinerary – A Travel Guide Blog.
Things To Do in Kibune itinerary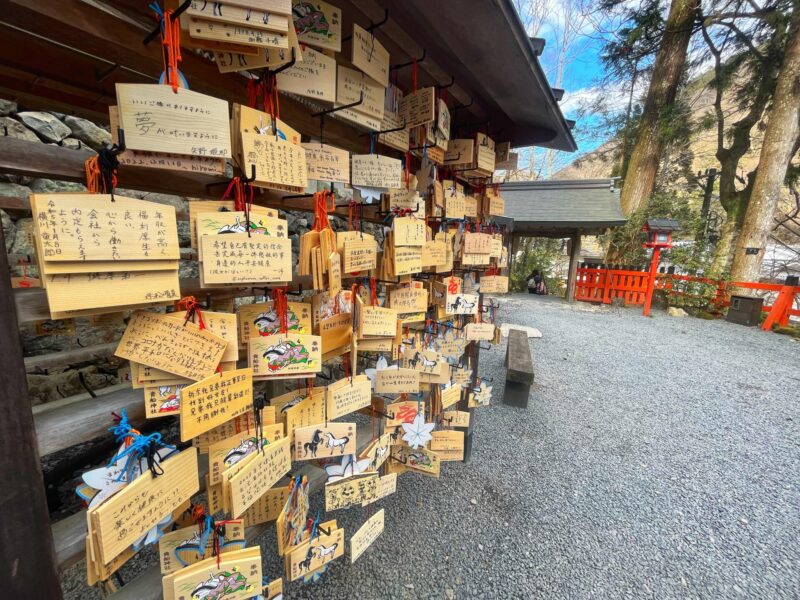 Here are the top things to do to plan for the Kibune itinerary. Feel free to change the itinerary based on your interest, season, schedule.
Things To Do in Kibune itinerary:
Check out the Tori gate with red lantern lined Stairway
Kifune-jinja Shrine
Try Omikuji – Fortune by Water
Kawadoko Riverside Dining (Summer only)
Hike To Kurama-dera Temple
Check Out the Tori gate with Red Lantern lined Stairway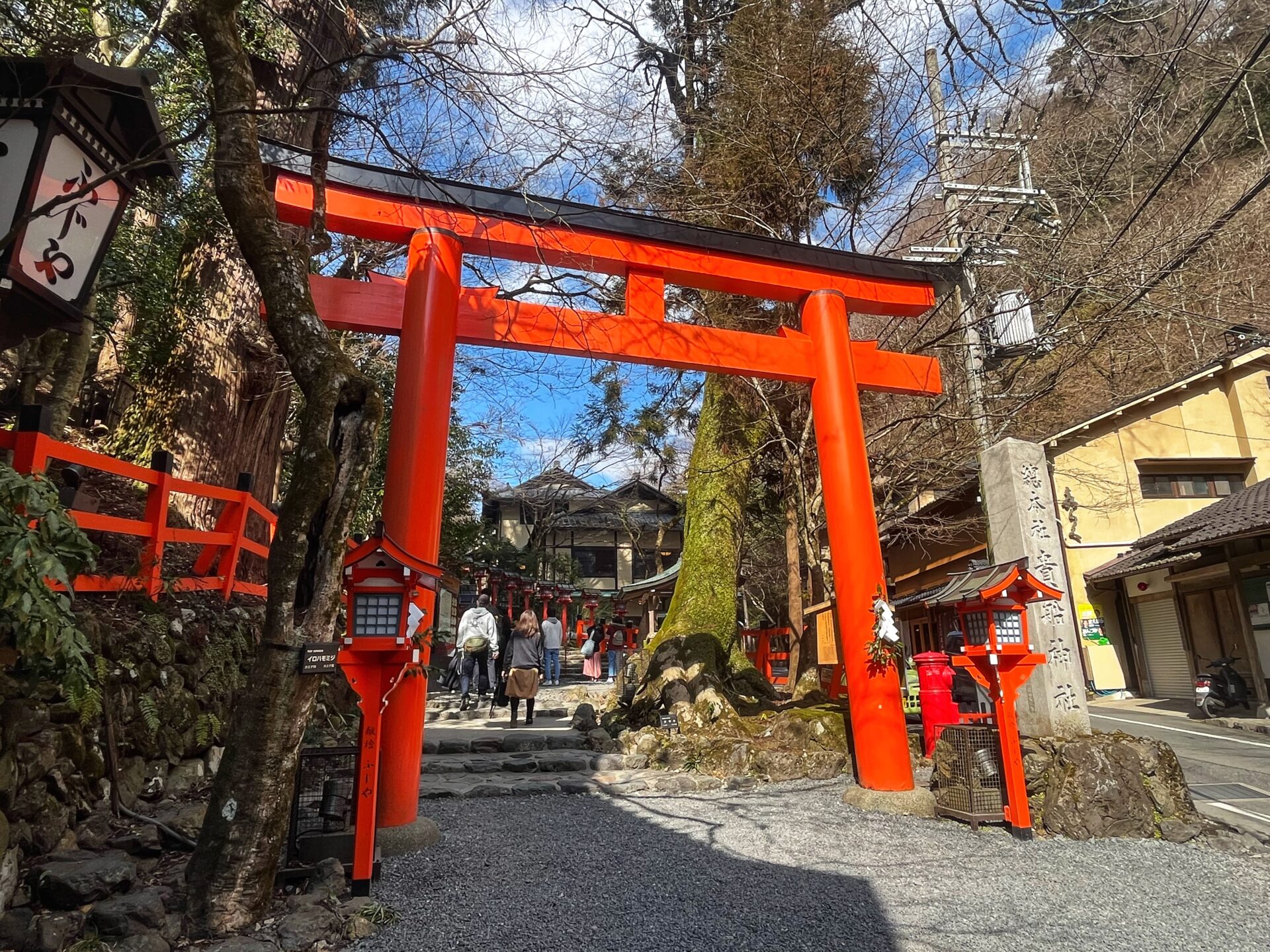 Whenever you mention Kibune, the first thing that comes to people's minds is the red Tori gate with a red lantern-lined stairway leading to the shrine.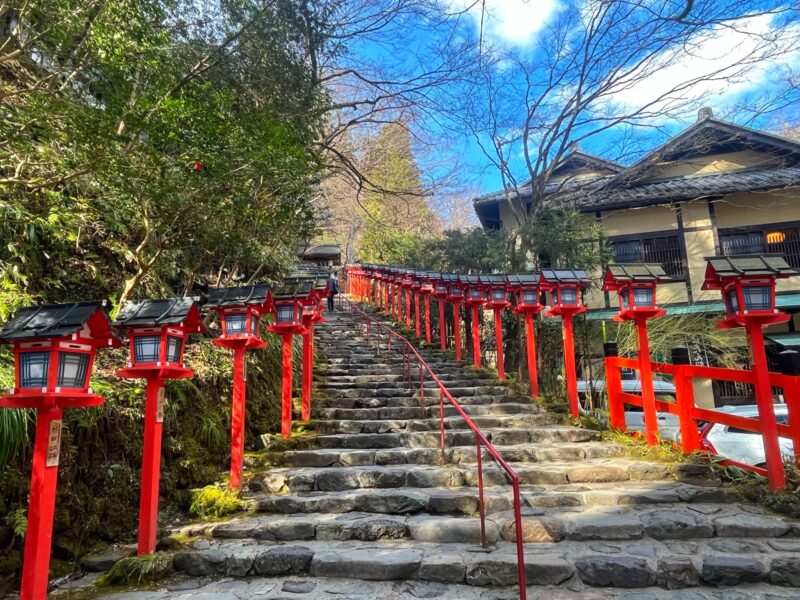 The red-lantern stairway is one of the most beautiful shots and famous spots to take photos. It was impressive at first glance and different seasons give different views. I went in mid-March. The greeny and the torii gate formed a beautiful mixture of red and green. Can't imagine it during winter with snow-capped white and fall with autumn colors.
After taking your best shot, continue to head to make your visit to the shrine.
Kifune-jinja Shrine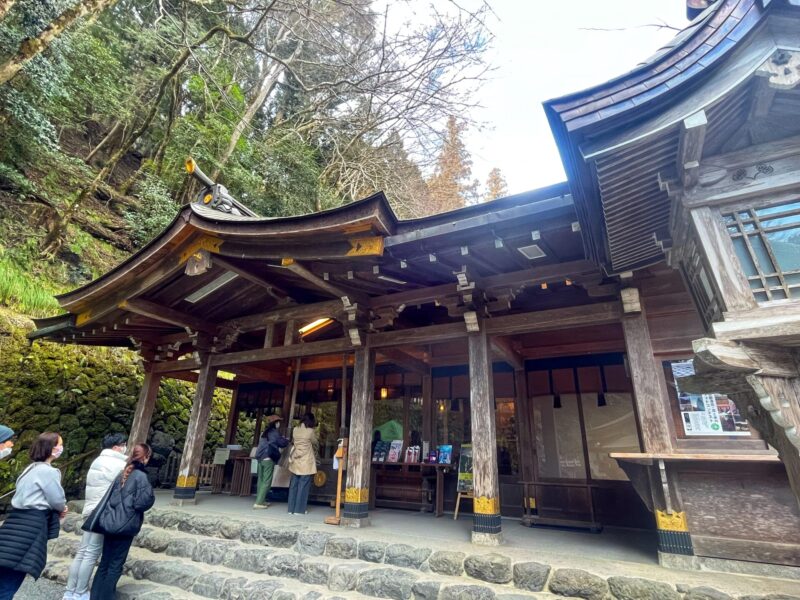 Kifune-jinja Shrine (貴船神社) enshrines the deity of water. According to legend, a goddess arrived in Kibune on a yellow boat, and the shrine marks the place where she finally landed. Locals believe in praying for protection to those heading out to sea, and for good weather.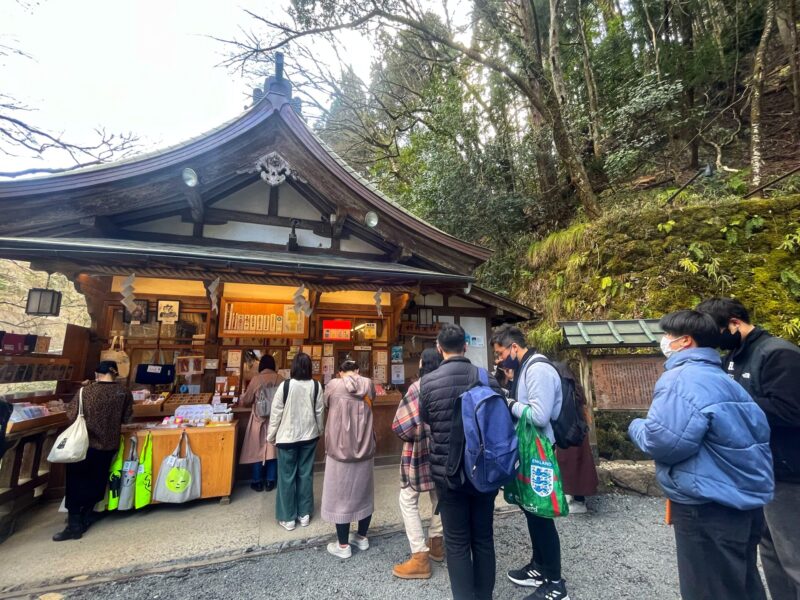 Kifune-jinja Shrine has three shrines, the Main shrine, Yuino-Yashiro (a shrine for wishes, mid-way between the first two shrines), and Okumiya (a matchmaking shrine located at the end of the road). You may follow the sequence to visit all of them.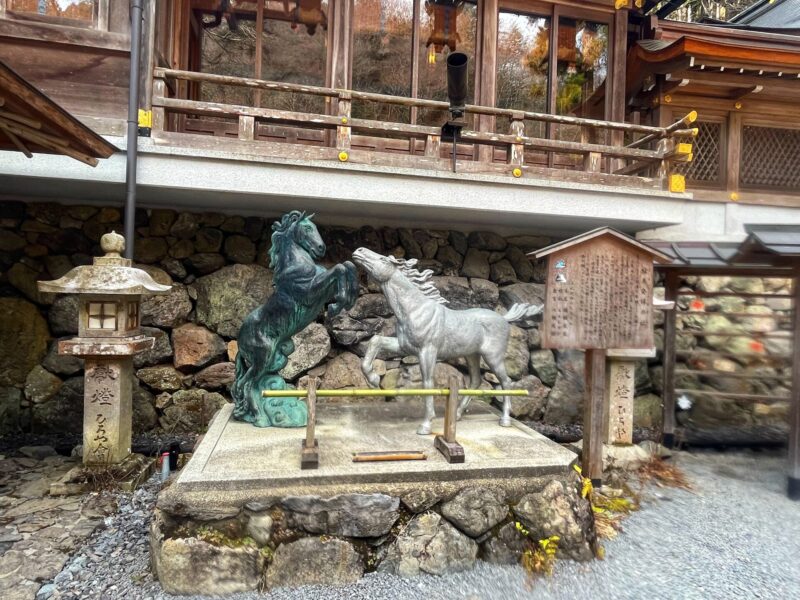 During your visit, you might notice two rearing horse statues in front of the elevated Main Hall. This is the gift of the Imperial Court followed by the worshiped here. It is said that the black horse is praying for raining while the white horse asks for clear skies.
Kifune-jinja Shrine (貴船神社)
Address: 180 Kuramakibunecho, Sakyo Ward, Kyoto, 601-1112, Japan.
Opening Hours: Daily from 9:00 to 17:00
Admission: Free!
Official Website: http://kifunejinja.jp/
Try Omikuji – Fortune by Water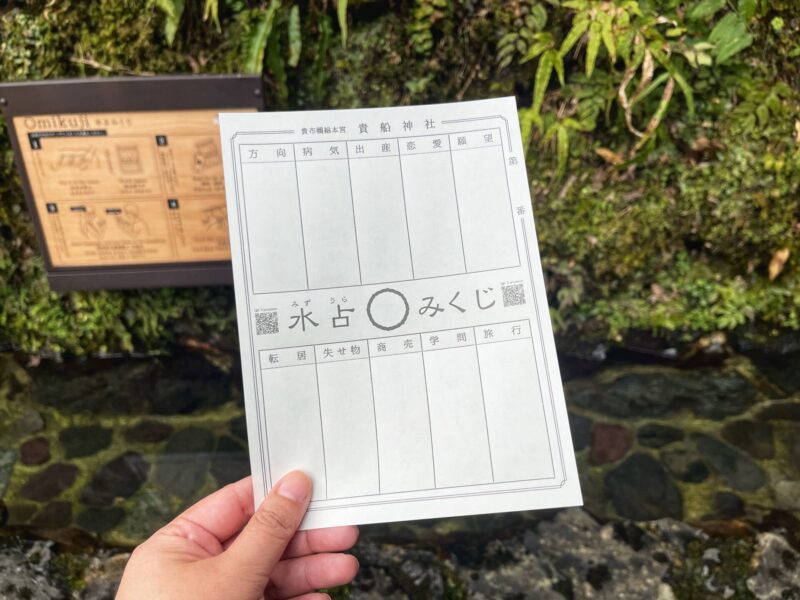 Kifune-jinja Shrine is famous for its unique omikuji where you can try the fortune by water. You can purchase fortune-telling sheets of paper near the main hall for a small fee. It is an empty piece of paper, but once soaked in water, your fortunes will magically appear!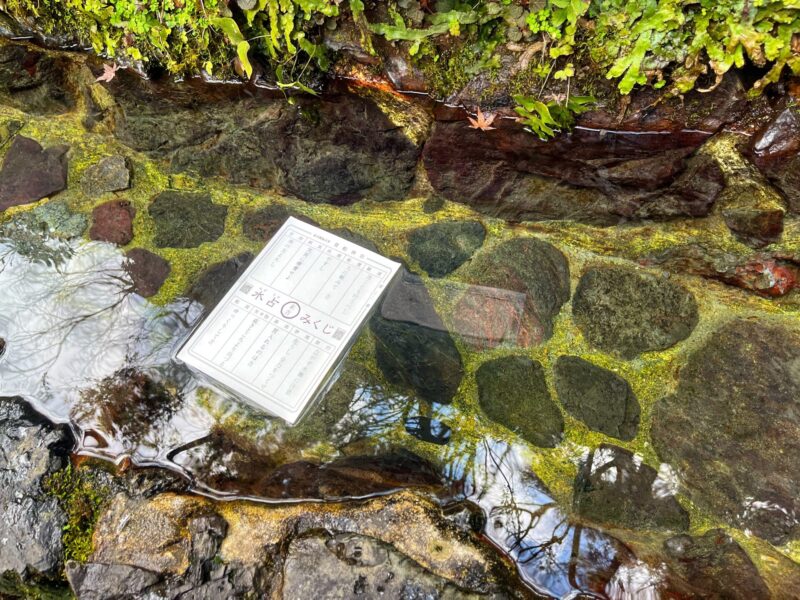 Simply place the blank sheet of paper on the small pool of water near the shrine and wait until your fortune appears on that piece of paper. The writings are in Japanese, but a QR code on the sheet will lead you to an app that offers translations in English, Chinese, Taiwanese, and Korean, as well as an audio recording of the fortune!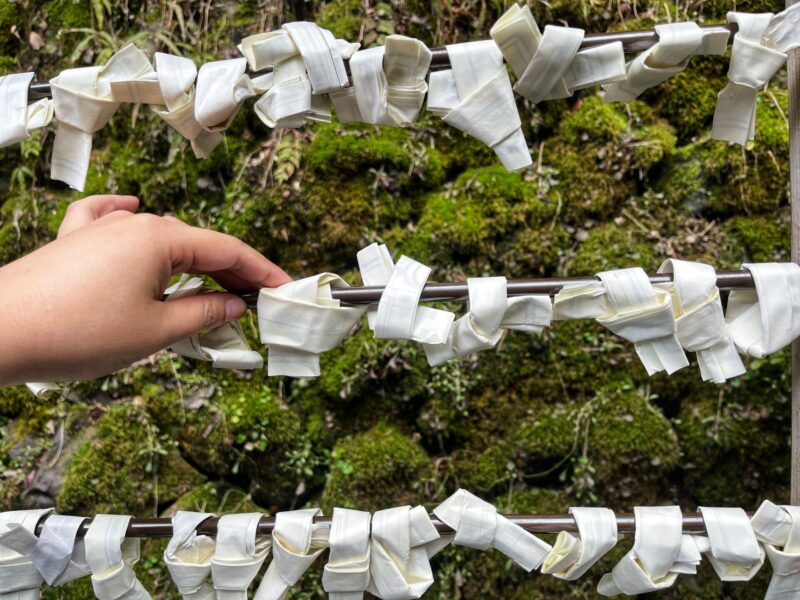 Lastly, tie your fortune-telling sheets up along with the others after you've come to terms with your fate. Truly one of the unique things to do on your Kibune itinerary!
Kawadoko Riverside Dining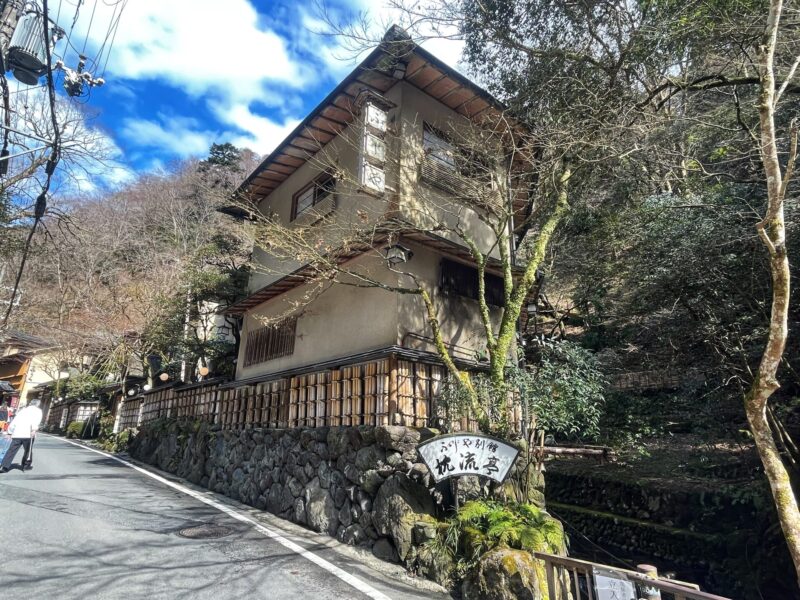 Another experience that cannot be missed on the Kibune itinerary is Kawadoko riverside dining. In warmer months, typically summer from May to September, restaurants will set up the wooden platforms right next to the river. Diners can enjoy this quintessential Kyoto-style riverside dining experience with delectable traditional Japanese kaiseiki cuisine with streaming river sound and the cooling effect of the nearby river. It's a great way to beat the summer heat, and is extremely relaxing.
Another popular option is the Nagashi Somen (flowing noodles). You get the full experience and catch your noodles as it flows by in spring water. The most popular restaurant is the Hirobun and many people can get there as early as 10 am just to get a slot. If you make your visit to Kibune during the summer, we would highly recommend it.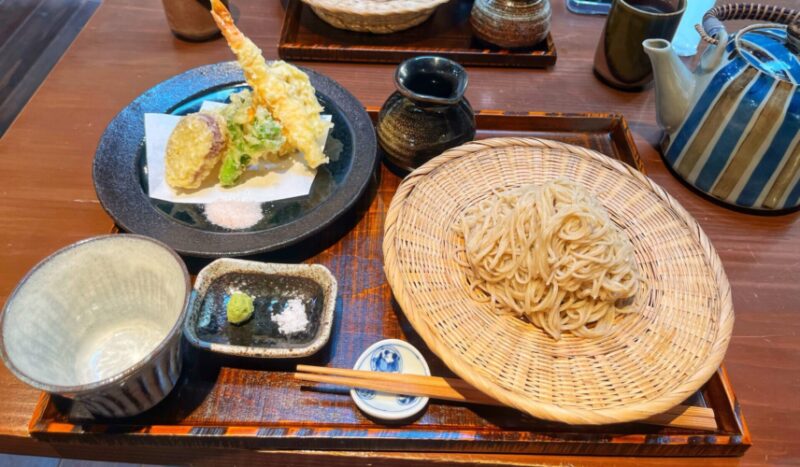 You will pass by a lovely river and quaint Japanese houses and shops. Numerous restaurants offer kawadoko-style dining. But it is not cheap for kawadoko riverside dining and most of them required reservation in advance.
My visit is during mid of March and Kawadoko is not yet set up. Still, there are also some nice restaurants if you are looking for what to eat in Kibune at cheaper price. We had the soba noodles at the Denbe.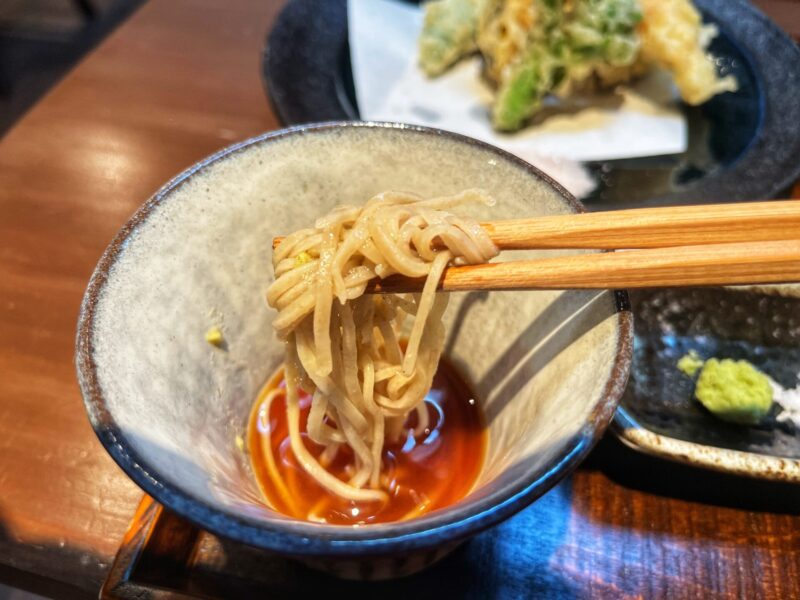 It was very reasonable price and less than ¥2,000 for the soba set. The food is very refreshing and delicious. A relaxing lunch after visiting the Kifune Shrine.
Hike to Kurama-dera Temple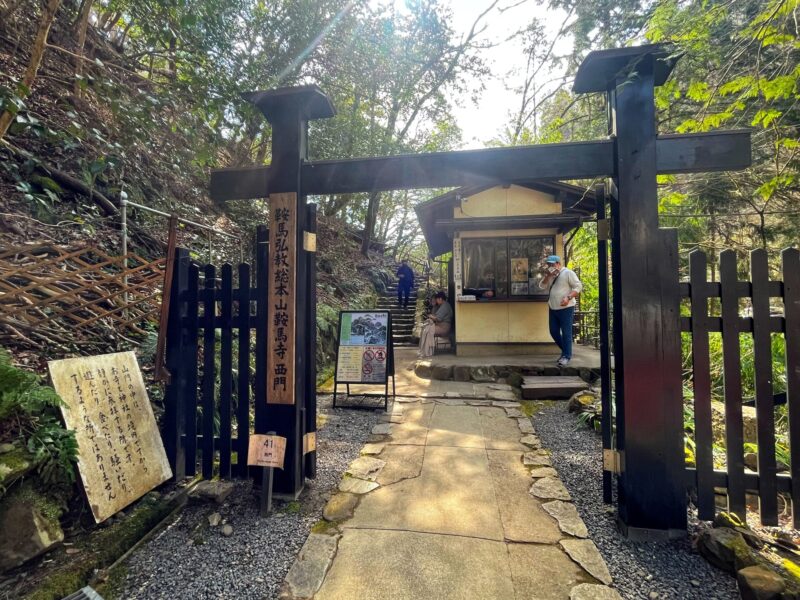 If you prefer to get some exercise, we recommend the hiking trail course between Kibune and Kurama. Most people will couple the visit and make the hike over the mountains from one village to another. The entrance is located just 200m from the Kifune-jinja Shrine.
The trail goes through the forested mountain with a lot of ups and downs. You will find several temple buildings and the Kurama-dera temple during the hike. Wear comfortable shoes as it normally takes two to three hours.
We did the hike from Kurama and end at the Kifune village. It was an easy hike and it didn't have many sightseeing attractions but with a beautiful view of the mountains. We end our itinerary by visiting the Kibune-jinja shrine and having our lunch at Kibune village. If you choose to end the hike at Kurama, you can consider taking the onsen bath at Kurama's side.
Related read: Kurama Hiking itinerary – A Travel Guide Blog
More Kibune itinerary Travel Guide Tips
How many time for Kibune?
It is advised to set aside 3-4 hours to explore the Kifune village. And you will need a longer time if you plan to hike to the nearby Kurama-dera temple.
When is the best time to visit Kibune?
The best time to visit Kibune is during autumn. It is very beautiful with the autumn colors in the misty, especially during the early morning hours.
How to get to Kibune from Kyoto Station?
We recommended you get to the Demachiyanagi Station by Keihan Train and then switch to the Eizan Main Line. Next, get off at Kibuneguchi Station and proceed to the Kifune village either by shuttle bus or walk.
Overall: A Visit To Kibune
All in all, we had a lovely time spending more than half a day exploring Kibune and Kurama. The greenery along the paths with the river made the place very peaceful and made us feel that we were so close to nature. Although the traveling time is long, we highly recommended to include the Kibune itinerary on your visit to Kyoto to experience the tranquillity of the Kifune village.
Lastly, if you are interested in traveling to other places in Kyoto, feel free to check out my Kyoto travel stories below:
More interesting places to visit in Kyoto: