Last updated on December 11th, 2023
We wrote this neighborhood guide for where to stay in Hanoi, breakdown into areas and budgets. So you'll exactly where to stay in Hanoi based on what you want to do. Let's learn more about the best places to stay in the city.
Hanoi or Ha Noi is one of those destinations where one trip is simply not enough. There are so many unique experiences and day trips that can be planned on your visit to Hanoi. This charming city is also the gateway to one of the greatest wonders of the world, Hang Long Bay. Many travelers flock to this charming city for a day or a few days of the visit.
Hanoi has a range of accommodation options to suit different types of travelers. From backpacker hostels, and mid-range boutique hotels to luxury resorts are available in the city. Hanoi is a also great travel destination if you are traveling on a budget because you get luxury hotels for the fraction of the price.
However, Hanoi is too crazy and hectic. It's the capital city of Vietnam and the second largest city in the country. Choosing the best place to stay is the most important thing to do when you plan your trip to Hanoi.
If you're visiting Hanoi for the first time, you'll want to know more about where to stay that close to the city's action and easy to plan what you want to do in the city. Here is the guide – where to stay in Hanoi.
Quick Guide: Where To Stay in Hanoi
When finding the best place to stay in Hanoi for travelers, we recommended staying as close as you can to Hanoi's city center. The best places to stay in Hanoi are Hoan Kiem (Hanoi Old Quarter) and Tay Ho (Hanoi West Lake).
Hoan Kiem (Hanoi Old Quarter) – Where to stay in Hanoi for first-time travelers.
This neighborhood is perfect for those that like to be located in the middle of the action at the heart of the city. Wide range of accommodation available with a great deal. Walking distance to Hanoi's main attraction with a great range of restaurants and street food to choose from.
Tay Ho (Hanoi West Lake) – Where to stay in Hanoi with family and couples.
This area is locally known for travelers who looking for a relaxing retreat in Hanoi. Here you will find modern shops and plenty of restaurants where you can try both local cuisine and international food.
Hanoi Accommodation Tips: Even luxury and high-range hotels are affordable in Hanoi. You can find very good quality accommodation for an unbelievable price and a great deal!
Hoan Kiem
Known also as Hanoi City Centre or Hanoi Old Quarter, the best neighborhood to stay in Hanoi is Hoan Kiem. It's the historical heart and soul of the city. Most of the main Hanoi attractions and interesting places are within the walking distance. Plus, the surrounding streets are lively, with shops, restaurants, and street vendors. Perfect place to stay in Hanoi for exploring different areas of the city.
Due to its convenience, Hoan Kiem is where most travelers stay. There is a wide range of accommodations that you can choose from. Many middle-priced hotels are often as good as luxury hotels in this neighborhood.
Here is our best pick for where to stay in Hanoi – Hoan Kiem:
Sofitel Legend Metropole Hanoi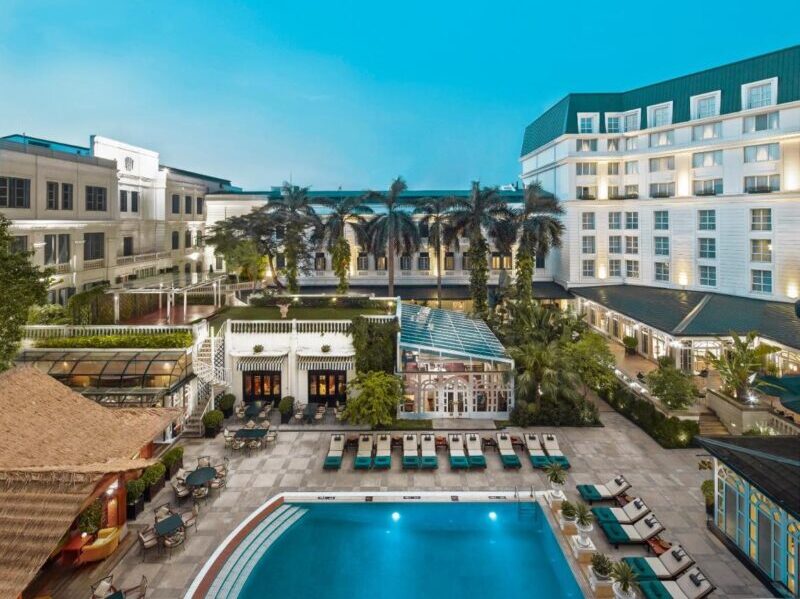 Luxury: Sofitel Legend Metropole Hanoi is the best choice if you are looking where you stay in Hanoi luxury. Offering service since 1901, the property is a historic luxury landmark that amazed travelers from around the world. The location is also perfect with easy walking distance to wander around the French and Old Quarters.
The building and rooms are tastefully-designed in French architectural style while still showcasing rustic touches. Guests can enjoy the pampering spa services, 24-hour room service, and a heated swimming pool. The staff is 100% attentive, quick, and ready to support. Everything is of the highest quality and perfect for a luxurious stay in Hanoi.
Acoustic Hotel & Spa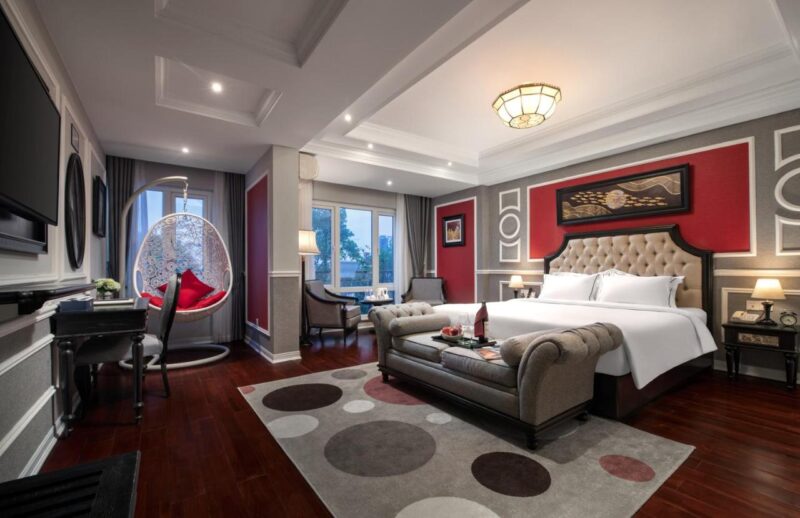 High-Range: Acoustic Hotel & Spa is the popular affordable luxury Hotel in Hanoi. The location is pretty convenient and right on the border of the Old Quarter. It is walking distance to the train street and weekend market with lots of eateries along the way. Basically, you have everything you need to experience the best of Hanoi right on your doorstep.
The room was spotless, comfortable, and modern. The staffs are extremely accommodating, helpful, and friendly. A great bonus of complimentary afternoon tea with snacks for all hotel guests daily. This hotel will definitely make your stay in Hanoi worth every penny.
Classic Street Hotel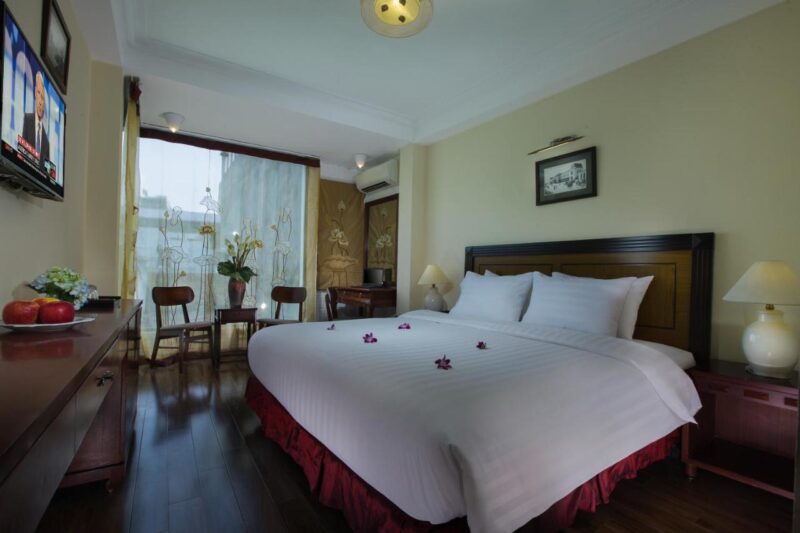 High-Range: As the name says, Classic Street Hotel is a classic-style hotel located on ancient Hang Be Street in Hanoi. The property is very well-kept with traditional Vietnamese decorations. The location is perfect, situated in a central location of the Old Quarter but tucked in a relatively calm street. Most of the Hanoi tourist attractions are within walking distance.
The room is spacious and very comfortable with great AC. All the staffs are gracious, friendly, and readily available. There are many other hotel options in the area but this hotel is excellent value for money. Highly recommended for a great stay in Hanoi.
Hanoi Media Hotel & Spa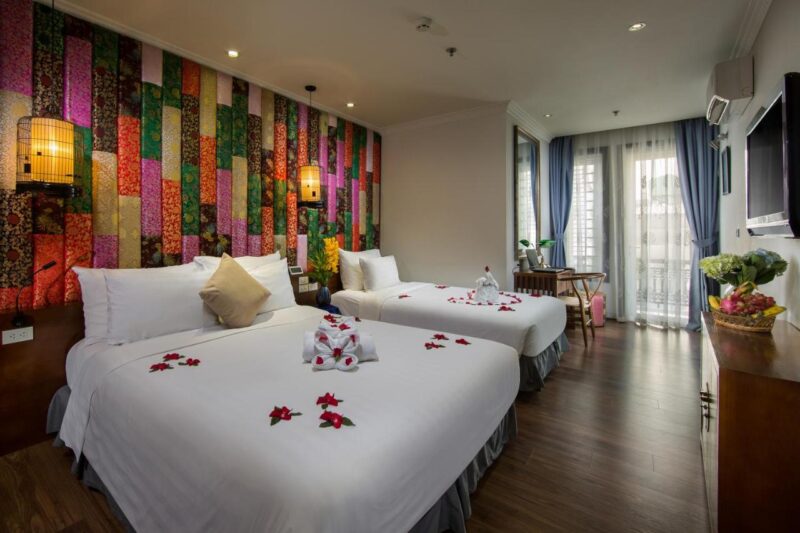 High-Range: Hanoi Media Hotel & Spa is a charming place to stay in the Old Quarter. Located in Hanoi's Old Quarter area, the property is very ideal for exploring the charming city. It is only a short 1-minute stroll to the famous Hoan Kiem Lake, while a 15-minute walk can take you to St. Joseph Cathedral and Hanoi Opera House.
All the facilities are excellent, with a clean comfortable room with a balcony. Staffs are attentive and supportive. A good value for where to stay in Hanoi. It is highly recommended to stay here if you are visiting Hanoi or a short stopover before passing through one night to go to attractions nearby.
Hanoi Prime Center Hotel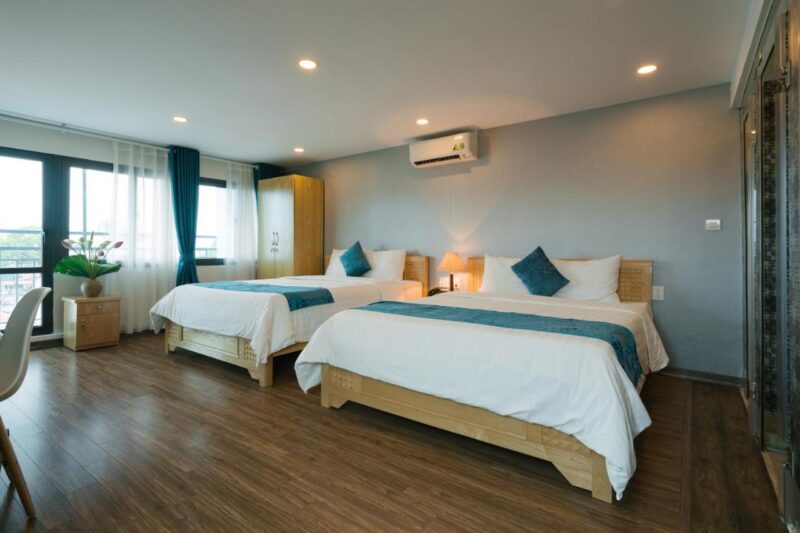 Mid-Budget: Hanoi Prime Center Hotel is a very affordable mid-range hotel in the Old Quarter. It is located in the middle of the action and within walking distance of everything that you searching for in Hanoi. Night markets, train streets, all the great coffee shops, delicious Vietnamese cuisine, and all the livelier part of town.
The facilities are clean, and the room size was generous. The friendly staff will ensure you have the best stay in the hotel. Great value for money.
Ja Cosmo Hotel and Spa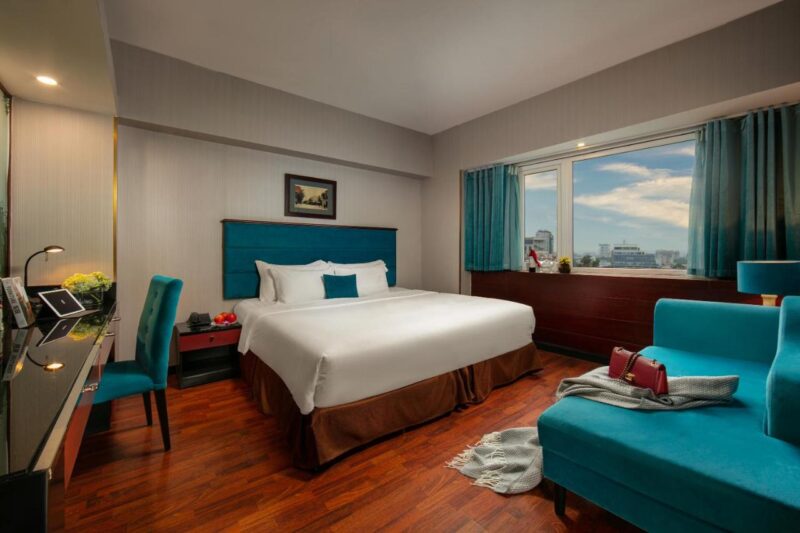 Mid-Budget: Ja Cosmo Hotel and Spa is a surprisingly affordable boutique hotel. Located in the heart of Hanoi Old Quarter, it is easy walking distance to visit the attractions nearby and find food even at night. You were able to reach everything by foot and only needed a few minutes to the popular night market.
The room is just as described, clean, and comfortable. The staff is kind and friendly and helps you with whatever you need. Perfect for a mid-budget stay in Hanoi.
Tay Ho (Hanoi West Lake)
Tay Ho or the Hanoi West Lake is our pick for where to stay in Hanoi for families and couples. Compared to the hectic Hanoi Old town, Tay Ho is in a fast pace of transition to a modern city. The highest density of ex-pats in Vietnam is living here.
In Tay Ho, you will find a vast array of all-ages activities and cater to those who looking to enjoy a relaxing retreat in Hanoi. A variety of accommodations and food options can be found here including lakeside restaurants, cafes, and bars. Perfect for travelers visiting Hanoi and wanting to stay in a comfortable and modern area.
Where To Stay in Hanoi – Tay Ho:
InterContinental Hanoi Westlake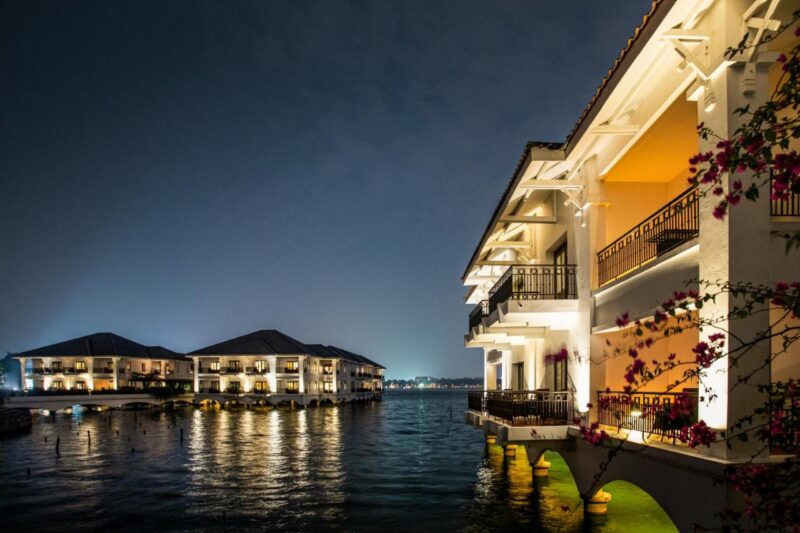 Luxury: InterContinental Hanoi Westlake is surely one of the popular options for where to stay in stay Hanoi luxury. The luxurious property sits on the peaceful waters of Hanoi's Westlake, next to the 800-year-old Kim Lien (Golden Lotus) Pagoda. It is very relaxing by staying in the overwater bungalow in the quieter end of Hanoi with incredible views.
The property takes luxury to a high standard within contemporary Vietnamese decor and world-class service. Staffs are amazingly helpful and caring. Great food including the in-room dining options. Everything is perfect that you could expect from a 5-star hotel.
Moon West Lake Hotel & Residence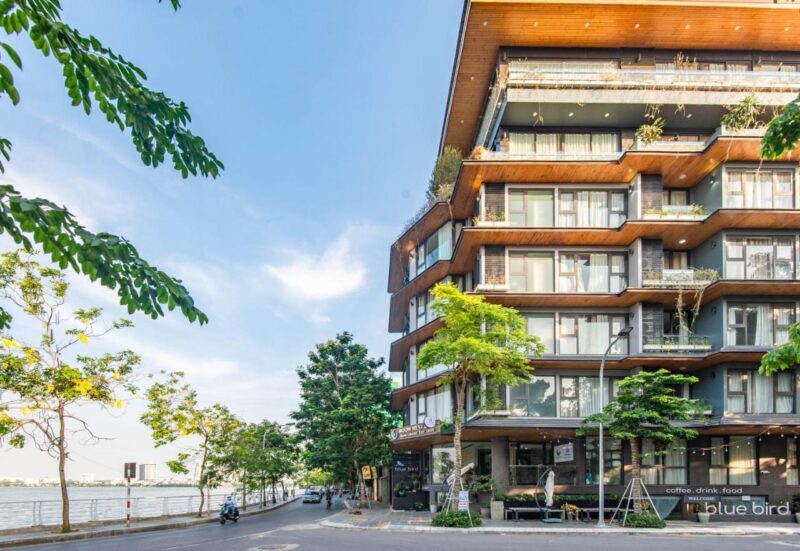 High-Range: Moon West Lake Hotel & Residence is a very good apartment hotel right on Westlake shore. It will welcome you home after a busy day amongst the hustle and bustle of the city. The property is very well maintained and features a fully equipped kitchen and private bathroom. The room is clean and tiny. Reasonable price for a stay in Hanoi.
Eden Westlake Hotel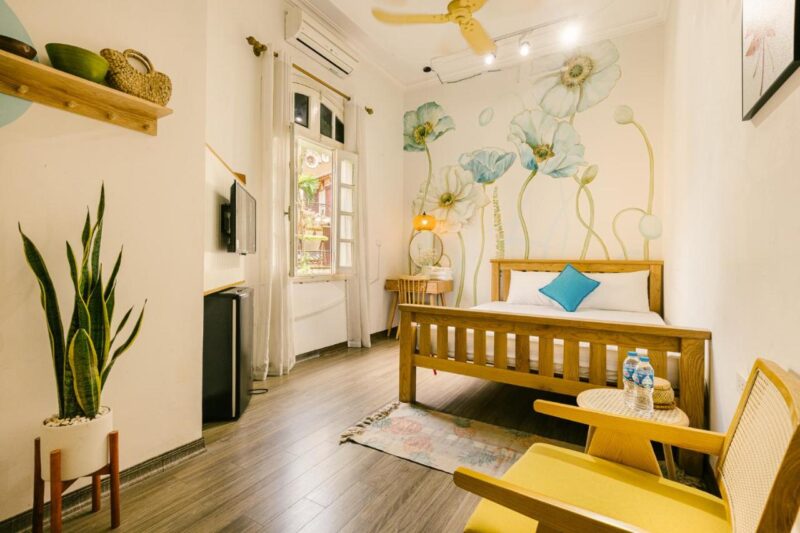 Mid-Budget: Eden Westlake Hotel is a place if you're looking for an experience with a local touch. The property features a mix between modern style and old traditional style. The building is nicely decorated for guests to enjoy the peaceful atmosphere.
The rooms are clean and the bed is comfortable, very suitable for resting and relaxing. Staffs are helpful and trying to ensure your stay is comfortable and enjoyable. Price are good and great value for money.
Overview: Best Place to Stay in Hanoi
That's it! We hope you have already chosen a place to stay in Hanoi. All the accommodation options are great and they are exactly what you need after a long day of exploring the city.
If you're still not sure which place is right for you, here is a quick recap of our top pick. We highly recommended affordable luxury hotels such as Acoustic Hotel & Spa and Classic Street Hotel because of their excellent location, comfortable, and good price. Both properties offer a clean, comfortable, and cozy stay for your visit.
Lastly, if you need more travel inspiration for Northern Vietnam, here you can find the best articles to plan your trip including Sapa, Hanoi, and Ha Long Bay.
Traveling to Hanoi:
Traveling to Sapa: