Last updated on June 3rd, 2023
If you're visiting Hanoi and want to experience as wide a range of Vietnamese local food as possible, then this Hanoi food guide will be very useful to you.
No visit to Hanoi is complete without having some of the best authentic Vietnamese food in the city. Exploring the city while eating along the journey was truly amazing. It is one of my favorite gastronomic cities in Vietnam, offering a range of authentic regional South Vietnamese food. This thousand-years old city is not only famous for its meaty dishes such as pho noodle soup, bun cha, and banh mi, but you will also find the unique egg coffee and many more flavorful Vietnamese dishes.
On my trip to Hanoi, I truly enjoyed all the best food and drinks. There is a lot to try with thousands of restaurants, cafes, and street food stalls serving wonderful food to locals and tourists. Apart from authentic Vietnamese food, Hanoi food is unique and won't be found anywhere else. I was intrigued and excited to try as many Hanoi foods as I could.
Want to know what to eat and drink in Hanoi when visiting here? This Hanoi food guide post is all about the best food I tried and ate during my visit to Hanoi. Let's check it out!
Hanoi Food Guide: What To Eat in Hanoi
If you're traveling to Hanoi and it's important for you to find the best local food, then I hope this Hanoi food guide puts you on the right track.
Here is the quick list for what to eat in the Hanoi Food Guide.
Cà phê trứng (Egg Coffee)
Phở bò (Beef noodle soup)
Bún chả (Grilled Pork with Noodle Dish)
Bánh mì (Vietnamese Baguette)
Cháo (Vietnamese Porridge)
Lẩu (Hotpot) and Nướng (BBQ)
Hanoi Street Food
Hanoi Food Tips: If you are planning a trip to Hanoi, be sure to check out our detailed Hanoi travel guide. We listed down all the information you need such as where to stay, and which attractions to visit, coupled together with what to eat to help you plan your trip.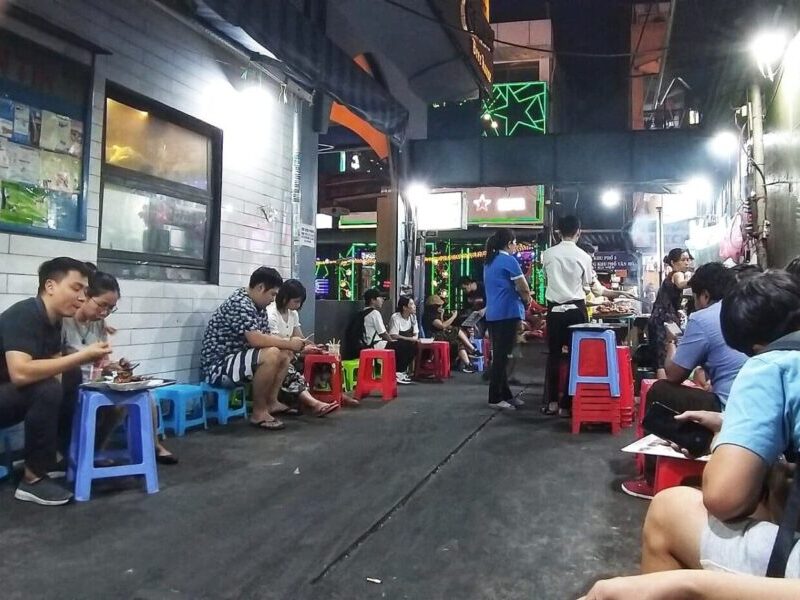 Hanoi Food Tour
The street food in Hanoi is one of the best food journeys we had in Asia. You have two options when it comes to exploring Hanoi's street food scene: go on a guided tour or do it yourself. A street food tour is a great way to experience Hanoi as it's easily walkable and a variety of food can be sampled with a local guide.
Hanoi Food Tour Recommended: Fun food tour in Hanoi's Old Quarter.
Cà phê trứng (Egg Coffee)
Egg coffee or "Ca Phe trúng" is a Hanoi specialty and is rated as must-try food on anyone's Hanoi food guide. Drinking my first egg coffee in Hanoi was also one of my favorite experiences in the town.
Watch out for many local coffee shops with interesting low-level tables and chairs. You will join many Vietnamese local people sitting, enjoying a cup of coffee, and chit-chatting together.
Egg coffee may sound weird but I have to say, it tasted heavenly!
Firstly, the drink is interesting. It combined both coffee and dessert in a cup which really brought coffee drinking and sweet treat enjoyment to a whole new level. The frothy egg concoction on the top was creamy, smooth, and velvety. I must say, I am not disappointed at all.
Where to eat the best coffee in Hanoi:
Giang Café – Address: 39 Nguyen Huu Huan Hoan Kiem.
Dinh Café – Address: 13 Dinh Tien Hoang Street, Hang Bac Ward, Hoan Kiem.
Café Thái – Address: 27 Trieu Viet Vuong, Hai Ba Trung.
Egg Coffee from Giang Café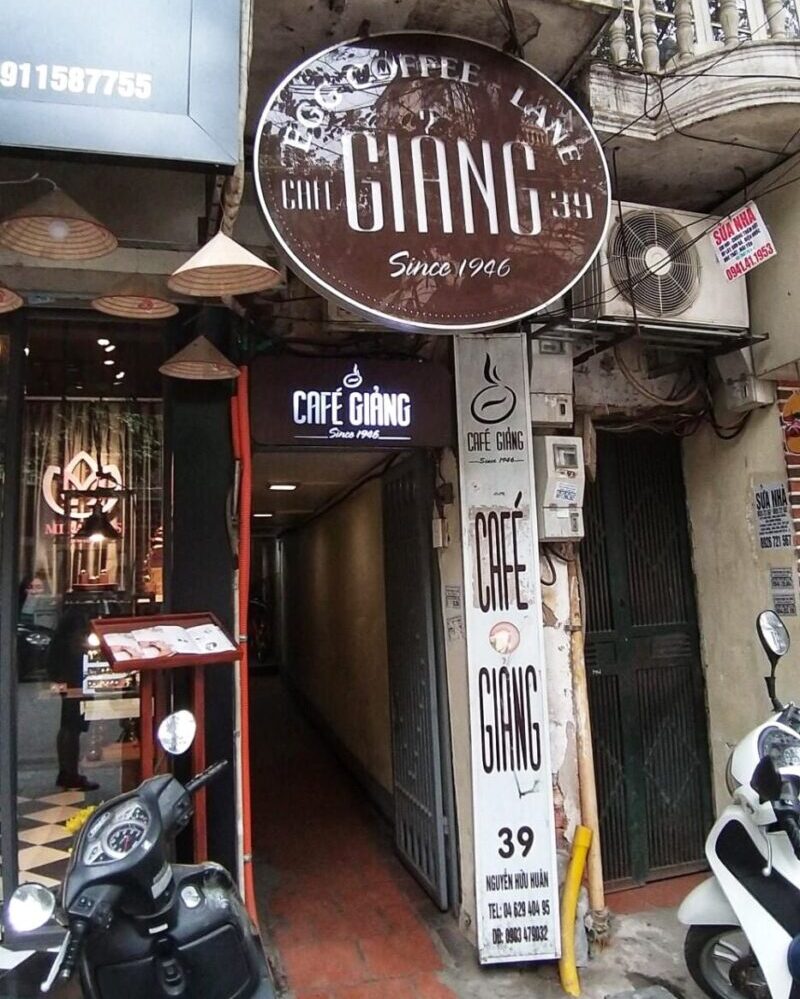 Established in 1946, egg coffee from Giang Café is the original and one of the places you must try if you are ever in Hanoi. The innovators and creators, the Giang family was starting making egg coffee when milk was in scarcity in Vietnam. Egg coffee has now become the most iconic coffee in Hanoi.
Giang Café is humbly hidden in a small alley on Nguyen Huu Huan Street in the city's old quarter. The small entrance of the cafe leads you to a special two-story building with an interesting layout, local-style furniture, natural light, and greenery creeping down the walls. It was a bit hidden but worth the search.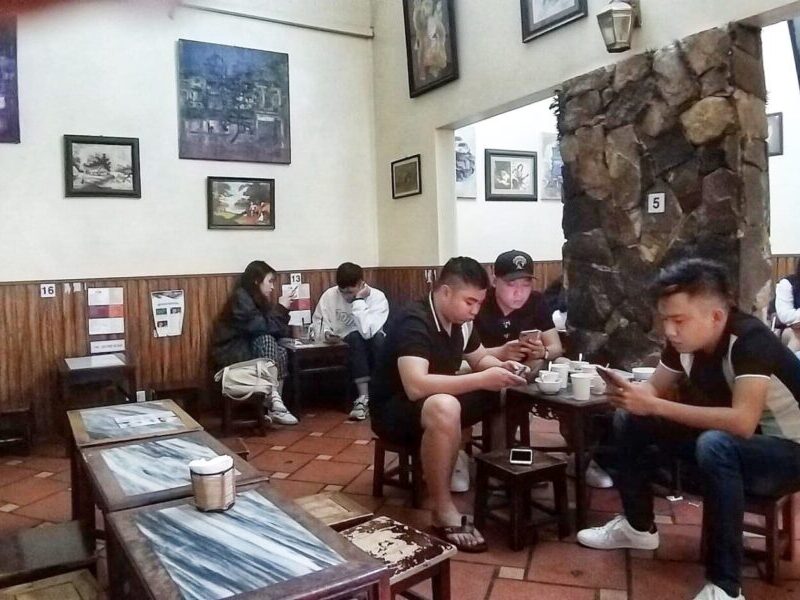 The shop was always busy, especially during noon time, crowded with locals and visitors sipping and exchanging conversations. It has a local environment where you will find traditional low tables and stools like many other cafes in the Hanoi Old Quarter. The service is fast, despite the densely packed space and large customer volume.
A Cup of Egg Coffee in Hanoi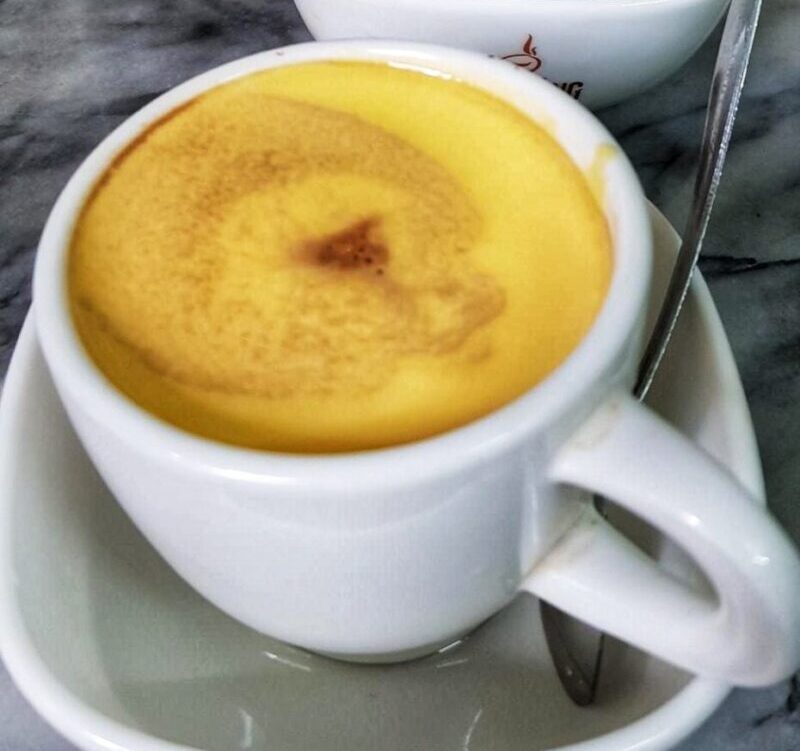 We tried the hot egg coffee with chocolate powder. The taste was special and is like a thick sweet strong coffee. You can either stir well or enjoy the whipped egg on top first. The taste is strange on the first sip but not fishy at all. It was so rusty, fresh, and greasy. A must-visit for any coffee lover.
Ambience-wise, we loved the atmosphere in the cafe. The price is slightly more expensive than normal coffee, but worth giving it a try when visiting Hanoi. The best place to immerse in the Hanoi culture and food.
Giang Café
Address: 39 Nguyen Huu Huan Hoan Kiem, Hanoi.
Business Hours: Daily from 7:00 to 22:30
What to Order: Whipped egg hot or cold with chocolate powder
Price Range: VND 40,000-50,000 per cup of egg coffee
Phở bò (Beef noodle soup)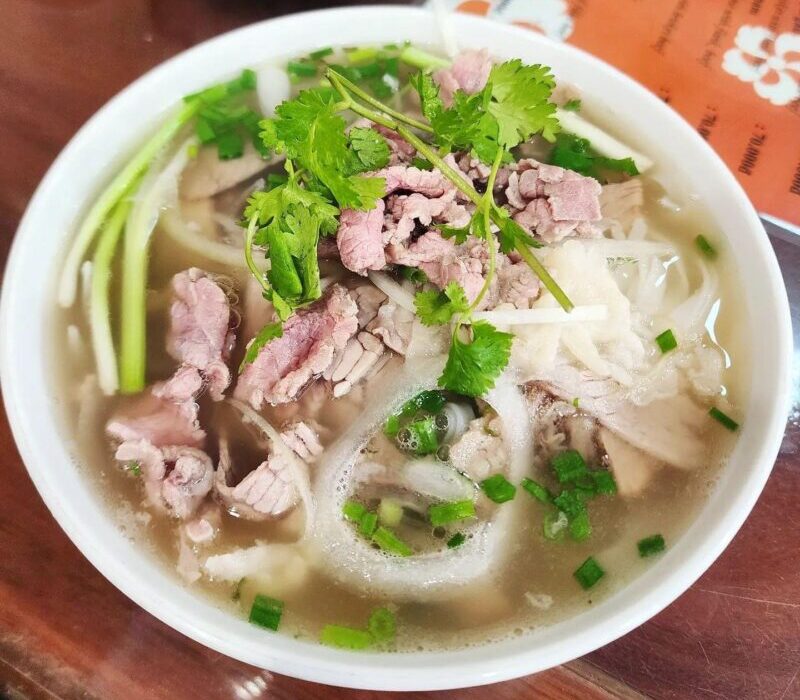 If you've ever tried Vietnamese food, there is a high chance that it was a bowl of Pho (beef noodle soup). A bowl of hearty pho noodles soup made with fresh rice noodles, long slow-cook beef broth, slides beef, and topped with onion, scallion, and cilantro. This Hanoi must-try food can be classified as Vietnam's national dish and is widely available across the city.
To prepare a flavorful bowl of pho noodle soup, long hours are required in cooking a quality broth. So this is not a surprise that a good pho restaurant in Hanoi will serve one type of pho only; pho bo (beef pho) or pho ga (chicken pho). A variant of fresh beef cuts is put into a large bowl with a sufficient amount of flat rice noodles, topped with scallions, onion, and cilantro. The most common beef cuts are served as tai (medium rare), tai nam (medium rare flank), chin (well-done), or tendon to fatty brisket.
Numerous renowned restaurants serve the best pho in Hanoi, especially in Old Quarter and the French Quarter. Each has its taste and a particular type of cooking. Popular Pho stalls such as Pho Gia, Pho Thin, and Pho 10 are always with a long queue of people waiting to have their pho.
Where to eat the best Pho in Hanoi:
Phở Gia Truyền Bát Đàn – Address: 25 Hàng Cá, P, Hoàn Kiếm.

Phở Thìn Lò Đúc – Address: 13 Lo Duc, Hai Ba Trung.

Pho Hang Trong – Address:

– Address: 8 Hàng Trống, Hoàn Kiếm.
Pho 10 Ly Quoc Su – Address: 10 Ly Quoc Su Street, Hoan Kiem.
Bún chả (Grilled Pork with Noodle Dish)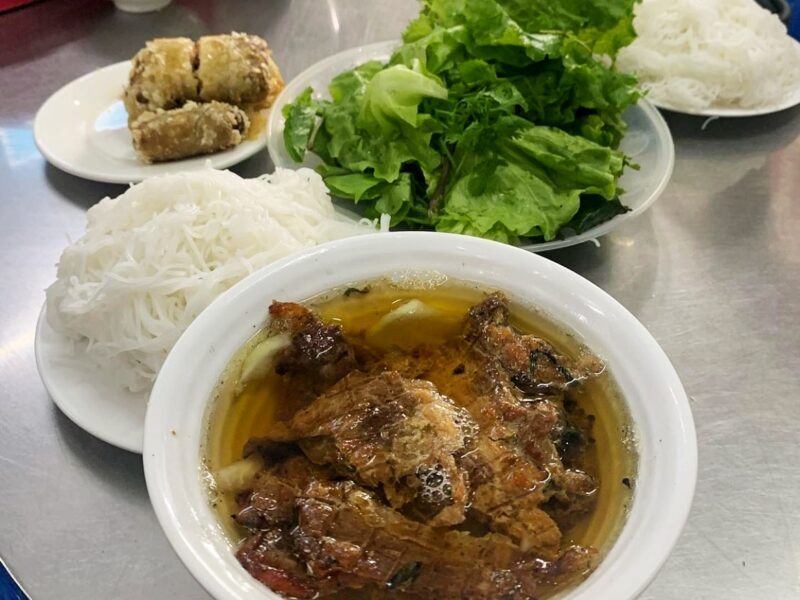 Bún chả is another beloved local specialty of Hanoi – the city's top choice for lunch. The delicious Bun cha consists of a soupy bowl of diluted dipping sauce that is filled with charcoal-grilled fatty patties and pork slices. It comes along with rice vermicelli and plenty of fresh herbs like lettuce, coriander, and purple perilla.
Similar to pho, bun cha is a very popular noodles soup dish in Northern Vietnam. The difference is the Pho noodles are flat and thick like fettuccine, while Bun noodles are cylindrical like spaghetti.
Bun Cha Huong Lien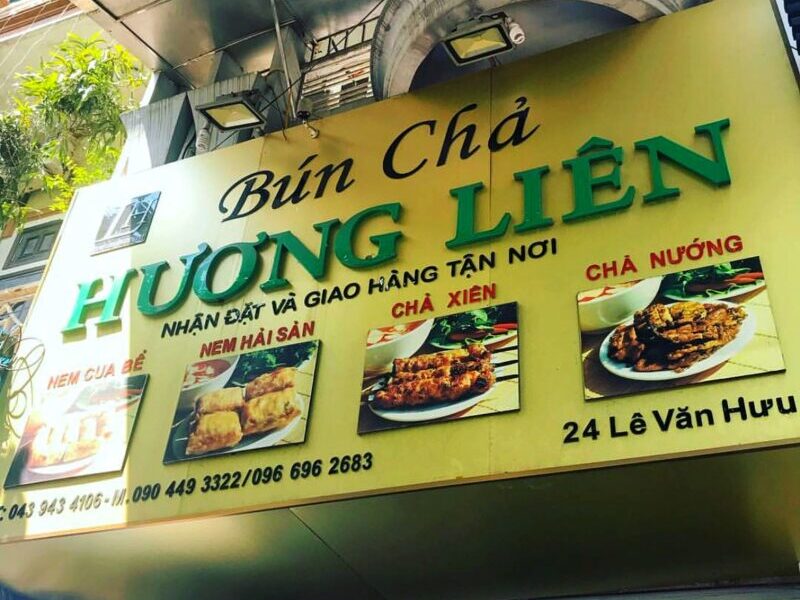 Bún Chả is also the dish famously shared by Anthony Bourdain and Barack Obama. The infamous restaurant, Bún Chả Hương Liên is where they ate their $6 dollar dinner. It is always crowded with curious diners from all over the world to taste this amazing local dish.
Where to taste the best Bun Cha in Hanoi:
Bun Cha Chien Loan – Address: 25 Gia Ngu Street, Hoan Kiem.
Bun Cha Hang Quat – Address: 74 Hang Quat Street, Hoan Kiem.
Bun Cha Huong Lien – Address: 24 Nguyen Huu Huan Street, Hai Ba Trung.
Bánh mì (Vietnamese Baguette)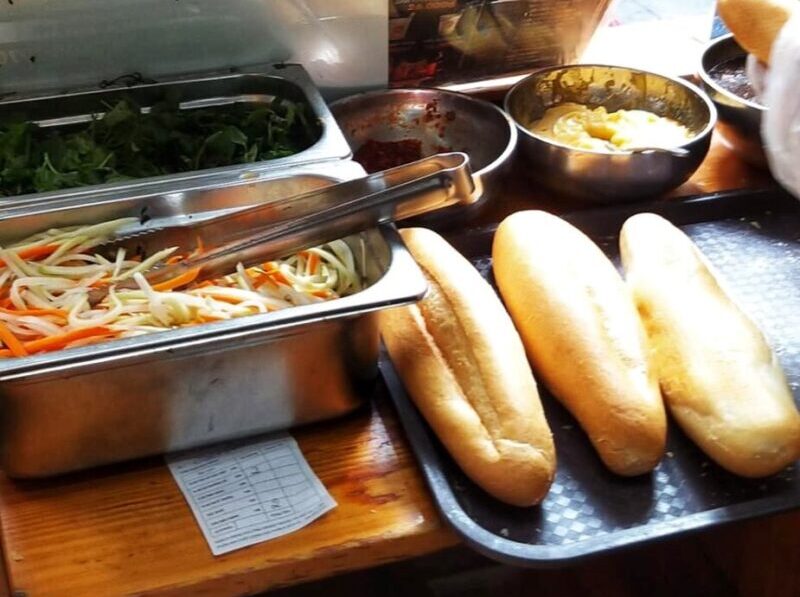 Banh mi is the local Vietnamese take on a French baguette. Local use rice flour to create a light crispy baguette and split lengthwise to fill with a variety of ingredients such as liver pate, pickled vegetables, cucumber slices, spices, and your choice of meat.
Bahn mi is the staple food in Vietnam and is widely consumed across the country. Don't miss to taste the awesome Bahm mi when visiting Hanoi. There are literally hundreds of Banh Mi shops dotted around Hanoi, whether on carts or brick and mortar shops. You should definitely try it while you're in Hanoi.
Where to eat the best Bahm Mi in Hanoi:
Bánh Mì 25 – Address: 25 Hàng Cá, P, Hoàn Kiếm.
Bami Bread – Address: 98 Hang Bac Hoan Kiem.
Banh Mi Pho – 57C Dinh Tien Hoang Street, Hoan Kiem.
Bami Bread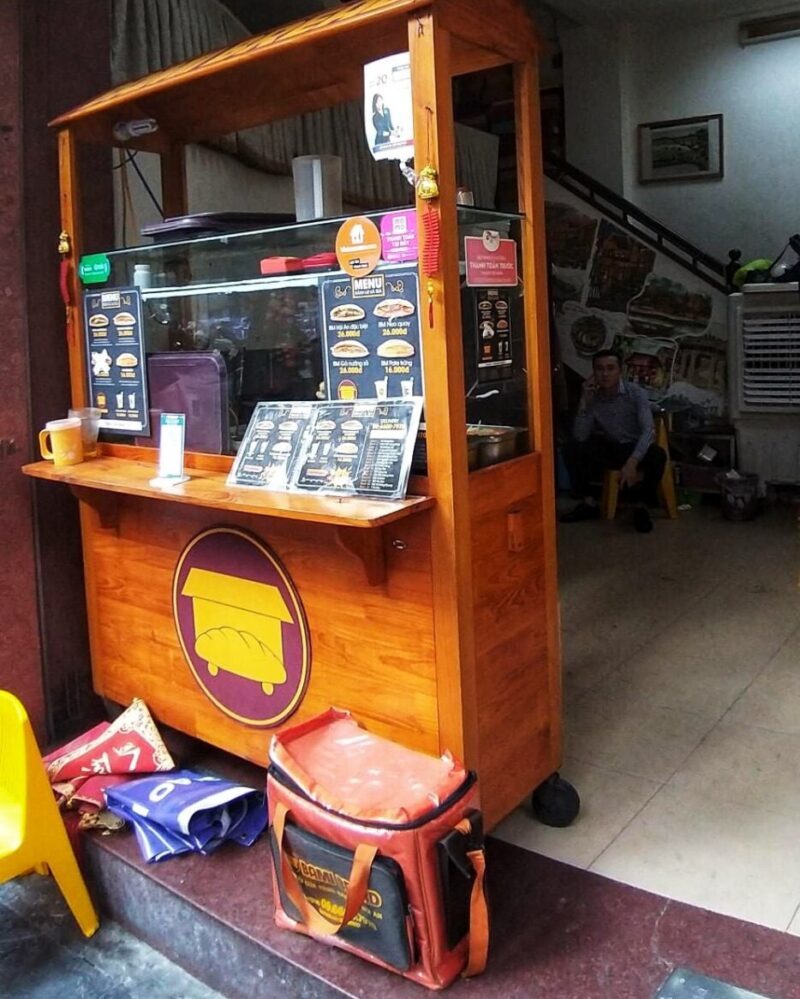 For a tasty and fresh Bahm mi at a good price, head to Bami Bread. It is highly recommended by locals and also my favorite banh mi store in Hanoi Old Quarter. The banh mi was delicious, with fresh ingredients, and really reasonably priced!
Bami Bread is a very small outlet and very basic inside. It's hard to miss with its yellow decoration and inviting setup. There are a few plastic stools where you can have your Bahm mi once ready. From the menu, there are multiple choices that you can choose from with spicy and non-spicy options. I ordered Hoi An Special as I truly missed the Bahm mi that I had when visiting Hoi An.
The Bahm mi is made to order with fresh ingredients. The staff makes it in front of you so expected to wait. It comes with cute little paper bags with a representation of your choice. So adorable!
Hanoi Best Bahm Mi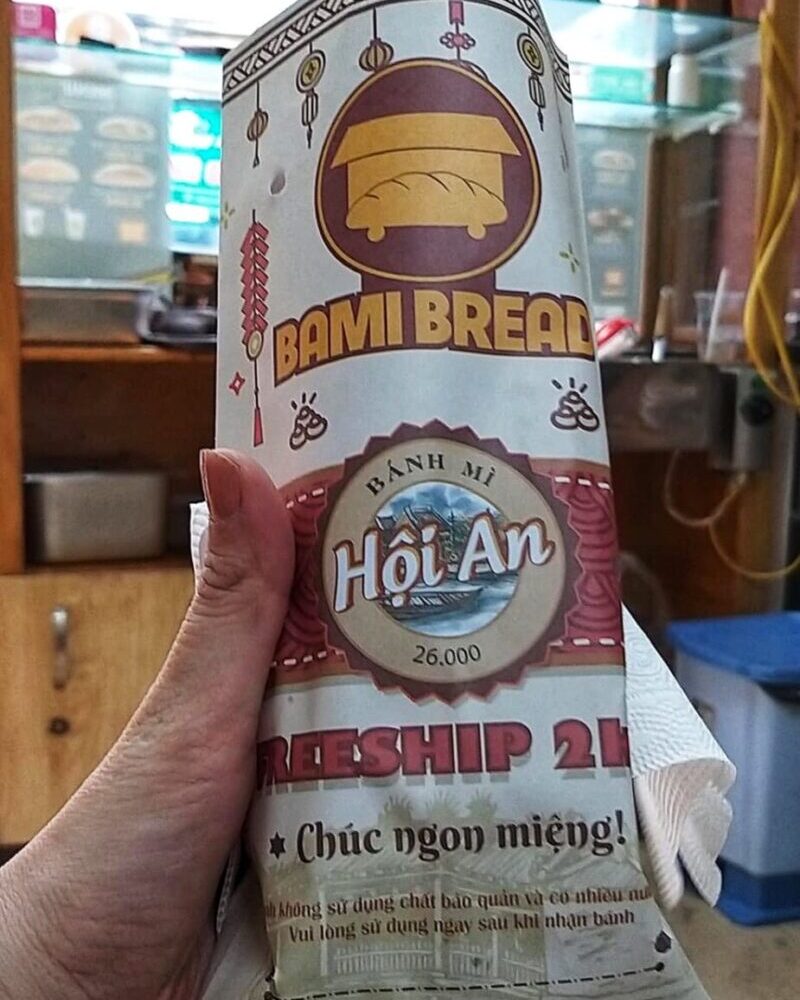 We absolutely loved the Banh mi and the crispness of the baguette from Bami Bread! It is "Hoi-An-style" Bahn mi which consisted of slow roasted pork, paté, pickled vegetables, coriander, mayonnaise, and secret Hoi An sauce all nestled into a warm baguette.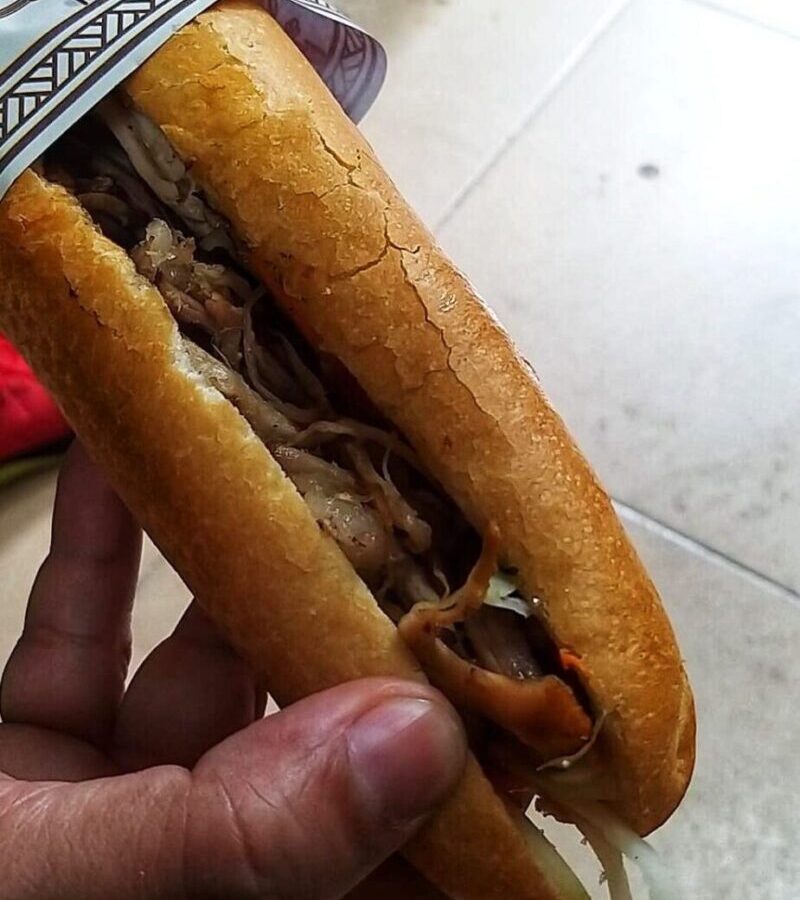 The baguette is crispy on the outside and light on the inside. It is very tasty, not overly filled but enough. For 26,000VND, the Bahn mi is very reasonably priced. Highly recommended and would not hesitate to come back for more!
Bami Bread
Address: 98 Hang Bac | Hoan Kiem, Hanoi 10000, Vietnam
Business Hours: Daily from 7:30 to 22:00
What to Order: Hoi An Special
Price Range: Average VND 26,000 per banh mi
Hanoi Food Tips: Bami Bread has a few branches in town, scattered around the city. Get the one near you. The original store is located at 98 Hang Bac Street and it is the best in this chain.
Cháo (Vietnamese Porridge)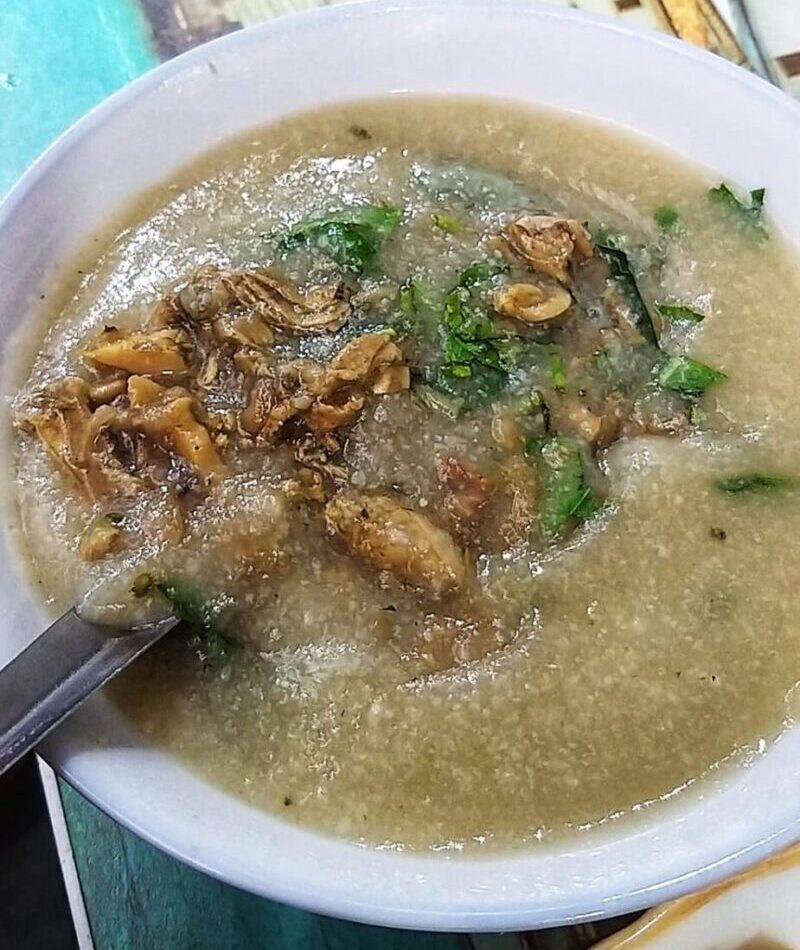 A simple and nourishing Vietnamese porridge or congee called cháo. It is a very comforting food and often consumed as a breakfast to kick start your day. The Vietnamese porridge is made with rice cooked in a rich and sweet pork bone broth. It is often paired with the tastiest Youtiao or floss on top.
During my trip to Hanoi, I was eating this amazing Vietnamese porridge by the roadside. The ultra-smooth porridge is served with lots of chunky fried youtiao. Heavenly combination.
Where to eat the best cháo in Hanoi:
Cháo sườn cô Là (roadside stall) – Address: 2A P. Lý Quốc Sư, Hàng Trống, Hoàn Kiếm.
Cháo Sườn sụn Huyền Anh – Address: 14 P. Đồng Xuân, Đồng Xuân, Hoàn Kiếm.
Lẩu (Hotpot) and Nướng (BBQ)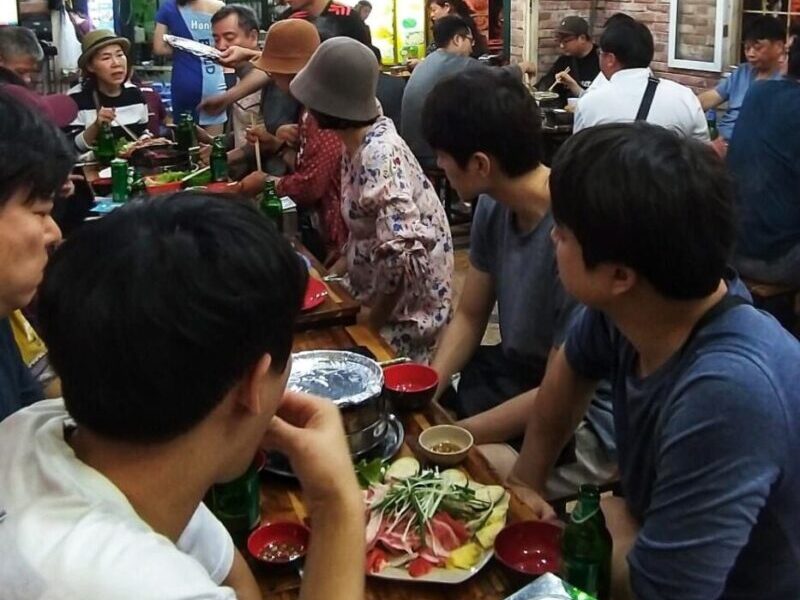 Another decent food experience to try out in Hanoi is the Lẩu (Vietnamese Hotpot) and Nướng (Vietnamese BBQ). This street dining was exceptional when sitting with the locals and eating authentic Vietnamese food in Hanoi.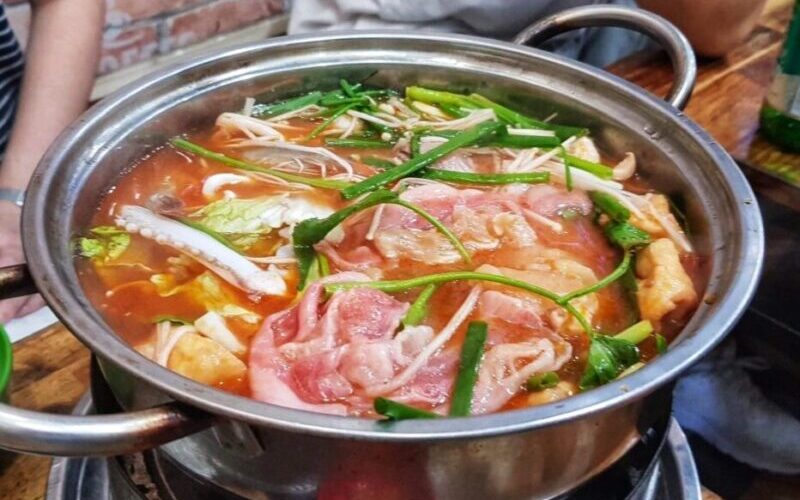 There are many Hot Pot and BBQ restaurants in Old Quarter especially along Ma May, Hang BC, Luong Ngoc Quyen, Hang Buom, and Binh Liet street. Don't be afraid to sit down at one of the outdoor stalls or restaurants with little low plastic stools. My advice, choose the one with many locals eating there as it most probably is the best!
It was quite a pleasant experience for eating the BBQ or hotpot in Hanoi. There was a handful of meat to choose from for the meal set such as beef, pork, chicken, and seafood. Looking at the menu, we decided to try the both BBQ and hotpot option.
A massive amount of raw meats and vegetables were brought out, one of the staff showed us what to do and then left it to us. The food is delicious and the price is reasonable. High recommended.
Hanoi Street Food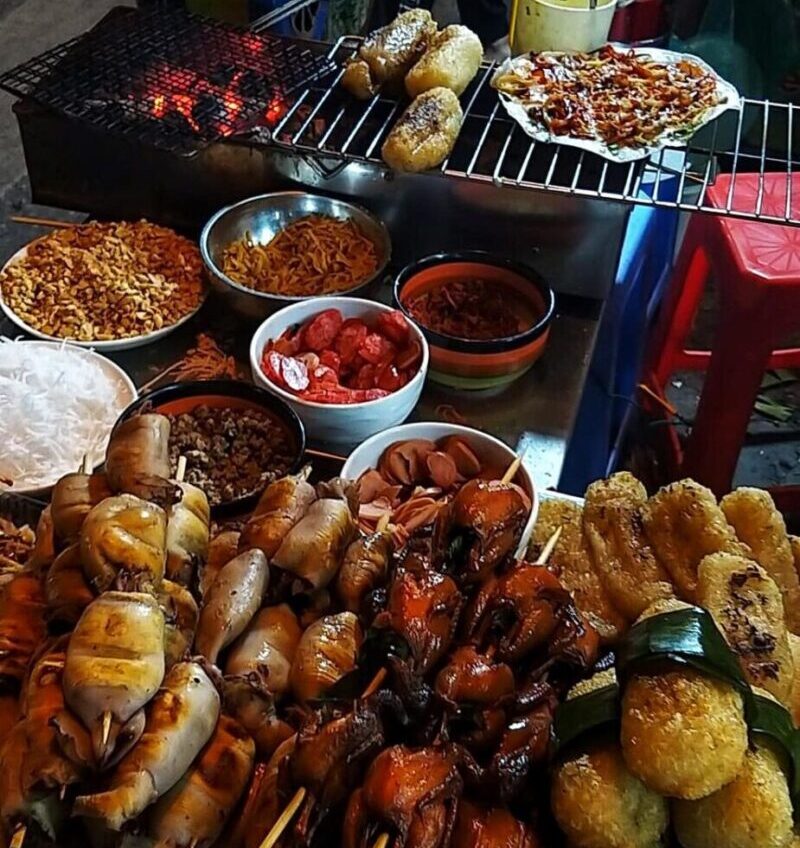 At the weekend, Hanoi's night market on Hang Dao Walking Street is also a great place to get street food. The weekend market in Hanoi Old Quarter is like eating and drinking non-stop along the street. It is a great time and everyone is having a good time with no stress.
Soaking up the ambiance and browsing the many food stalls. There is plenty of excellent genuine street food offered at a cheap price.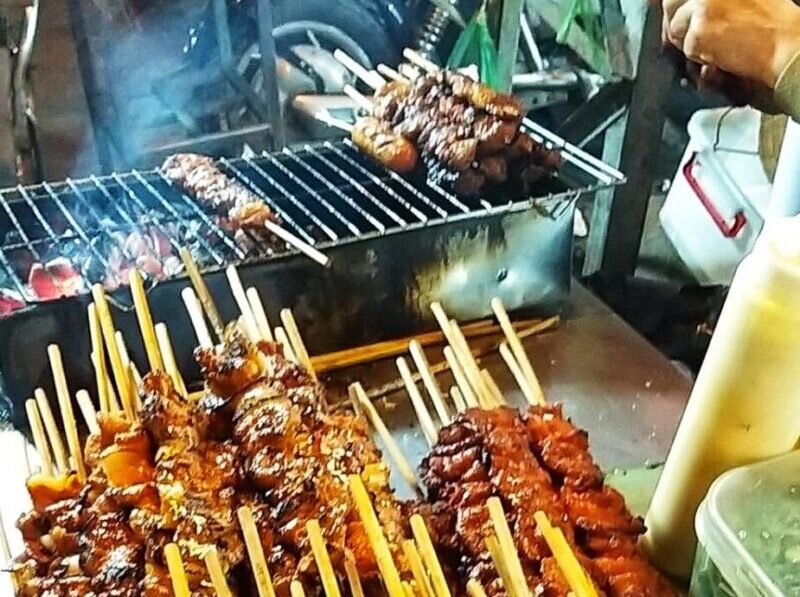 Forget about the diet. The grilled honey bread, fresh grilled shrimp, and other beef and chicken skewers are fantastic. We had a very good experience with Hanoi street food.
Final Hanoi Food Tips
Lastly, here is a few quick food tips before ending our Hanoi food guide post:
What is Hanoi famous food?
Pho is arguably the most popular food in Hanoi. You can find pho bo (beef pho) and pho ga (chicken pho) widely available in the city.
Is street food popular in Hanoi?
Hanoi is extremely popular with street food and you can easily see many street food vendors serving authentic local Vietnamese food to locals and guests.
What is the best food in Hanoi Old Quarter you should try?
One should not miss the Cà phê trứng (Egg Coffee), Phở bò (Beef noodle soup), and Bún chả (Grilled Pork with Noodle Dish) when visiting Hanoi.
Overview: Hanoi Food Guide
All in all, the overall food hunting experience in Hanoi was surprisingly enjoyable. The Hanoi local food is excellent so try to experience them as much as possible. There's still so much good Vietnamese food to be discovered here so we'll definitely be back.
Thanks for reading and have a wonderful time eating the best food in Hanoi!
Lastly, if you need more travel inspiration for Northern Vietnam, here you can find the best articles to plan your trip including Sapa, Hanoi, and Ha Long Bay.
Lastly, if you need any help in planning your trip to Hanoi, then feel free to read more on our Hanoi travel blog posts below:
Traveling to Sapa: