Last updated on December 11th, 2023
Be sure to read our accommodation guide on where to stay in Sapa. This article explains the best place to stay in Sapa and breaks it down into different budgets to make the most of your time!
Sapa is a popular travel destination in the Northern Vietnam region. Many travelers flock to this hilly region to amidst the mighty mountain range and terraced paddy fields with a trekking or hiking tour. It is also the best place to experience the local Vietnamese culture where you can visit the minority tribe village. Sapa has so much to offer!
If you do decide to visit, make sure you choose the best place to stay in Sapa. Being one of the cheapest destinations for traveling around Southeast Asia, it's not surprising you will find a lot of accommodation options available here.
There is an enormous amount of choices, ranging from extremely cheap hostels, mid-range hotels, to affordable luxurious hotels. Sapa has some of the best hotels even if you are budget travelers and backpackers.
Below, I've detailed the best places to stay in Sapa with accommodation options to fit any style and budget. Let's take a look at our top-rated places to stay in Sapa.
Quick Tips: Where To Stay in Sapa
When it comes to where to stay in Sapa, be sure to book your accommodation centrally in the heart of the city. Staying in the central is perfect because accommodation is cheap and you're right in the action. Plus, most of the trekking tour is started from the city center for easy pick-up.
For quick and easy, we've picked out the best hotels in each different price range that best suit your budget.
Where to Stay in Sapa: Best Hotels and Homestays
Sapa Relax Hotel & Spa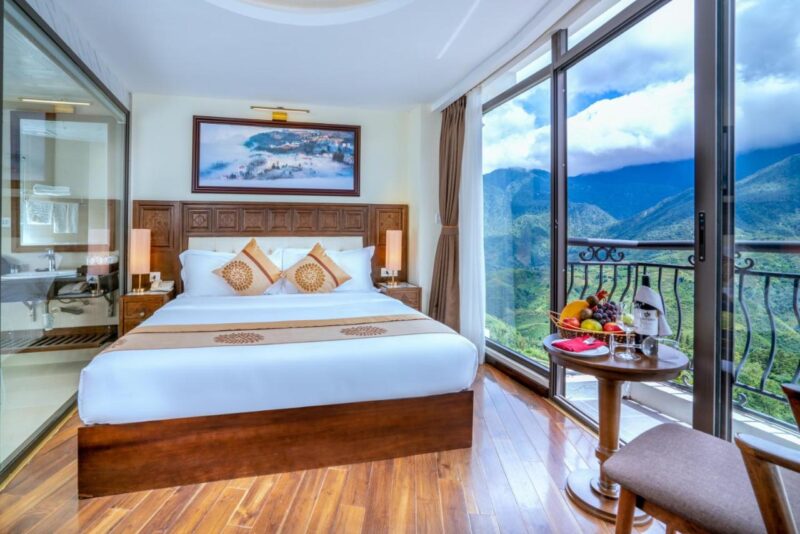 Sapa Relax Hotel & Spa is our editor's pick when choosing where to stay in Sapa. This beautiful hotel is located at the center of Sapa. It's very convenient with a lot of shops, restaurants, and even many local massage spas and facilities nearby. The property also offers free private parking, a bar, and a shared lounge. You will love spending your time in the rooftop bar as it featured a beautiful view of the city and mountains.
For those views and services, it's worth the stay!
Hotel de la Coupole – MGallery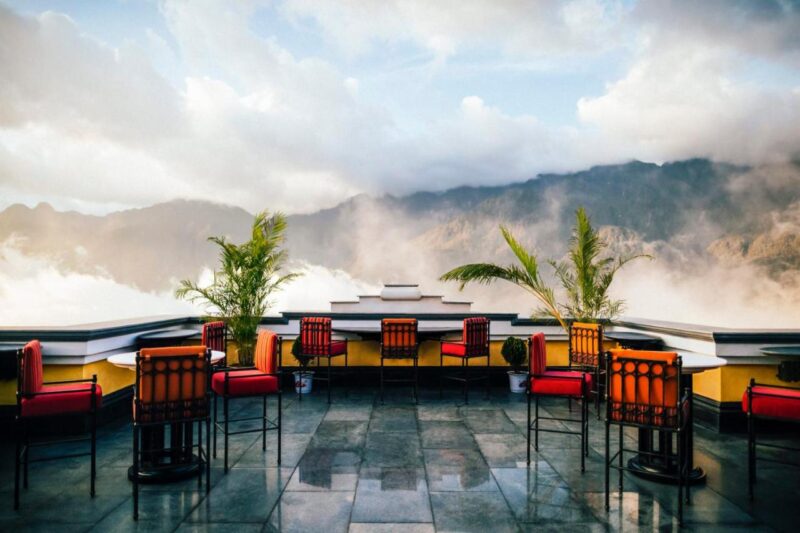 Hotel de la Coupole – MGallery by Sofitel is probably the most luxurious hotel in Sapa. It is the first 5-star hotel in Sapa that sets the foundation for luxury travel in style. The property is designed in French architectural style while still showcasing rustic touches. The rooms are equally as impressive and offer a balcony with a stunning view. The highlight of the property is the rooftop bar and the heated pool, ensuring guests with the ultimate in comfort and the best experience!
Overall, it is a true luxury treat when choosing where to stay in Sapa luxury. No worry about staying in the property as even the most luxurious accommodation in Sapa is affordable! Check the room availability for Hotel de la Coupole – MGallery.
Pistachio Hotel Sapa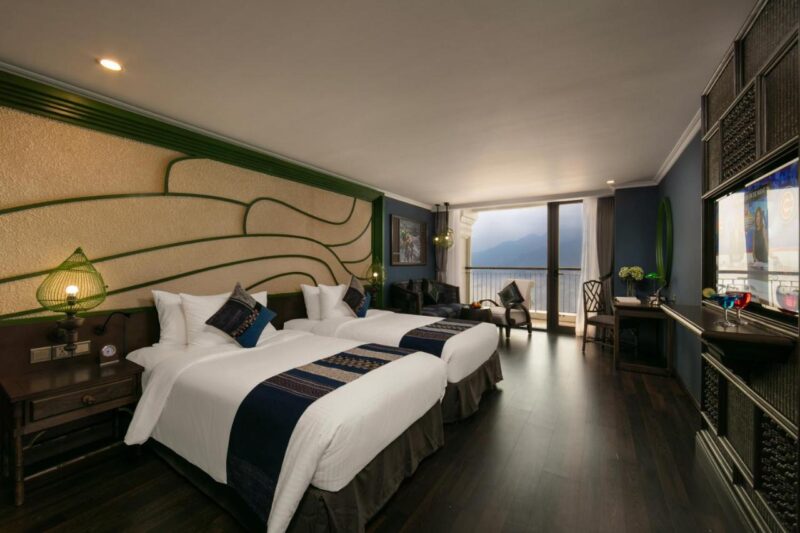 Pistachio Hotel Sapa offers the utmost luxury in a great location in Sapa. Your stay in Sapa has featured an amazing view overlooking the valley and an incredible rooftop infinity pool. The room is extremely clean, spacious, and well equipped and the bed is so comfortable. The staff were all very helpful and welcoming with a smile on their faces at all times.
Check the room availability and room rate for Pistachio Hotel Sapa.
Eden Boutique Hotel & Spa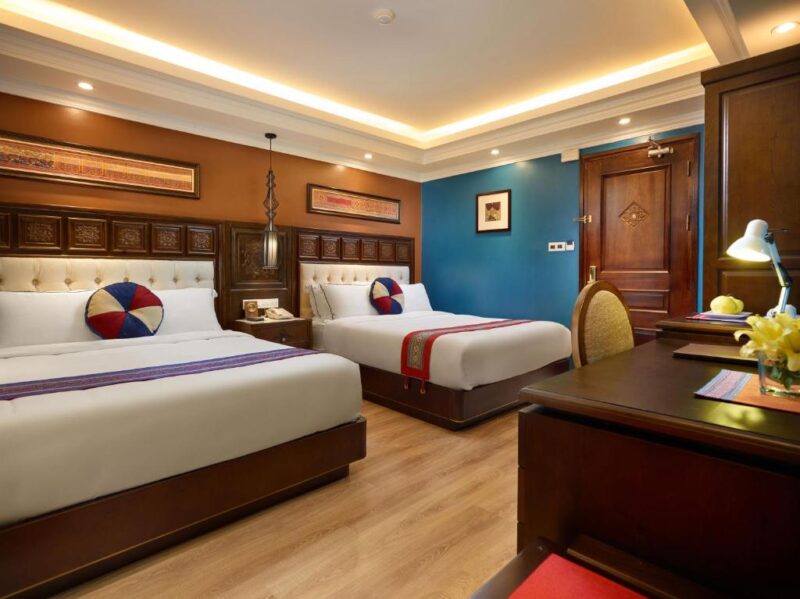 Eden Boutique Hotel & Spa is an affordable luxury hotel that high recommended by travelers. This 4-star Sapa hotel boasts comfortable rooms and a beautiful decorated shared lounge in an excellent location in the town. It is very convenient and easy to access.
The room is spotless and spacious with a very comfortable mattress for a comfortable sleep. The staff is very attentive and helpful. Perfect place to stay in Sapa to get some rest and relaxation after a long day of exploring.
Phuong Nam Hotel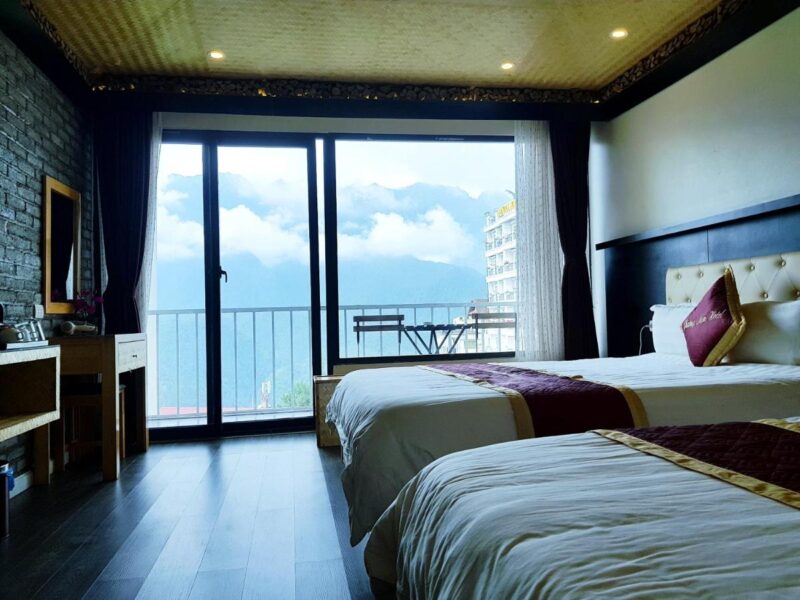 Phuong Nam Hotel is one of the popular picks for the best budget stay in Sapa. This hotel with gorgeous and offers affordable rooms of good size. The room is clean and comfortable. We recommended choosing the room offering balcony with views of the mountain as the view is worth paying a little more.
The location is convenient with just merely a 3 minutes walk to Sapa Station if you would like to go to Fansipan. Numerous shops and restaurants around. The staff is very helpful and the breakfast was good. Good value for money!
Mimosa Hotel Sapa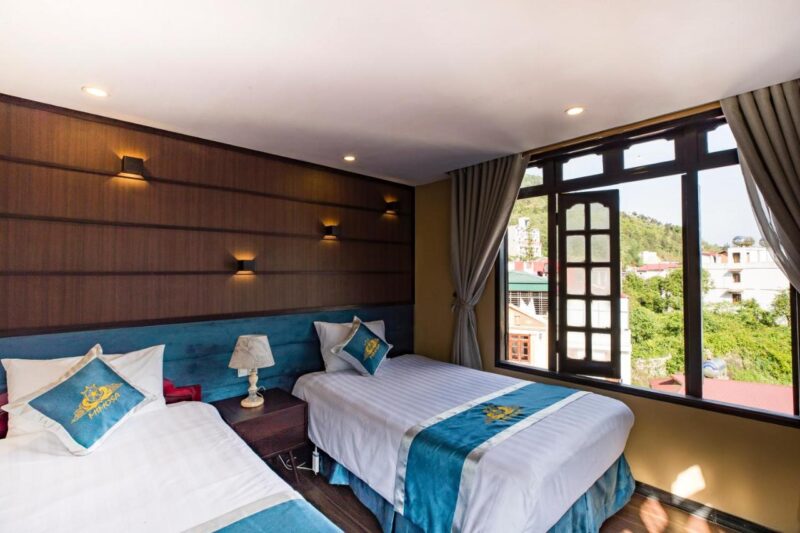 Mimosa Hotel Sapa is another good choice for a budget stays in Sapa. The property is located in the heart of town and within walking distance of Sun Plaza. There are many restaurants, cafes, and bars nearby which is pretty convenient.
The hotel provides accommodation with a terrace. All the rooms are full of furniture, clean, and come with a spacious bathroom. Free private parking for guests if you are driving to Sapa.
Homestay in Sapa
One of the most popular activities in Sapa is to stay in a homestay with the locals in their village. We recommended staying in a homestay in Sapa if you are looking for a unique experience. Many houses and cafes are converted into a homestay and here is our recommendation.
Eco Hills Homestay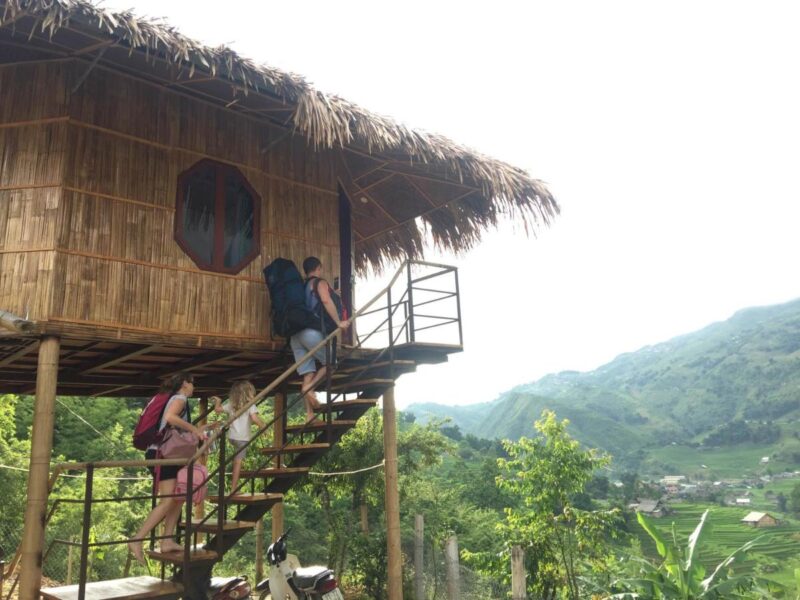 Eco Hills Homestay is the best pick if you are looking for natural beautiful scenery homestay in Sapa. Run a group of friendly locals, Eco Hills Homestay is spotless and very comfortable. It is a little off from the main road and situated in the middle of rice fields. But your stay is rewarded with incredible views of the valley.
The property offers a family bungalow and a spacious King room with a superb breakfast! They also offers scenic guided trekking into the nearby mountains where you can get to know the villages around Sapa.
Fansipan Terrace Cafe and Homestay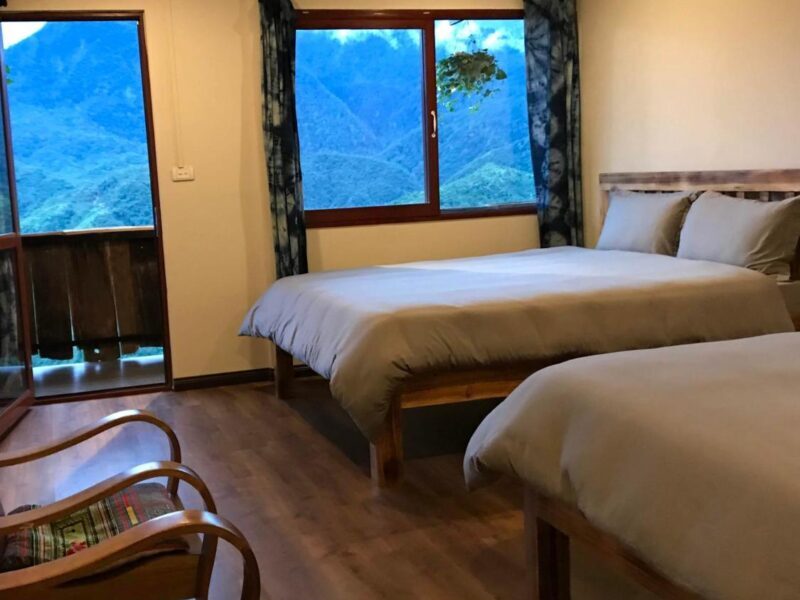 Fansipan Terrace Cafe and Homestay is the place where you need to look for a homestay in Sapa. In fact, this homestay is one of the popular cafes among the locals for its great location overlooking the valleys and terraces. It is located near to the city center and everything is accessible but features breathtaking views. The rooms are clean with all the basic amenities. The hosts are extremely helpful, welcoming, and accommodating to guests' needs.
Little View Homestay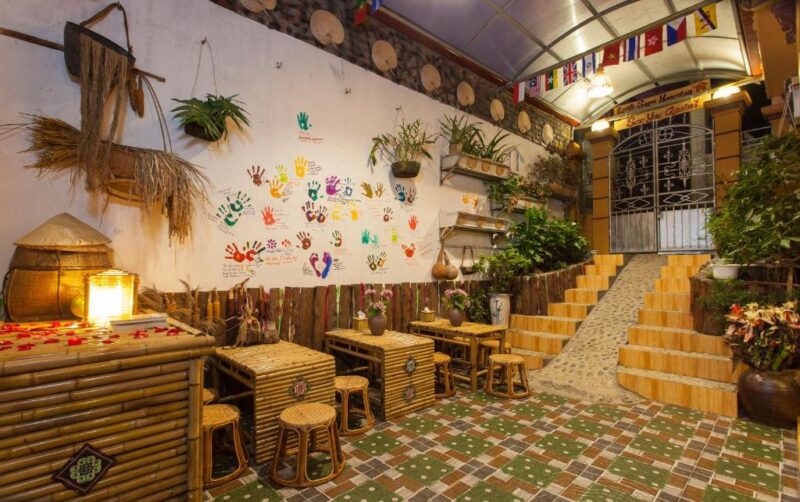 For a cheap and cheerful homestay in town, head to Little View Homestay. The property is adorable and beautifully decorated by the hosts. It is located within a 3-minute walk from Sa Pa Stone Church and Cay May street, and close to the main street. All rooms include a private bathroom with a hot shower, hairdryer, and slippers.
Overview: Best Place to Stay in Sapa
All in all, we are covering the hotels and homestays that are highly recommended. Travelers can't do better as there are so many incredibly valued accommodations in great value. Most of the accommodation is very affordable and we highly suggest paying a little bit more by choosing rooms offering breathtaking valley or mountain views. I am sure the money is worth it!
In short, if you're looking for the best place to stay in Sapa, look no further than staying at Sapa Relax Hotel & Spa. It is mid-budget accommodation and featured a beautiful view of the city and mountains. It is clean and comfortable. For luxurious travelers, Hotel de la Coupole – MGallery definitely is your pick if you looking for a true luxury treat in Sapa.
Are you traveling to Sapa? Check out my Sapa travel posts below:
Related travel stories to Hanoi and Halong Bay: