Last updated on October 2nd, 2023
Planning a trip to Ha Long Bay and don't know how to start? This Halong Bay Travel Guide will tell you everything you need to know in this detailed itinerary. Learn when to go, where to stay, what to do, and a must-see attraction during your trip.
When visiting Vietnam, a trip to the stunning Halong bay or Ha Long Bay is absolutely unmissable by all those traveling in Northeast Vietnam and the Hanoi area. The UNESCO World Heritage Site is home to emerald waters and infinite towering limestone isles, islets, and caves topped by lush rainforests. All aging 20 million years! This is Vietnam's most popular attraction and it attracts thousands of visitors for a day trip or multiple-day trips from around the world.
For a first-time visitor, it can be a bit confusing if you planning a trip to Ha Long Bay especially since there are an overwhelming number of tours to choose from. We were lucky and visited Halong Bay twice for my past travel experience.
Our first visit to Halong Bay is on a few years back when we backpacked in Vietnam. It was a rush trip as we only find our overnight tour when we landed in Hanoi. As we didn't do many surveys before our visit, the money we paid was quite expensive although the journey is very memorable and joyful. With this experience, my recent visit to Halong Bay is a day trip cruise with everything well organized. Both trips gave me different experiences but one thing for sure is we have a wonderful time in Halong bay with its breathtaking scenery.
Below you can check out my Halong Bay travel guide details with some of the recommended Ha Long Bay tours from Hanoi to help you plan your Ha Long Bay itinerary!
Pre-Trip Essential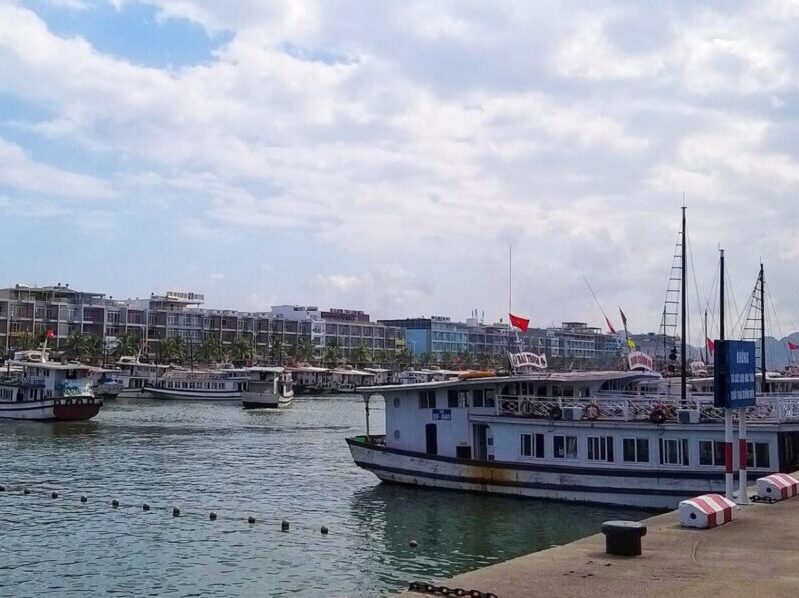 As usual, I am planning for a self-DIY Halong bay itinerary. But looking through all the information and resource, I ended up deciding to join the Halong Bay cruise tour. The reason is very straightforward. It is hassle-free and save me tons of traveling time and money.
Here are a few facts and tips when planning a Halong bay itinerary:
Shall I join a tour to Halong Bay?
We recommended getting to Halong bay by joining a tour. The public transport is not well-connected where you need to transfer and ride a taxi in order to get to the pier. It will be ended with an extremely long traveling time and it cost you even more compared with joining the tour.
How many days for Halong bay?
A day trip to Ha Long Bay is possible, but in my opinion, it's best enjoyed on an overnight cruise, either 2 days or 3 days. Despite the long journey to get there, Halong Bay deserves to be explored at a slow pace and get out of the most.
Is Halong Bay worth the visit?
Definitely worth it for the scene! This is a must to do excursion in Vietnam especially when you are visiting the Northern region to Hanoi.
Cruise Tour in Halong Bay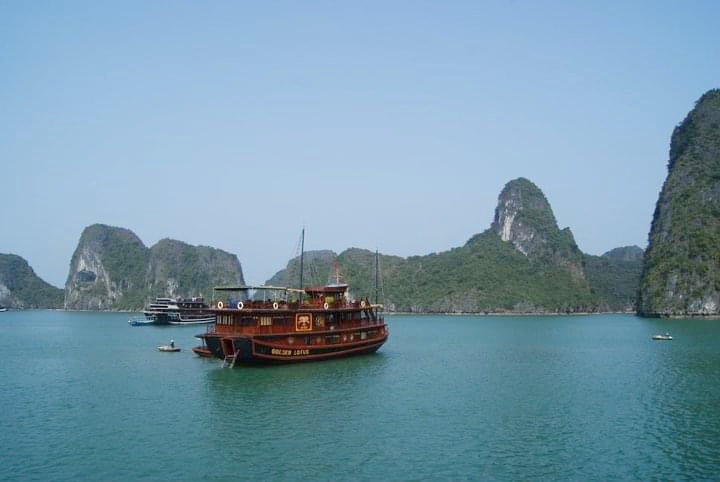 Cruising in Halong Bay is the most popular way to experience this wonder of nature. Being the most popular attraction in Vietnam, this is a fact that there are many local tours available, and all the tours provided you'll find in the Vietnam travel agencies. You can choose to reserve online, from local or home country travel agencies, and even from the hotel where you stayed in Hanoi.
While getting to Halong bay twice in my experience, my sincere advice and tip are to book your tour from a trustworthy tour company. We booked our Halong Bay Day Cruise from Hanoi through Klook. The tour agency is running the tour many years of experience with great reviews and happy customers. Most important, the fair is good and all the expenses and services are clearly stated.
Alternatively, you can also check out Viator – a TripAdvisor company with those reputation companies I can vouch for!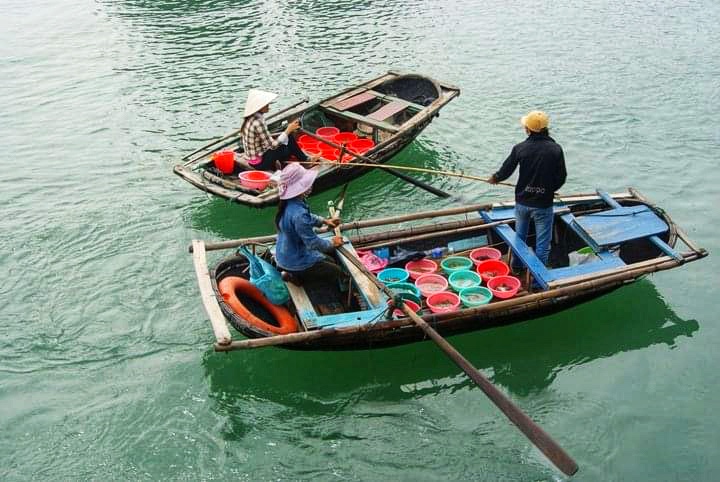 Next, you might be debating how many days should I spend in Halong bay. Should I get the luxury cruise or just a simple cruise? Well, it is depending on you. In general, a Halong bay trip usually goes for 1, 2, or 3 days. You can choose from a day trip from Hanoi, 2-day or 3-day overnight cruise for a basic tour or luxury tour if you wish. The services is depending on how much you are ready to spend.
We will explain in detail what you should be expecting when booking a tour to Halong bay to help you make up your decision.
Day Trip To Halong Bay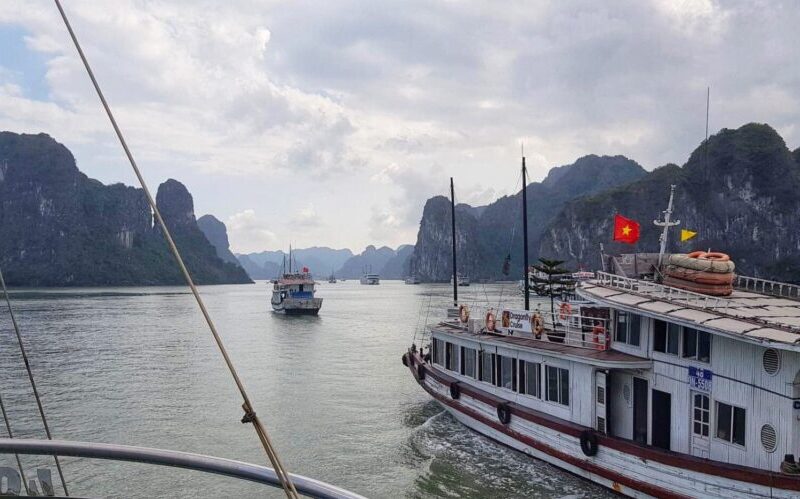 If you are on a tight budget or don't have a lot of time, my advice for you is to go on a Ha Long Bay day tour instead. It is very totally feasible and easy to take a 1 day Ha Long Bay tour from Hanoi. In fact, this is the most popular day trip from Hanoi with many people are departing to Halong Bay every day.
If this is your decision for a day trip to Halong Bay, here is our recommendation:
Halong Bay Travel Guide: Bear in mind that the journey from Hanoi to Halong Bay took up to 3 hours each way which means a total of 6 journeys in total for a return within one day. So basically you merely have around 4 to 5 hours on the cruise if you are doing a day trip.
Halong Bay Overnight Tour
So if you have a little more time, you might want to check my sections below on multiple-day tours! For me, 2 days is fairly enough on a trip to Halong Bay unless you truly want a serene time for an additional day. But it is really up to your decision and interest.
Halong Bay Travel Guide: Beware that some the overnight cruise can offer very cheap prices. But always remember what get what you paid. That cruise is usually dirty and most activities and food are not included. You will need to pay extra to enjoy the activities and meals that are usually more expensive. So it might end up you are feeling getting scammed. We truly advise you understand what is included in the package to avoid an unhappy journey.
Things To Do in Halong Bay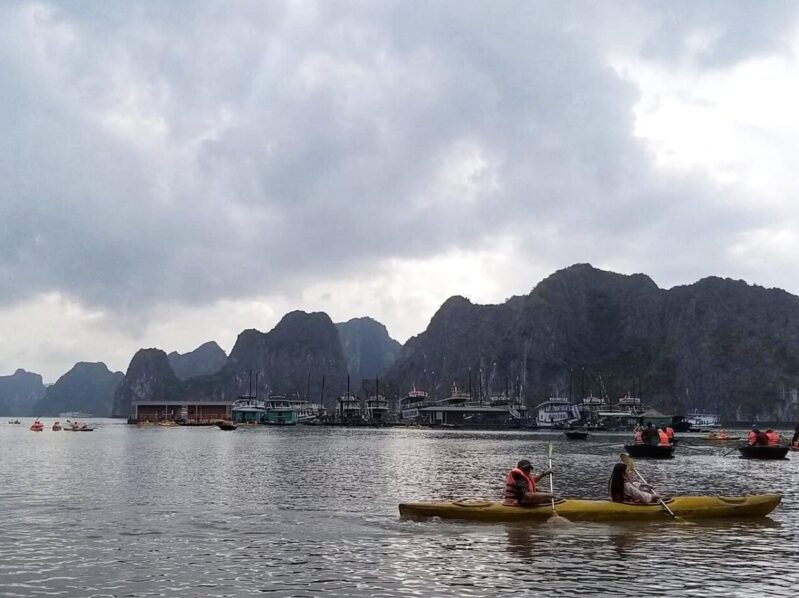 There are many activities to do in Halong Bay that are offered as part of Ha Long Bay Cruises selected. Some tours offer many stops and keep you moving the whole trip whereas others allow you to rest and take in the views. Let's take a look at what to do when you are visiting Ha Long Bay.
Cruising through the serene Ha Long Bay is definitely a must-do. There are well over 1,600 islands and islets, which offer spectacular seascape views of limestone mountains surrounded by emerald green water.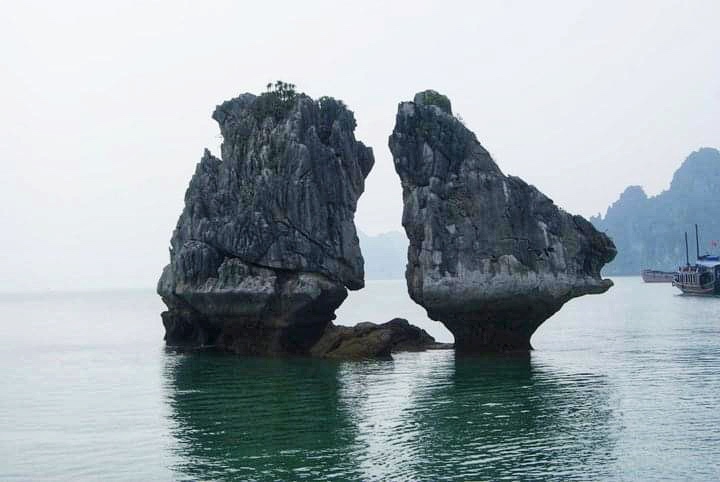 Swimming – We swam in the water in Halong Bay on my trip a few years back. That is truly a fun time that I still remember now. Unfortunately, this is not somewhere you'll want to swim as there is quite a bit of garbage in the water. So we ended up giving up this option my the recent trip. Maybe this is a better option if you are doing the overnight cruise when you will cruise into a deeper area.
Don't forget your swimwear if you planning to get into the water. It's very easy to get changed on the tour boats.
Kayaking in Halong Bay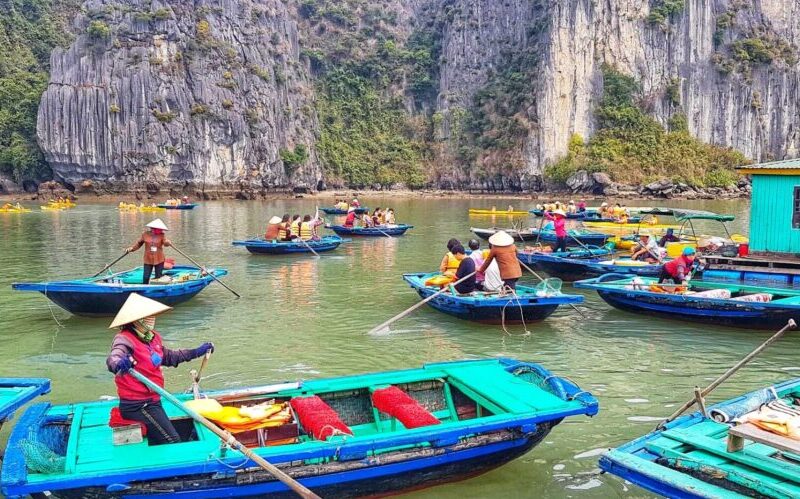 If you're feeling adventurous, you can choose kayaking. This is one excursion you will never regret! Please note that your things can get wet, or you may lose your items in the water.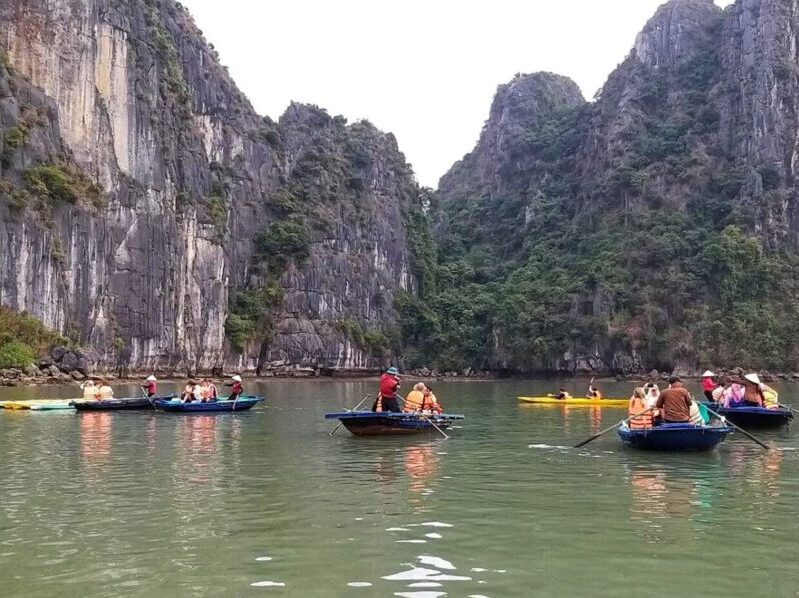 Some of the tours will be stated that kayaking is included as part of the activities, else you might need to pay extra if you want to have this activity.
Cave Visiting in Halong Bay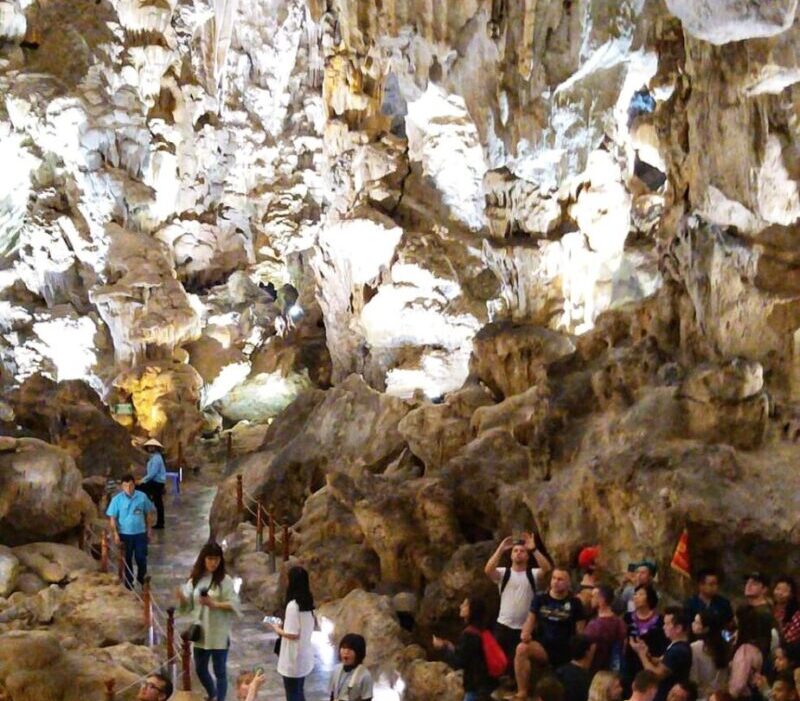 Caving visit is one of the popular activities usually included on the excursion tour. The steps aren't as challenging as they appear and there are stages where you can rest and catch your breath. You can climb to the top of the mountain and enjoy the splendid view.
Truly a must-do for your Halong Bay visit. Take note that a cave visit is not permitted due to the weather condition and high tide.
My Trip To Halong Bay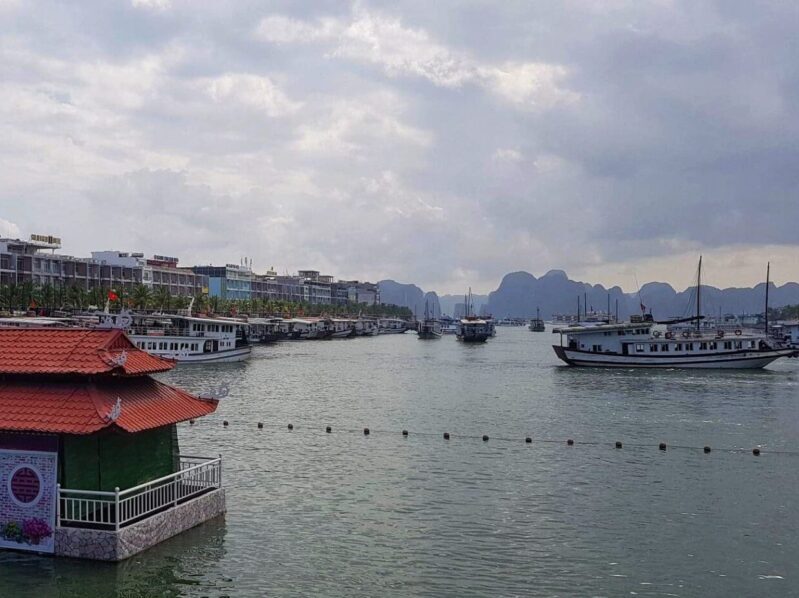 My day trip to Halong bay was a surreal experience. Our journey started in the early morning when the tour was organized to pick up us from the Hanoi hotel with a tour bus. It is a weekday but there are half full for the minibus with approximately 12 people together with us. The journey took us about 3 and half hours before we joined the others and boarded the cruise ship.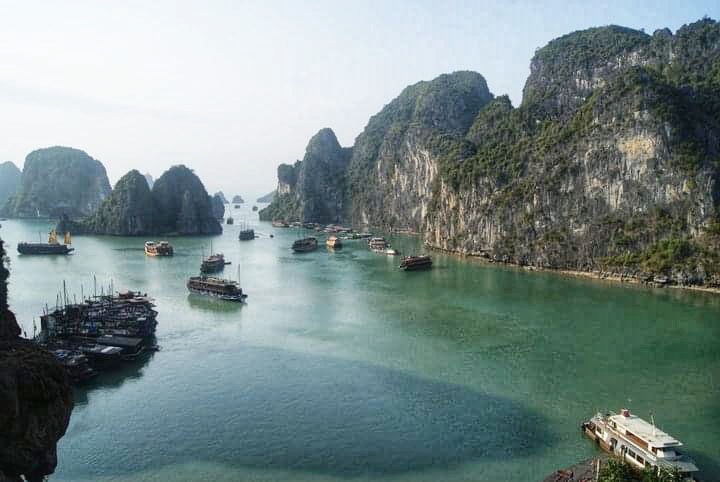 A cruise through gigantic limestone karsts was like a dreamy escape. The cruises include several activities, such as kayaking, cave visits, and the opportunity to climb to the peak of Titop Island for breathtaking views and photo opportunities.
During the cruise, we were taken through the most beautiful Bay spots to enjoy the beautiful view. The cruise was soothing. We also stopped on the bay for kayaking and a cave visit to explore the limestone karsts.
For the food, they offered a Vietnamese lunch and afternoon tea which are included in the package. It was very delicious and filling with variety of choices. We have a very satisfying lunch and it's also the best time to meet new friends from other countries too! Our guide can speak very good English and he is very accommodating and approachable.
Sunset in Halong Bay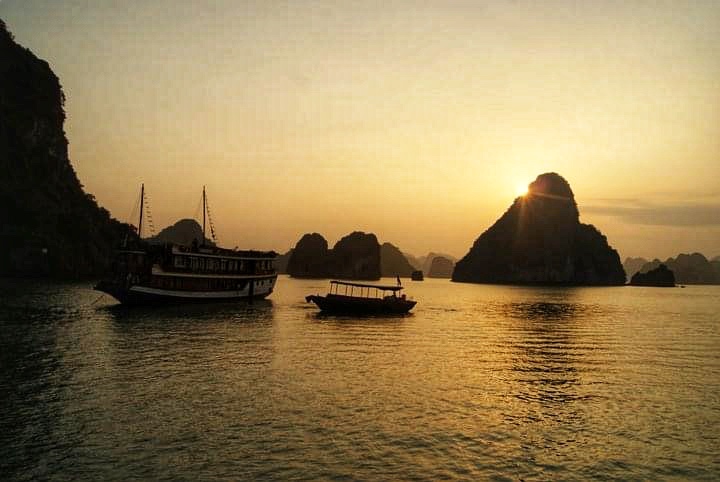 Sharing my overnight cruise in Halong Bay with picture captured during sunset.
A day cruise is too rushed as the day cruise will try to pack your time with tons of activities. We enjoyed the time on the sundeck, soaking up the atmosphere, and the sunset. The bay during the sunset is extremely beautiful. Probably that is the reason you might think of an overnight cruise in Halong Bay.
Handy Halong Bay Travel Guide Tips
It's honestly a must-visit in Vietnam even though it is touristy and it can get crowded. Again, the best way to explore Ha Long Bay is on a cruise. I wholeheartedly recommend doing thorough research before booking yours. Make sure to read reviews because there are really a lot of bad tour companies.
Prepare in advance with the change of clothes and swimwear for swimming. Sunblock, waterproof bags, and something to secure your phones if you planning for kayaking. Lastly, bring a good sneaker if you are joining the cave visit and hiking activities along the cruise journey.
Overview: A Visit To Halong Bay
That's it for my comprehensive Halong Bay travel guide blog. In short, a trip to Halong bay was truly essential and wonderful when visiting Vietnam. It is a truly remarkable place and you should make every effort to see it. The breathtaking view deserves to be explored at a slow pace. But if a day is all you have, you may as well give it a go and try to make the most.
It was an amazing trip to Ha Long Bay and highly recommended. We were hesitating due to the money and time spent on the traveling but turned out that is the best experience that we had when visiting Vietnam. And that's the reason we visited twice and still looking to come back another round!
Lastly, if you need more travel inspiration for Northern Vietnam, here you can find the best articles to plan your trip including Sapa, Hanoi, and Ha Long Bay.
Related Travel information to Sapa:
Related Travel information to Hanoi: