Last updated on September 23rd, 2023
Bun Rieu is a famous Vietnamese crab rice noodle soup. It is one of the most popular and must-eat in Ho Chi Minh City. Get the detail for the best bun rieu in Ho Chi Minh City at Bun Rieu Ganh here.
Ho Chi Minh city is one of the famous Vietnamese food paradises in Vietnam. There are so many local foods to taste when visiting Saigon. During my trip to Saigon, I had a chance to taste so many mouthwatering Vietnamese dishes in the city. Among all the foods I ate in Ho Chi Minh City, the Bun Rieu was one of my favorite noodles dishes.
Many shops and street vendors are selling the Bun Rieu in the HCMC. We tasted our bowl at the Bún riêu Gánh, one of the best and most authentic shops in Saigon.
Read below for the food review for the best Bun Rieu in Ho Chi Minh City.
Bun Rieu (Crab Rice Noodle Soup)
Bun Rieu is a traditional Vietnamese soup noodle with rice noodles. This noodle soup is well known for its signature red color and it comes from the broth which is cooked with a mixture of ingredients such as tomatoes, shrimp paste, and fish sauce. The ingredients are an unusual combination, but the complex mixture of it makes the bowl so delicious. I promise you everyone who tried it loves it.
Plus, the bowl is also featured with the "riêu" or meatballs which are usually made of pork, shrimp, crab, and prawns. Together paired with rice vermicelli noodles, all these ingredients make bowl one of the yummiest things in Vietnamese cuisine.
There are a few different types of bun rieu such as bún riêu cua (minced crab), bún riêu cá (fish), and bún riêu ốc (snail). I had bun rieu cua in Ho Chi Minh City, the version with crab, tomatoes, pork, and some pieces of tofu as well.
Bún riêu Gánh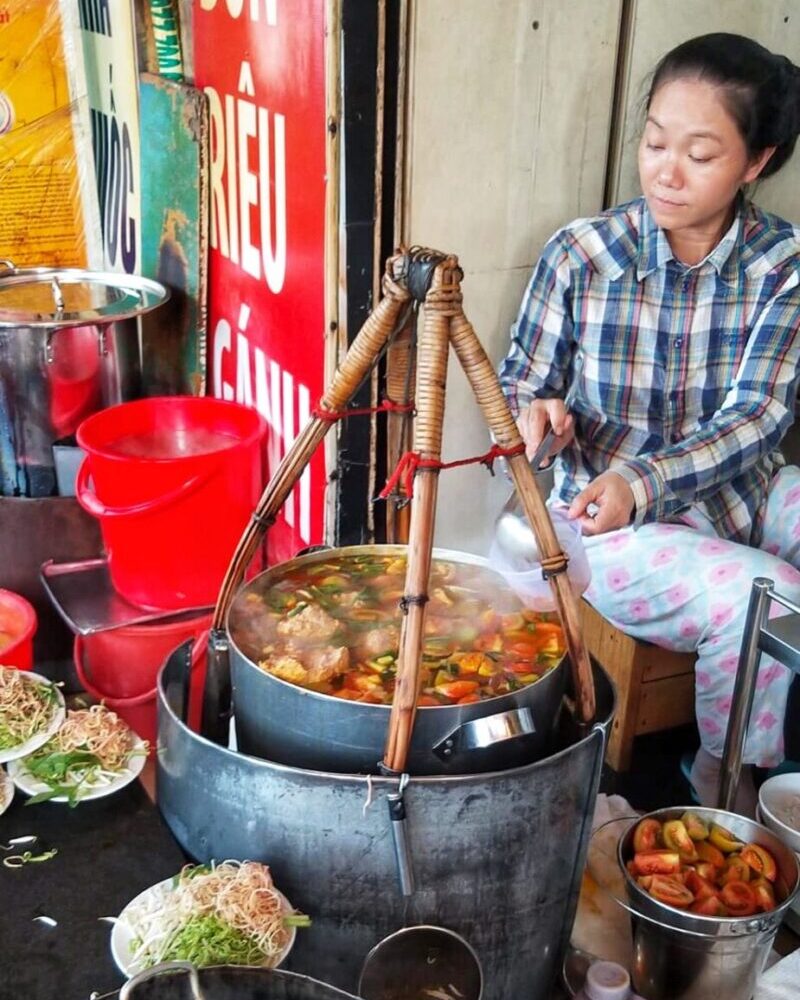 Bún riêu Gánh is a famously good eatery for the best Bun Rieu in Ho Chi Minh City. The location is excellent and just right beside Ben Thanh market. So it is best to couple together with your HCMC itinerary when visiting the local market.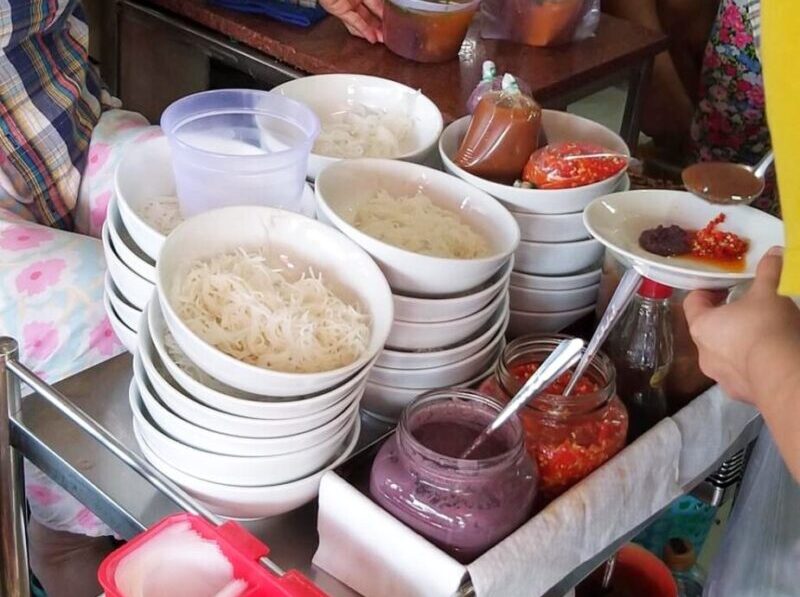 The Bun Rieu Ganh used to be a street vendor of the past and it moved to a cooler restaurant with more comfortable sitting. Although the eater is missing the "street feeling" vibe, you will be sitting on a plastic stool close to the floor with a small table.
There are always see long snaking lines outside, queueing for a bowl of piping hot bun rieu.
Bún riêu Gánh
Address: 4 Phan Boi Chau District 1, Ho Chi Minh City Vietnam.
Operating Hours: Daily from 7:00 until 19:00.
Price Range: About 55,000 VND for a bowl of Bun Rieu.
My Food Trip to Bun Rieu Ganh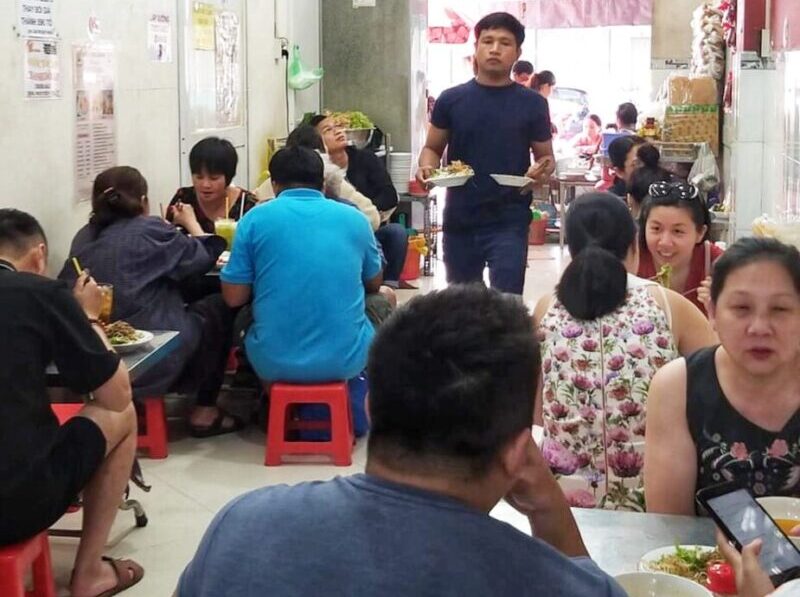 As soon as I approached the Bun Rieu Ganh, I immediately got a whiff that came mixed with a tomatoey and seafood aroma.
The lady owner was sitting in front of the restaurant and continuously serving the bowl to the diners. There was a cauldron, constantly simmering the mixture of ingredients such as crabs, fish, tomatoes, and meatballs. Once received the order, the rice vermicelli noodles were added to the simmering broth and dished out together with all sorts of goodies.
It was truly a beautiful scene to look at.
How To Order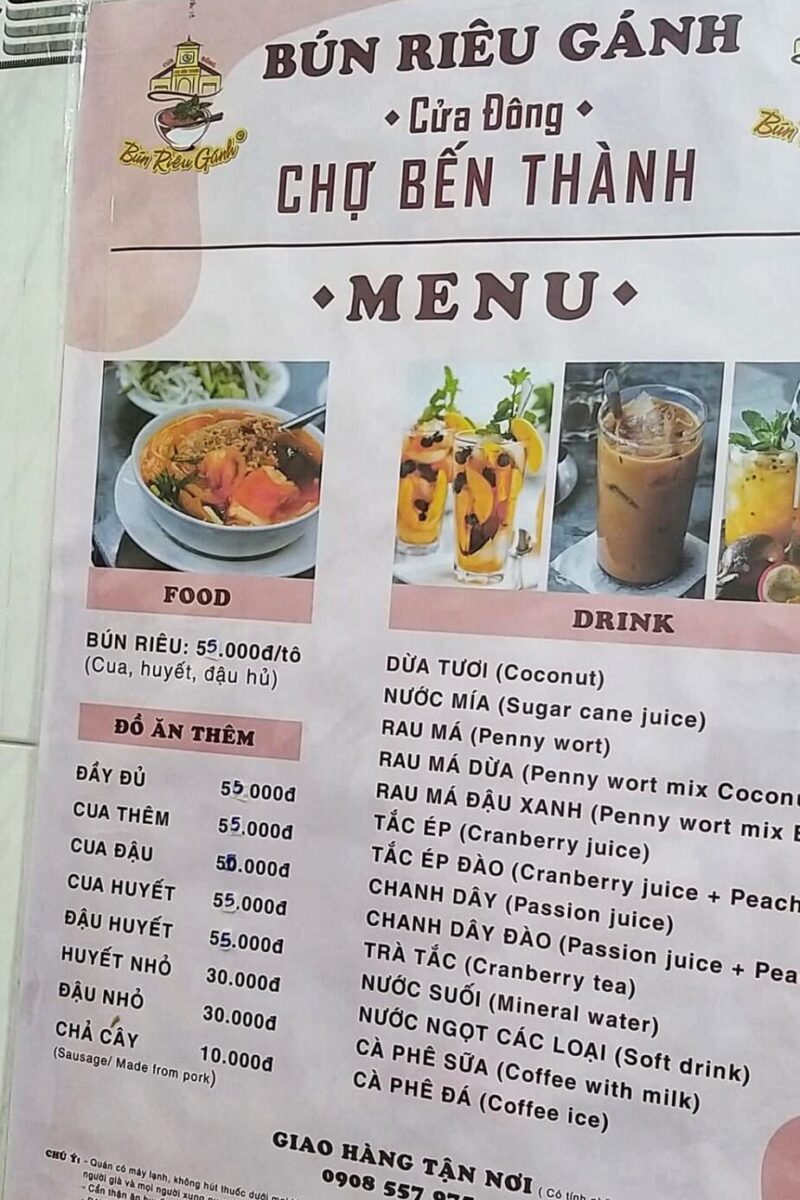 Bun Rieu Ganh only serves one thing here, the "Bun Rieu" noodle soup. The menu is very straightforward with the price listed. You can just point when ordering the food and drink. Fish crackers and snacks are available on the table that you taste while waiting for the food.
Without hesitation, we ordered a bowl of bún riêu cua, the crab version of the dish, and what Bún riêu Gánh is most famous for.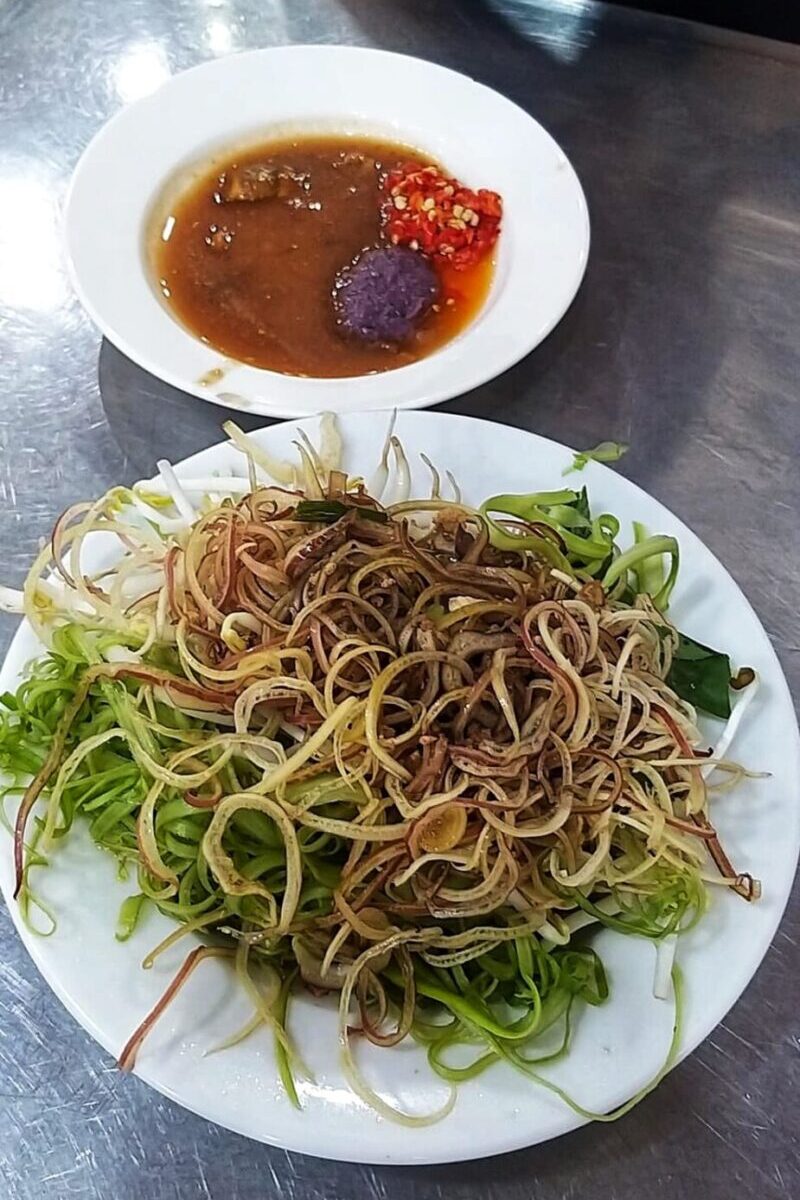 The service was prompt and fast. We were first to get a plate of greens, bean sprouts, banana flowers. and the tamarind sauce, to be added to your soup. All looks amazingly good.
My Bowl of Bun Rieu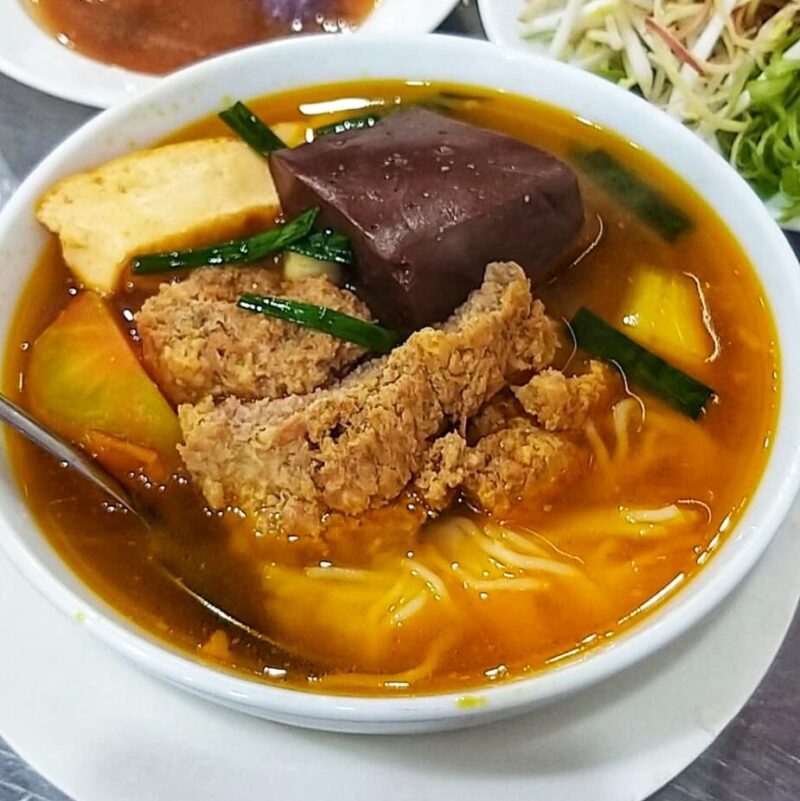 See my bowl of authentic bun rieu with plenty of healthy ingredients! It comes with crab paste, and hunks of pork, all swimming in a light red-colored tomatoey broth. Awesome food options with plenty of flavors.
Had my first sip of the broth. It was light yet with a well-rounded flavor, so wonderful!
While the rice vermicelli noodles were chewy and tasted good.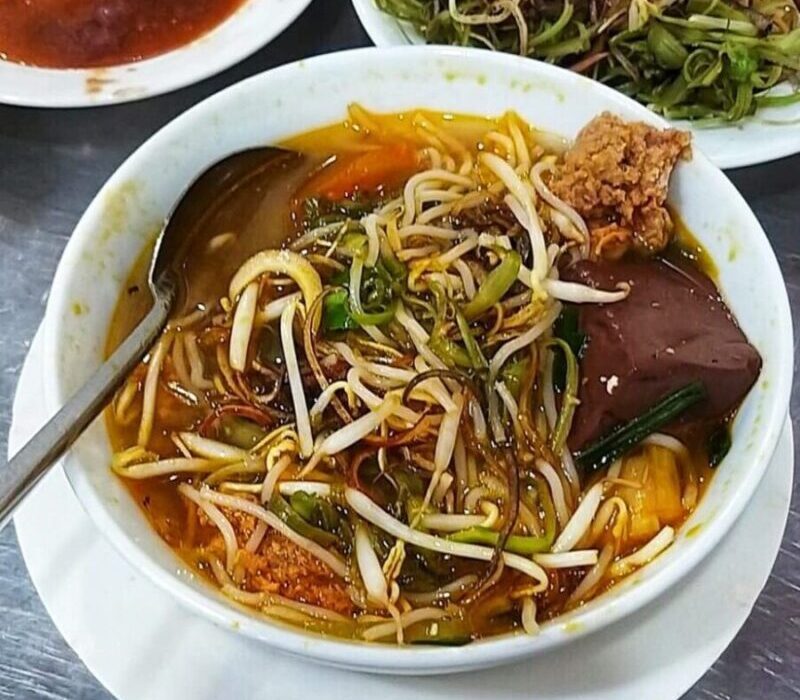 After a few slurps of noodles and after tasting the slab of crab paste, I added the vegetables and herbs into the bowl. I usually eat half the bowl before adding the tamarind and shrimp paste which turns it into a totally different experience.
The taste is slightly plain after being topped with noodles. I topped it with the tamarind sauce and it turn the broth into another level of flavor. I was completely satisfied!
Best Bun Rieu in Ho Chi Minh City
All in all, I would definitely say that the bun rieu from Bun Rieu Ganh was excellent, with a very flavourful broth. Although I only had little time to eat all the Bun Rieu in Ho Chi Minh City, I truly enjoyed my meal here. It is one of the most satisfying and flavorful bowls of noodles I had in Saigon.
If you want to eat the best Bun Rieu in Ho Chi Minh City, the Bun Rieu Ganh is the place! Piping hot and flavorful, that's what you want to taste!
Traveling to Ho Chi Minh City? Feel free to read on our Saigon travel stories.
More food journey in Ho Chi Minh City: