Last updated on September 23rd, 2023
Are you looking for the best travel tips to help plan for your Saigon trip? Then you've come to the right place! In this travel guide blog, we'll tell you everything you need to know so that you can plan for the Ho Chi Minh City itinerary and make the most of your trip to HCMC.
Ho Chi Minh City, formerly known as Saigon is the biggest city in Vietnam. The city is exciting with modern and old-world characters. There are so many things to do and hidden gems in the city awaiting you to discover. You will be impressed by the war history, cafe culture, tasty Vietnamese food, and shopping when visiting the HCMC.
When considering what to do in Ho Chi Minh City, it can be a little more challenging on your own. Many first-time visitors will find that there is plenty to keep you busy. But don't worry! Here, I'm sharing the Ho Chi Minh City itinerary to help you plan your trip. We will show you the amazing attractions, what to expect when visiting, where to stay, and things to do in the city for 1, 2, and even up to 3 days!
This Ho Chi Minh travel guide blog will share with you everything you need to know about visiting the town. Keep reading to find out the best things to do, places to stay, and foods to eat while in Ho Chi Minh City. Read on for a 3-Days Ho Chi Minh City itinerary!
Ho Chi Minh City Travel Guide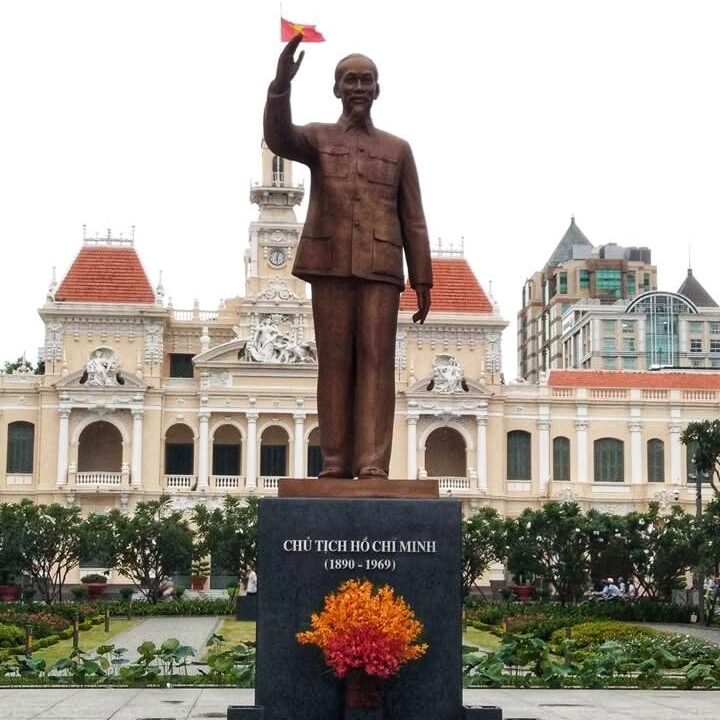 To help you plan your trip to Ho Chi Minh, we have compiled a list of attractions, hotels, tours, and other useful information to fit into your Ho Chi Minh itinerary. Be sure to read our Ho Chi Minh City travel guide to have an overview ideal on the city.
Situated in the southeast Vietnam region, Ho Chi Minh is the economic heart of the country and has grown rapidly over the past few decades. The vibrated city is surrounded by the Saigon river and has a population of 12 million making it the biggest city in Vietnam.
In fact, Ho Chi Minh City was formerly known as Saigon. It was the US base during the Vietnam War until the end of the Vietnamese/American War. Saigon was renamed Ho Chi Minh City (often abbreviated as HCMC), to honor the revolutionary leader who had declared independence back in 1945.
HCMC has transformed into a thoroughly modern, thriving metropolis. You'll find soaring skyscrapers that tower over charming French colonial structures and traditional pagodas that represent the city's past as well as its future.
Once you've decided on visiting the dynamic city, let's start our Ho Chi Minh City travel guide blog.
How To Get to Ho Chi Minh City
Travelers can arrived to Ho Chi Minh City by flight, trains, or even buses.
The closest airport to Ho Chi Minh is Tan Son Nhat international airport. This Vietnam's busiest airport welcomes international and domestic to the HCMC and Southern Vietnam region. A cab ride from the airport to the city will cost you around 100,000 VND.
To avoid the taxi scam, we recommended pre-booking your Private Airport Transfer to the city area or hotel.
If you are traveling to Ho Chi Minh City from another destination in Vietnam, it's easy to get to Ho Chi Minh City by train and bus. Traveling between Hanoi and Ho Chi Minh City is a very popular trip to make. Generally, the train will be slightly quicker but often double the price.
Ho Chi Minh City Travel Guide Tips: You may check the best transport options from Bookaway.com to compare various transportation options.
How To Get Around in Ho Chi Minh City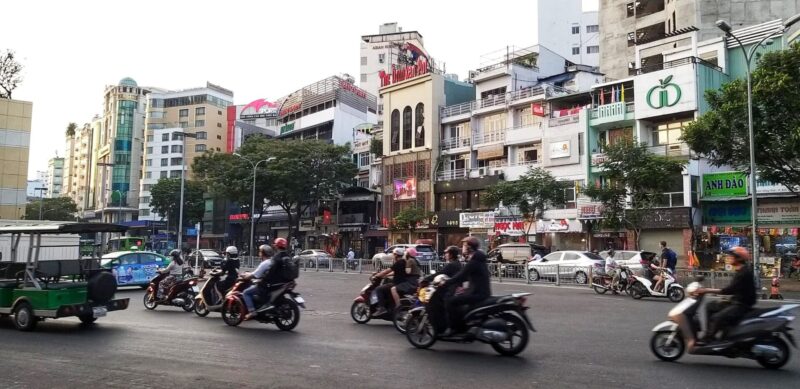 Getting around Ho Chi Minh city is a bit tricky. The city has an extensive and efficient public transportation system but it is not easy for foreign travelers due to the language barrier.
But rest assured. Ho Chi Minh city isn't that huge and pretty walkable. Most of the tourist highlights are located in District 1, which is considered the heart of the city. Plus, the hailing ride (Grab) is very common and convenient. Just like Uber, download the App to book a ride (Scooter or car) and the price is on the app so you never have to worry about having to pay more than you should!
Pro Tips: We recommended getting around the HCMC by a combination of hailing a ride and on foot to save time and energy! You'll need your phone to be working for this, so pick up a local SIM card.
Best Time To Visit
Generally speaking, Saigon only has two weather, dry or wet session.
The dry season is run from December and March, and this is also the best time to visit HCMC. The weather is warm and dry during this period. You will have good weather to travel around the city. While the weather is extremely hot and humid from May to October. That the temperature can be up to 34 degree Celsius in June!
While June to September is typhoon season in Southern Vietnam. So be warned of floods or heavy rain that may need to watch out!
Where To Stay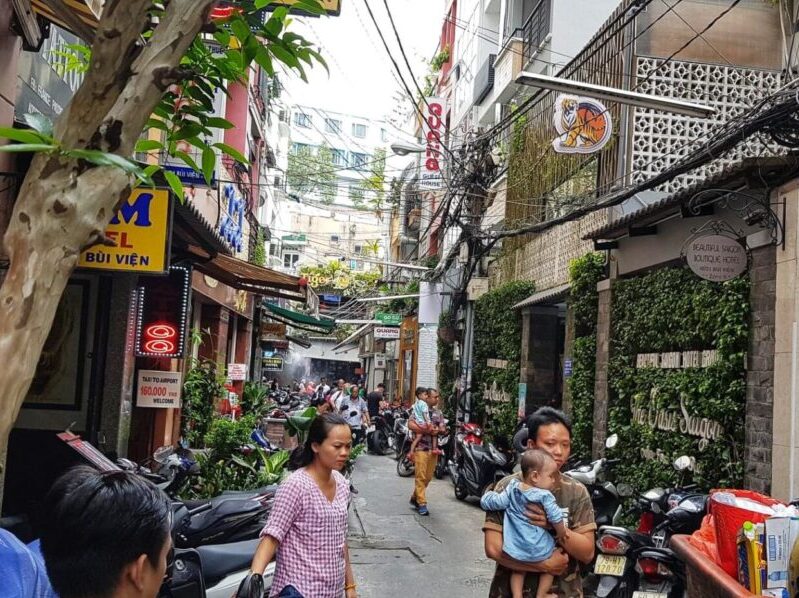 To plan your visit to HCMC, you're going to want to think about where is the best place to stay in the city.
For travelers, we highly recommend staying in District 1 or District 3 in Ho Chi Minh City. Many hotels are located directly in District 1 and you can find a wide range of accommodation choices, depending on your budget. While District 3 is cheaper, less crowded, and with better food than District 1.
Here's my personal recommendation on where to stay in Ho Chi Minh City:
Best Luxury Accommodation – Hotel Majestic Saigon
Hotel Majestic Saigon at District 1 is a great choice for luxury stay. This colonial-style 1920 landmark sits in the heart of Ho Chi Minh City and overlooks the Saigon River. It offers plenty of modern amenities and yet still retains its French colonial style.
Best Mid-Range Accommodation – Green Star Hotel
Green Star Hotel is the best place to stay if you're looking for a mid-budget stay in Ho Chi Minh City. The room is simple, and clean and has some amenities that will help you have a comfortable stay.
Best Budget Accommodation – 9 Hostel and Bar
Our top choice for budget accommodation in HCMC goes to 9 Hostel and Bar. It is a super social hostel that offers sleek dormitory rooms and private guestrooms with free WiFi access. It boasts all the basics and is very comfortable for a short stay in the city.
You can view more accommodation in HCMC here: Where To Stay in Ho Chi Minh City (Saigon)
Things To Do in Ho Chi Minh City Itinerary
Next, it's time to sample the best the city has to offer! Our Ho Chi Minh itinerary is very flexible and you can freely adjust based on your interest and time.
Here is the best of 3-Days Ho Chi Minh itinerary:
Reunification Palace, also known as Independence Palace.
Ben Thanh Market
War Remnants Museum
Jade Emperor Pagoda
Tan Dinh Pink Church
Saigon Notre Dame Cathedral
Saigon Central Post Office
Ho Chi Minh City Hall
Drink Vietnamese Coffee
Enjoy the Street Food
Nightlife at Bui Vien Street
Aerial City View from the Bitexco Tower
Day Trip from Ho Chi Minh City
Ho Chi Minh Travel Tips: Get the Ho Chi Minh City Hop On Hop Off Pass to see Ho Chi Minh city in a glance! You can explore the sights of Ho Chi Minh City at your own pace on the bus!
Reunification Palace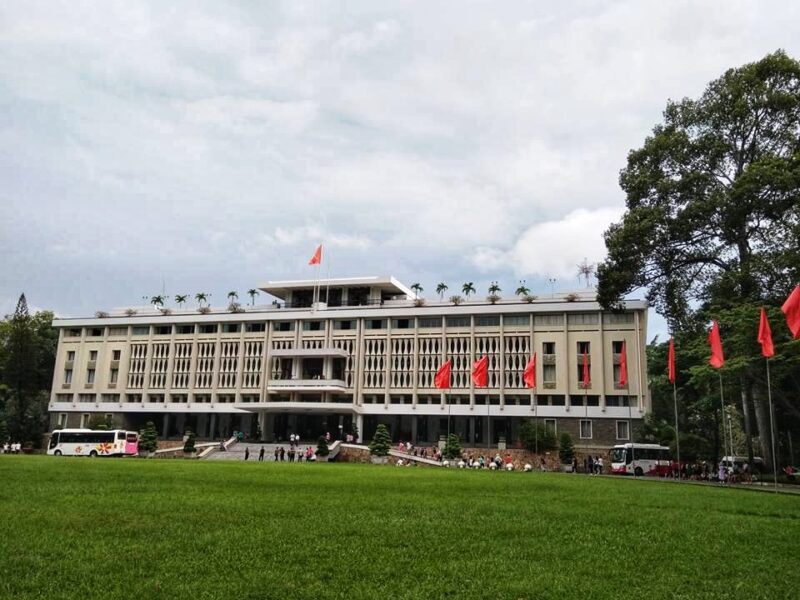 Also known as the Independence Palace, the Reunification Palace is a great place to know more about Vietnam's history and sightseeing on your Ho Chi Minh city itinerary.
The historical place made its name in global history in 1975. A tank belonging to the North Vietnamese Army crashed through its main gate, ending the Vietnam War. Today, the palace has been classified as a special national monument by the Vietnamese government.
The Reunification Palace is like a time capsule frozen in 1975 and preserved exactly as it was. The building is interesting architecture and the grounds are quite immense. You can see the original tanks used in the capture of the palace parked on the grounds. While the building has been well-preserved and it retains the elegant furnishings of the day. Do remember to take your time to explore the place and look out for every corner and walkway so that you wouldn't miss out on any of the exhibits.
If you are into history or architecture, a visit to the Independence Palace is a must-do in HCMC. Give yourself at least 2 to 3 hours to see the palace on your trip to Saigon. Worth a visit!
Reunification Palace
Address: 135 Nam Ky Khoi Nghai, District 1.
Operating Hours: Daily from 8:00 to 11:00 and from 13:00 to 16:00.
Admission Fee: 40,000 VND
Pro Tips: We recommended hop-on one of the guided tours if you want to get a bit more out of your visit
Ben Thanh Market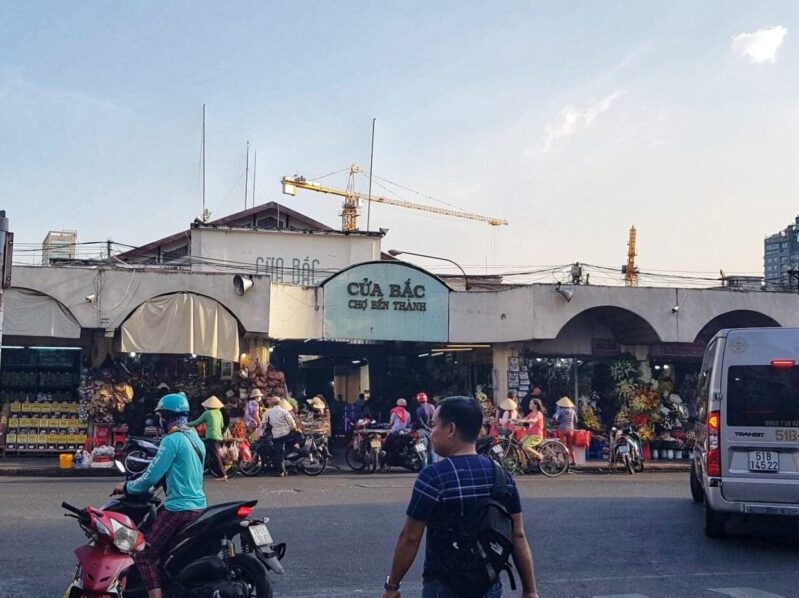 Ben Thanh Market (Chợ Bến Thành) is the city's biggest, most authentic market. It is housed in a building from the early 20th century with almost six thousand tenants inside the building. Apparently, anything and everything that you wanted to buy can be found in Ben Thanh Market. There are plenty of shops selling all sorts of things, from basic supplies, and souvenirs, to food but it is quite similar at the market.
Like most of the Asian market, bargaining is a must to get good buys! Sellers are a little pushy but not too bad. An interesting street shopping in HCMC and worth taking a look at if you are in the mood for some shopping and bargaining.
Ben Thanh Market
Address: Le Loi, Ben Thanh Ward, District 1.
Operating Hours: Daily from 6:00 to 18:00.
Admission Fee:Free!
War Remnants Museum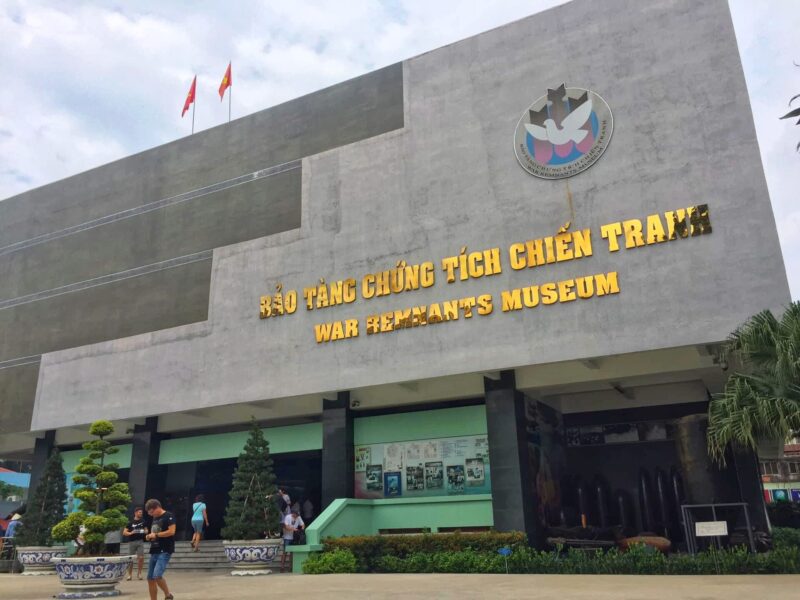 War Remnants Museum in Ho Chi Minh is a must for any visitor to Vietnam to gain perspective on a significant chapter. It is so interesting to find out more about this terrible Vietnam war and will allow you to see things from a different perspective.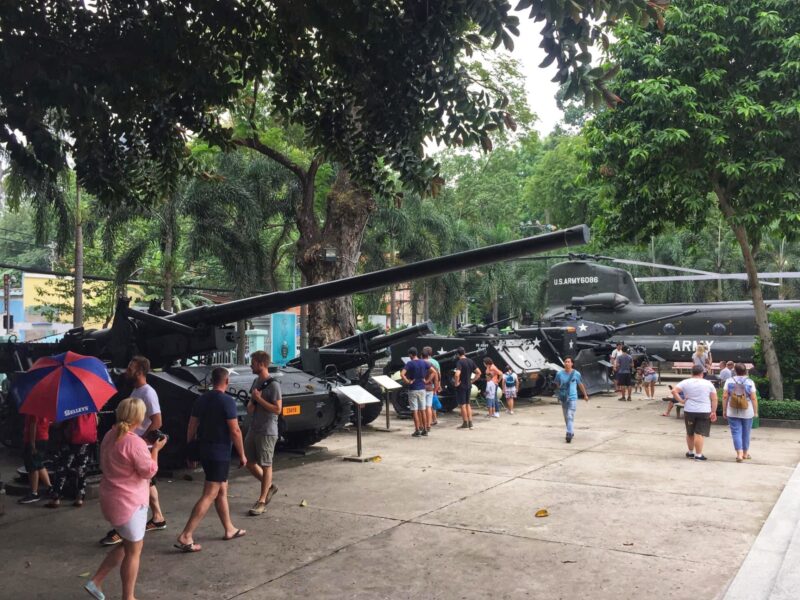 Start with the outdoor display of military equipment along with all the stories and stats on the grounds. Next, the visitor will see the war through the eyes of photojournalists and the US military in the 3-story museum. Displays are mainly photographs and stories in main themes of the history of the conflict, photojournalists and their roles and sacrifices, war crimes, Agent Orange, and protests. Take some thoughtful time here, it's intense.
We had an hour to allocate there and it definitely wasn't enough if you looked at everything. It's tragic and quite a somber experience. You'll have mixed feelings but it's worth it to see what the people of Vietnam went through.
War Remnants Museum
Address: 28 Vo Tan Tan, District 3
Operating Hours: Daily from 7:30 to 12:00 and from 13:00 to 17:00
Admission Fee: 40,000 VND
Jade Emperor Pagoda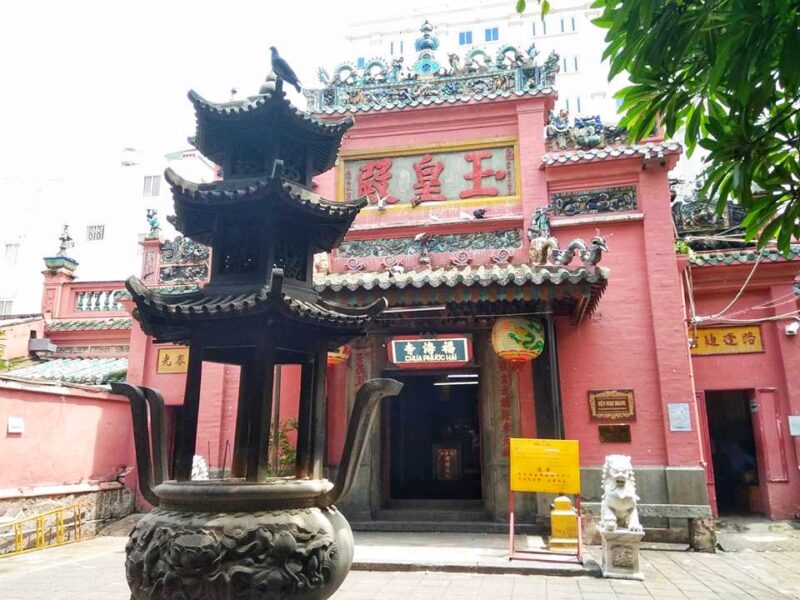 A great place to visit on Ho Chi Minh itinerary is with the gorgeous Jade Emperor Pagoda in the center of the HCMC.
The Jade Emperor Pagoda is a lovely temple hidden down an alley off a major roadway. It was built by the Chinese community of Saigon in the 17th century and is still actively visited by locals. The temple is a blend of Taoism, Buddhism, and Confucianism. Many local people worship here and make offerings of flowers and incense.
Not a must-visit attraction but well worth taking about 30 minutes to see the local culture in Saigon.
Jade Emperor Pagoda
Address: 73 Mai Thi Luu Street, District 1
Operating Hours: Daily from 5:00 to 18:00
Admission Fee: Free!
Tan Dinh Pink Church
Build in 1786, Tan Dinh Church is the second large church in HCMC. This beautiful pink Church is vintage and another must-see on your Ho Chi Minh itinerary. The architecture is amazing, the French influence can be seen. The bright pink church with Gothic pillars makes for some beautiful photos.
The local landmark is situated in District 3 and a few blocks away from the Jade Emperor Pagoda. It is slightly away but is worth the detour. Right across the street is the Tan Dinh Market where you can have a quick lunch or snack in the market.
Tan Dinh Church
Address: 289 Hai Ba Trung, Ward 8, District 3.
Operating Hours: 24 hours
Admission Fee: Free (Note: Inside is no open for tourist)
Saigon Notre Dame Cathedral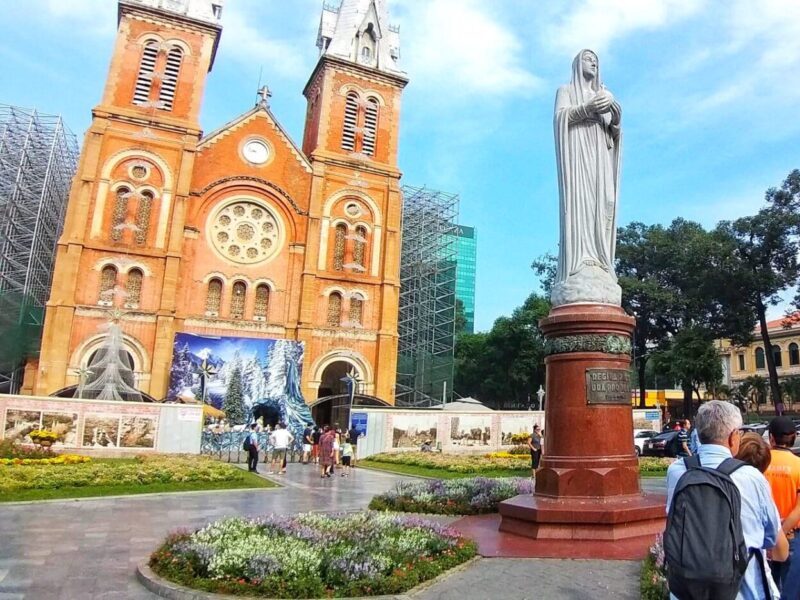 From Tan Dinh Church and continue to head south, then you'll reach another iconic building that is not to be missed on the Ho Chi Minh itinerary. Commonly known as the Church of Saigon, the Notre Dame Cathedral is an important remnant of the French colonial period in Vietnam.
Notre Dame Cathedral was built, between 1863 and 1880, by French Roman Catholics. The neo-romanesque church is built with an all-red brick facade, two outstanding bell towers, six bronze bells, and beautiful stained-glass windows.
Sadly, Saigon Notre Dame Cathedral has been undergoing severe restoration works and has been closed to visitors. Still, the church is open for prayer service on Sunday morning at 9:30. However, please take note this is a holy place, and please respect it.
Stroll along and the church still looks decent from the outside! There is a virgin Mary statue out side surrounded by a breathtaking garden. Worth to take a look!
Saigon Central Post Office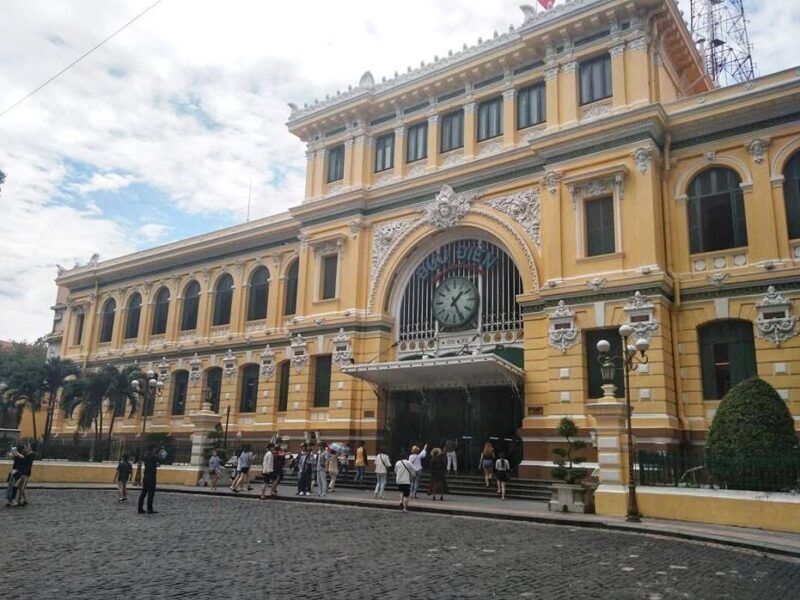 Continue your visit and walk to the Central Post Office, a popular place on the Ho Chi Minh itinerary for the photo opportunity.
The French-built Central Post Office is a beautiful building housing old telephone boxes and historical pictures that showcase some of HCMC's colonial heritage. The post office is still functioning and you can write a postcard and send it to someone back home.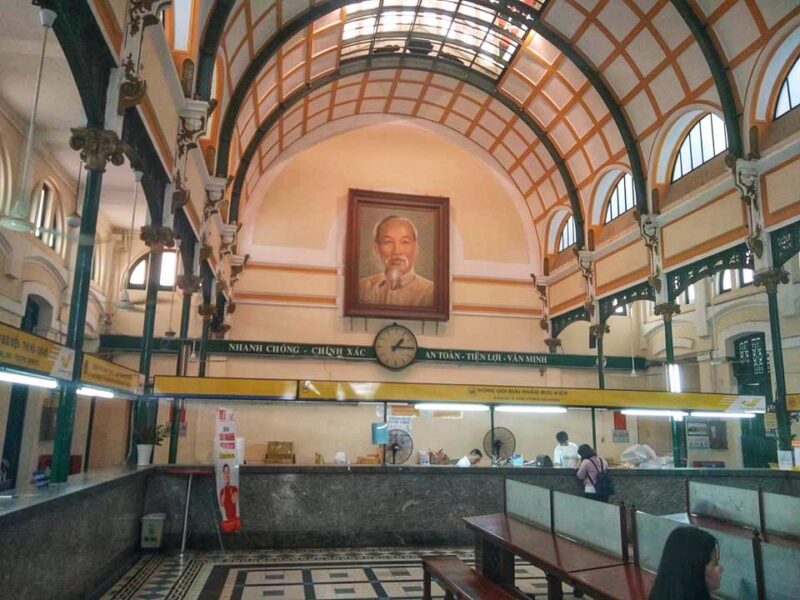 A great place to stop by to catch a glimpse of the architecture. There were shops with souvenirs on either side.
Central Post Office
Address: 125 Hai Ba Trung, District 1.
Operating Hours: Daily from 8:00 to 18:00 (Closed at SUnday).
Admission Fee: Free!
Admire the Ho Chi Minh City Hall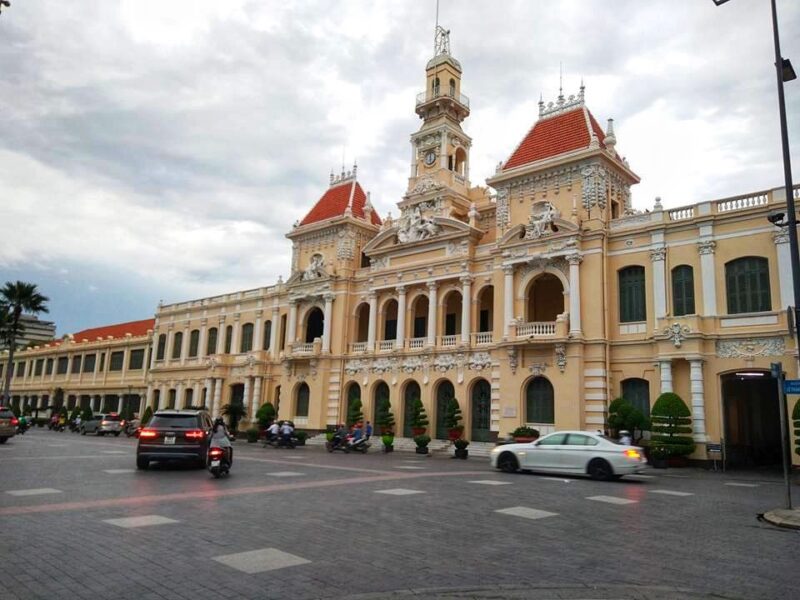 The Ho Chi Minh City Hall is another attractive colonial building to admire whilst in HCMC. Also known as the Ho Chi Minh People's Committee since 1975, the city hall boasted a classic French colonial design in a two-story structure.
The glamorous building was first constructed as a Hotel de Ville by French architects when it was built in 1908. It now serves as a government office. Unfortunately, the building is not open to the public but it does provide a good photo opportunity for the great view of the building. A good time to visit is after dark when the building is illuminated with LED lighting.
In front of the building is the President Ho Chi Minh Statue and from here you can take some lovely symmetrical photos.
People's Committee Building
Address: 86 Le Thanh Ton Street, Ben Nghe Ward, District 1.
Admission Fee: Not open to public.
Drink Vietnamese Coffee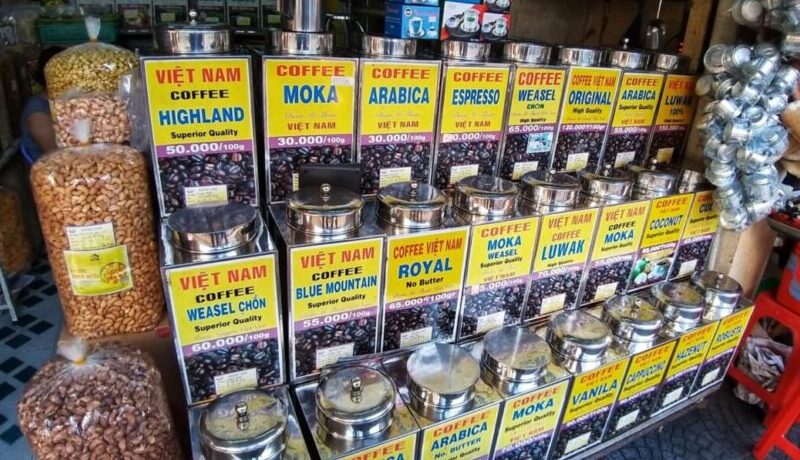 Vietnam is the second-largest coffee producer in the world, so don't miss to taste Vietnamese coffee when visiting Ho Chi Minh. The city has unique coffee culture and locals love to have a cup of coffee for their social pastime.
The Nguyen Hue Walking Street is a vibrant pedestrian-friendly street lined with cafes, restaurants, and a multitude of shops. Great place to go for an evening stroll, people watch, shop, and enjoy a meal or beverage.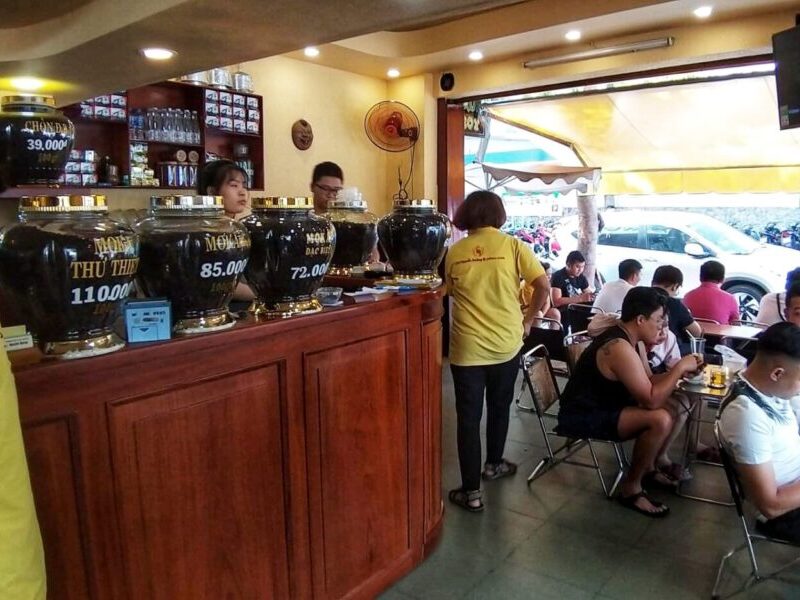 Don't forget to pick one of the coffee shops to relax during the afternoon when strolling around the Nguyen Hue Walking Street. This pedestrian-friendly street is a great place for a stroll and some quality people-watching. We just randomly pick one of the cafes to taste the Vietnamese coffee.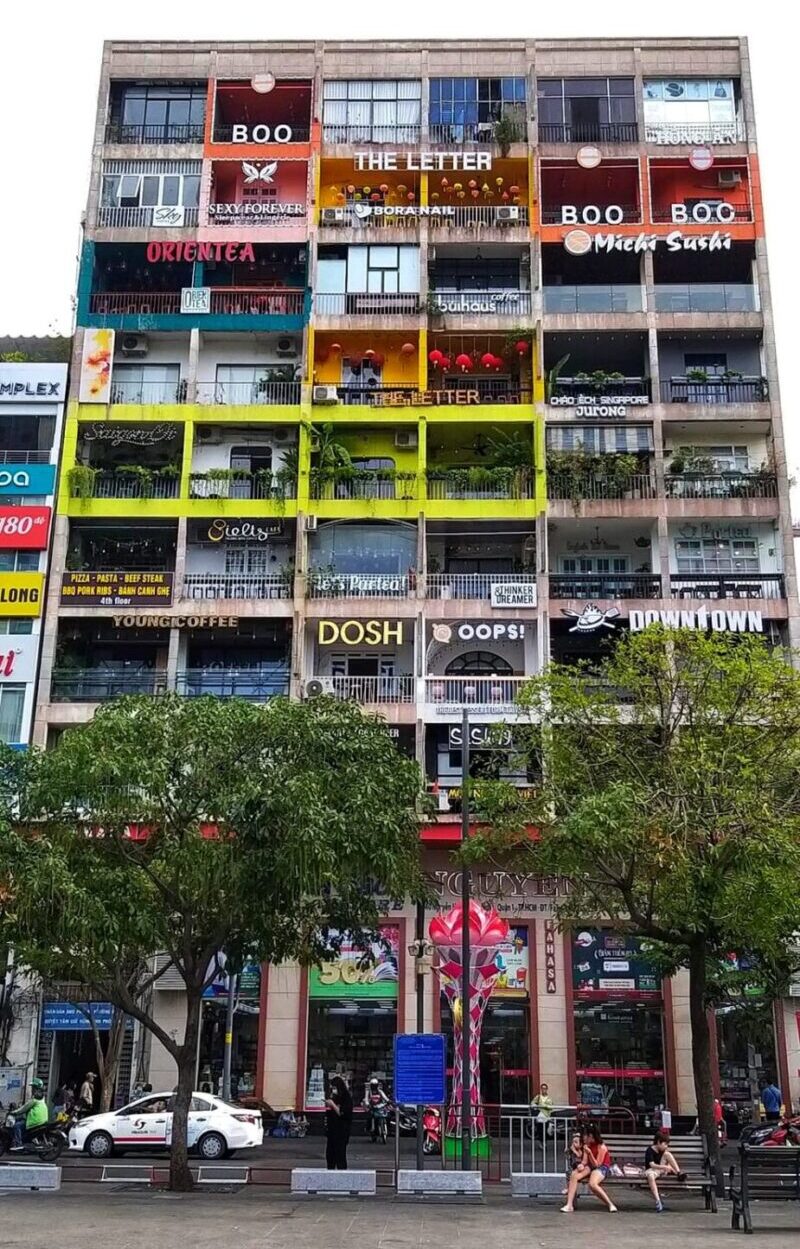 Alternatively, one of the coolest places to check out is the Cafe Apartment building near Nguyen Hue Walking Street. This fascinating old 9-story apartment which used to be an old apartment has now been converted into cafés and boutique outlets. Head to one on one of the higher floors for a drink or snack and enjoy the views of the bustling street below and sunsets when they occur.
Pro Tips: Using the old elevator to reach upstairs is a unique experience. You will need to pay for the lift service but if you walk the stairs up, it is free!
Enjoy the Street Food
Ho Chi Minh is a food paradise with lots of great restaurants and street vendors for the incredible feast. There are so many delicious dishes in Saigon to experience the eating scene in the city. Don't miss the banh mi, savory pancakes (banh xeo), broken rice (com tam), and all the tasty Vietnamese cuisine. Eat as much as possible during your Saigon itinerary!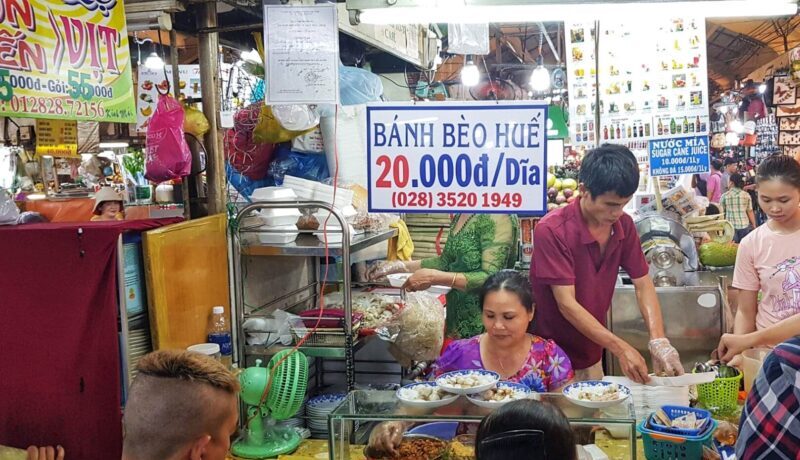 If you love to experience the local culture, then we can warmly recommend you take a street food tour. Accompanied by a guide, you get to experience the local Vietnamese cuisine specialties.
Recommended food tour: HCMC Private Street Food Tour by Motorbike
Aerial City View from the Bitexco Tower
For the best aerial view of HCMC, head up to the top of the Bitexco Financial Tower. This Saigon observation deck provides a 360-degree view over the city. You can take a look around and see the city in all directions or have a drink at the rooftop bar to enjoy the moment.
Get the Saigon Skydeck Admission Ticket at Discounted Price
Plus, the Skydeck does a great job on all aspects of its presentation with plenty of photo opportunities. Visitors can also learn about some interesting history from the mini-exhibition on Vietnamese fashion, the construction of the tower as well as the city itself. A fun place to spend an hour on your Ho Chi Minh itinerary. Worth a stop!
Bitexco Financial Tower
Address: 36 Ho Tung Mau Ben Nghe Ward, District 1.
Operating Hours: Daily from 8:00 to 23:00.
Admission Fee: VND 200,000 for adults and VND 130,000 for children, seniors and handicapped persons.
Ho Chi Minh Travel Guide Tips: It is best to visit Bitexco Financial Tower in the late afternoon, so you can see the lights of the city change from day to night, and then the city lights come on.
Nightlife at Bui Vien Street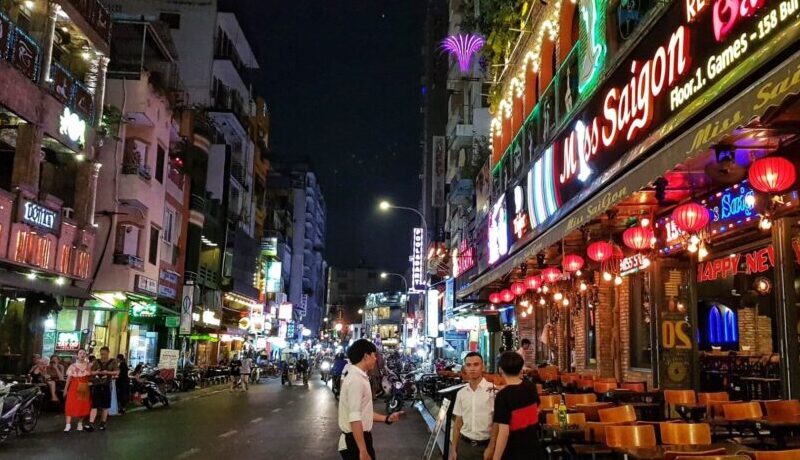 End your Ho Chi Minh itinerary at Bui Vien Street. Lined with endless hostels, bars, pubs, bars, and souvenir shops, the lively Bui Vien street is one of the wild streets for nightlife in HCMC.
The street is very intense and busy during the night. With cheap drinks and meals, there are a variety of venues to choose from, from flash bars to simple old Saigon-style street bars sitting on the footpath. Great place if you are looking to part through the night in Saigon.
Overall, Bui Vien has a great vibe if you're looking for some nightlife or hanging out with close friends. It's busy and certainly not for everyone but an experience if you are looking to party. Be aware of the pickpocket as you walk down the street.
Day Trip from Ho Chi Minh City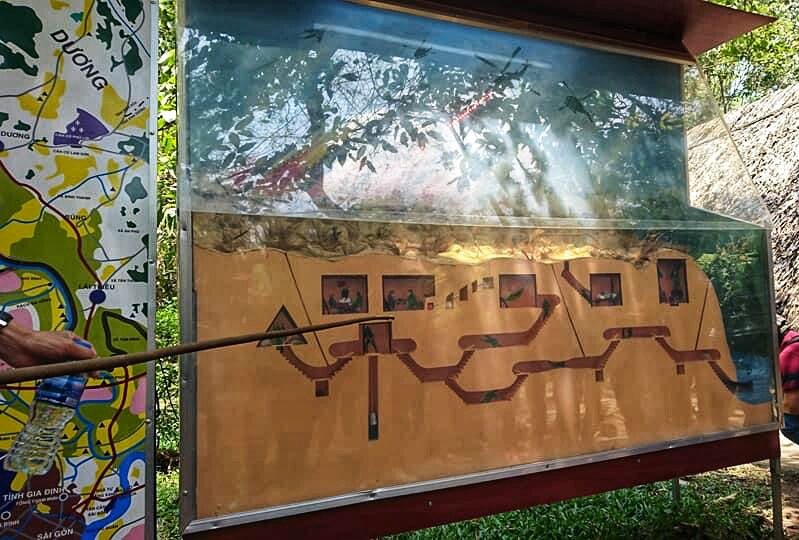 HCMC is a perfect base for traveling around the south of Vietnam. Apart from the main tourist attractions in the city, many attractions are best to plan for a day trip from Ho Chi Minh city. Among them, the Cu Chi Tunnels and Mekong Delta are the most popular day trip from Ho Chi Minh that highly recommend to you.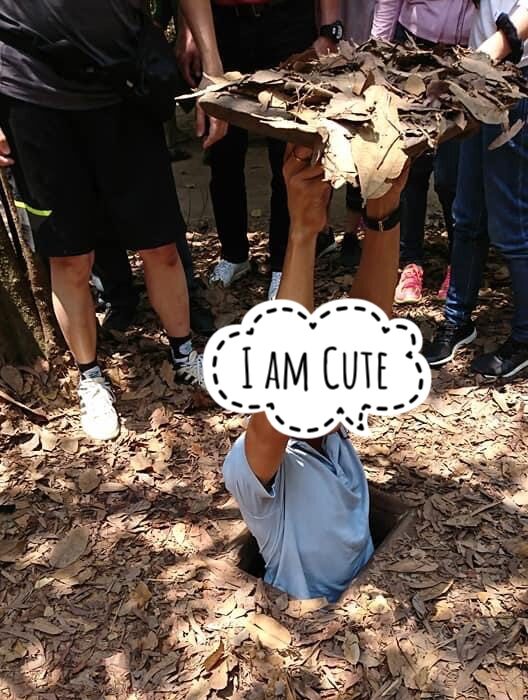 Cu Chi Tunnels is a must-do in your Ho Chi Minh itinerary. This historical landmark is one of Vietnam's war-related sights. During your visit, it will take you to a turbulent time in Vietnamese history and show you how the Vietcong fought from the tunnels and the traps they laid for the American soldiers. It is situated about 2 hours drive from the HCMC and is best to visit with a half-day tour.
Read for more tour detail: Cu Chi Tunnels from HCM City (Morning or Afternoon)
Mekong Delta offers visitors the opportunity to view vast agricultural landscapes and a unique ecosystem that acts as the major food source for Vietnam. The most popular way is to get on a traditional rowing boat, and the winding river snakes will bring you to experience Vietnam's natural beauty around as it goes.
Read for more tour detail: Mekong Delta Guided Tour from HCMC
Ho Chi Minh Travel Tips: We would highly recommend to take the guided tour to visit these two most interesting places around HCMC with transport arrangements included. You can make the most out of it if you have limited amount of time in HCMC.
Recommended Tour: Cu Chi Tunnels & Mekong Delta VIP Day Tour (Transfers by Limo)
Planning on Ho Chi Minh City Itinerary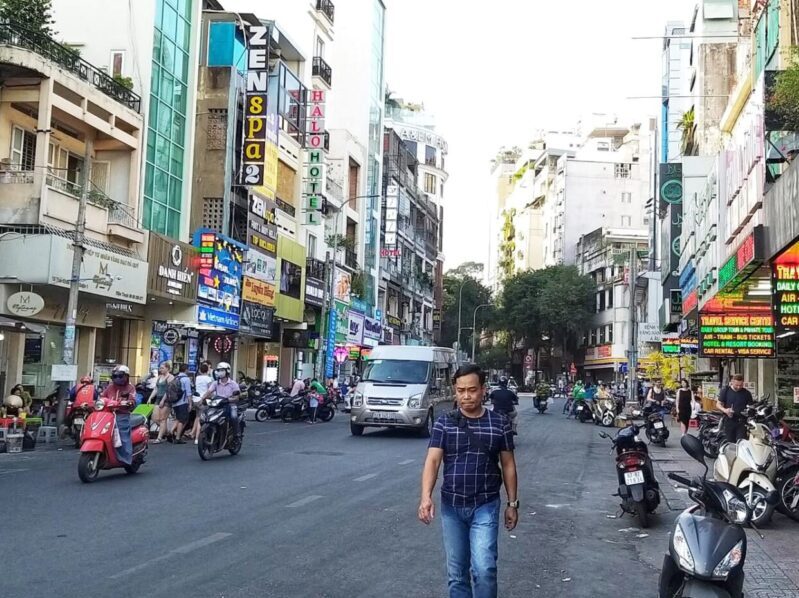 If you are asking how many days for Ho Chi Minh? I would suggest spending at least 3 full days are needed to get a taste of Saigon city. Let's have a quick overall on what to do in if you only have 1, 2, or 3 days in Ho Chi Minh City itinerary!
On the first day of Ho Chi Minh itinerary, I will recommend spending your time seeing some of the city's highlights and landmarks. By visiting those attractions in Saigon, you'll be able to get a feel for the city before exploring further. Start your day in the morning and visit the Jade Emperor Pagoda, Tan Dinh Pink Church, Saigon Notre Dame Cathedral, and Ho Chi Minh City Hall. During the day, you can simply be walking over to the Ben Thanh Market for lunch or hoop into one of the cafes for a cup of Vietnamese coffee. End your day at Bui Vien Street for dinner.
On the second day of your Ho Chi Minh itinerary, you will learn about Vietnamese history by visiting the city. You can pick up whatever is left from the first day and continue the visit to the Reunification Palace and the War Remnants Museum. End your second day with an aerial city View from the Bitexco Tower.
On your last day of the Ho Chi Minh itinerary, take a guided tour to the Cu Chi Tunnels and Mekong Delta with hassle-free!
Pro Tips: HCMC is extremely rich in history and culture, and you could easily spend a week exploring Vietnam's history city and checking out some of the city's most important landmarks and food culture!
More Ho Chi Minh Travel Guide Tips
How many days for Ho Chi Minh City?
Generally, we recommend staying at least three days in Ho Chi Minh. That way you have enough time to see the main attractions in HCMC for 2 days and add one more day for a day trip to nearby attractions.
Is Ho Chi Minh City worth visiting?
Ho Chi Minh City is one of the definitive must-visit destinations for international travelers to Vietnam. Visitors can travel back to the old Saigon time by visiting plenty of colonial-era attractions!
Is it better to visit Ho Chi Minh City or Hanoi?
Both cities are vibrant and good to visit, depending on what are you looking for. The HCMC is rich in Vietnamese historical while Hanoi provides a more cultural Vietnamese experience.
Overview: A Visit to Ho Chi Minh City
All in all, Ho Chi Minh City is an exciting, vibrant city with a rich history. It's no wonder that it attracts tourists from all over the world. The main challenging part of your Ho Chi Minh City adventure is to plan your perfect Ho Chi Minh itinerary. And we do hope our travel guide can help make your trip more enjoyable. Learn about Vietnam's history, explore its iconic landmarks, and enjoy the best nightlife, you'll feel in love with HCMC!
Lastly, I hope you have such a unique experience in HCMC that you will never forget it! If you need more travel inspiration for Vietnam, here you can find all our travel stories about this wonderful country!
More travel stories in Ho Chi Minh City:
Traveling to Northern Vietnam:
Traveling to Central Vietnam: