Last updated on November 9th, 2023
If you are looking for the best banh mi in Ho Chi Minh, Bánh Mì Hòa Mã is the place. It's definitely a must-eat food in HCM and locals will tell you about this place for the best banh mi ever in Saigon!
Banh Mi is one of the most delicious baguettes on the planet and you should not miss the chance to taste this Vietnamese food when visiting Vietnam. Many eateries are offering Banh Mi in Ho Chi Minh City, but this one stands out for its deliciousness.
For the best banh mi in Ho Chi Minh City, head to the Bánh Mì Hòa Mã. It is the place for breakfast in Ho Chi Minh city with a good experience of local eating along an alley. Simply good and value for money. Highly recommended by locals!
Let's read about the unique experience to have breakfast the Vietnamese way!
Bánh Mì Hòa Mã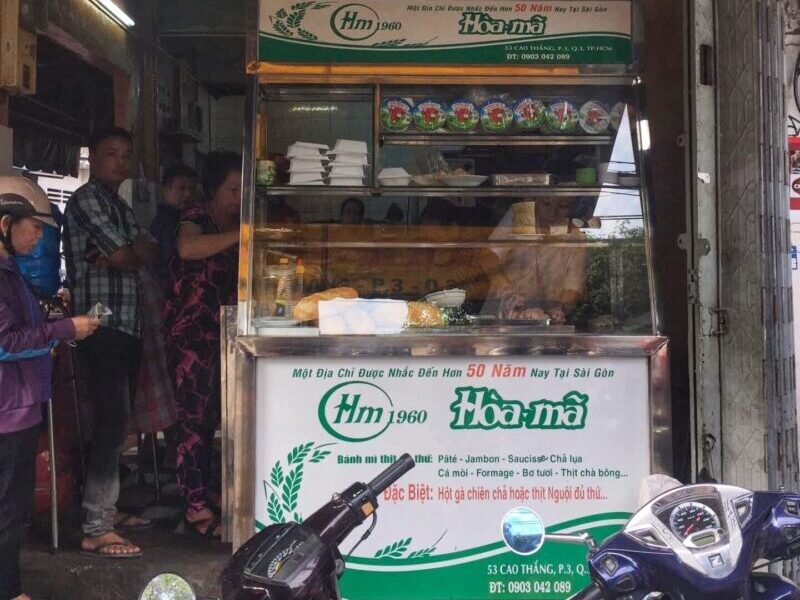 Located in District 3, in the small alley, Bánh Mì Hòa Mã is one of the popular places for breakfast in Ho Chi Minh City. Bánh Mì Hòa Mã is operated since 1958 and it is one of the oldest Bahn mi places in Saigon. The shop is always crowded on weekend, especially Sunday mornings.
Banh Mi Hoa Ma is only open in the morning, starting from 6:00 until 11:00, or until the kitchen runs out which is a daily occurrence. So please come early because their breakfast runs out quickly. Most people will rock up by motorbike and just sit on the street for the best breakfast in Saigon.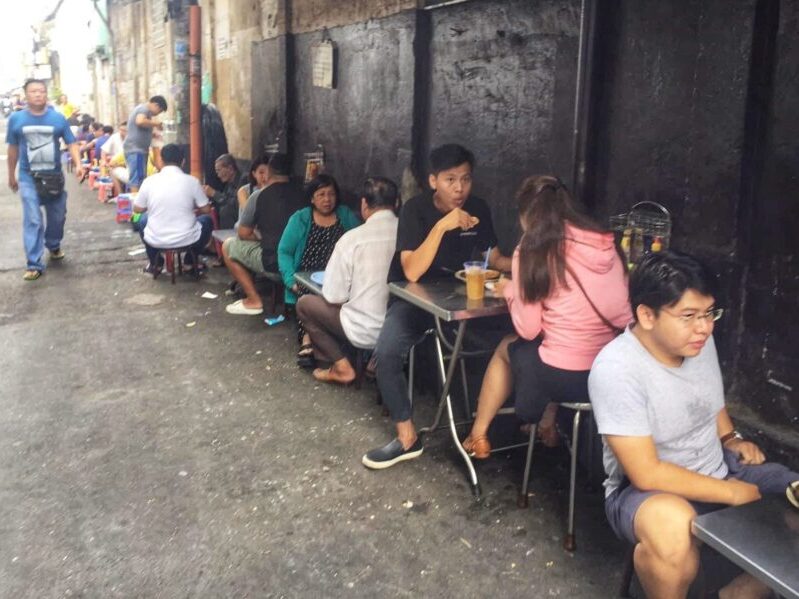 Enjoy your meal on the low-seating tables and stools in an alley not far from the main street. While the kitchen is by the roadside where you can see how the food is served. It one of the best street-side ambiances, made it a unique experience in Saigon.
The price is very reasonable, and it costs about 70,000 VND for a complete breakfast set.
Bánh Mì Hòa Mã
Address: 53 Đ. Cao Thắng, Phường 3, Quận 3
Operating Hours: Daily from 6:00 until 11:00
Price range: Estimate for 50,000 to 70,000 VND
What To Order in Banh Mi Hoa Ma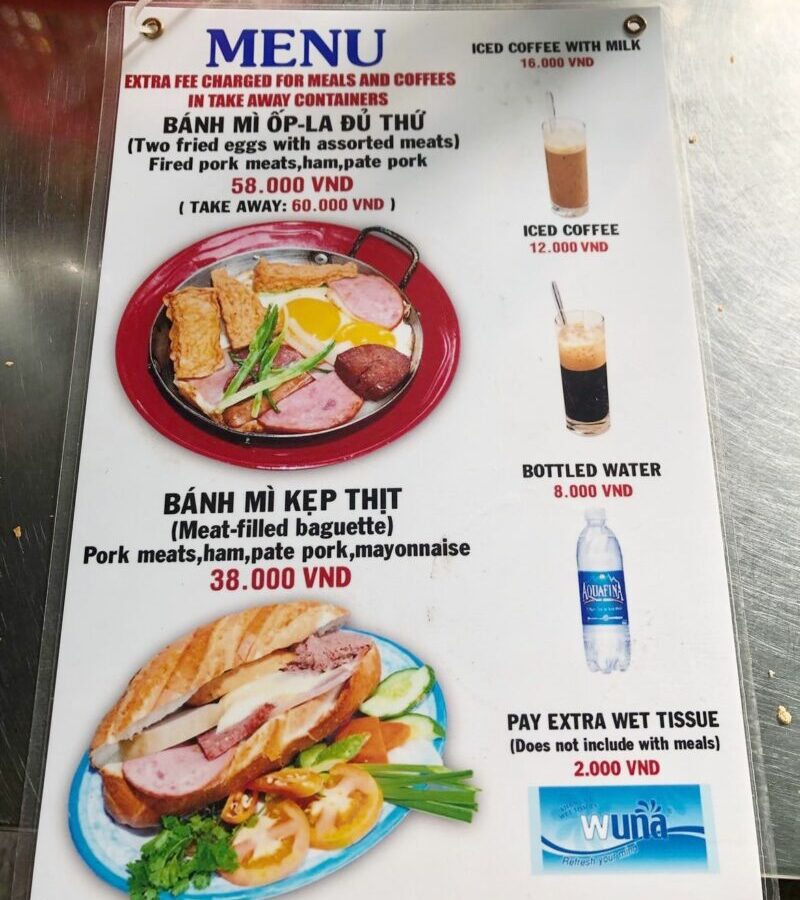 There are only two choices on the menu, regular traditional Bahn mi and the full breakfast platter, named Op La (runny egg yolk). Besides, Banh Mi Hoa Ma also serves decent homemade style iced Vietnamese coffee to go along with your banh mi too. No worries about how to order the food in Banh Mi Hoa Ma with menu is photo and price is well-displayed.
We ordered both options to try on with English-speaking staff. The service is efficient and we have our food service fast.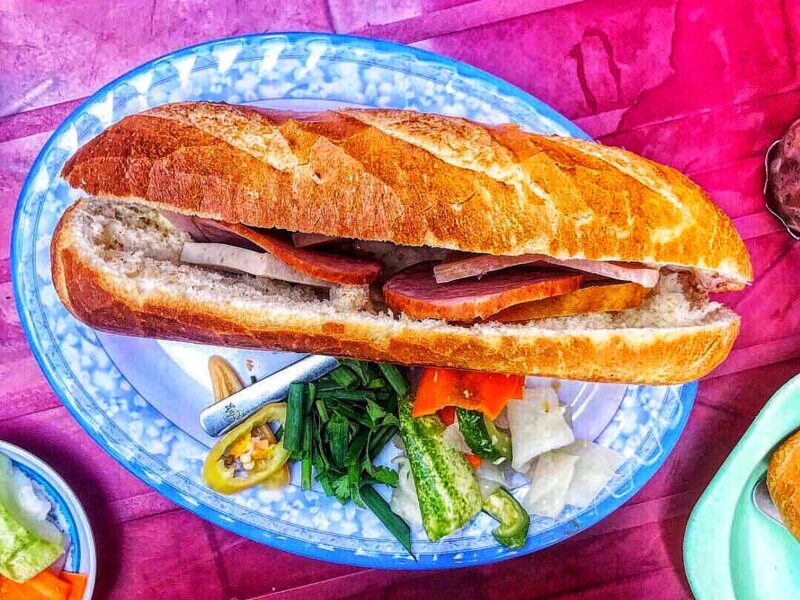 The banh mi is one of the softest baguettes you can get. Crisp on the outside, full and fluffy on the inside. It was generously filled with meat and all the usual accouterments.
It tastes so good and satisfying!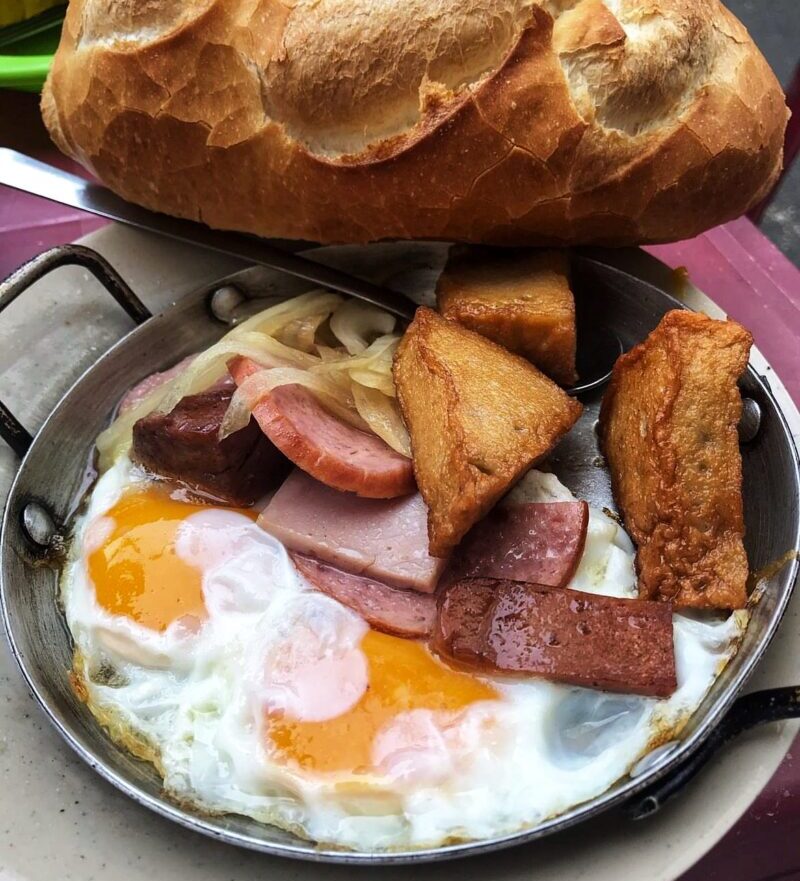 While the Op La comes in a sizzling dish with 2 eggs cooked to perfection with various meat slices and fish cakes, and grilled onion, along with banh mi and fresh sliced cucumber and carrot pickles.
The food seems to be just basic ingredients like all the ingredients chucked together but it went well. It took our palette satisfaction to the next level! A dipped to the running egg yolks with the banh mi. Simple yet satisfied! One of the best breakfast in Ho Chi Minh City.
Best Banh Mi in Ho Chi Minh City
All in all, if you happen to be in Ho Chi Minh (Saigon), please visit Bánh Mì Hòa Mã at District 3.
The eatery is the best place for anyone wanting a great breakfast experience in HCMC. It's a kind of experience to sit at the roadside for a perfect breakfast with authentic flavor. You would find this place a bit far away from downtown. But trust me, it is worth your effort. Come hungry and you'll leave full and satisfied.
Traveling to Ho Chi Minh City? Feel free to read on our Saigon travel stories.
More food journey in Ho Chi Minh City: