Last updated on December 11th, 2023
In this accommodation guide, I have carefully chosen recommendations of the best hotels and hostels when looking for where to stay in Interlaken. Read on to choose your best accommodation stay in Interlaken!
Interlaken is a traditional picturesque resort town in central Switzerland. It is also one of the popular places to stay in the Jungfrau region if you are planning to visit the mountainous Bernese Oberland region. Many travelers will choose to spend a few nights stay in the area to enjoy the stunning Swiss Alps mountain holiday.
The best area to stay in Interlaken for first-time visitors is the Interlaken town itself. This is where all the important attractions and landmarks are located, so you'll always be in the center of the action if you stay here. Plus, it's the best place to stay in the area if you want to explore the city by public transport as it is well-connected to the rest of the area and attractions via public transportation!
Whether you're staying in Interlaken one night or a few nights, there are plenty of hotels in Interlaken, just make sure you choose the best one that suits your interest and budget. From luxury elegant hotels, and mid-range hotels, to budget hostels, let's check out our where to stay in Interlaken guide below!
Where To Stay in Interlaken
Below you can find my best picks for where to stay in Interlaken, categorized by price range, all with great facilities and reviews.
Where to stay in Interlaken on a Budget: Backpackers Villa Sonnenhof and Interlaken Youth Hostel
PRO TIP: Because Interlaken is a very popular tourist destination in Switzerland, good hotels and apartments are always getting sold out fast, so, as usual, I recommend you book your stay as soon as possible!
Victoria Jungfrau Grand Hotel & Spa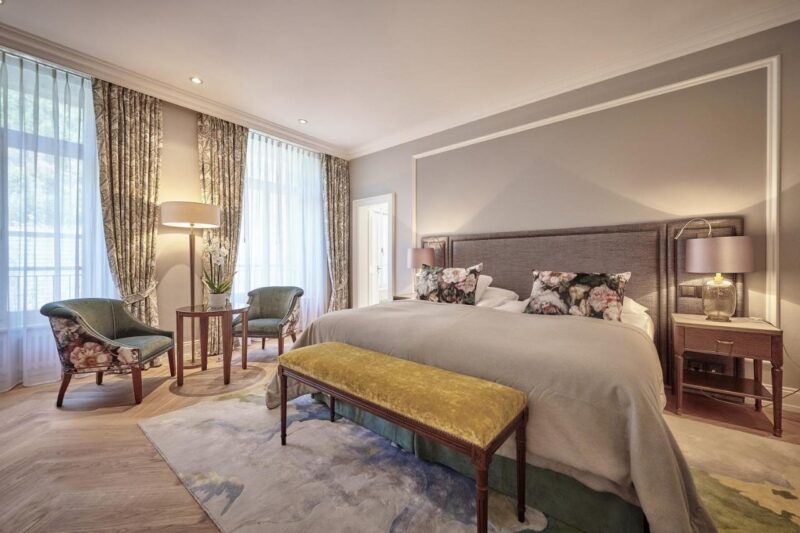 Most Luxury: Victoria Jungfrau Grand Hotel & Spa – A famous five-star hotel that offers impeccable stay and wonderful service. This is one of the best 5-star hotels in Interlaken if you want a luxurious stay!
All rooms have a distinctive design and décor, ranging from classic to contemporary. Plus, the property preserves the most privileged and picturesque location with a great view of the mountain.
The HEY Hotel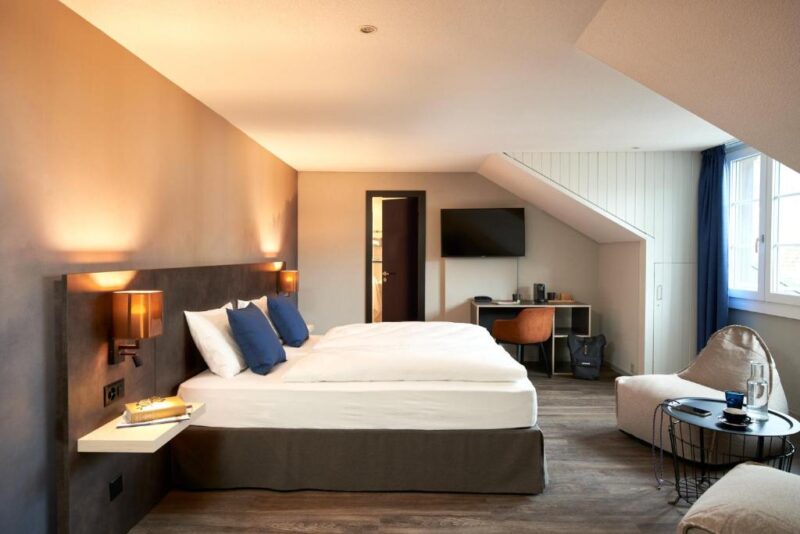 High-Range: The Hey Hotel is a great option of the best hotels in Interlaken that offers a nice and comfy room with a nice view of the Eiger. It is a modern hotel in terms of appliances, décor, and furniture while being very comfortable and with a great price.
The hotel also has a great location and is within walking distance of all the activities. Breakfast was perfectly adequate, with good coffee and variety. The staff is for the most part friendly and incredibly helpful. Excellent and would recommend it to everyone who looking for where to stay in Interlaken.
Hotel Royal St Georges Interlaken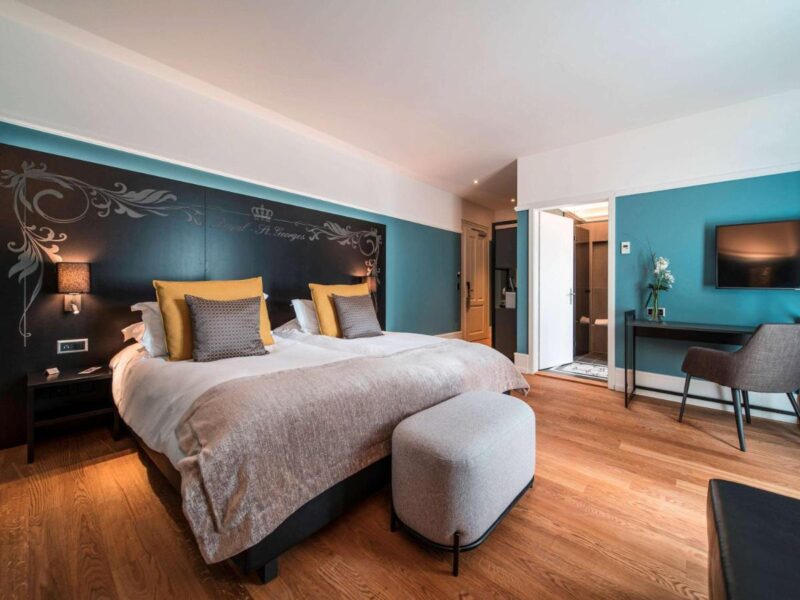 High-Range: Hotel Royal St Georges Interlaken – MGallery Collection offers a historic façade dating from 1908. The property is hosted in a historical building and it offers everything you might need for a pleasant stay. The building is absolutely stunning, from the moment you walk into the hotel you feel welcome and at home. Spotlessly clean room and very comfy bed.
The hotel is close to the Ost station which makes it convenient to grab the train to all the places of interest. It is also within walking distance along the boulevard towards the West station for food, drinks, and shopping. What more can you wish for a perfect stay in Interlaken?
Boutique Hotel Bellevue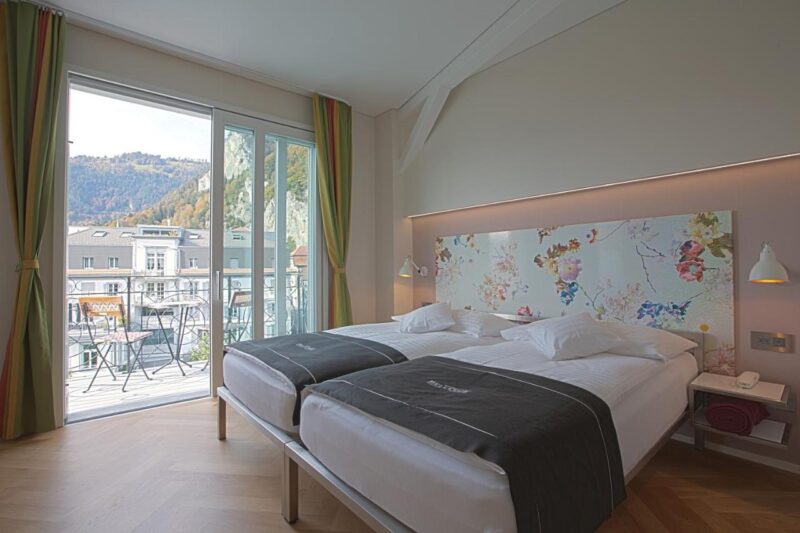 Here's another upscale choice for your stay in Interlaken – Boutique Hotel Bellevue! This great 4-star hotel is located near the train and bus station about 5 minute's walk, and to the city center, which means you'll be close to all the attractions in the area. This hotel has simple but cozy rooms, perfect for a good night's sleep after a full day of exploring Interlaken! Plus, all rooms have balconies and a wonderful view of the river and the surrounding mountains that will make your stay unforgettable!
Hotel Central Continental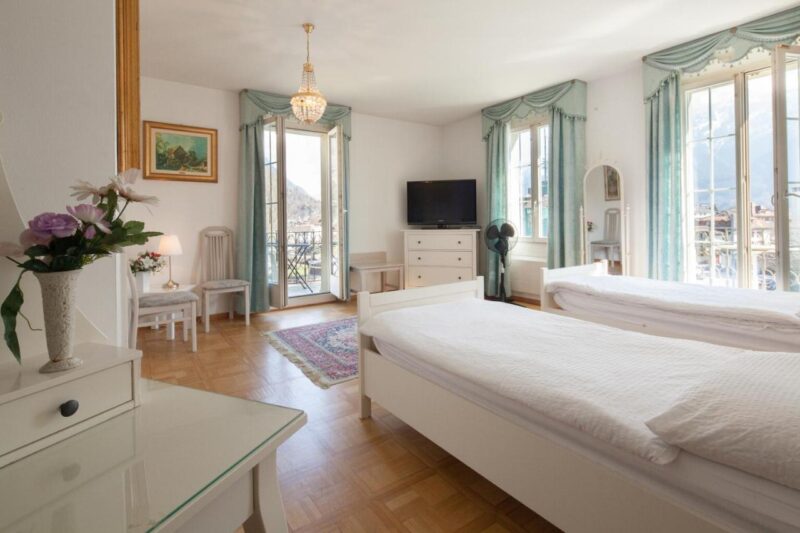 Mid-Range: Hotel Central Continental is a high-mid range hotel in the town, perfect for those wondering where to stay in Interlaken for a great value! Situated at a good location and very close to West train station, it is very easy to get around Interlaken and the nearby attraction.
The hotel is slightly dated and not fancy. But, the view of the lake and mountains is incredible. Most importantly, the price is very reasonable for a comfortable stay. Great value for the money pay!
Carlton-Europe Vintage Hotel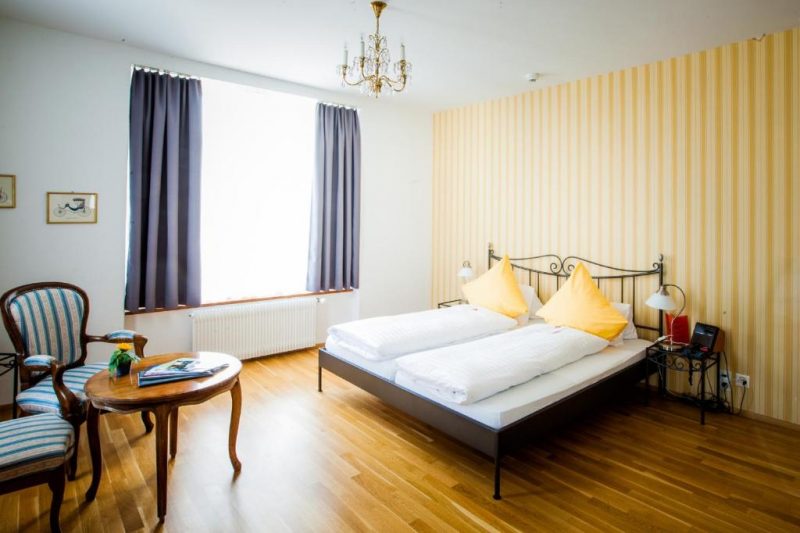 Mid Range: Carlton-Europe Vintage Hotel – A quaint boutique hotel got everything your friends will swoon for. Great location near the Ost Station, classy rooms yet with a touch of tradition in every corner, comfy bed, and good breakfast. Children are not allowed.
Hotel Chalet Swiss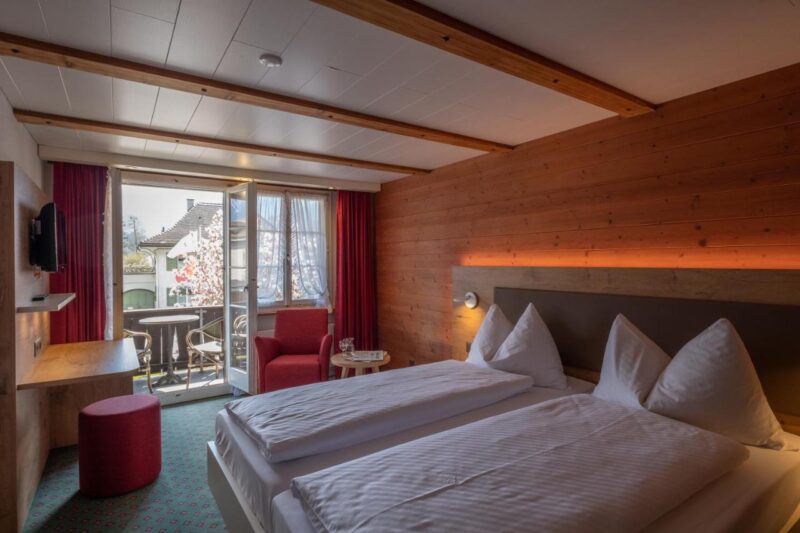 Mid-Range: Hotel Chalet Swiss – Built in 1862, this traditional chalet-style hotel in Interlaken offers panoramic views of the Eiger, Mönch, and Jungfrau Mountains. The rooms are rustically furnished in a traditional Swiss chalet style. Location is also very convenient and the Interlaken West Train Station is an 8-minute walk away.
Hotel Blume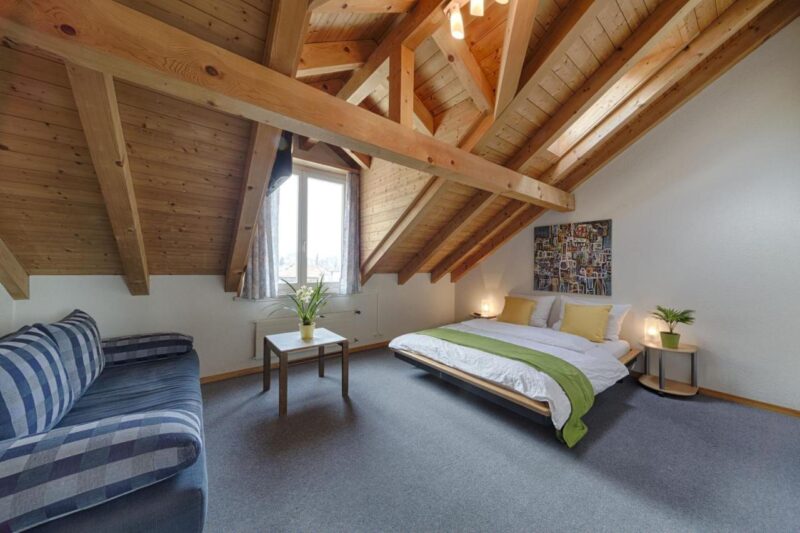 Mid-Budget: If you're looking for great value, this awesome Hotel Blume located in the center of Interlaken is your choice! The family-run Hotel Blume is located in the pedestrianized Jungfraustraße. Your stay is featured with good service, a comfortable room, and a simple and good breakfast.
Besides, the location is very convenient especially if you plan to use public transport for most of your travel in and around Interlaken. Plus, you will be given free passes for local bus travel for the duration of your stay, which is very useful if you plan visited attractions nearby such as Ringgenberg and Iseltwald.
Where to Stay in Interlaken On a Budget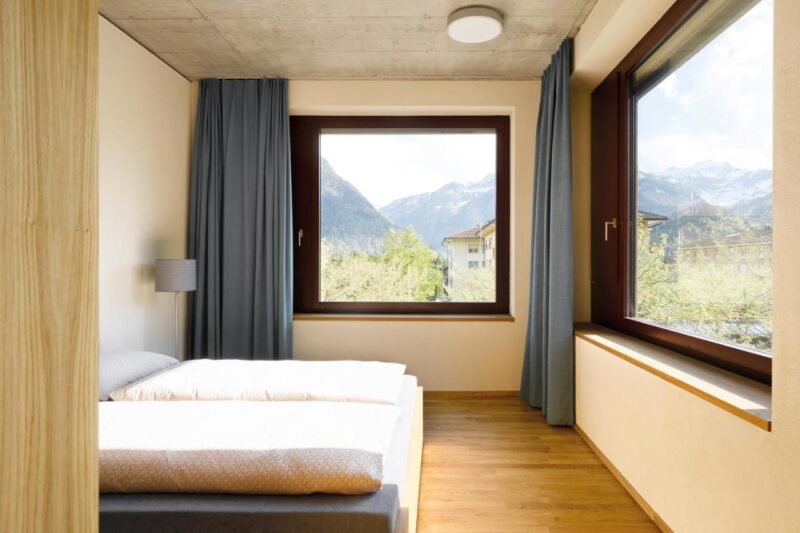 Last but not leats, bear in mind that the accommodation in Interlaken is not cheap. If you are visiting Interlaken on a tight budget, it can be a very headache to find accommodation deals. There are few hostel or backpackers villa in the town which perfect fit for solo travelers or with slim budgets.
Interlaken Youth Hostel is situated between Lake Brienz and Lake Thun, right next to Ost Train Station. It offers free Wi-Fi, a restaurant and a snack bar. The size of the room was decent and come with a small table and chairs in the room. Perfect for a budget stay in Interlaken.
Backpackers Villa Sonnenhof offers simple yet stylish rooms that are individually decorated. There is a wide range of room types, from a single bed in dormitory rooms, and a single to quintuple room. Great budget option and a perfect base to visit Jungfrau Region.
Overview: Where To Stay in Interlaken
All in all, above listed are all my complete guide for accommodations that fit every taste and pocket! I hope it will be helpful for you when looking for where to stay in Interlaken. I am sure you will find your dream accommodation in one of my lists above!
Lastly, if you need help planning your itinerary in this awesome town in Switzerland, I recommend you check out my travel posts below so you will have a better idea of all the activities that you can do when visiting the area.
Ralated travel stories at Interlaken and Jungfrau Region:
More inspiration for travel in Switzerland: