Last updated on September 23rd, 2023
Here are some of the best things to see and do in Switzerland in seven days. We hope our Switzerland itinerary in this travel guide blog can help you plan your memorable trip to Switzerland!
Home to the breathtaking Alps, numerous lakes, historical culture, and traditional Swiss villages, Switzerland is like a living fairy tale. It's incredibly beautiful, with incredible mountain scenery and scenic train, that it almost doesn't seem real. It is a country I have long wanted to visit, one of the most popular tourist destinations in Europe.
Switzerland is not a very big country, but it has many interesting things to see and do. If you are visiting Switzerland for the first time, a bit of planning is necessary. It's hard to experience everything that's great about Switzerland in just a few days of a brief visit. To truly appreciate Switzerland's charms, we recommended slowing down your pace and trying not to rush around.
In this section of the Switzerland Travel Guide, you will find the articles to help you plan the perfect trip to Switzerland. When to go, what to see, and how much it costs for your budget planning. I will show you how to explore Switzerland in just 7 Days with the Switzerland travel blog!
Quick Switzerland Travel Tips
Switzerland is one of the most expensive, and richest, countries in the world. The capital city is Bern, which has a well-preserved Old Town along the Aare River. Geneva is a global hub for banking and diplomacy, while Zurich is a global hub for banking and finance.
Currency: The official currency in Switzerland is Swiss francs (CHF) but most Swiss shops accept payment in euros and some also dollars. I would still encourage you to change money and have some Swiss Francs as it gets more expensive if you pay in euros.
Language: The official languages of Switzerland are German, French, Italian, and Romansh.
Safety: Switzerland in general, is very safe and welcoming. You should still keep an eye on your valuables just in case, but no need to be paranoid.
Tipping in Switzerland: When eating out in Switzerland, service is usually included, so you are not expected to tip. But you are welcome to add 5% to 10% if the services are particularly outstanding.
This travel guide to Switzerland can help you plan your trip, save money, and make the most of your visit to the country.
Traveling to Switzerland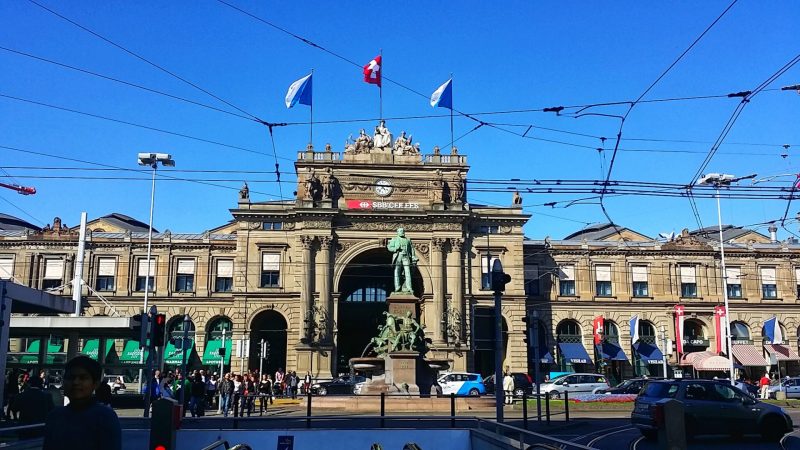 We took a night train to Zurich, Switzerland from Munich but there are several ways to get there depending on where you are.
By Flight
Many international and budget travelers choose to land in Zurich as flight connectivity to and from Zurich is amazing. Zürich is served by Flaugen airport and it connects you to over 196 destinations across the globe.
Use Skyscanner to find the Best Flight Deal
The Zurich International airport is 25 minutes away from the city center (by tram). You can make your way to the city center in one of the following ways.
Public Transport – Trains are very efficient in Switzerland and Zurich is no different. You have to pay for tickets at the station (credit cards accepted, cash accepted in some).
Private transport or taxi – A more convenient way if you book a chauffeur-driven transport to your hotel. It will drop you off right at your hotel or at designated points in the city center. A good option if you have tons of luggage and are traveling in a group.
By Train
If you're already in Europe, then traveling by train may be the more convenient option. The train from Munich Hbf to Zurich Hbf took about 6 hrs 45 mins.
By Car
Traveling by car is one of the best ways to experience Europe. Unlike public transportation, driving in Switzerland will give you the freedom to follow your schedule and stop wherever and whenever you wanted. If you're looking to rent a car and drive to Switzerland, then you can do so on Rentalcars.com.
Switzerland Travel Tips:
If you are traveling to Switzerland using public transport, consider to get a
Swiss Travel Pass
. It is a valuable pass where you will be able to go on almost any public transportation in Switzerland for a consecutive 3, 4, 8, or 15 days. With the Swiss Travel Pass, you will get unlimited rides on trains, panorama trains, boats, and buses for up to 15 consecutive or flexible days in Switzerland!
Take a look on the
Swiss Travel Pass (E-Ticket)
from Klook for more money saving tips. Cheaper than buying in SBB web!
7 Days in Switzerland
Given the size of Switzerland, we thought our 7 days Switzerland itinerary was ideal for someone on their first trip to Switzerland. It included a lot of Switzerland's main attractions and a few lovely day trips to the Swiss Alps, but it wasn't so packed that we felt rushed or overwhelmed.
For this Switzerland itinerary, I strongly recommend using the Swiss Travel Pass and getting around via public transportation. Also, most boat cruises on most lakes are included. I will cover this in more detail in the sections below.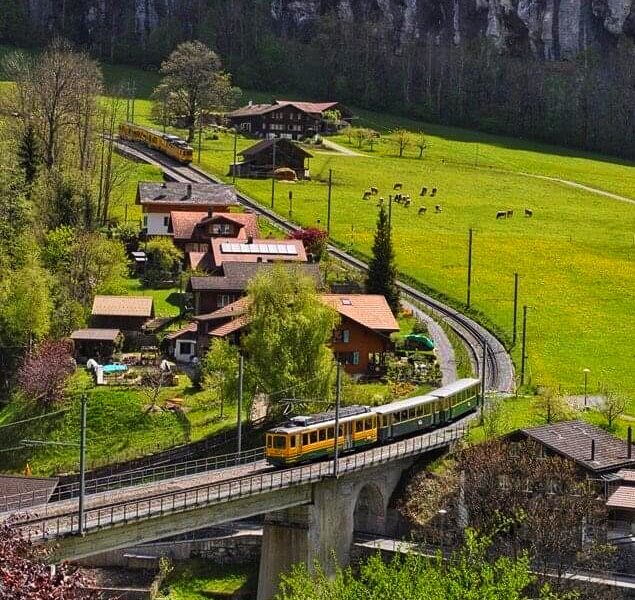 Here are the suggested 7 days in Switzerland itinerary:
DAY 1: Arrive in Switzerland. Explore Zurich
Start your Switzerland itinerary in Zurich, the first gateway to this dreamy country. On your first day in Zurich, head to the Bahnhofstrasse and slowly walk to Lake Zurich. Spend your afternoon in the old town to visit Grossmuster, Fraumunster, and Peterskirche, and wander around the Altstadt.
DAY 2: From Zurich to Lucerne. Explore Lucerne
Spend your second day exploring the historic town of Lucerne. The iconic landmark places of Lucerne include the Chapel Bridge or Kapellbrücke, the lion monument, and climbing up to the Museggmauer and the Nine Towers.
DAY 3: Take A Day Trip to Mt Titlis
Take an entire day to explore Mt Titlis from Lucerne and enjoy the spectacular view of the Swiss Alps. Take a ride on a cable car to reach the top of Mount Titlis, enjoy the ice flyer and the view on the Titlis Cliff Walk is extraordinary. A great day trip from Lucerne.
DAY 4: Interlaken
The town itself is a compact tourist town but it holds a few attractions to keep you busy. Spend your day in Interlaken with a scenic boat ride to Brienzersee or Thunersee, and stop at one of the lakefront picturesque villages along the journey.
DAY 5: Grindelwald and Lauterbrunnen
Many beautiful Swiss towns and villages can be visited from Interlaken. The fairy tale charming Grindelwald and Lauterbrunnen will win you over. Take time to appreciate the beautiful Swiss scenery and historical buildings when sightseeing in town.
DAY 6: Jungfraujoch
The world-famous, Jungfraujoch is Europe's Highest Train Station and from here you can view the Jungfrau mountain. It is easy to reach Jungfraujoch by train from Interlaken. Enjoy the panoramic views as you reach the summit.
DAY 7: Day Trip To Bern
On your last day of Switzerland itinerary, explore the capital city of Bern on a day trip. Enjoy a stroll to Altstadt of Bern and wander the cobbled streets of Old Town, and visit Einstein's House and Zytglogge – an Astronomical Clock from the 15th century.
For more information on all of the sights and activities in this Switzerland itinerary, make sure to read through the detailed itinerary at each city. We included our Switzerland travel blog in each section below.
My Trip to Switzerland
Here started the complete guide from my trip to Switzerland to help you plan for your first visit to Switzerland.
My 7 Days Switzerland itinerary started from Zurich and covered what to do and see, where to stay, and a budget breakdown on a day-by-day basis:
Day 1: Zurich
Day 2: Lucerne
Day 3: Day Trip to Mt Titlis
Day 4: Interlaken
Day 5: Grindelwald and Lauterbrunnen
Day 6: Jungfraujoch
Day 7: Bern
Above Switzerland itinerary for how to spend 7 days in Switzerland is just a suggestion and should be altered based on your interests. We were actually spending another day in Jungfrau as we were doing the Paragliding Adventure from Murren. You may consider slotting into your Switzerland trip if you want to sail over the Swiss Alps!
Day 1: Zurich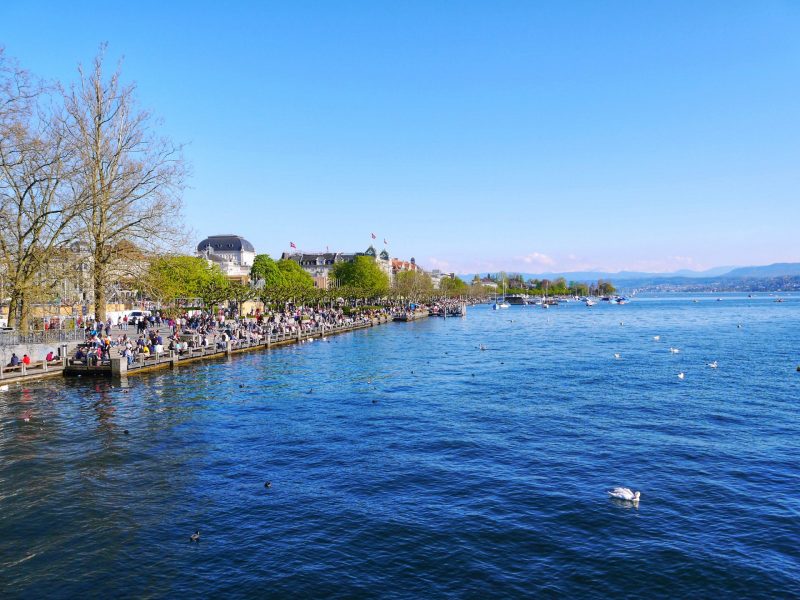 Getting there: From Zurich Airport (ZRH) to Zürich Hauptbahnhof (Zurich Hb). Travel time is approximately 11 minutes.
Start this classic Switzerland itinerary in the iconic city, Zurich. This city is the main gateway to Switzerland and a great city to explore. Zurich is also the largest city in Switzerland and is known as the financial capital of the country.
Be sure to allow yourself at least 1 day in this city as there is much to see and do. Put on your comfy walking shoes and join in and explore the city. All the sightseeing attractions mentioned below can be explored on foot, once you are in the city.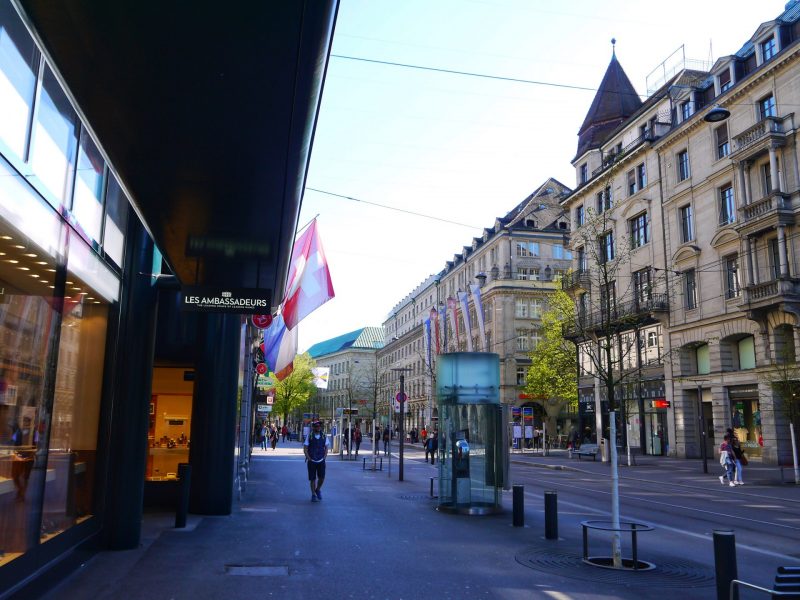 Zurich has more to offer than its beautiful views and upscale shopping scene. Make sure to take the time to visit all the top spots in Zurich. Starting from the world-famous street, Bahnhofstrasse, and walk to Lake Zurich. Stroll around Lake Zurich admiring its pristine waters and birdlife.
Next, spend the remaining time wandering around in the Altstadt (Old Town) of Zurich. The Altstadt is filled with cobblestoned lanes, cafes, and shopping areas that you shouldn't miss. As you stroll through the Old Town, there's no doubt you will visit the city's iconic landmarks. The three notable churches: Grossmuster, Fraumunster, and Peterskirche are located in the old town.
You can also take a boat cruise across the lake, or explore the city by bicycle. If you're looking for a sweeping and stunning view of the city, stop by Lindenhof Hill.
Related Read: Zurich Itinerary Travel Blog
What To Eat in Zurich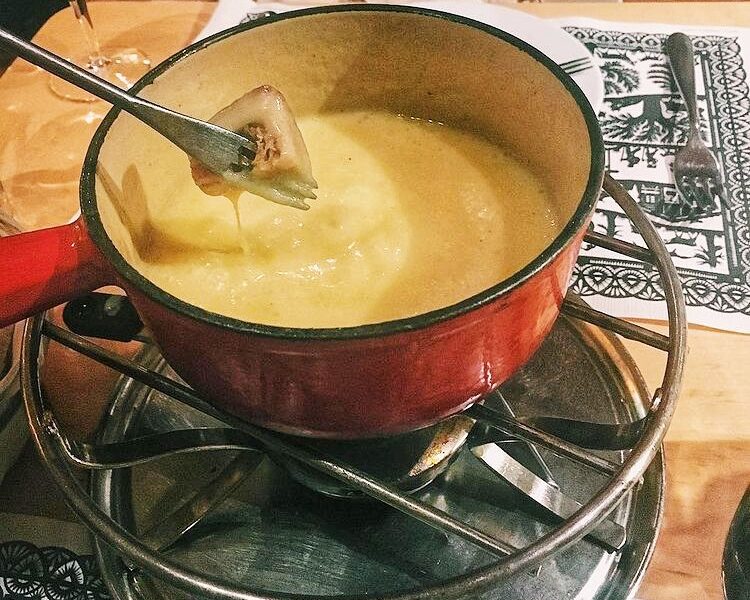 It's also vital that you take the time to sample some traditional Swiss cuisine in Zurich. There are a lot of dining options near the riverside in Zurich's old town. This area is touristy, but it is a lovely place to taste authentic Swiss cuisine. Alternatively, there are many local or international cuisine that can be found here.
We recommend trying the Swiss Fondue at Swiss Chuchi. No trip to Switzerland is complete without a fondue, so this is your chance to taste it! The fondue was made with high-quality cheese and was very strong in taste. Dipping the bread into the cheese fondue was so tasty!
Related Read: Zurich Food Guide: The Best Fondue at Swiss Chuchi
Stay near the city center or train station in Zurich so that you are located closer to sightseeing areas or the transportation hub. There are many great selections of hotels located nearby the train stations.
Motel One Zürich is our top pick to spend your night in Zurich, with a 2-minute walk from the tram station and good accessibility to the city center. A beautiful design hotel, spacious comfortable room with a clean bed.
More Zurich Accommodation Options: Where To Stay in Zurich: Best Areas and Hotels
Day 2: Lucerne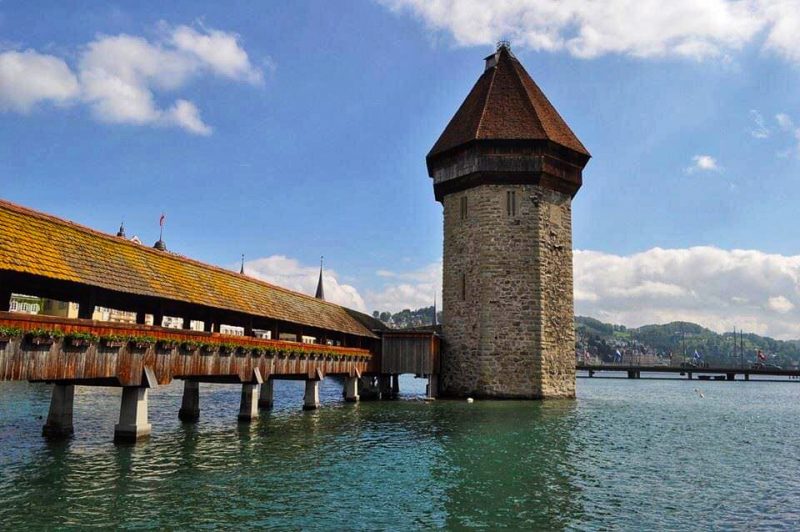 Lucerne is located only 50 minutes from Zurich with a train departing from Zurich to Lucerne every hour. Once you are in Lucerne, this charming city is easy to get around and you can reach almost all the attractions within walking distance.
We recommend that you start your city tour with a walk through the Chapel Bridge (Kapellbrücke), the oldest wooden covered bridge in Europe to give you a glimpse of the past. From there, walked and climbed up to the Museggmauer and the Nine Towers to have an aerial view of the city. The descent down from the hillside to the lion monument to give respect to the Swiss soldiers who lost their lives defending King Louis in the 18th century during the French revolution.
The next thing you'll want to do is head back to the Old Town, where all the city highlights are located. The historic center of Lucerne, Altstadt (Old Town) is filled with winding cobblestone of alleyways and passages with a few magnificent Squares that seem to take you pleasantly by surprise. Get lost wandering in the cobblestone of the old town and viewing the historical building. Many cafes, shops, and restaurants can easily spend your whole day here.
Besides, Lucerne is very absolutely dreamlike in the nighttime. Being on the Chapel bridge feels like a fairy tale when the light lit up.
Getting there: From Zürich Hauptbahnhof (Zurich Hb) to Lucerne train station. Travel time is approximately 50 minutes.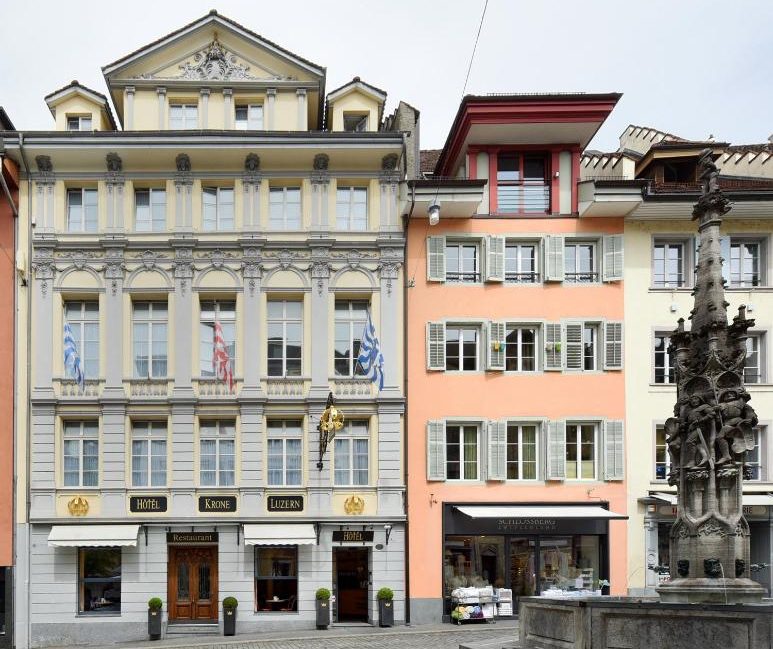 Similar to most towns in Switzerland, everything is walkable in Lucerne, especially if you are staying in an old town near the river. The Hotel des Balances is perfectly located in a picturesque location on the Reuss river in the heart of Old Lucerne. Getting off from train in Zurich to the hotel was an easy 10-minutes walking journey across the gorgeous river.
Alternative, Altstadt Hotel Krone Luzern is our mid-range pick for the best hotel in Lucerne. Set in Altstadt, the hotel is exceptionally located with a beautiful view of historic buildings in the Weinmarkt. It is also within walking distance from the train station, and nearby to many restaurants and cafes
Read more if you need more selection for your best stay in Lucerne.
Day 3: Day Trip To Mt Titlis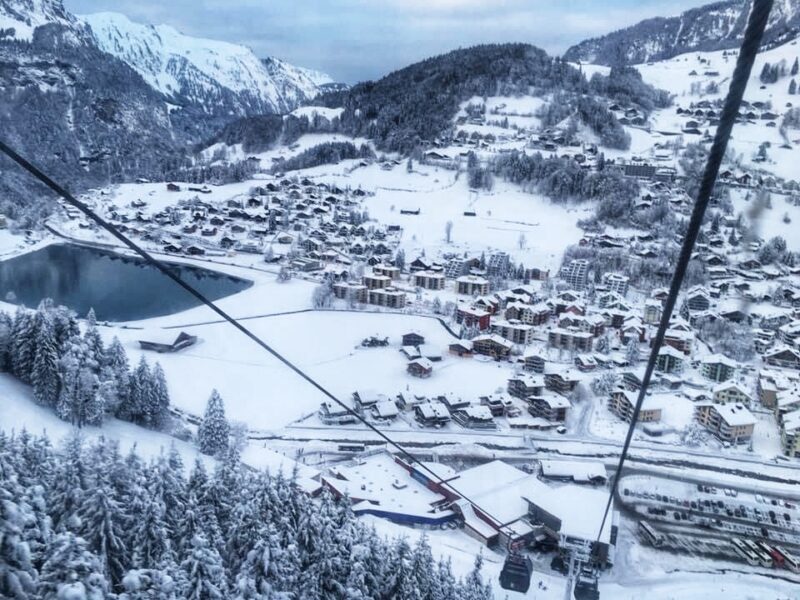 Getting there: From Lucerne train station to Engelberg train station, with a travel time of approximately 40 minutes. From there, take the cable car to Mt Titlis.
Mt Titlis is a great day trip from Lucerne, Zurich, or other towns in Switzerland. Based on our Switzerland itinerary, we choose Lucerne as the base to Mt Titlis to make it easy for the next destination.
From Lucerne, you need to go to Engelberg (the last stoppage to Mt. Titlis) by train. Regular trains departed from Lucerne to Engelberg, with at least one train per hour. It takes about 40 minutes to reach Engelberg by train and the train route is included in the Swiss Travel Pass. From there, you can take a free shuttle bus service (free of cost) to reach the entry point of Mount Titlis. You can find the time of the bus service at the station. If you are interested to see the scenic beauty then a 10-12 min walk is there to reach the entry point. It is an easy and flat walk.
Next, the Mt Titlis can be reached by taking a gondola from Engelberg to Stand, followed by a fully rotating cable car from Stand to the top of Mt Titlis. The cable car journey is less than 10 minutes. The whole panoramic view is lovely and worth clicking.
Switzerland Travel Tips: The Swiss Travel Pass provides a 50% discount on the cable car ticket from Engelberg to Mt Titlis.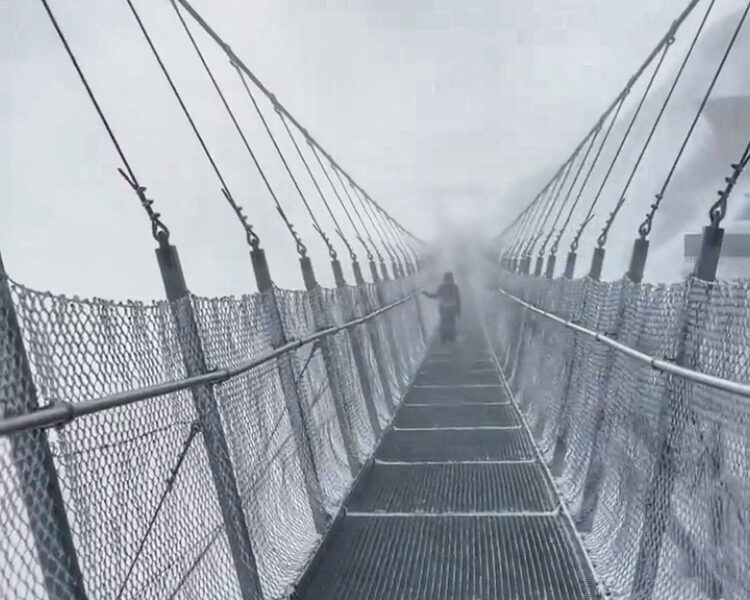 We spend about 2 hours on top of Mt Titlis to enjoy the spectacular views of the Swiss Alps. The Titlis Cliff Walk is the most memorable journey experience and adds excitement to the trip. In short, we spend about 5 hours on a visit to Mt Titlis after including all the traveling journey and waiting time.
The total cost for the Mt Titlis ride is not cheap and it costs about CHF101 without any discount card. With the Swiss Travel Pass, you can travel on Mt Titlis at a 50% discount. If you opt for a hassle-free arrangement, here are the best day tour to Mt Titlis with great customer ratings. Take a look if you are interested.
After enjoying two days in Lucerne, it's time to head on to your next destination!
Day 4: Interlaken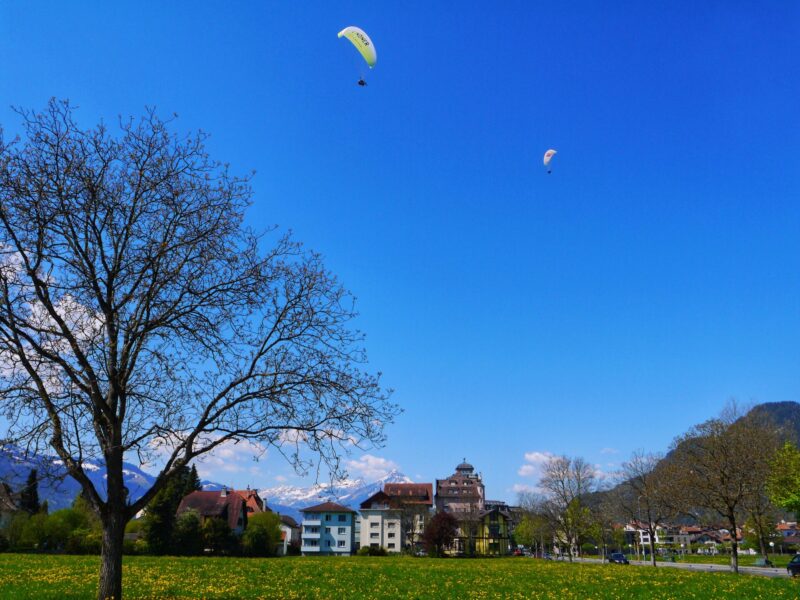 Getting there: From Lucerne train station to Interlaken OST. Travel time is approximately 110 minutes.
The next morning, catch a train and head to the Interlaken in the Bernese Oberland for the next Swiss Adventure. We took the Golden Pass Line, a beautiful scenic train ride from Lucerne via the Bernese Oberland lakes to Montreux. From Lucerne to Interlaken, it took us about 110 minutes with beautiful scenery along the train journey.
Once we reached Interlaken, we checked in to our hotel, Carlton-Europe Vintage Hotel, and started our next adventure. There are many attractions so please allocate at least two to three days to explore the Bernese Oberland and the nearby region. We spend our remaining 4 days in this one of the most beautiful regions in Switzerland.
We choose Interlaken as our based in the Bernese Oberland. It is one of Switzerland's most popular tourist towns and has easy access to nearby attractions with great transport accessibility. There are countless cable cars, funiculars, gondolas, and cogwheel trains ready to take you up to high alpine scenery.
Boat Trip Lake Brienz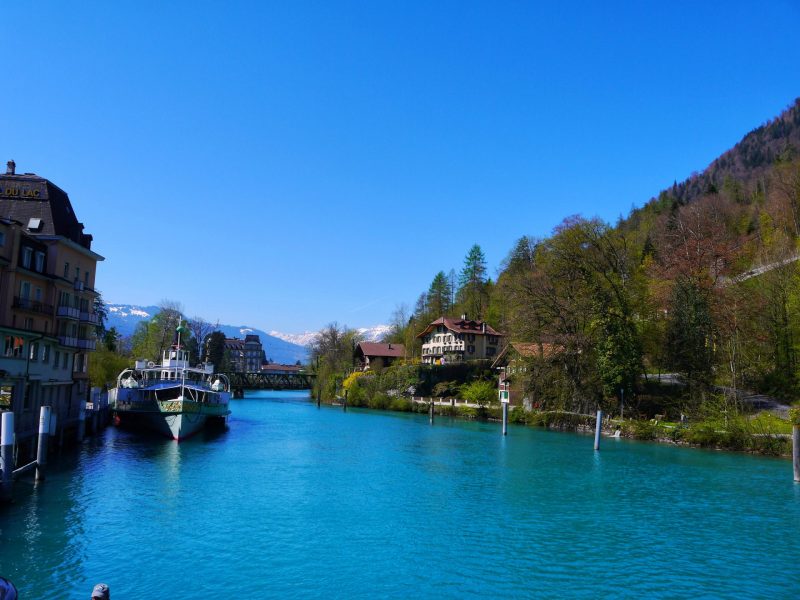 Situated between the beautiful Lakes Thun and Brienz, a boat ride is a must-do in Interlaken. We recommended choosing one of the boats rides from two, either Brienzersee (about 2.5 hours for round trip) or Thunersee (4-5 hours for round trip), and combining it with the town touring for a perfect round trip journey.
We opted for lake Brienz during our trip to Interlaken. The boat ride departed from Interlaken OST, nearby the Interlaken railway station. It is a scenic boat ride with azure blue water and a picturesque view along the journey.
There is plenty of stop point along the way, but we choose to stop at Brienz town, a scenic lakefront village known for its wood craving. We spend time wandering in the Brienz town and taking a lot of photos. At the end of the town, we take the train instead of a boat ride back to Interlaken.
What To Eat in Interlaken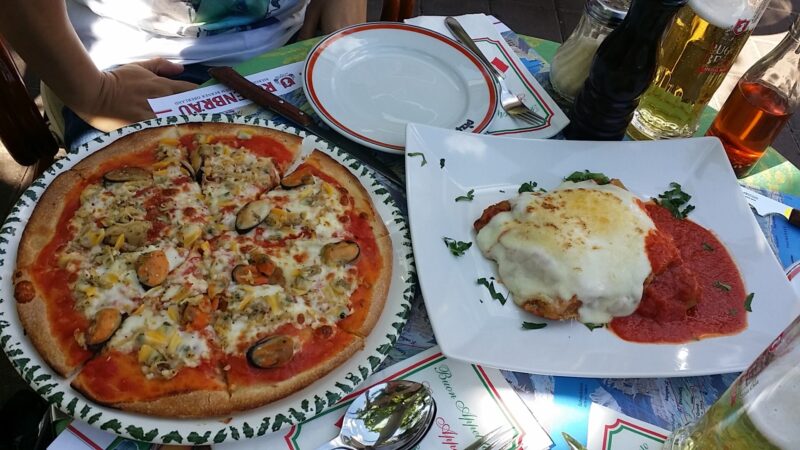 Most of the restaurants are located on the main street and you can choose the best restaurant in Interlaken based on your liking. We choose to have a piping hot slice of deliciously cheesy pizza at one of the pizzerias in Interlaken. The food was not too bad with a good choice of toppings. Very reasonably priced for dining in Interlaken.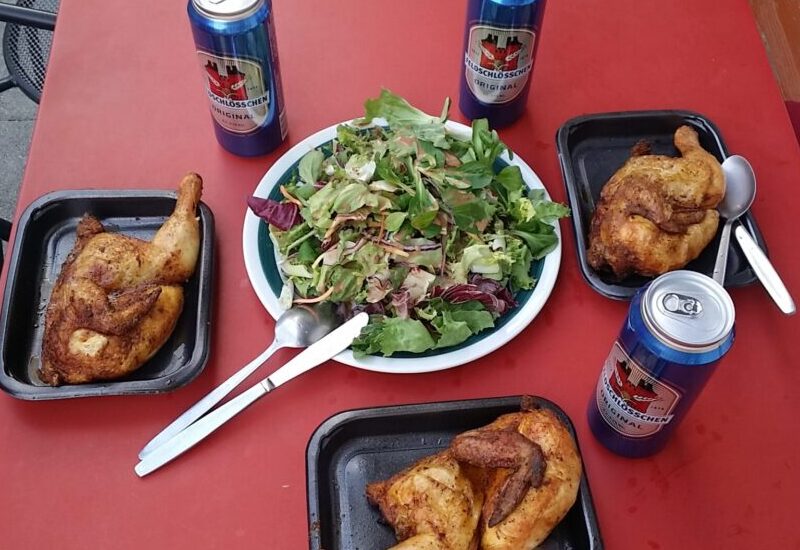 The food in Switzerland is expensive, especially in the tourist town of Interlaken. For the money-saving purpose, we get the cooked food from Coop supermarket in Interlaken. It has all the things you need during your stay in Switzerland. The food is not as pricey and had quite a good variety to choose from. Vegetarians could also get food from there. One gets cheap food that can heat in the microwave or also be eaten directly.
We had the seasoned well chicken, good salad, and cool beer for dinner during one of our days in Interlaken. The best cheap eats for a budget traveler when looking for what to eat in Interlaken.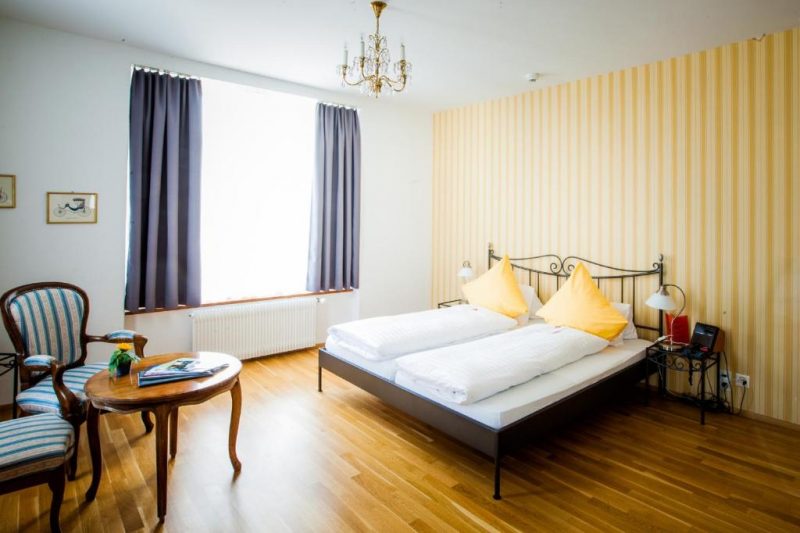 Given its proximity to several other beautiful and exciting destinations, as well as its affordable accommodation, we recommend using Interlaken as your home base for your Switzerland itinerary. There are several great places to stay in Interlaken that will suit any travel style.
The Carlton-Europe Vintage Hotel is a great, centrally located hotel that is situated close to the Interlaken OST station. They have several clean and comfortable rooms and there is an option to include breakfast in the morning. Extremely popular in Interlaken and reserve your room early to secure your stay.
If you're still looking for a great place to rest your head, check out our top suggestions. Click here to know more about where to stay in Interlaken or nearby areas.
Day 5: Grindelwald and Lauterbrunnen
No visit to Switzerland would be complete without spending a least a little bit of time relaxing in a Swiss village that Switzerland is so well known for. There are countless amazing places to visit from Interlaken and it is sure to give you a great view of what life is like in Swiss. The popular places is to the lovely Swiss town of Grindelwald, Lauterbrunnen, Mürren, Grindelwald, Wengen, Isenfluh and more.
We visited the Grindelwald, Lauterbrunnen, Mürren, Grindelwald, and Wengen during our four days visit to the Bernese Oberland. Among all the villages, we recommended spending one day exploring the Grindelwald and Lauterbrunnen. Of course, here is our recommendation after our actual visit. You can adjust your Switzerland itinerary based on your interest and the time when you are there. Take note that you need to include the traveling time from one place to the next destination.
From Interlaken OST to Grindelwald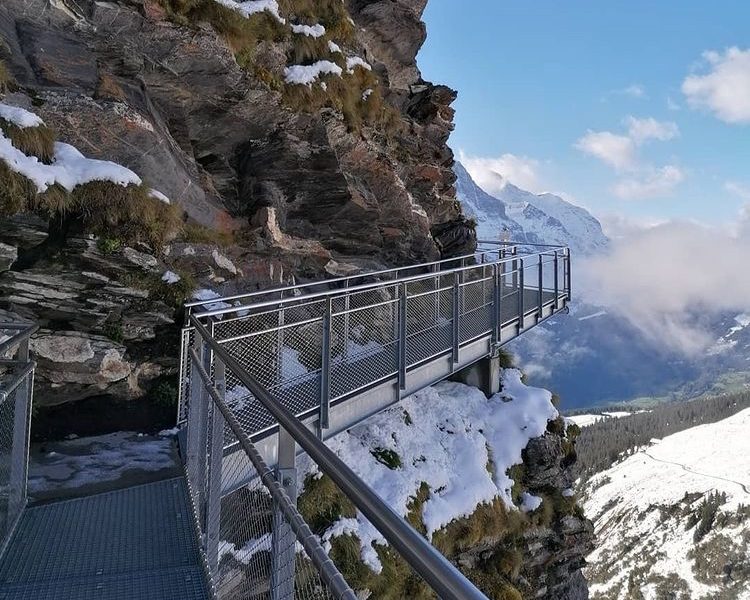 Getting there: From Interlaken Ost to Grindelwald Bahnhof. Travel time is approximately 28 minutes.
One of the most iconic Swiss villages in Bernese Oberland to have on any Switzerland itinerary has got to be Grindelwald. In the morning, hop on a train from Interlaken to the Grindelwald! The village of Grindelwald itself is gorgeous. You can enjoy the village view and witness the Eiger Mountain.
Next, take a 25-minute cable car ride and head to the famous First Cliff Walk by Tissot. There are a lot of fun activities on offer to spend your time at the summit.
From Grindelwald to Lauterbrunnen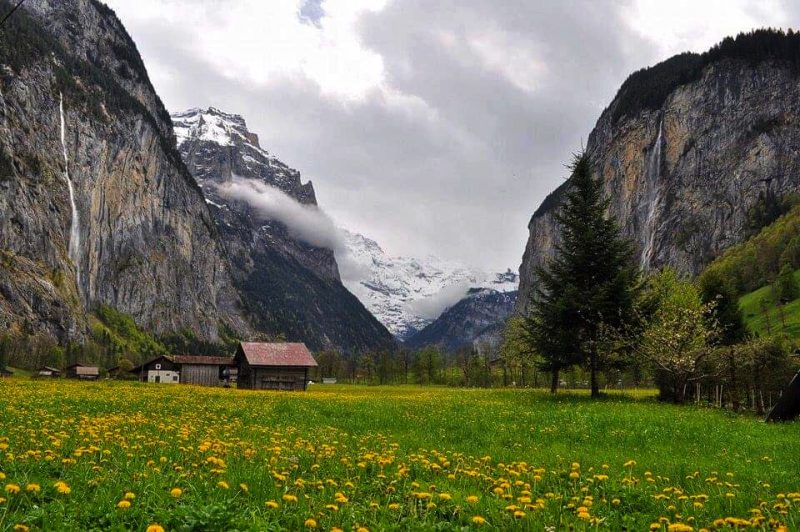 Getting there: From Grindelwald Bahnhof to Lauterbrunnen. Travel time is approximately 37 minutes.
From the chilled-out vibes of the Swiss mountains, it's time to head to another of the most iconic village in Bernese Oberland. Arguably one of the most beautiful villages in the world, Lauterbrunnen is full of breathtaking views that can not be described in words or photos.
There are 72 waterfalls in the Lauterbrunnen Valley with amazing views of the Alps mountain region. You can hike around the waterfall or just simply stroll in the village to enjoy the breathtaking view.
Day 6: Day Trip to Jungfraujoch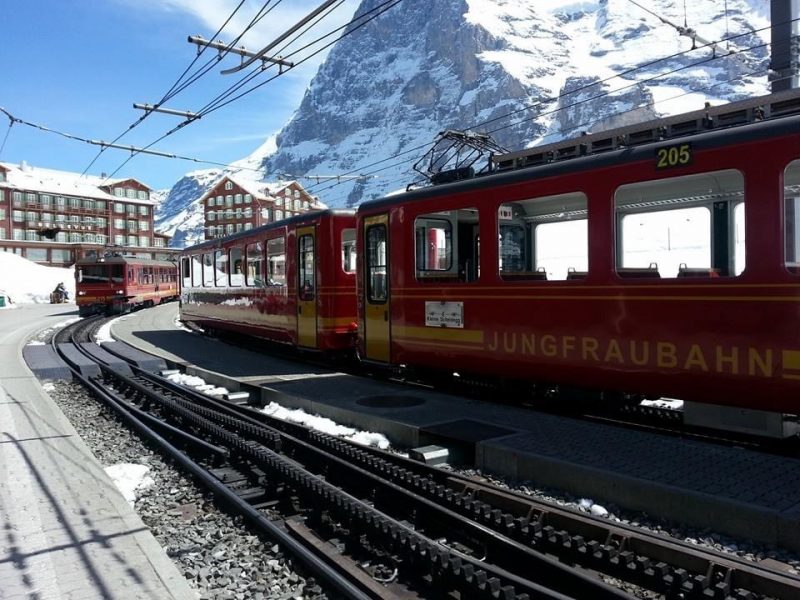 The Jungfraujoch – Top of Europe is a true highlight of our 7 days Switzerland itinerary. This highest train station in Europe is located in a magnificent landscape of eternal snow and glaciers. It's simply spectacular to visit the world of eternal snow.
There are two routes to get to the Jungfraujoch; via Lauterbrunnen and via Grindelwald, and both routes offer an amazing view of the Alpine Alps. We recommend going up via one route and going down via the other. That way you see the most of this stunning alpine area.
Getting there: From Interlaken Ost to Grindelwald Bahnhof, then transit to Kleine Scheidegg, followed by transit to Jungfraujoch. Total travel time is approximately 1 hour and 50 minutes.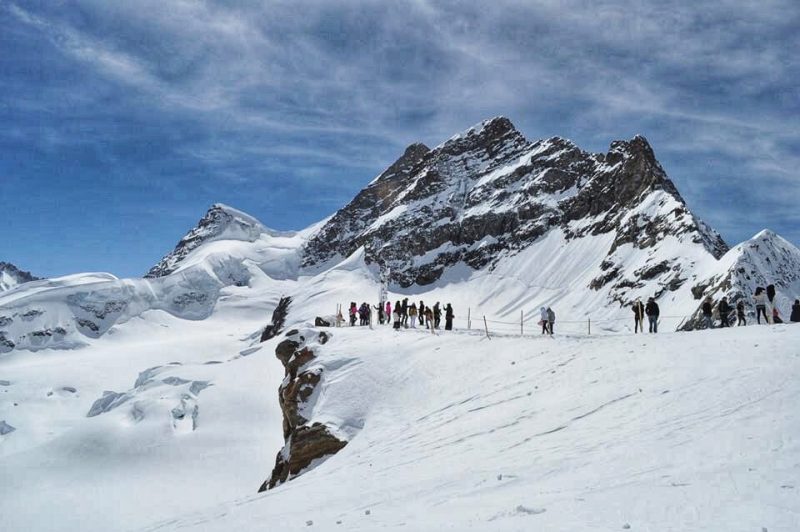 When you are at the top of Europe, there is so much to see and do at Jungfraujoch that you can spend for few hours exploring the Alps mountain top. A day trip to Jungfraujoch is not a cheap excursion, but the trip and the experience at the top are truly unique. It's a once-in-a-lifetime experience you should not miss.
We had documented our visit to Jungfraujoch if you are planning to include this amazing place in your Switzerland itinerary. Check out our comprehensive Jungfraujoch Travel Guide to know more detail.
Day 7: Bern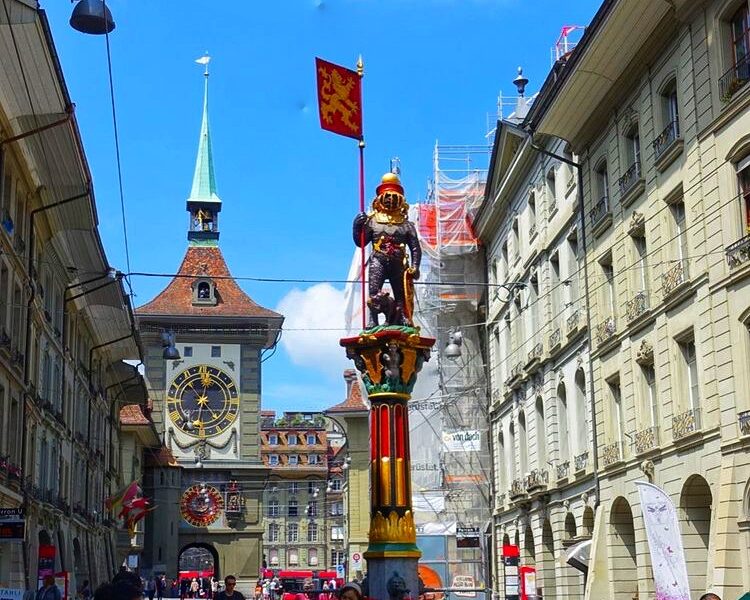 Getting there: From Interlaken OST to Bern train station. Travel time is approximately 60 minutes.
Because you have the time if you're following this particular itinerary, it is also a great idea to go on a day trip from Interlaken to Bern. This historical UNESCO site is the capital city of Switzerland and a great place to visit on a day trip (or to spend more time if you want to extend your trip). It is only about an hour from Interlaken.
In Bern, you can take your time when it comes to visiting the top sites and wandering through the charming Old Town to enjoy the laid-back vibes of this unique and beautiful city. Visit the important monuments like the Parliament building and the Berne Münster, stare in awe at the beautiful detail of Zytglogge, or pay a visit to Albert Einstein's house where he stayed in the city. Don't forget to meet some bears in Barengraben, the symbol of Bern.
Related Read: Bern Itinerary: A Day Trip Travel Guide Blog
What To Eat in Bern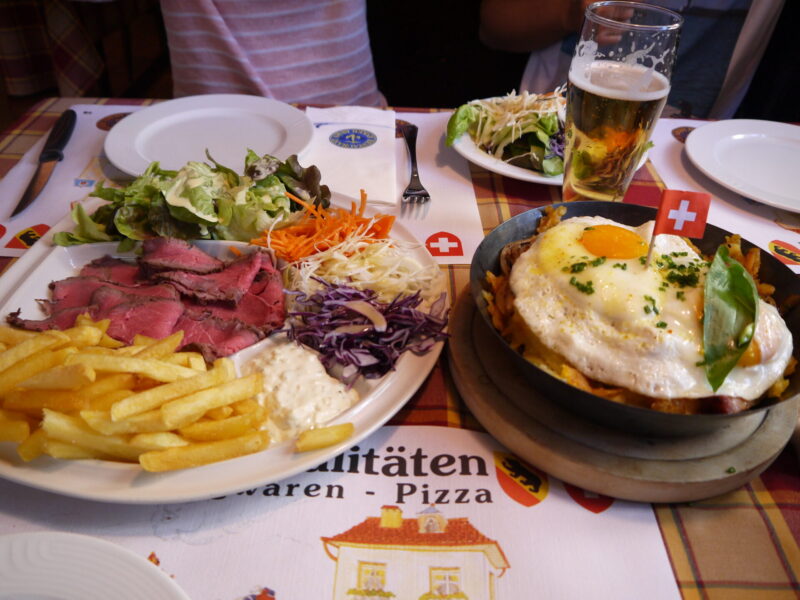 When visiting the charming city of Bern, one could miss the opportunity to try the typical and delicious swiss homemade food. We stopped off at Restaurant Anker and were treated to the first Rosti in Switzerland.
Located in the main square of Bern, Restaurant Brasserie Anker is a traditional beer hall restaurant that offers a variety of Swiss dishes and served the best Rosti in town. We had the salad and the famous rösti with a choice of meats and egg on top, which are served in a small frying pan. The servings are very generous and taste so good. One of the best dishes I had during my Switzerland trip. We recommend it if you are looking for local food in Bern.
The prices are reasonable comparing other restaurants in the city and they have lunch specials. A bit tourist but a great place for local food when looking for what to eat in Bern. Take note that Anker charges the tap water for CHF5 and we choose to go for a beer when choosing for a drink.
Where To Stay in Bern
Our Switzerland itinerary to Bern is on a day trip basis so we didn't spend our night there. But if you planning to stay in Bern, book your hotel in the old town. From there, you can get to all (or most) attractions in Bern within minutes.
The Kreuz Bern Modern City Hotel is a modern accommodation set in the medieval Old Town. Perfect location, reasonable price, and good-sized room. You get everything you need for 1 or 2 days.
If you're after one of Bern's most luxurious options, the Boutique Hotel Belle Epoque is the way to go. This central 4-star hotel occupies a 500-year-old building in the Old Town and boasts beautiful decor and great-sized rooms.
Swiss Travel Pass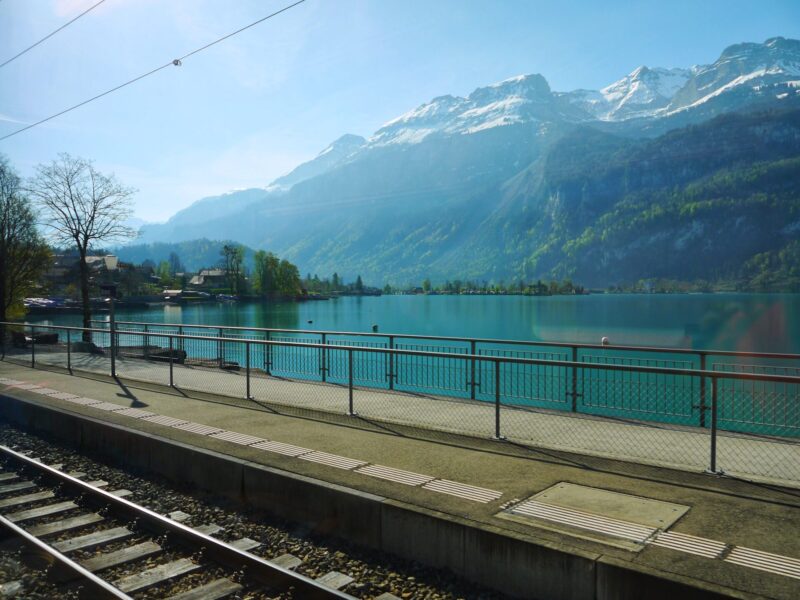 Nothing is cheap in Switzerland and transportation can cost you a lot when traveling in Switzerland. Fortunately, there are transportation passes available to save you some money when traveling by public transport in Switzerland. But it can be overwhelming when deciding to purchase a transportation pass.
My Switzerland itinerary is covered with the Swiss Travel Pass. It is an all-in-one pass that allows you to travel on trains, buses, and even boats across Switzerland as long as they fall under the Swiss Travel System. That means you won't have to go through the hassle of buying single-trip tickets, saving you both time and money!
With the Swiss Travel Pass, you'll be entitled to these :
Unlimited travel by train, bus, and boat (excluding seat reservations or surcharges)
Unlimited use of public transport across more than 90 towns and cities
Up to 50% discount on mountain excursions
Free admission to more than 500 museums and exhibits
Complimentary Swiss Family Card and free travel for all children aged 0-16 accompanied by an adult with a valid ticket
Without a Swiss Travel pass, you will end up spending up to $600+ on public transportation alone for your Switzerland itinerary. Be a smart traveler and calculate how much you save for your Switzerland trip!
Buy your Discounted Swiss Travel Pass here.
Switzerland Travel Budget Tips
As probably everyone knows, Switzerland is very expensive, so I put all my favorite saving money tips in this Switzerland travel budget tips in this section. Here is a quick and simple budget travel guide to Switzerland with tips.
Many of the attractions in Switzerland are free. So, you will not have to spend a lot of money on activities. But prepare to pay for the transportation if you are planning to see the mountains range in Switzerland.
Get yourself a Swiss Travel Pass. You can get it for 3, 4, 8, or 15 days and it allows you to travel on any train, bus, or ferry service in Switzerland and you also get discounted tickets to many attractions. Great discounts also for mountain rides. Must have when planning to visit Gornergrat (Zermatt) or the Jungfrauch.
When looking for what to eat in Switzerland, be prepared to pay more for local Swiss dishes and International foods like Indian, Turkish, and Asian are generally cheaper. Bring your water as a small bottle of water can cost CHF2 to CHF3. Tap water is generally safe to drink, however, if you are unsure, make sure to ask your hotel receptionist or host.
Weather is unpredictable, especially in the mountain Alps. Try to make your Switzerland itinerary flexible and only buy the train ticket to the mountain trip when the weather is good.
Wear comfortable walking shoes. Most of the visits in this Switzerland itinerary required a lot of city exploration and all the old town is best explored on foot.
Overview: 7-Days in Switzerland itinerary
All in all, there are so many things to do and see in Switzerland. You could easily spend many days in the amazing country for its gorgeous Alpine mountain, crystal clear lake, and Swiss traditional village and culture. We covered most of the must-visit places in this Switzerland itinerary, but there are many more beautiful places awaiting you to discover in Switzerland. We believe 7 days is a great introduction for your first visit to this country. And I love my trip to Switzerland and looking forward to re-visit it again!
Lastly, feel free to continue to read on our Switzerland itinerary to each of the beautiful cities in the country.
Travel to Jungfrau Region: