Last updated on December 11th, 2023
Are you planning for a Lucerne itinerary? Here are the best things to do and see in this Lucerne travel guide blog. You´ll find many useful information and travel tips when planning for your trip to this unique city!
When somebody mentions Switzerland, the first thing that comes into mind is the incredible mountain ranges of the Alps and the famous cities such as Geneva and Zurich. But that is another destination which people will miss is the city of Lucern.
Sitting just north of the Alps, Lucerne is a picturesque city with stunning scenery. You can easily plan a trip to Lucern to see all the attractions in this amazing city. Even if you may not have enough time, one day in Lucerne is sufficient to visit all the best parts of the city. But to enjoy your time in Lucerne, it's crucial that you fully appreciate what the city is offering. To make use of all of your time here, be sure to follow our Lucerne itinerary which will guide you around this scenic city.
Here's our Lucerne travel guide blog, with detailed information on itinerary planning and how to visit Lucern for 1 day. You'll learn about all things to do in Lucerne to ensure you don't miss out on any great attractions. So, let's dive right in so you can begin planning your 1 days Lucerne itinerary.
Getting To Lucerne
There is no direct international flight to Lucerne. You have to fly to the nearest airport such as Zurich or Bern to reach Lucerne. Both airports are well connected to the city by road and rail.
Use Skyscanner to find the Best Flight Deal
Once you're in Switzerland, the train is the best way to travel around Switzerland and to Lucerne.
Travel by Train:
From Zurich to Lucerne – There is an hourly train depart and it takes about 45 minutes to get you to Lucerne.
From Bern to Lucerne – The fastest train take about 61 minutes of a train journey between Bern and Lucerne Station.
Lucerne Travel Tips: If you travel by train within multiple cities in Switzerland, getting a Swiss Travel Pass might be perfect for you. This valuable pass allows you to travel on any train, bus, or ferry service in Switzerland and you also get discounted tickets to many attractions. And you get to use the cogwheel train up to Mount Rigi for free with the Swiss Travel Pass in 2021.
Check out the Swiss Travel Pass here and see, if it's worth it for you.
Getting Around in Lucerne
Thanks to Lucerne's compact size and focus on its riverside Old Town, Lucerne is best explored on foot. Most of the attractions are not too far apart and are easily walkable. You should have no problem getting around on foot while visiting Lucerne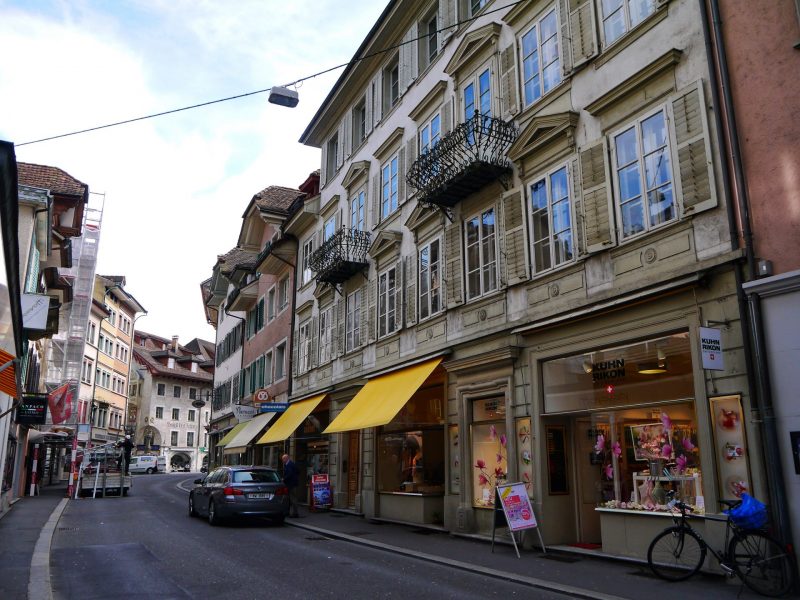 Where To Stay
Figuring out where to stay is often the most stressful step of planning a trip, especially when you're going to be somewhere which is unfamiliar. Thankfully, most of Lucerne's hotels are within walking distance of the bridge so you should find great accommodation quite easily. Besides, Lucerne has a very great selection of hotels to suit your need and budget.
Here, I have the best pick hotels in Lucerne for your recommendation:
Luxury: Schweizerhof Luzern is one of the best places to stay in Lucerne if you're after comfort and luxury. It is a family-owned 5-star hotel, featuring elegant rooms with modern furniture. Perfectly located at Lake Lucerne's shores and a few hundred meters from the old town. Check out rates here.
Mid-Range: Waldstätterhof Swiss Quality Hotel is a lovely 3-star hotel for your best stay in Lucerne. Perfectly located next to the train station and at an easily walkable distance from the old town and famous bridges of Luzern. Spacious room and excellent staff.
Budget: ibis Styles Luzern offers modernly decorated rooms with a comfortable bed in the historic city center. It is a value stay with an excellent location with about 5 minutes walking distance from the lake. Simple breakfast included. One of the popular picks for budget travelers if you're looking for a nice mix of affordability and comfort.
For more selection, feel free to read the complete accommodation guide: Where To Stay in Lucerne.
Planning on Lucerne itinerary
Follow this Lucerne travel guide and make the most of your trip even if you're short on time. These are the top sights and things to do on your Lucerne itinerary.
Things to do in One Day Lucerne itinerary:
Chapel Bridge (Kapellbrücke)
Jesuit Church (Jesuitenkirche)
Spreuer Bridge
Museggmauer and the Nine Towers
Löwendenkmal (Dying Lion Monument)
Explore Old Town
Re-visit Chapel Bridge for Night View
Lucern Travel Tips: Not every destination can be properly explored in a single day, but Lucerne is the perfect size for this kind of shortstop with a perfect loop by walking at Lucern.
Started from Lucerne Station to Chapel Bridge to give you a glimpse of the past. Spend time at the Jesuitenkirche and walk through Spreuer Bridge. Next, climbed up to the Museggmauer and walked along the wall. Explore the towers and enjoy the beautiful aerial city view. The descent down from the hillside to the lion monument. Spend your remaining time and explore the old town. Re-visit Chapel Bridge at night when the light lit up. A perfect loop on Lucern's itinerary.
Chapel Bridge (Kapellbrücke)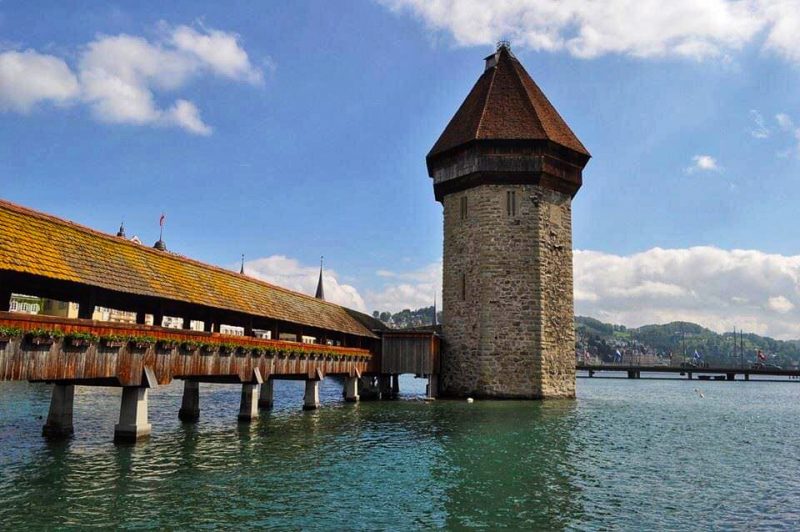 Let´s start with the most popular attraction in Lucerne, Chapel Bridge (Kapellbrücke). When planning on the Lucerne itinerary, most of the travelers will be headed to Chapel Bridge for their first destination, and the same for us. Being the most iconic landmark of Lucerne, the Chapel Bridge is a must for any visitor to the city. Your visit to Lucerne is not complete without taking a selfie with the bridge in the backdrop.
With a convenient location, just a stone's throw from the train station, and easy to reach. From the train station, it takes you about 5 minutes to Chapel Bridge since it's only 500 m away.
Named after the nearby St. Peter's Chapel, the bridge was built originally in 1333 as part of the city's fortifications. It is unique and has historical importance in containing a number of interior paintings dating back to the 17th century.
Sadly, part of Chapel Bridge have been burnt down in the 90s. Subsequently restored, the Kapellbrücke is the oldest wooden covered bridge in Europe, as well as the world's oldest surviving truss bridge. It is now the city's symbol in Lucerne, connecting the Old Town and the new town, across the Reuss River.
Paintings under the roof of the Chapel Bridge's walkway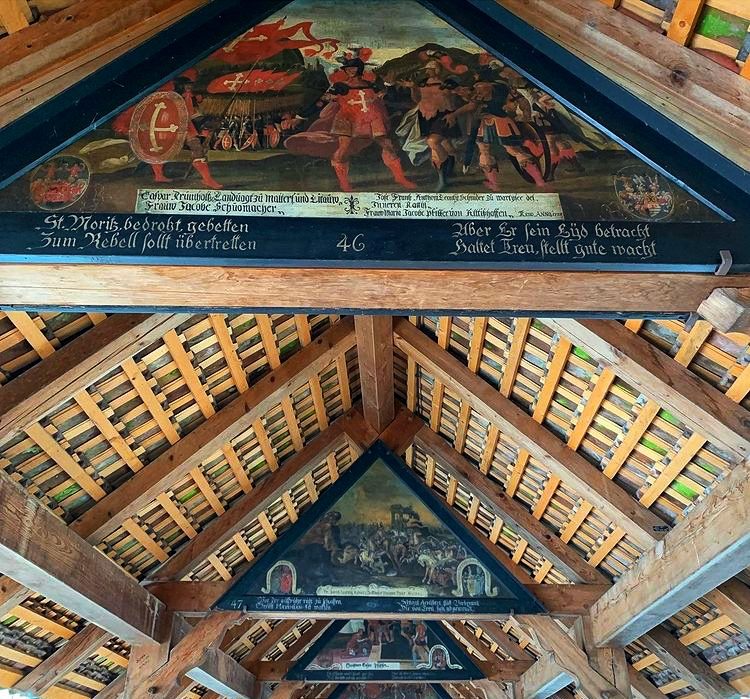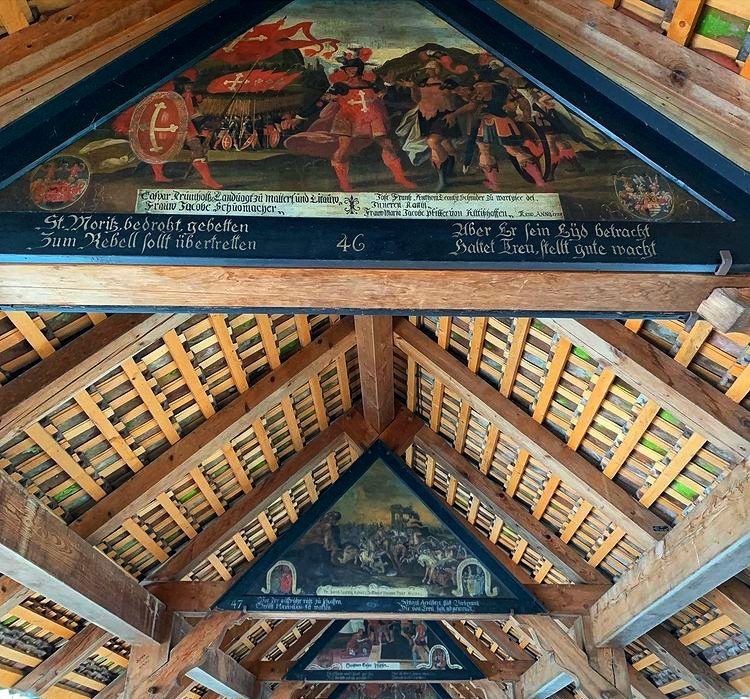 Being on the bridge looking at the Alps feels quite unreal. You'll see the Vierwaldstättersee (Lake Lucerne), one of Switzerland's most beautiful lakes, and have a great view of the Alps. A serene and breathtaking city's waterfront scenery.
When walking along with it, don't forget to look upwards as you walk the length of the bridge to appreciate the remaining original paintings under the roof of the walkway. Mostly depicting important events and scenes from the city's history with historical notes in English and German.
Restaurants are dotted all along the lake and bridge from fine dining to quick easy snacks. It is an excellent place to have coffee or lunch before proceeding to the next attraction.
Lucerne Travel Tips: Recommend visiting the bridge in the daytime and coming back at night. Chapel Bridge is magical at night when the lights are on.
Jesuit Church (Jesuitenkirche)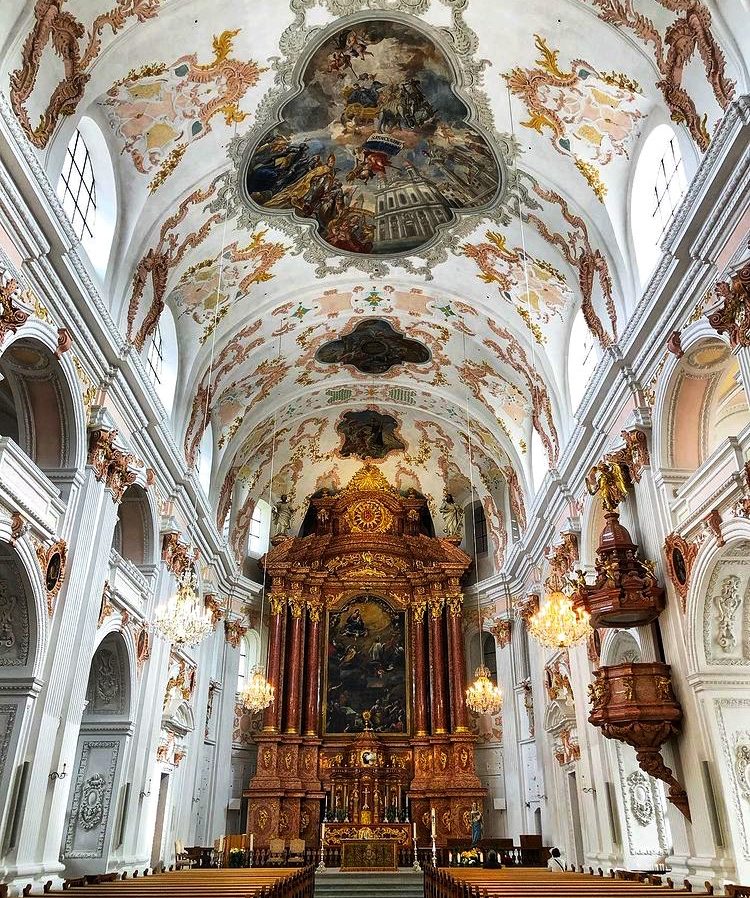 Just a short walk from the Chapel Bridge will head you to Jesuit Church (Jesuitenkirche), the first large baroque Catholic Church built in Switzerland, north of the Alps.
The construction of the church began in 1667 and was officially inaugurated 10 years later with the high altar and side altars completed over the years. The church interior is exquisite throughout. It is very gorgeous with crafted woodworkings along its being very light and bright inside makes it a very unique church.

Despite its stunning looks, it did not take me long to go through, and easy to squeeze into your Lucerne itinerary. Take some time to immerse yourself in the beautiful interior and prayers. A quick stop for your trip to Lucerne.
The church is open all day with no entrance fee, but a donation will be appreciated. Guidebooks are available for a fee of €5.
Lucerne Travel Tips: Non-flash photos were allowed in Jesuit Church, Lucerne.
Spreuer Bridge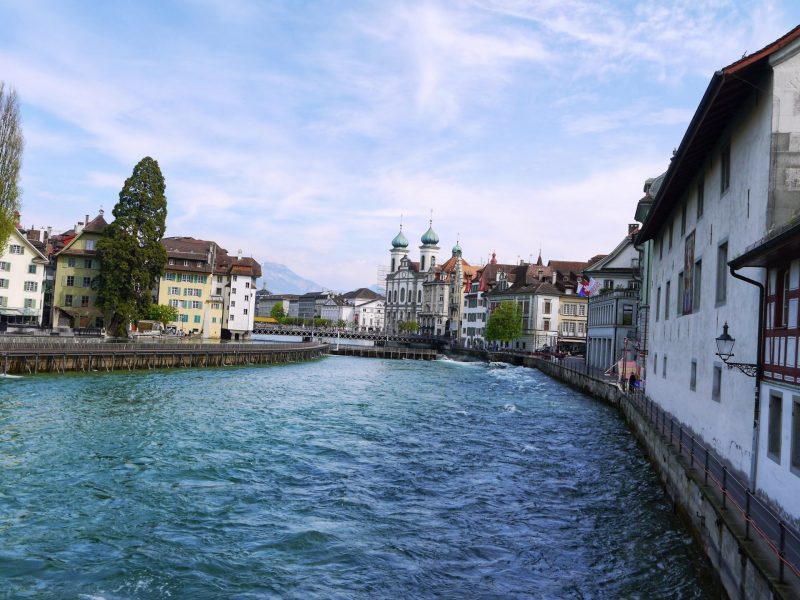 Despite the famous is the Chapel Bridge, there is another lesser-known wooden covered bridge that is worth a visit in Lucerne. Located just a few meters behind Chapel Bridge and the church, you´ll find Chapel Bridge´s little sister, the Spreuer Bridge. The bridge was originally built together with the Museggmauer in the 14th century and rebuilt after further destruction in 1566 due to a storm.
Like the Chapel Bridge, there are numerous paintings on the bridge, many of which are original that date back to the 17th century. The paintings are exceptional, especially the subject of death for all the paintings is eye-opening.
Adjacent to the bridge is the Needle Dam, a marvel of engineering that works today just as it did in the mid-1800s. You'll get a closer look at the Needle Dam from it as well when walking through the Spreuer Bridge.
Although it is not as impressive as Chapel Bridge, the views of and from the bridge are wonderful. It is less busy with an easy minute walk from Chapel Bridge. It is worth the walk and pictures. A not to be missed in Lucern itinerary!
Museggmauer and the Nine Towers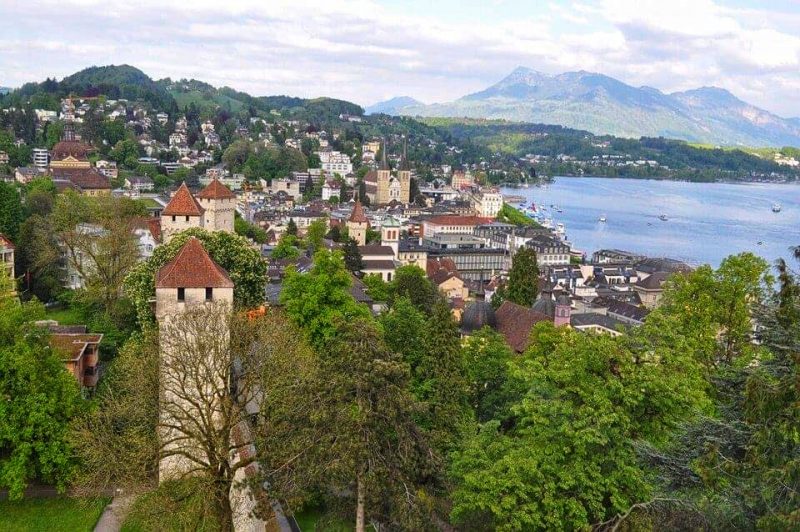 Next, take a walk away from the town, walk up the hillside to the Museggmauer and the Nine Towers. It was a nice trip on foot, rewarded with fantastic views from the walkway along to the top of this fortress.
The old city wall and its towers are part of the old Medieval fortifications for Old Town Lucerne. Different portions of the wall and the towers date back to the 1300 and 1400s and were a fundamental part of the old city's defenses along with the river and Lake Lucerne. It is very well preserved and is well worth the time to take it all in.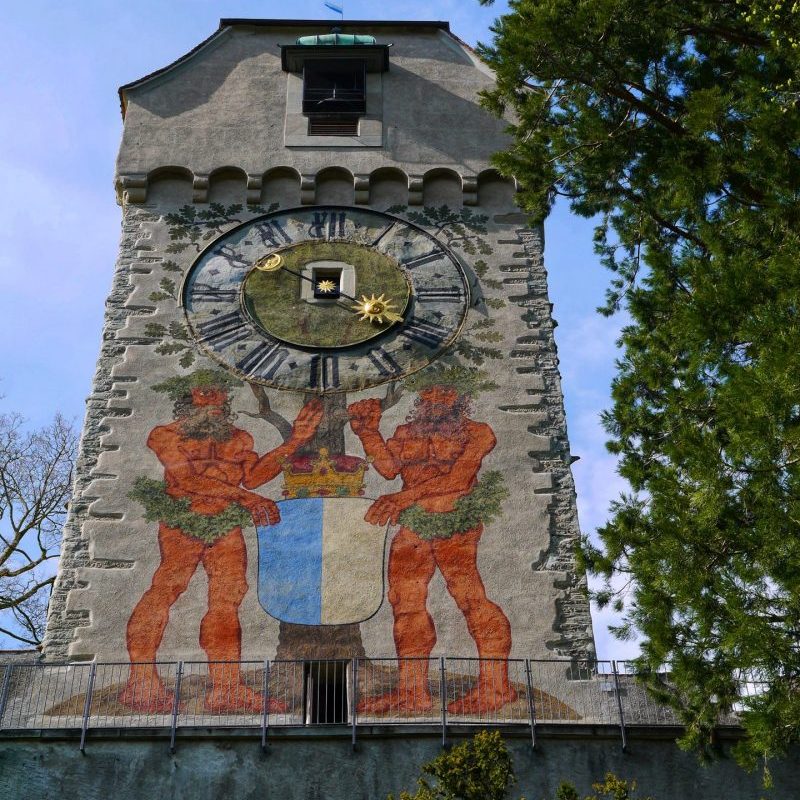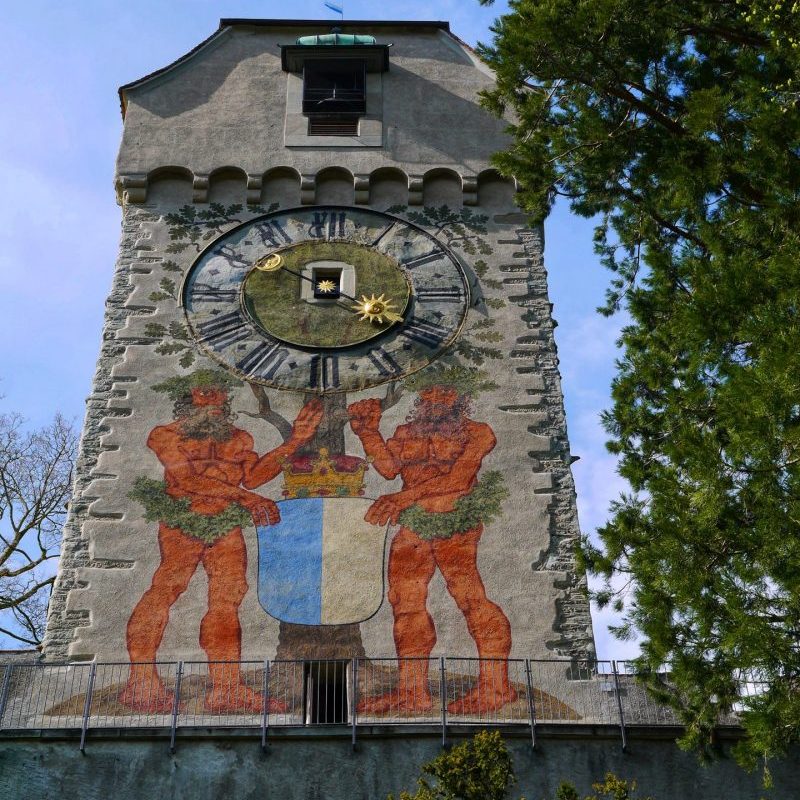 There are 4 towers open to the public and can be ascended, including the Zyt Tower which is filled with ancient clocks and mechanisms which still are active.
Built by Hans Luter, Zyt Tower has a huge clock on it and is the city's oldest clock is still working today. Beware that the stairs are steep. But there are sections of the wall where can have decent views of Old Town and Lake Lucerne below.
Löwendenkmal (Dying Lion Monument)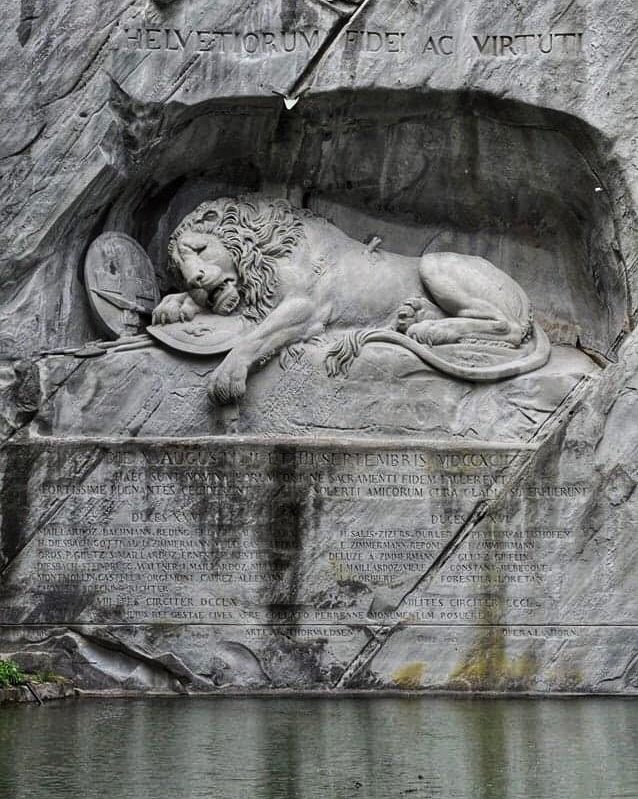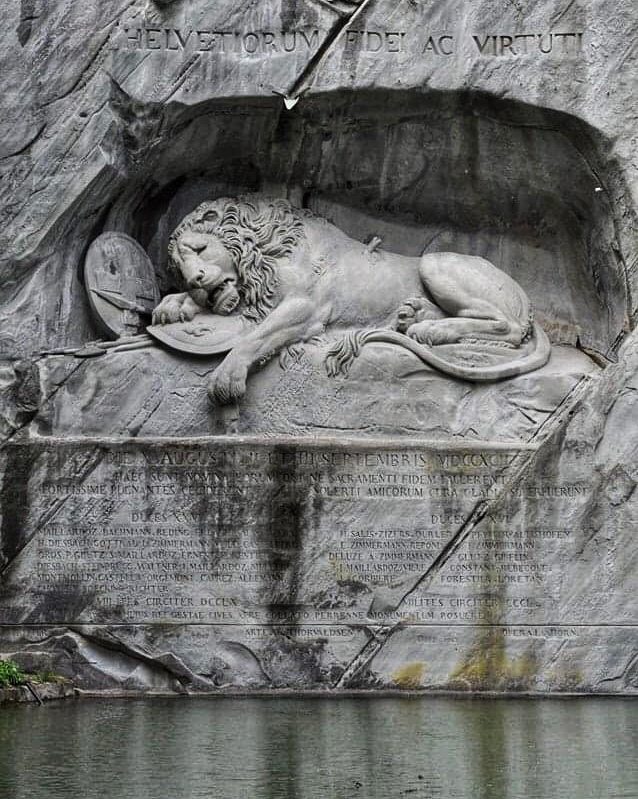 Next, proceed to the Löwendenkmal (Dying Lion Monument) on your Lucern itinerary. A truly moving memorial, this lion monument features a carved relief of a dying lion above a still pond. It is the oldest figurative monument in Switzerland, commemorating Swiss soldiers who lost their lives defending King Louis in the 18th century during the French revolution. A total of 760 soldiers died.
The lion sculpture is so well carved and has such a sad expression on its face that is so life-like. Fabulous workmanship and this monument say a million things.
We enjoyed reading the inscriptions about the history of why the lion sculpture was commissioned. A great spot to stop by during your visit to Lucerne.
Explore Old Town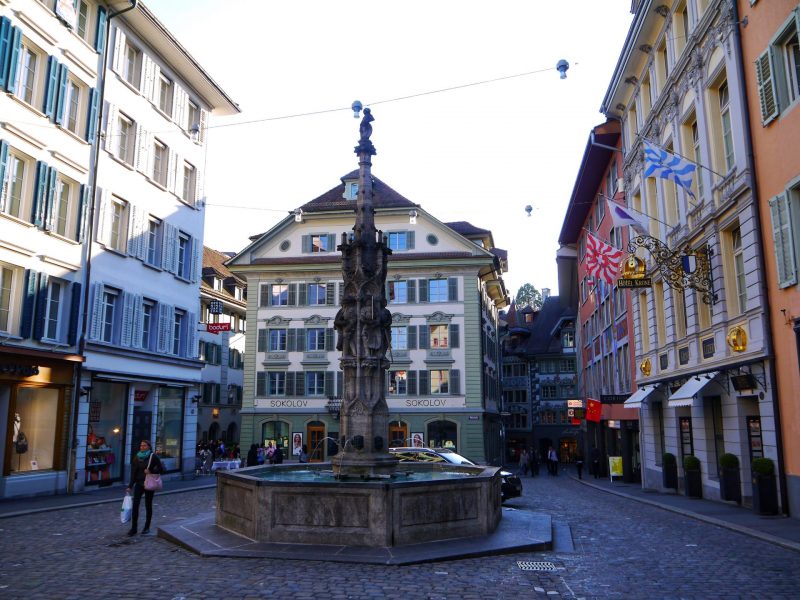 Spend your time in Lucerne's Altstadt, one of the most beautiful Old Towns in all of Europe. Compared to Zurich and Geneva, Lucerne is more packed with historic buildings and medieval architecture. Lucern's old town is very scenic with a very vibrant atmosphere.
A walk through the old town makes for a very pleasant amble. The narrow cobblestone streets lead you to lines of charming shops, cafés, and restaurants.
There are also many decorative buildings in which the paintings tell stories. You'll also find various beautiful old churches, numerous squares with fountains, and well-preserved city walls and towers along the splendid walk. Each of them has its uniqueness and history.
Make sure to check out some of its most charming squares in Lucerne's Altstadt:
Weinmarkt, where you can see Lucerne's prettiest fountain.
Mühlenplatz, the largest square of the old town.
Kornmarkt, is home to Lucerne's Renaissance-style town hall.
Hirschenplatz, with its picturesque traditional houses.
Consider getting a guide to learn the details, as it is most worthwhile. Take your time strolling in the old town to marvel at the magnificent buildings and the beautiful scenery.
Chapel Bridge (Night View)
Lastly, end your Lucern itinerary by re-visit the Chapel Bridge in the evening or nighttime. Even though we visited Chapel Bridge during the day, our favorite time to visit was in the evening. It is much more exciting to see the place at night when the light lit up.
The bridge that goes across the Lake of Lucerne at night is scenic. With the lights shimmering on the surrounding water at night, the view is extremely magical and romantic. It is definitely worth another stroll at night while visiting Lucerne!
Lucerne Travel FAQ
After finding out about the best attractions in Lucerne, here is some important travel information for Lucerne.
What is the best time to visit Lucerne?
Lucerne is pretty much a year-round destination and you can get a lot out of Lucerne during any time of the year. However, June to September is the peak season in Lucerne when the temperature is comparatively warmer and many travelers flock to Lucerne during these months.
Is Lucerne worth visiting?
Don't miss Lucerne during your trip to Switzerland. The centuries-old wood pedestrian bridge, cobblestoned old town, and many attractions definitely worth a visit!
Is 1 day in Lucerne enough?
While Lucerne is not a big city, and most of the attractions are compact in the old town area. So 1 day in Lucerne is doable. With more days in Lucerne, you can even plan for a day trip to Mt. Pilatus,
Overview: One Day Lucerne Itinerary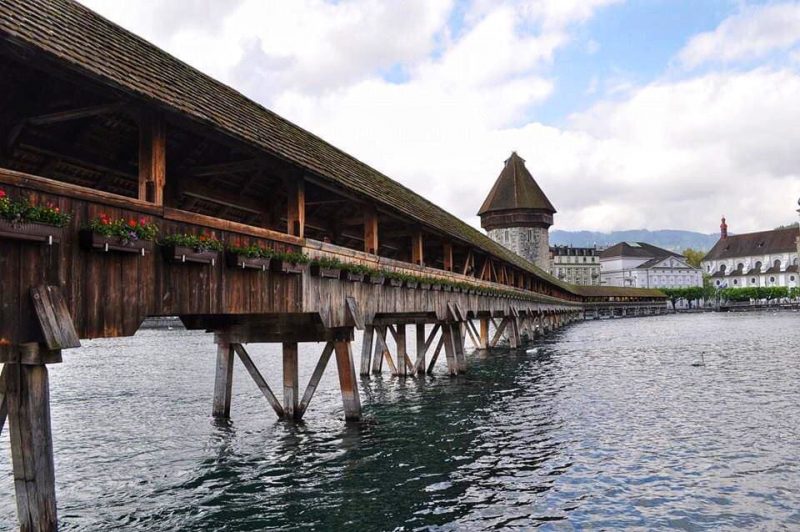 All in all, by following the above Lucerne travel itinerary as your guide, you'll have no problem seeing the city's most important sights during your brief time there. This is a complete Lucern travel guide blog on how to make the most of your 1 day in Lucerne.
The old bridges give you a glimpse of the past and the whole Old Town area is very interesting. I hope you will have a wonderful trip and enjoy the best things to do in Lucerne!
If you want to get more inspiration on how to plan your travel itinerary in Switzerland, check out other travel blog posts here:
Related Switzerland Travel Blog: