Last updated on December 11th, 2023
Explore one of Switzerland's loveliest towns, Lucerne, and plan your trip with this accommodation guide to the city's best hotels and neighborhoods. Here's where to stay in Lucerne.
Get ready for a holiday to Lucerne? Lucerne is an excellent base and is best known as the gateway to Central Switzerland. This charming town is surrounded by breathtaking natural scenery and bursting with its historic old town. You can stroll and explore some of Switzerland's most charming and photogenic little towns while enjoying the beautiful Swiss Alps scene.
Whether you're planning a short city break or a week-long adventure, you'll definitely fall in love with Lucerne. With its picturesque old town, charming vibe, and fascinating history, Lucerne has rightfully earned its spot as one of Switzerland's most visited cities. Plan your trip and stay in this charming town.
Here's your essential guide on where to stay in Lucerne. This guide will help you find the perfect Lucerne accommodation based on your wants needs, interests, and budget.
Quick Tips: Where to stay in Lucerne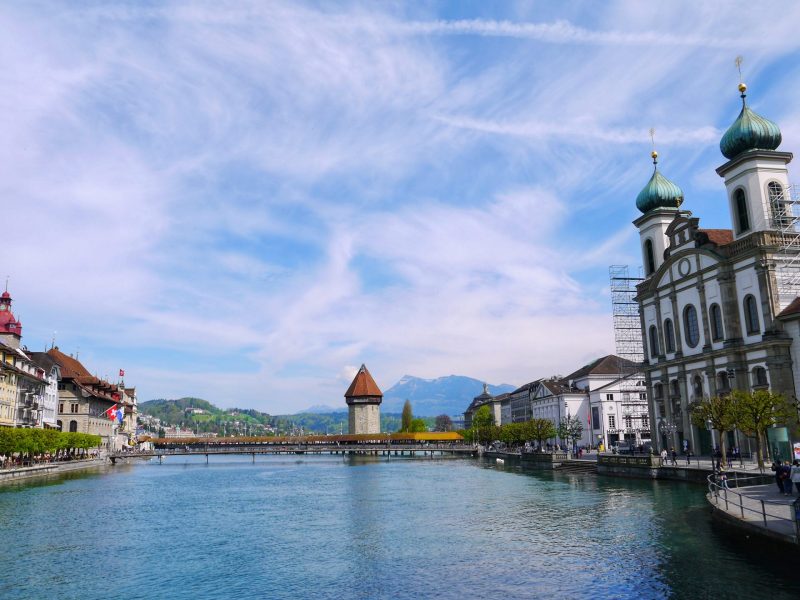 Let's start planning your trip with our top recommendations to help you choose where to stay in Lucerne.
What is the best place to stay in Lucerne?
If you want to explore Lucerne's historical sights easily, stay in the Old Town (Altstadt). You'll be right in the heart of Lucerne's picturesque, cobblestoned old city center. It is a great place to stay for a first-time visitor to Lucerne and has a comfortable base. Most of the city's historic sights, best restaurants, and shopping streets are within walking distance of the Old Town.
Where to stay in Lucerne for lively nightlife?
If you want a slightly lively and vibrant neighborhood, but still a central base, stay in the New Town (Neustadt). This district is located across the river from the Old Town and still within walking distance of Lucerne's essential landmarks. It offers a nice alternative to the busy, touristy old town. This area is great for families looking for just the right mix of adventure and relaxation.
What is the best place to stay in Lucerne on a budget?
If you want to stay in Lucerne on a budget, stay in Tribschen. This neighborhood has a good selection of hostels and affordable hotels that will help you stay on budget while you explore the city.
Where to stay in Lucerne when planning a road trip to Lucerne?
If you want a relax and stay away from the crowds, stay in Bruch. Once home to the city's cattle market, Bruch is now an upscale residential district filled with locally owned boutique shops, cafes, and restaurants. The best place to stay for experiencing the Lucerne's local living. This is great for intimate holidays and as a base for road trips around the Lake District.
Old Town (Altstadt)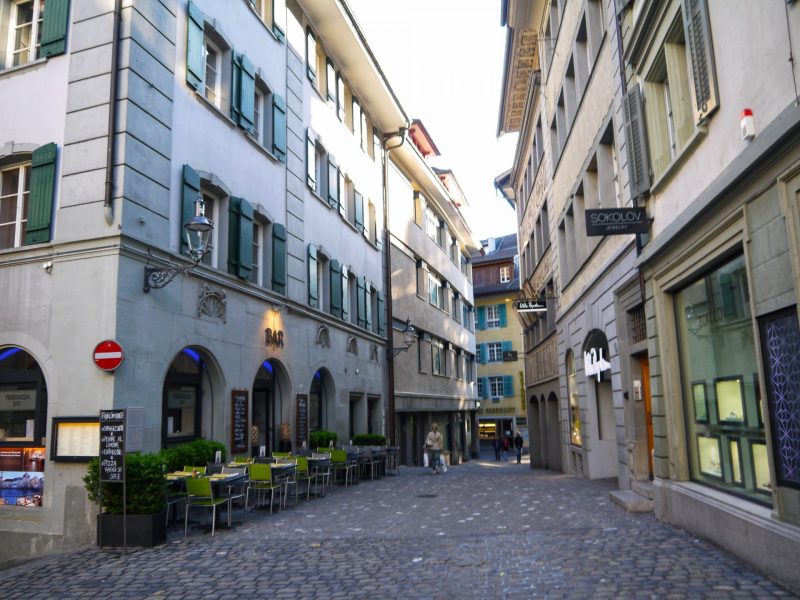 Altstadt is the historic heart of Lucerne and is conveniently located at the center of the city. No trip to Lucerne is complete without taking an in the historical old town.
The Altstadt houses the city's most impressive structures and is packed with ancient landmarks and legendary sights. This area is also home to the most restaurants, bars, cafes, and hotels in Lucerne. Most travelers will choose to stay in Altstadt when looking for where to stay in Lucerne.
Best Luxurious Hotel in Luzern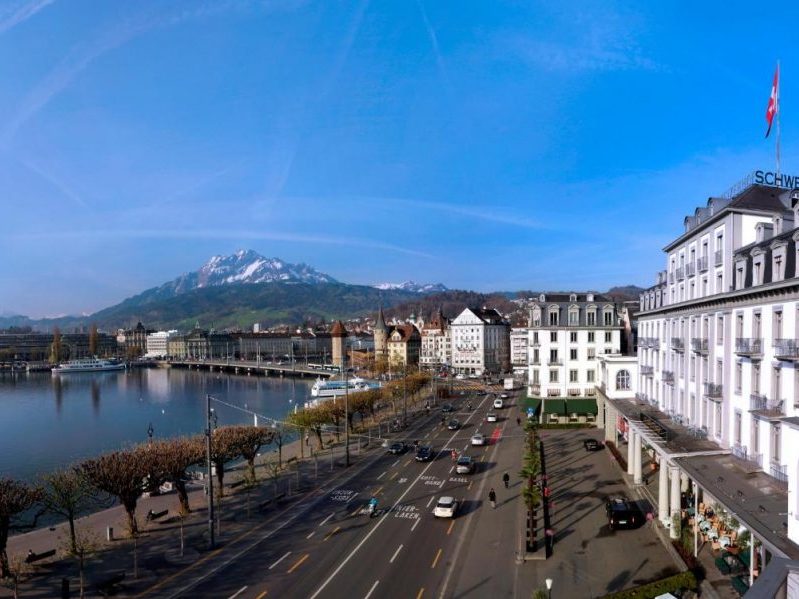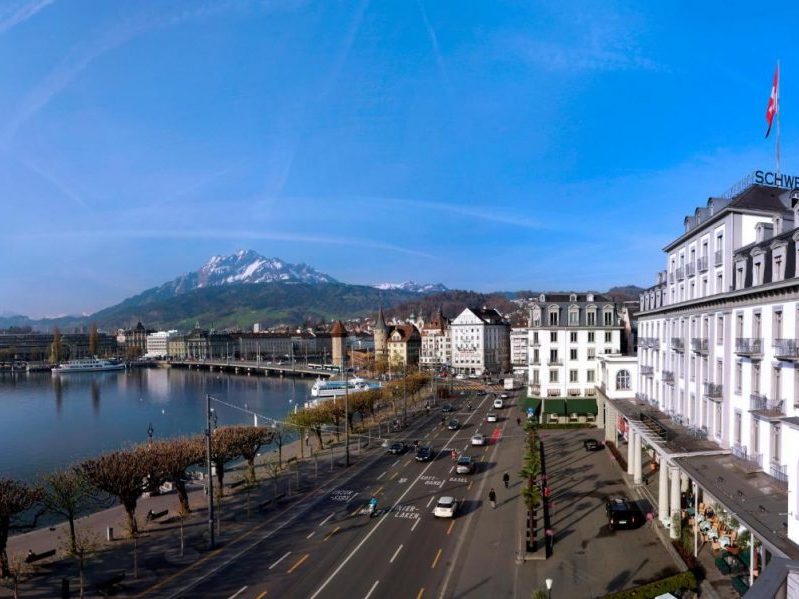 For a luxurious and comfortable stay, Schweizerhof Luzern is one of the best places to stay in Lucerne. The hotel is a family-owned 5-star hotel, featuring elegant rooms with modern furniture. It is perfectly located at Lake Lucerne's shores with a beautiful view of the lake and the stunning Alps. It is also well connected by public transport and a few hundred meters from the old town.
Housed in a former Guild Hall, the Hotel des Balances enjoys a picturesque location on the Reuss river in the heart of Old Lucerne. Strategically located in the center of the old town and within a walking distance of the train station. Impeccably clean and comfortable room. A perfect little oasis in the heart of the Altstadt.
Mid to budget stay in Luzern
For a mid-range option, Altstadt Hotel Krone Luzern is our pick for the best hotel in Lucerne. Set in Altstadt, the hotel is exceptionally located with a beautiful view of historic buildings in the Weinmarkt. It is also within walking distance from the train station, and nearby to many restaurants and cafes. The staffs are also professional and friendly.
For budget accommodations in Lucerne's Old Town, check out the cozy ibis Styles Luzern. It offers small, clean rooms in the historic city center, within about 5 minutes walking distance from the lake. This is especially great for solo and budget travelers who are looking forward to discovering the city without breaking the bank. One of the popular picks for budget travelers to stay in Lucerne.
New Town (Neustadt)
The river Reuss runs between the Old Town and New Town, and separated by the Lucerne's famous landmark is the Kapellbrücke (Chapel) Bridge.
The south of the river is the bustling new town (Neustadt), one of the lively neighborhoods in Lucerne. You will find places for drinking, dining, shopping, and hanging out with friends in this area. Besides, the train station is also in the new town.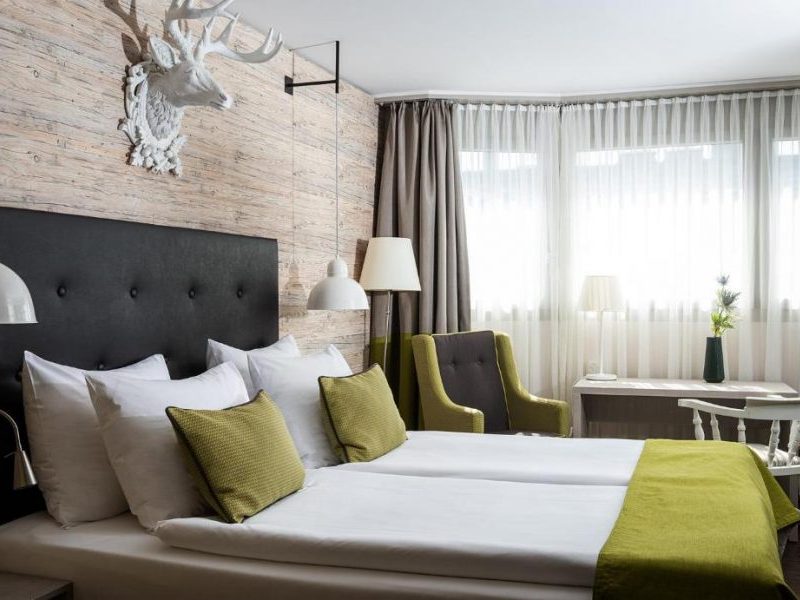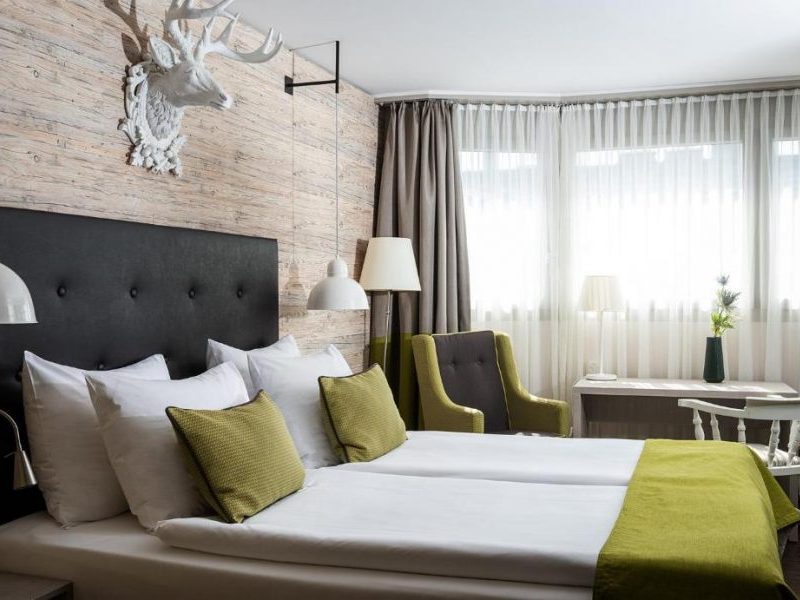 Luxurious and refined, the AMERON Luzern Hotel Flora is the best hotel in the city. Conveniently located in central Lucerne, this four-star hotel is ideal for families. It has stylish rooms equipped with a variety of modern amenities including air conditioning, a minibar, and satellite TV. The location is excellent and very close to the train station.
Waldstätterhof Swiss Quality Hotel is a lovely 3-star hotel for your best stay in Lucerne. Located in a pleasant neighborhood, the hotel is featured clean rooms and comfortable beds. It is also surrounded by restaurants and cafes and within a short walk of great food and wonderful sights.
The Hotel Alpina Luzern occupies a charming historic building right next to the Lucerne Train Station. It is centrally located in Neustadt, one of the best areas in Lucerne. The hotel has a simple elegance that you would not expect in a mid to budget lodging. The rooms are cozy, and the balcony had a great view of Lucerne.
Tribschen
Similar to most of the cities in Switzerland, Lucerne isn't a city that's known for being budget-friendly, but a great cheap accommodation option in town is Tribschen.
Located south of the city center, Tribschen is our top pick for where to stay in Lucerne on a budget because it's where you'll find the best deals in town. You will find a good selection of hostels and affordable hotels that will help you stay on a budget while you explore the city, perfect for travelers on a budget.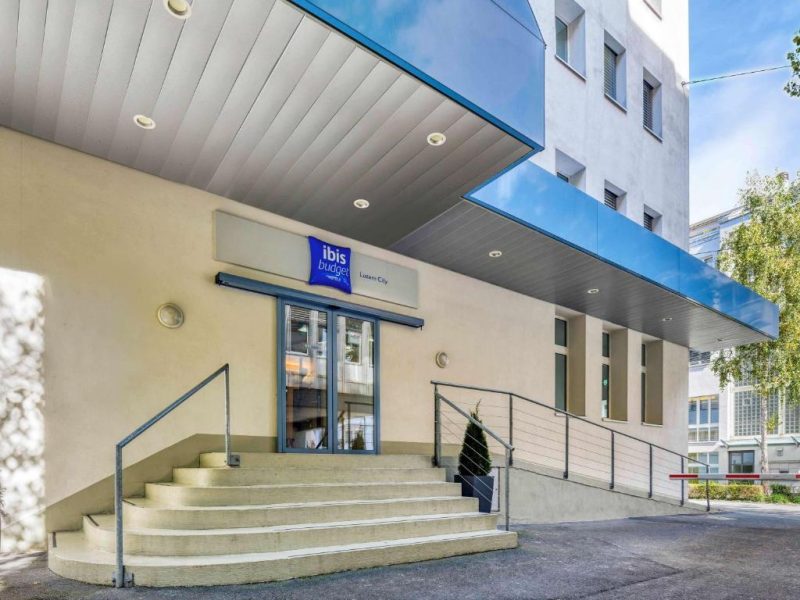 ibis budget Hotel Luzern City is one of the best places to stay in Lucerne if you're on a budget. It is located in Tribschen and is within walking distance of Neustadt and Altstadt. The main station is about 10 minutes of walking distance. This budget hotel has all the basic things, with a small yet clean room, perfect for a budget stay. Good for the price you pay and your stay is including a simple good breakfast.
Backpackers Luzern offers comfortable rooms at an affordable price. It provides a range of accommodation options, including private, semi-private, and dorm-style rooms. The public space is very spacy and fully functional 24 hours accessible kitchen.
Overview: Best Stay in Lucerne
All in all, Lucerne is a wonderful city with so much to offer travelers. The city is compact and walkable. The best part is Lucerne has a very great selection of hotels to suit your need and budget. If you decide to stay in Lucerne itself then of course you have the benefit of being right in the middle of the action.
For more accommodation options in Lucerne check out Booking.com. They continuously offer the best rates with free cancellation.
Lastly, we hope you enjoy your stay in Lucerne and had an amazing trip there!
Related Lucerne and Switzerland cities travel blog:
Traveling to Jungfrau Region? Here is the related travel blog in the Jungfrau region: