Last updated on September 23rd, 2023
The ultimate Jungfrau Region itinerary for the postcard-pretty towns, scenic splendor, and natural attractions in the most beautiful regions in Switzerland. Spend your holiday by exploring the beautiful region and enjoying the stunning view of the Jungfrau.
Jungfrau region, by the Bernese Alps, is one of the most beautiful regions in Switzerland. It's home to gorgeous alpine lakes, majestic mountains, majestic tremendous waterfalls, vast glaciers, and more. An ideal travel destination for your Swiss holiday.
We visited the Jungfrau region and enjoyed my holiday in this beautiful region very much! Given its proximity to several other beautiful and exciting destinations, various day trips can be planned within the Jungfrau region. There is plenty to do in this picturesque part of Switzerland and visitors can enjoy all kinds of fun activities while exploring the pretty villages in the surrounding area.
Read on to find out more about how we plan on the Jungfrau Region itinerary – as well as more detail on how to fill your days spent in this scenic region. An essential travel guide blog to Jungfrau region, Switzerland.
Planning for Jungfrau Region Itinerary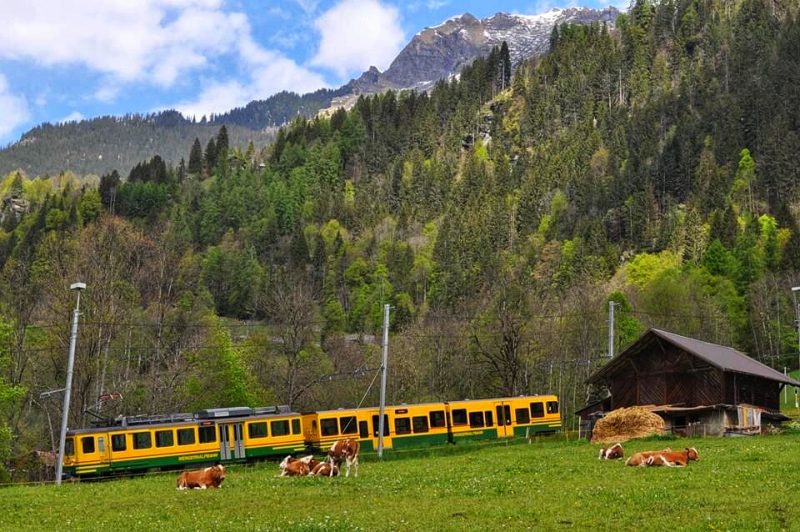 The Jungfrau region consists of many towns and villages, and there are ways to plan for your Jungfrau region itinerary. We recommend spending 4 days exploring the Jungfrau region. The most popular destination in the Jungfrau region are Interlaken, Wengen, Lauterbrunnen, Mürren, Grindelwald, and Isenfluh.
Below is the suggested Jungfrau region itinerary to spend your holiday here:
Day 1: Arrived Jungfrau Region. Interlaken and boat Trip to Brienz.
Day 2: Jungfraujoch, Kleine Scheidegg, and Wengen.
Day 3: Murren and Lauterbrunnen.
Day 4: Grindelwald.
Jungfrau Region Travel Tips:
Swiss Travel Pass
is a valuable pass where you will be able to go on almost any public transportation in Switzerland for a consecutive 3, 4, 8, or 15 days. With the Swiss Travel Pass, you will get unlimited rides on trains, panorama trains, boats, and buses for up to 15 consecutive or flexible days in Switzerland!
Take a look on the
Swiss Travel Pass (E-Ticket)
from Klook for more money saving tips. Cheaper than buying in SBB web!
Where To Stay
It can be challenging to choose where to stay when exploring the Jungfrau region. There is a wide range of hotel offerings that make the Jungfrau Region have a lot of accommodation options.
If you have an idea of what you'd most like to do or experience while in the area, these quick recommendations can help you choose.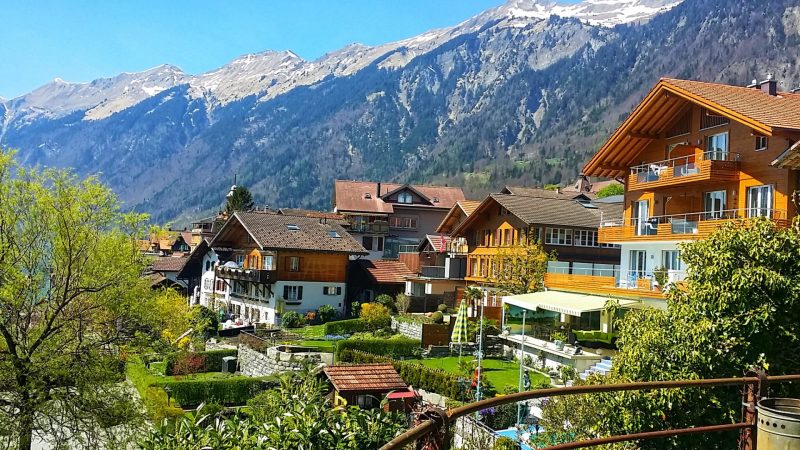 Lauterbrunnen – Sits in the Lauterbrunnen Valley, Lauterbrunnen is one of the most picturesque towns in the Jungfrau region. It is also conveniently located along with the main transportation network of trains and cable cars.
Mid-Range: Hotel Oberland – Located in central Lauterbrunnen with a very short walk to the train station. A charming family-run hotel in a convenient and central location with beautiful views all around.
Wengen or Mürren – Popular place to stay for travelers who want to experience living in a true Swiss village. These tranquil car-free mountain villages are perfect if you're looking for a relaxed holiday.
Mid-Range: Hotel Alpenrose – The oldest hotel in Wengen dated back to 1881. Rooms have been completely renovated and are decorated in a traditional Alpine style.
Budget: Hotel Edelweiss – A 2-star hotel at Wengen with simple rooms and decorated in a traditional alpine style.
Interlaken – A vibrant resort town with many restaurants, shops, luxury boutiques, and hotels. It is an extremely convenient location, with direct trains to other areas in the Jungfrau region and the rest of Switzerland. Best place to stay in the Jungfrau region for first-timers.
If you need more selection, feel free to take a look on our accommodation guide: Where To Stay in Jungfrau Region – Best Hotel & Holiday Home
We choose to stay in Interlaken as the accommodation in Interlaken is cheaper and convenient for getting around. The lovely lakeside city of Interlaken is the perfect laidback city break with plenty of shopping and dining options.
Day 1 – Interlaken, Brienz
For your first day in Jungfrau region, settle in the accomodation in the Jungfrau region and spend the day exploring the Interlaken.
Interlaken is the perfect laidback city break with Alpine mountain ranges, perfect for hiking and exploring. It is a vibrant touristy town with many hotels, restaurants, and retail shops. A great place to stay and do some shopping, especially for Swiss chocolates and souvenirs.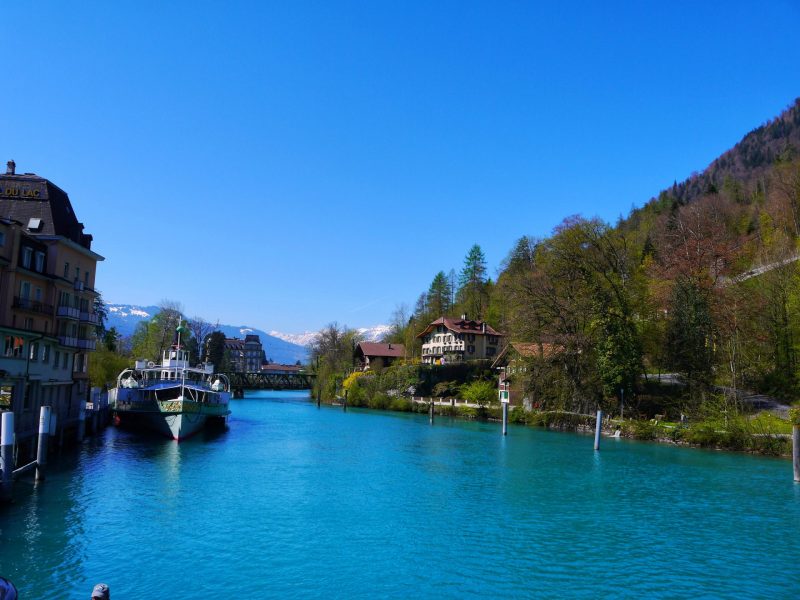 Often referred to as the gateway to the Jungfrau region, Interlaken is set on the Aare riverbank and lies between Lake Thun and Lake Brienz. It makes a great base for us to visit Lake Brienz and the area's other villages such as Brienz and Iseltwald.
Our Jungfrau region itinerary started with a boat ride on Lake Brienz. Most importantly, our boat ride is covered by Swiss Travel Pass and it is totally free!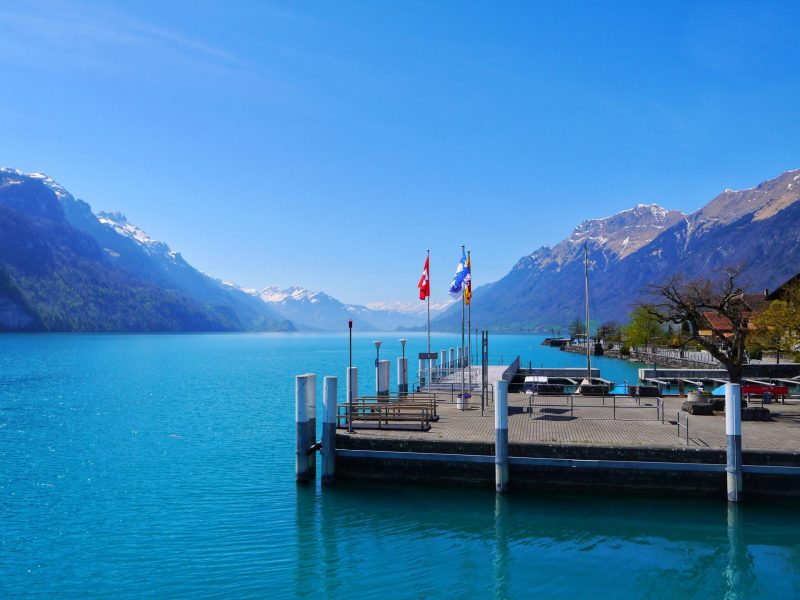 Located on the east side of Interlaken, Lake Brienz (Brienzersee) is characterized by the surrounding mountains, waterfalls, and villages. The boat ride on the shimmering waters of Lake Brienz amid the mountains of the Bernese Oberland is an unforgettable experience.
The tranquil lake is extremely awesome with shimmering turquoise waters and stunning backdrops. We all instantly fall in love with its beauty. A very scenic special lake cruise journey and we totally loved it.
The boat stopped at several lakefront attractions along the way such as Giessbach and Iseltwald and finally sailed to our destination. It took about 75 minutes for the cruise ride.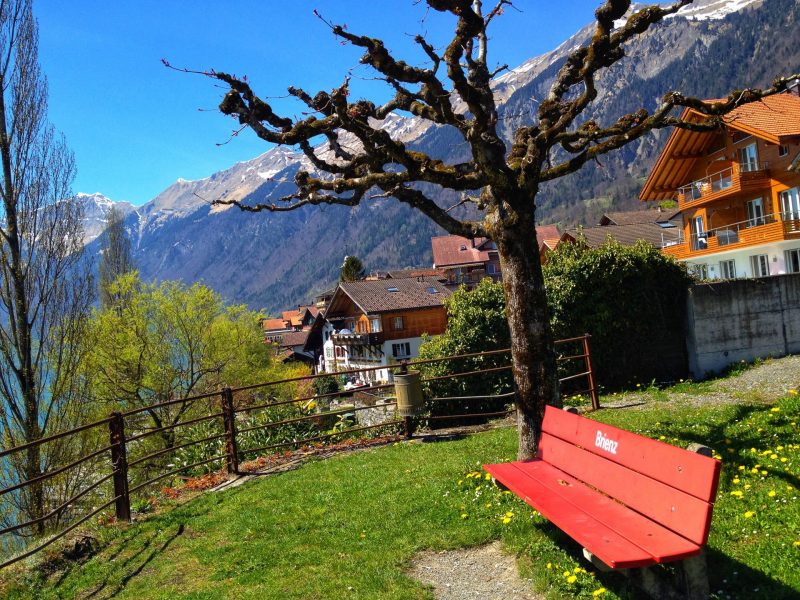 We end our cruise journey at Brienz, a scenic lakefront village known for its wood carving tradition. The town is unbelievably charming, lined with traditional half-timbered houses and a nice promenade along the lake. It was so peaceful and tranquil here. We spend about an hour at Brienz strolling around and taking many photos before catching our train back to Interlaken.
Read More: Things To Do in Interlaken Itinerary: A Travel Guide Blog
Day 1 Jungfrau region itinerary: Arrived Jungfrau region – Interlaken. Take an hour boat from Interlaken to Brienz, spending time and explore the Brienz town. From there, take the train back to Interlaken which provides different views and sceneries.
Day 2 – Jungfraujoch
A must-do for Jungfrau region itinerary – an epic train ride to the Jungfraujoch, Top of Europe.
Jungfraujoch sits in the saddle of two of the highest peaks in the Jungfrau region of the Alps (Jungfrau and Mönch). At 3,454 meters up, it is the highest point in Europe that is accessible by train. Take in the awesome beauty at Jungfraujoch and get to know its fascinating history.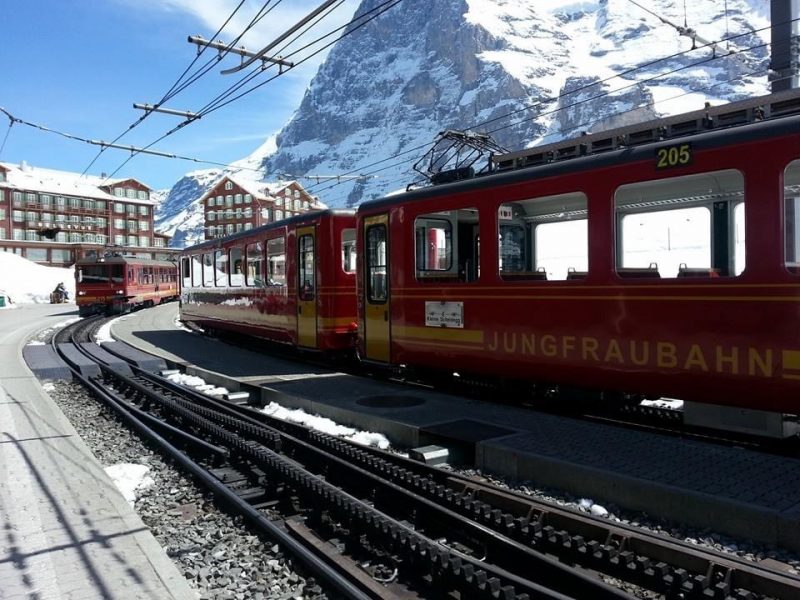 The journey to the Jungfraujoch can be done by train, offering you an easy way to see the gigantic Swiss Alps with a scenic view along the train ride. You can choose either Grindelwald or Lauterbrunnen and ride the train to Kleine Scheidegg before making your way to Jungfraujoch.
Depending on your starting point, it took about 2 hours to get you to the Jungfraujoch from Interlaken. Plan at least 2 to 3 hours (not including traveling time) at the Jungfraujoch.
It is best for your journey in the early morning. If you have more time, stop by Wengen on the way down for views of the valley and the Alps.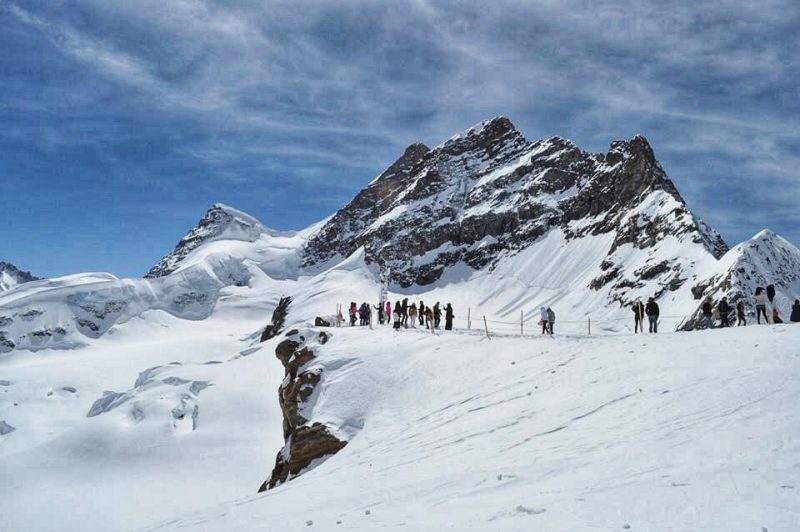 There is so much to do and see at Jungfraujoch that you can easily spend your time there.
Things to do in Jungfraujoch include riding the train to Europe's highest train station, standing on one of the highest points in the Swiss Alps, exploring Sphinx Observatory and Ice Palace, hiking through the snow out to the Mönchsjochhütte, getting the panoramic views over the Alps.
A trip to Jungfraujoch can be confusing for first-timers. If you want to find out more travel information about the Jungfraujoch, read our detailed Jungfraujoch Travel Guide – Things to do in Jungfraujoch.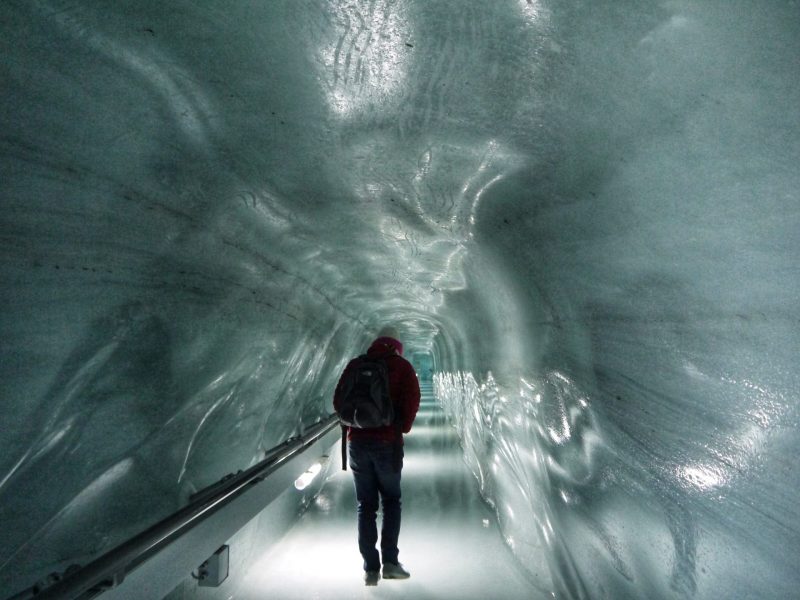 Visiting Jungfraujoch is expensive but it is definitely worth the money. If you go to Switzerland, make sure to cross the Jungfraujoch off your bucket list!
Jungfrau Region Travel Tips: Don't forgot to show your Swiss Travel Pass when purchasing the Jungfraujoch Ticket. You will get 25% off the price of the ticket to Jungfraujoch.
Get the Swiss Travel Pass (E-Ticket) from Klook here
Day 3 – Murren, Lauterbrunnen
We spend our day 3 Jungfrau Region itinerary on the Swiss mountain village at Murren and Lauterbrunnen. You may swap with Grindelwald to suit on your itinerary planning.
Day 3 Jungfrau Region itinerary: Mürren – Tandem Paragliding – Lauterbrunnen – Staubbach Falls.
Murren
With a population of just 450 people, Mürren is an authentic Swiss mountain village with timber houses decked in flowers line the peaceful car-free streets. The top attraction to visit in Murren is Schilthorn Piz Gloria, a great place to see the mountain range and also visit the place of one of the scenes of a James Bond Movie.
We didn't includ Schilthorn and have other planning for the Murren trip.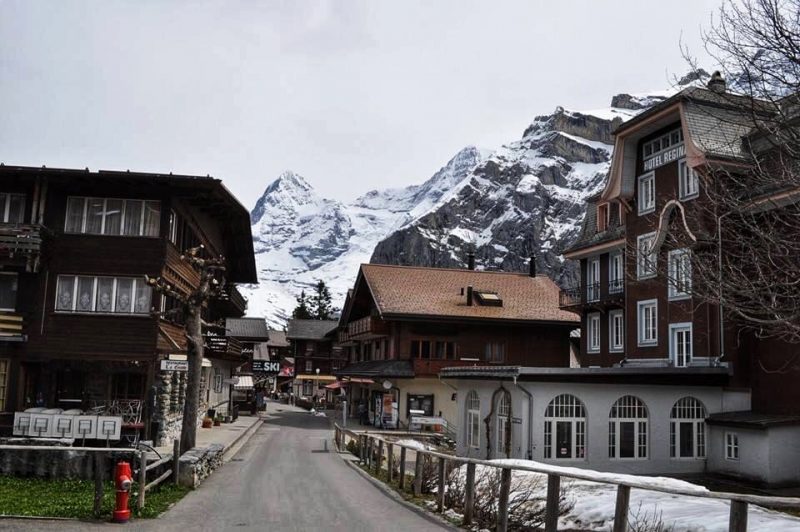 Surrounded by huge mountains and steep slopes down to Stechelberg, Mürren is known for Tandem Paragliding. The paragliding from Murren is an amazing experience to see breathtaking scenery in the sky. The passenger is strapped into a harness in front of a professional pilot and flew over the Lauterbrunnen valley.
Before the trip, we pre-booked our paragliding adventure via Viator. You can choose with pickup option from the hotel if you are staying in Lauterbrunnen. While we were staying in Interlaken, we make our way to Mûrren. It is very easy and straightforward to go Murren and we can also take a quick visit to Murren village. The departure location is just outside the Schilthornbahn Cablecar Station.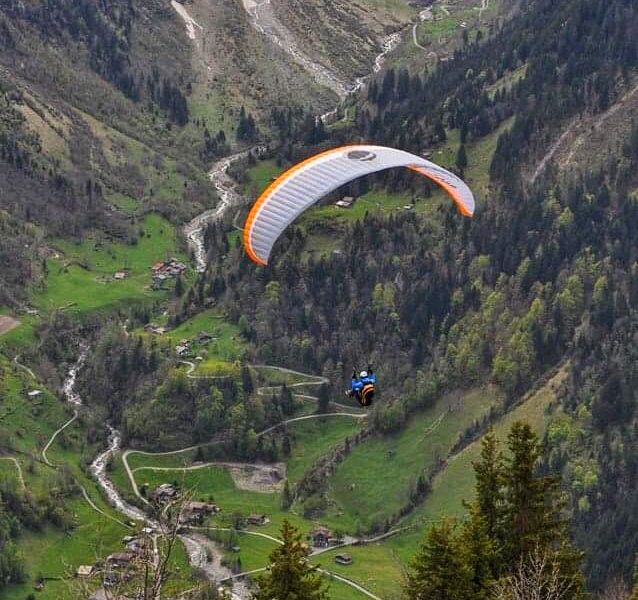 There are a few options for you to consider for a Paragliding adventure. If you have any desire to tandem paraglide, we recommended doing your adventure in Lauterbrunnen/Murren. It was wonderful to overlook the valley. Our guides are very professional and experienced. A must-do for any age person.
The price is really not cheap but worth it. Imaging you are literally sailing over the Swiss Alps!
Lauterbrunnen
Next, spend your afternoon in Lauterbrunnen, a small village in the Jungfrau region that showcases an abundance of awe-inspiring waterfalls. The scenery all over the valley is simply breathtaking and of course, it can not be described in words or photos.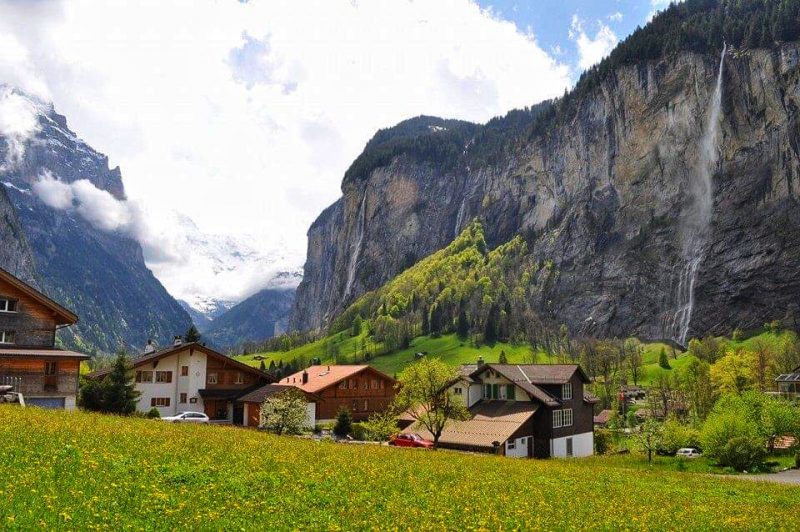 There are 72 waterfalls in the Lauterbrunnen Valley with amazing views of the Alps mountain region. The most famous being the 300m Staubbach Falls but there are plenty of other small waterfalls around here. You can get closer to the Staubbach falls with a steep hike up a hill, through a tunnel, and a passageway carved on the side of the mountain.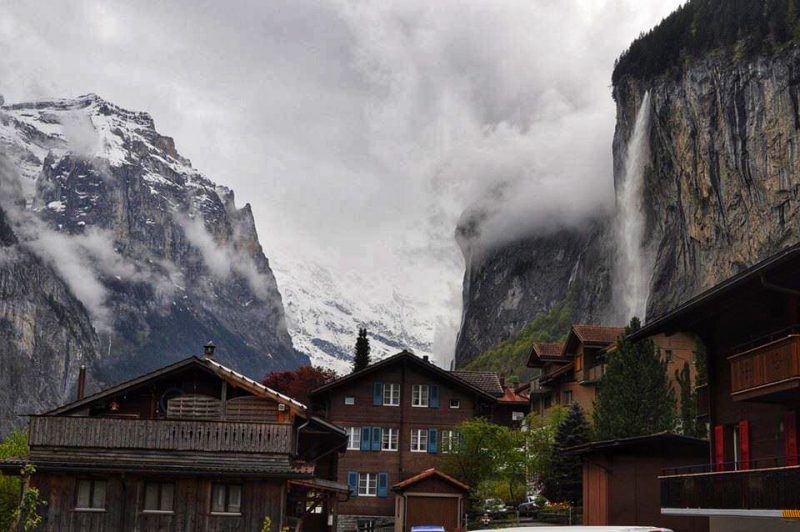 Begin your adventures at Lauterbrunnen Village and past the charming timber houses. Next, continue walking to the most famous waterfall in Lauterbrunnen: Staubbach Falls, and appreciate the views. The waterfalls are tremendous and beautiful!
Expect to spend two to three hours here to explore everything leisurely.
Day 4: Grindelwald
Lastly, we headed to Grindelwald for a day of adventures. The main attraction in Grindelwald is the First Summit, which you can reach from Grindelwald via a cable car.
We took a 25-minute cable car ride and then headed to the famous First Cliff Walk by Tissot. The cliff walk is a ton of fun where the walkway is built into the side of the rock. It certainly isn't for the faint of heart since you walking on an open platform attached to the cliffside. A nice cliffside walk experience for free.
The views from the top are magnificent where you can see the Eiger and surrounding mountains. I highly recommend this excursion on your Jungfrau region itinerary. Simply an amazing experience!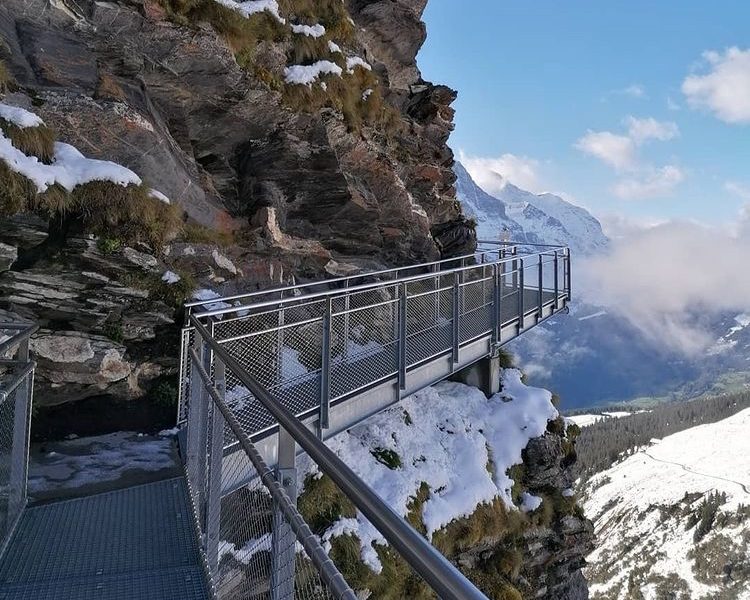 There are lots of fun activities on offer at the summit, including electric bikes, carting, a zip line (First Flyer), and more. Besides, it is also a great kicking-off point for loads of stunning hikes. We didn't join the activities as we will take the evening train to the next destination. We enjoy the beautiful views before the descent back to Grindelwald village.
Back to the Interlaken, we have our meal at a restaurant nearby Höhematte Park, Interlaken. It is a large meadow with a great vista and a great spot to sit and watch as paragliders float back down to earth. We had the cheese fondue and enjoy it by dipping it with the fondue bread and potatoes.
Jungfrau Region Travel Tips
If you're trying to design your Jungfrau Region itinerary there are a few things you need to keep in mind first. These are some of our Jungfrau Region travel tips.
Getting Around in Jungfrau Region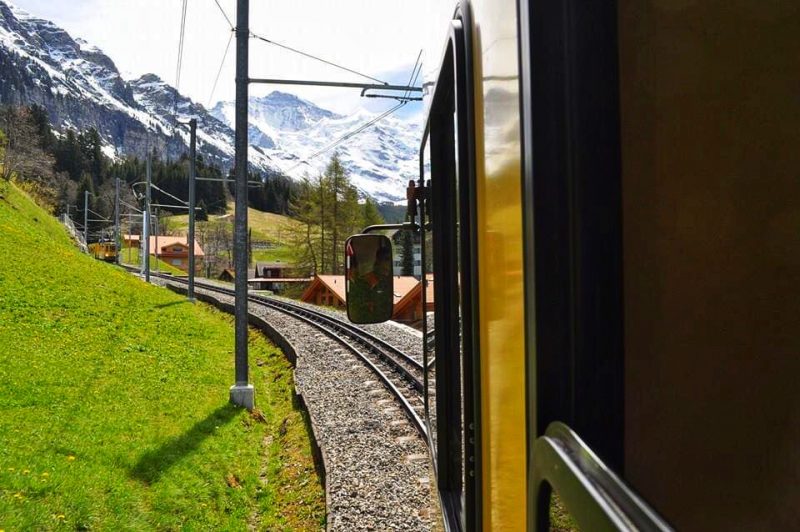 The best way to get around Jungfrau Region is using public transport as most of the attractions in the Jungfrau region can be accessed using trains and cable cars. If you'll be visiting multiple destinations across Switzerland, consider purchasing the Swiss Travel Pass. This valuable pass allows you to travel on any train, bus, or ferry service in Switzerland and you also get discounted tickets to many attractions. Great 25% discount for Jungfraujoch.
Although driving is a good way to visit Switzerland, most of the top sights in the Jungfrau region can be only reached by public transport. So we wouldn't recommend renting a car to explore the area. If you're planning for driving in Swiss, we recommend using the website Rental Cars to find your vehicle, as it's the largest booking platform on the net and offers the best prices.
Best Time To Visit Jungfrau Region
Switzerland is beautiful year-round and each season brings a reason to visit Jungfrau Region: whether it's flowers and pretty weather in the spring, the warmth and liveliness of summer, the color changes of autumn, or the snowy winter, you can't go wrong traveling to Jungfrau Region at any time of the year.
If you want to take advantage of hiking, cliff walks, and adventure sports then the Summer months are the best time to visit. During summer, all the mountain attractions are open and accessible. The weather is warm and pleasant for all the outdoor activities. But it can be crowded as many travelers are flocking to Jungfrau Region in Summer.
How Many Days for Jungfrau Region
There is so much to see and do in Jungfrau Region that you can spend a week here. Try to plan your Jungfrau Region itinerary with three days: 1 day for the Interlaken and lake, 1 day for the Swiss village town (Lauterbrunnen/Grindelwald), and 1 day for the Jungfraujoch. 
Overview: Planning for Jungfrau Region Itinerary
Hopefully, this Jungfrau region itinerary helps you plan your trip to one of Switzerland's most beautiful destinations. Four days in the Jungfrau region is never enough time to really explore it in detail. There are so many enjoyable things to do in the Jungfrau region that you can easily spend more days in the area. What's difficult is working out how to experience the best of the Jungfrau region for your own itinerary.
Are you planning a trip to the Jungfrau region? Let us know if you have any questions about this Jungfrau region itinerary or how to spend a holiday in Jungfrau.
Related travel blog in Switzerland: