Last updated on June 3rd, 2023
Remember to visit Interlaken on your trip to Jungfraujoch, Switzerland. This picturesque resort town is best to plan for at least 1 to 3 days of the visit. In this Interlaken travel guide blog, we listed down all the best things to do in this Interlaken itinerary. Let's check it out!
Located in the mountainous Bernese Oberland region, Interlaken is a traditional picturesque resort town in central Switzerland. The town itself is small but holds a few attractions to keep you busy. There are plenty of things to do in Interlaken for all age groups. Together with Wengen, Lauterbrunnen, Mürren, Grindelwald, and Isenfluh, visitors can easily plan for a few days of Interlaken itinerary to enjoy all kinds of outdoor activities and explore the nearby town in the surrounding areas.
We visited the Jungfrau region during our trip to Switzerland. In the Jungfrau region, there are various days trips that can be planned. You may refer to our Jungfrau Region Itinerary if you plan for a few days of the visit.
To give you more insight and more information, let's check out our Interlaken travel guide blog on things to do in Interlaken. We will more focus on what to do and see in Interlaken and how to plan your trip to this picturesque Swiss town. You'll learn about all the best places to visit in Interlaken to ensure you don't miss out on any great activities!
How To Get To Interlaken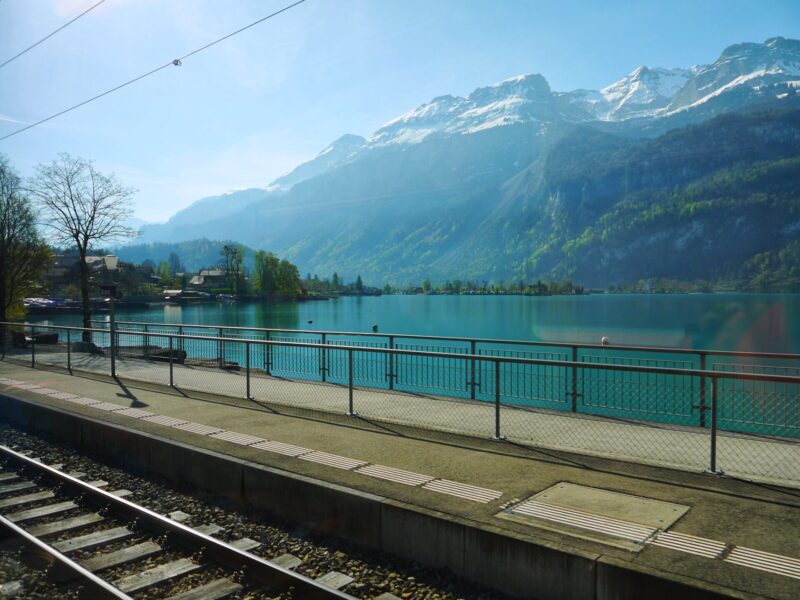 First of all, being a major travel destination in Switzerland, Interlaken enjoys a well-connected public transport network from various major cities. Many cities such as Lucern, Bern, and Zurich can get to the Interlaken with an easy train ride.
Here is the estimated traveling time to Interlaken by train:
Zurich to Interlaken: 1h:55 by train
Lucern to Interlaken: 1h:05 by train
Basel to Interlaken: 1h:55 by train
Bern to Interlaken: 0h:50 by train
Due to its popularity, Interlaken even has two railway stations to ease you to explore other places in Bernese Oberland.
Interlaken OST: Main railway interchange for SBB (mainline) trains.
Interlaken West; bus and boat interchange: which is located in the central station of the town.
When you're in the city, you shouldn't have much trouble getting around on foot.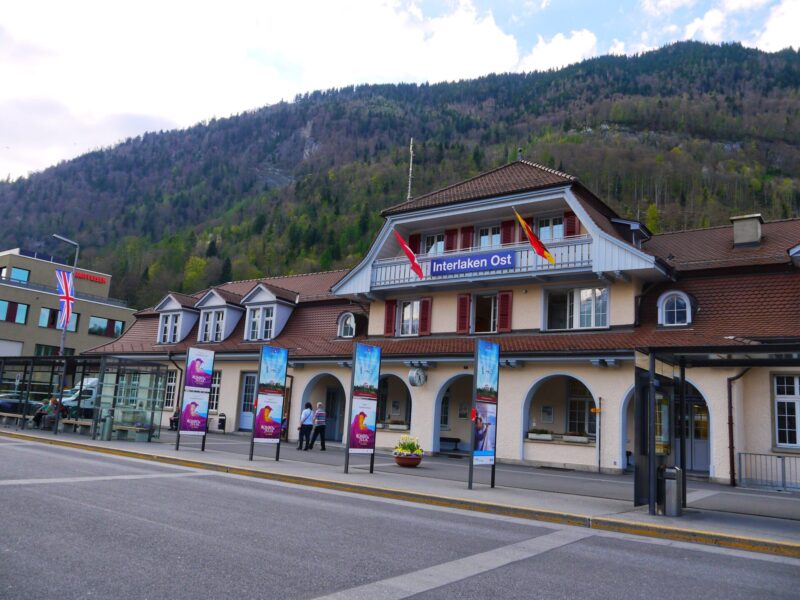 Interlaken Transport Tips
One of the great ways to get to Interlaken is to purchase a Swiss Travel Pass. This money-saving transport pass can greatly save on your transportation fee when you get around Switzerland. You will get unlimited rides on trains, panorama trains, boats, and buses for up to 15 consecutive or flexible days in Switzerland! You will use this pass to enjoy the free boat ride from Interlaken to Brienz or travel to the nearby Swiss villages following our Interlaken itinerary!
We started our train journey from Lucern to Interlaken with the famous scenic GoldenPass route. This scenic train ride connects central Switzerland and travels all the way from historic Lucerne to Montreaux. Along the train route, you'll see the Brünig Pass, the lakes of the Bernese Oberland, upper-class Gstaad, and Lake Geneva. From Lucerne to Interlaken, the train journey took you about 2 hours via the scenic GoldenPass Ride.
The Golden Pass Line is free with your Swiss Travel Pass!
Where To Stay in Interlaken
There is a wide range of accommodation in the Jungfrau region. As a resort town in Switzerland, Interlaken is a lovely place to stay for at least 1 night. There is an abundance of high-quality and mid-range of accommodations if you are looking for where to stay in Interlaken.
Here is our popular pick for where to stay in Interlaken:
If you need more options, continue to read our accommodation guide: Where To Stay in Interlaken to find out more about hotels in this scenic region.
Things To Do in Interlaken itinerary
To really enjoy your time in Interlaken, it's important to know what are the things to do in the areas. Rest assured. We will share more information on the below Interlaken travel guide blog so that you wouldn't follow our mistake!
Best Things to do in Interlaken Itinerary:
Take a funicular ride to Harder Kulm
Tandem Paragliding from Interlaken
Leisure Walk in Hohematte Park
Take a Boat Trip
Visit Brienz Town
Shopping for Swiss souvenirs in Interlaken
Day trip to nearby Attractions
Interlaken Travel Guide: Most of the outdoor activities and places are visited during our trip to Interlaken, but unfortunately, we miss out few interesting activities such as kayaking due to the limited time and did not make bookings. So it's best to plan and book your must-do activities before your trip to avoid disappointment.
Funicular Ride to Harder Kulm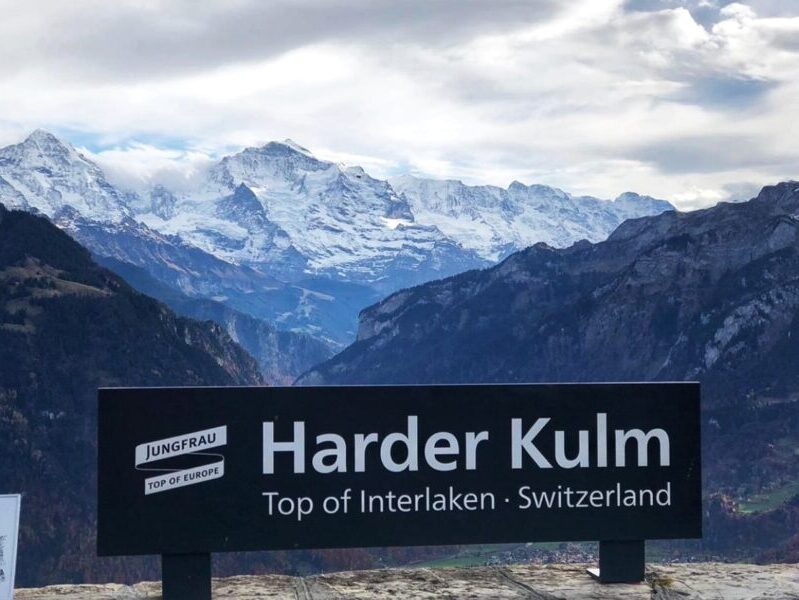 If you're in Interlaken, you have to go to the Harder Kulm, "Top of Interlaken" for the stunning view down over the town. It is easily accessible with a quick 8-minutes funicular ride to the top of the mountain. The funicular is located at Hardebahn at Interlaken Ost station which will take you directly to the top of Harder Kulm.
The visit to Harder Kulm is a great experience with a sensation view of the surrounding forest and the lakes below.
After arriving at the top of the ride, it's a short walk to the triangular viewing platform which offers you amazing views at 1,322 meters above sea level. The Eiger, Mönch, and Jungfrau mountains as well as Lakes Brienz and Thun can be seen from the top. When the weather is nice, it is an absolutely beautiful view, especially during sunset.
There's a restaurant with both indoor and outdoor seating which serves decent food and hot beverages. However, take note that the funicular is run from mid-April until the end of November. During this time, the restaurant is also closed
Interlaken Travel Tips: There is a trekking trail for hikers and you can choose to take the funicular ride up to the top and slowly walk down the mountain.
Tandem Paragliding from Interlaken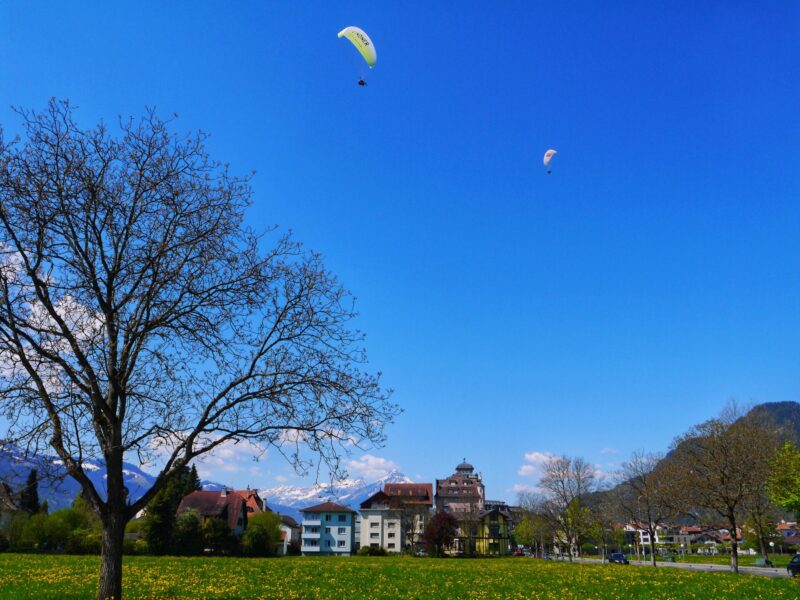 This is certainly a MUST DO in Interlaken. The beauty of the Interlaken and the areas can be seen from above while slowly making your way down. Rest assured as the instructors are welcoming and knowledgeable to guide you through the whole process.
The Tandem Paragliding from Interlaken is a popular thing to do and the reservation must be made ahead of time for a popular time slot as their bookings are running fast. Secure your booking!
Don't miss it as it can be a lifetime memory for the best thing to do in Interlaken. For sure this activity is not cheap but definitely worth the money! You can choose the Tandem Paragliding Experience from Interlaken or Paragliding Over the Swiss Alps from Lauterbrunnen. Both give you an unforgettable experiment!
Leisure Walk in Hohematte Park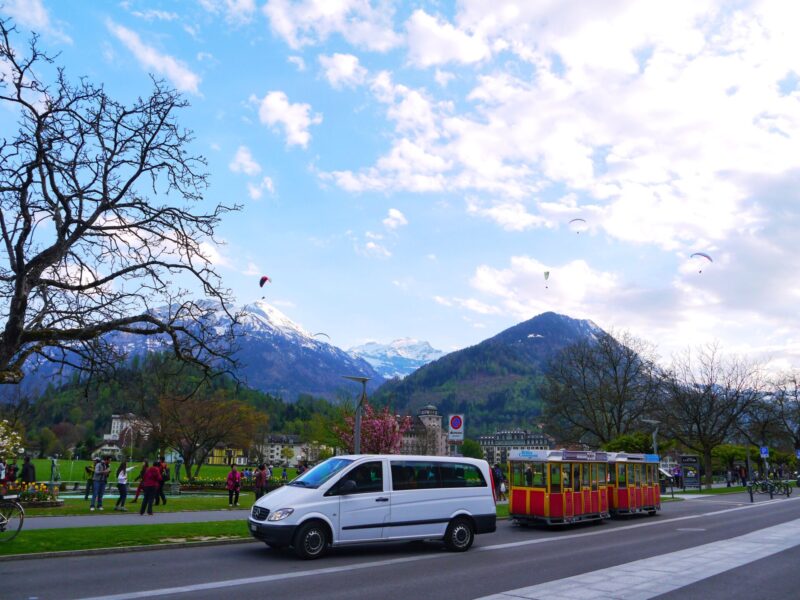 The Hohematte Park is a picturesque lovely park in the Center of the town. During springtime, the park is full-on green grass and colorful flowers with the snow-capped mountain of the Eiger as a backdrop.
The Hohematte Park is the landing spot for paragliding. And you'll see horse-drawn carriages, along with fun activities in the park. Locals love to bring families and kids to come here for picnics or just to relax on the green pastures.
Sitting on one of the benches to watch the perfect touchdowns of paragliders, strolling along the park, or having a sip of ice cream or snack from gelato carts offer yummy refreshments. The park may not be a tourist spot but worth spending a quick stop when visiting Interlaken. A relaxing afternoon at Interlaken!
Take a Boat Trip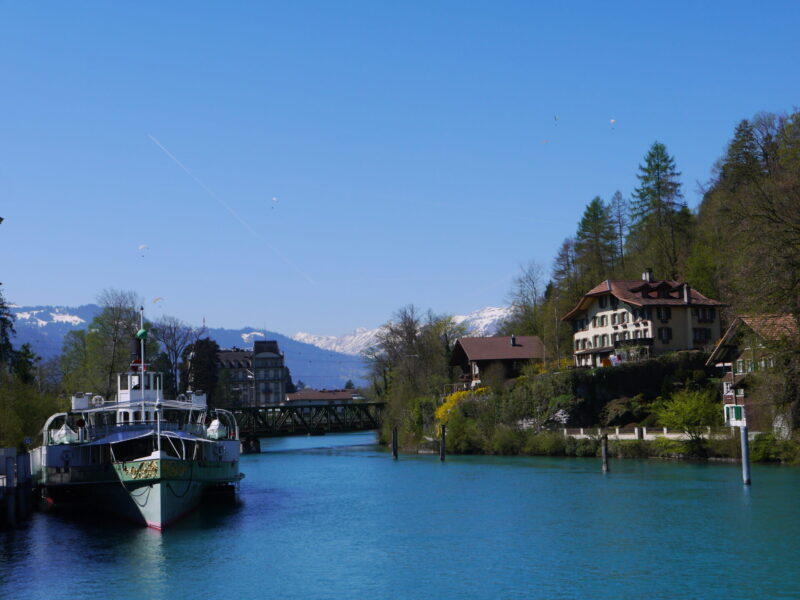 When you're in Interlaken, a boat trip to Brienzersee or Thunersee is definitely not to be missed. Interlaken is a unique location, that lies between Lake Thun and Lake Brienz. I can thoroughly recommend the boat trips on either lake. The beautiful lake is characterized by the surrounding mountains, waterfalls, and villages.
The boat ride from Interlaken makes several stops along the journey. Depending on your schedules, here are a few recommendations for your boat trip on the Interlaken itinerary.
Brienzersee vs Thunersee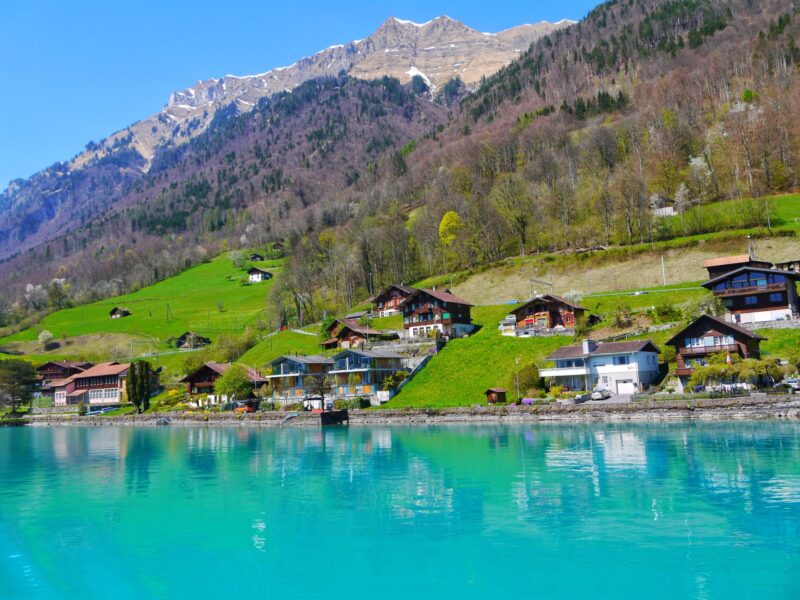 Brienzersee or Lake Brienz is situated east of Interlake and one way from Interlaken to Brienz take 75 minutes. Options to stop at Giessbach to watch the falls, and further hike to Iseltwald.
Interlaken – Glessbach for the waterfall – Hike to Iseltwald – Brienz (approximately 5 to 6 hours)
Interlaken – Brienz (approximately 3 to 4 hours)
Thunersee or Lake Thun is situated west of Interlaken. A boat ride from Interlaken to Thun takes about 2 hours. Another option is to take a boat to Spiez and a short train ride to Mülenen for a trip up to Mount Niesen.
Detail refers to the Interlaken boat timetable: BLS Boat Schedule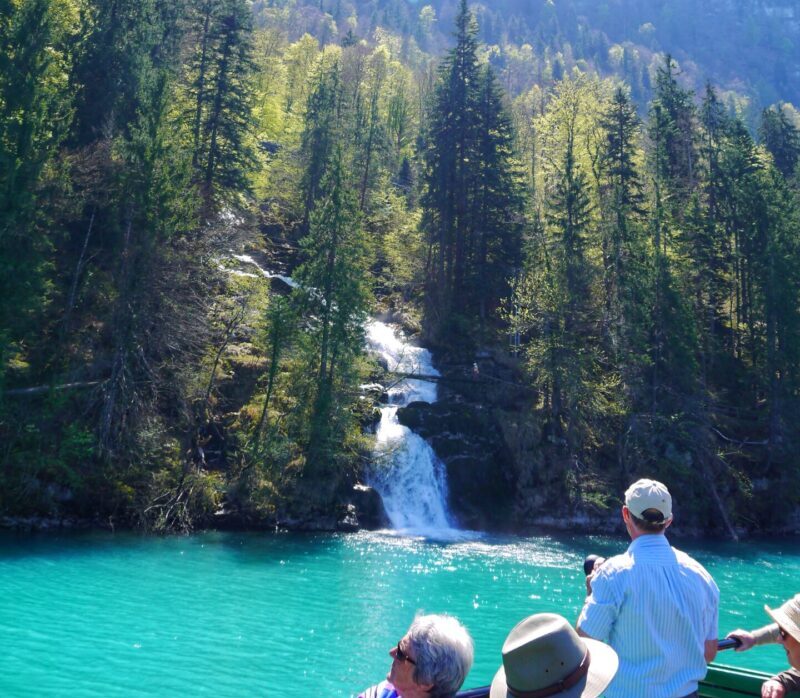 Additionally, a nice round trip can be made by coupled with boat and train. We took the boat ride from Interlaken OST to Brienz and then returned back to Interlaken on the train ride. So we can enjoy the great view of the lake in 2 ways. Travelers can follow our way as part of your Interlaken itinerary or verses way.
We have panoramic views of the mountain peaks around Lake Brienz. The sky was clear and the water was crystal blue, with many beautiful chalets along the lake. A very scenic special lake cruise journey.
Interlaken Travel Tips: The boat cruise in lake Brienz was part of the package if you are having the Swiss Travel Pass!
Visit Brienz Town
Next on the Interlaken itinerary. When taking a boat trip to Lake Brienz, you can stop by the Brienz and pay a visit to the town. Brienz is a small village of the same name as Lake Brienz, located to the northeast of the lake's shore.
The town is very peaceful and calm. It is lined with traditional half-timbered houses and has a beautiful promenade along the lake. Besides, Brienz is famous for its impressively-carved pieces that are made from various kinds of wood.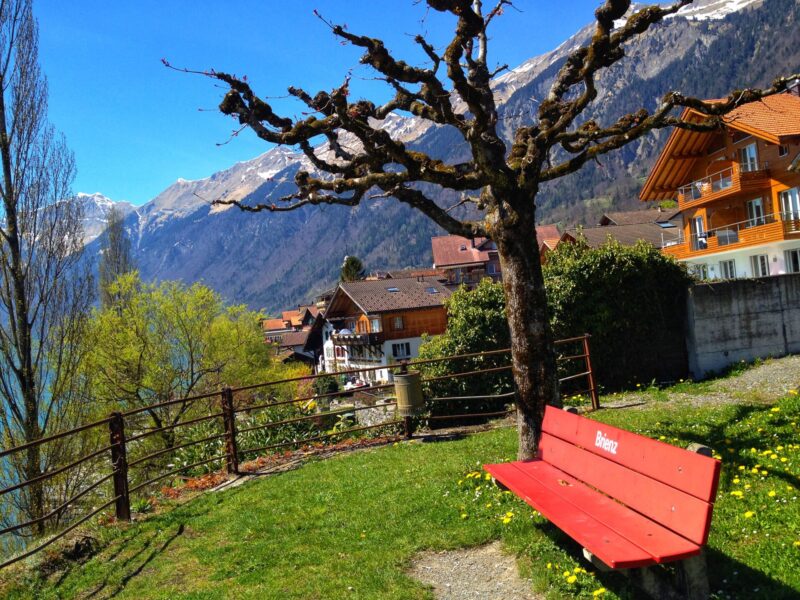 Enjoy your stroll with the beautiful view and walked along with the shops, restaurants, and sculptures in Brienz. What's beautiful scenery! Lastly, we took the train from Brienz back to Interlaken. The train ride took about 20 minutes.
Shopping for Swiss Sourvenirs in Interlaken
There are plenty of shops, and boutiques lined along the busy little streets in Interlaken. Visitors can grab some Swiss souvenirs to bring them back to their home country. Swiss knives, homemade natural products, facial products, natural remedies, watches, and local chocolate can be found in the busy street in Interlaken.
Here are a few popular shops in Interlaken:
Swiss Knife Center
Swiss Chocolate Chalet for their lovely Swiss chocolate.
Bucherer – Oldest shop established in 1888 which sells the finest handcrafted watches.
Heimatwerk Interlaken for the local art and handicrafts
Day Trip to nearby Attractions
Lastly, Interlaken can be visited on a day trip and it is highly recommended to plan for a day trip to nearby attractions if you are staying in Interlaken for a few nights. Depending on the travel duration, most of the attractions in the Jungfrau region can be coupled up as a perfect day trip from Interlaken.
Below are a few recommended places and favorite day trips from Interlaken:
Visit Swiss Village Town: Choose from Lauterbrunnen, Mürren, Grindelwald
Day Trip to Jungfraujoch (Read more on our Jungfraujoch Travel Guide)
Day Trip to Bern – A 45-minute train ride will bring you to Bern from Interlaken (Bern Itinerary)
More Interlaken Travel Tips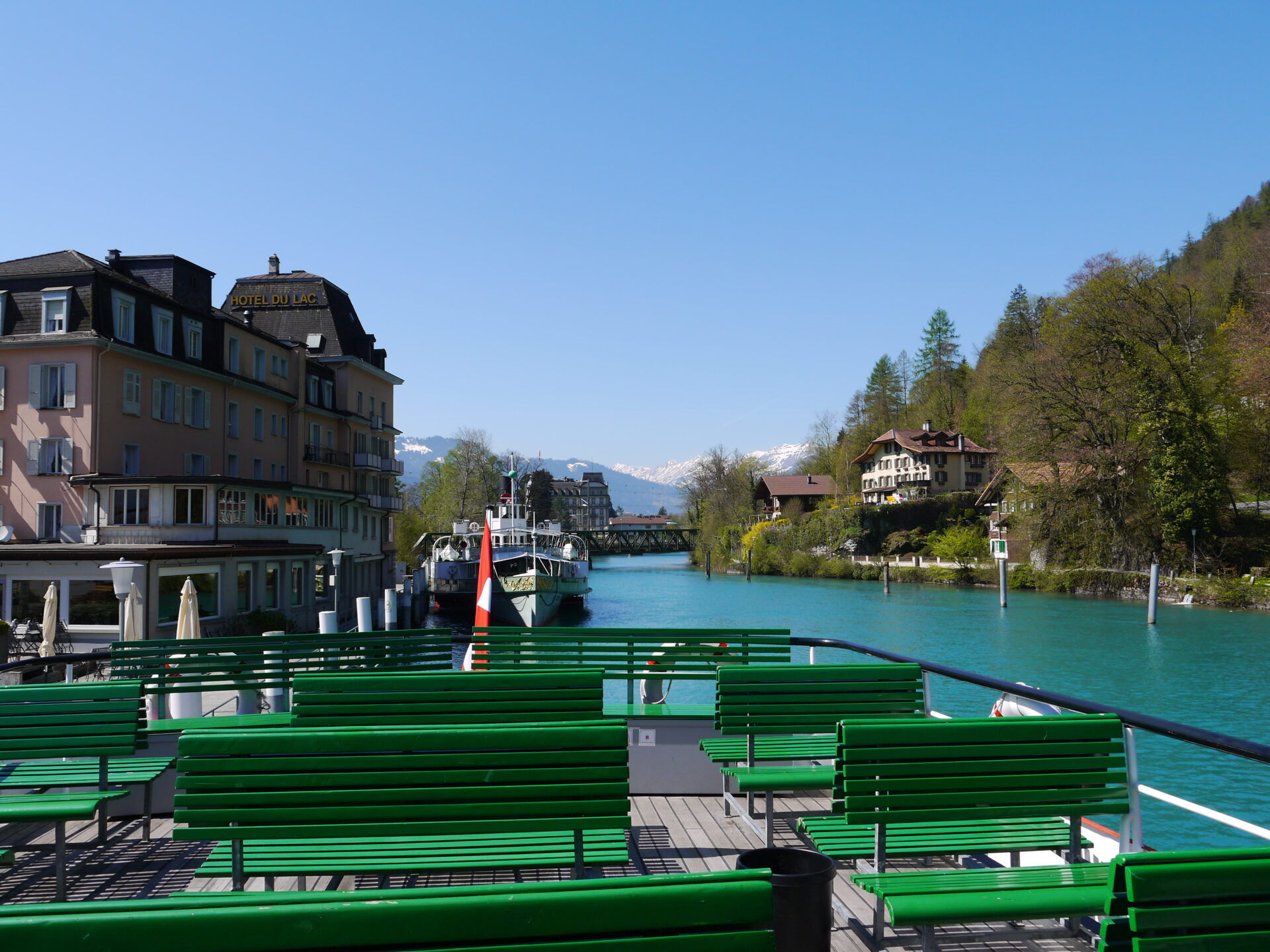 For a leisure trip to this amazing town, don't miss my other Interlaken travel guide with useful tips here.
What is the best time to visit Interlaken?
Interlaken is best to visit during Summer, especially from May to September. During this time, the temperature is very pleasant and most of the attractions are open. Many mountain and outdoor activities can be planned during this time of visit.
What is the must-do when visiting Interlaken?
We highly recommended taking the boat trip to Brienz or Thun. The boat ride gives you the opportunity to mesmerize and discover the small villages nearby.
How many days for Interlaken?
Together with the attractions nearby, 3 days in Interlaken is enough to explore this area. There are tons of activities that can be planned during your trip to Interlaken. You can even plan for more outdoor activities such as kayaking, and hiking during summer!
Is Interlaken worth visiting?
Interlaken has its own calm. Although Interlaken is more tourism compared to the nearby Swiss village, this resort town is worth a visit all on its own.
Overview: Planning on Interlaken Itinerary
Last but not least, we hope this Interlaken travel guide will give you a clear idea of what you can plan to do on a visit. We sincerely hope you will enjoy these handpicked things to do and plan them for your Interlaken itinerary. Enjoy your trip to Interlaken!
More inspiration for travel in Switzerland:
Jungfrau Region