Last updated on June 3rd, 2023
To help you plan your trip, we've put together a Zurich itinerary travel guide blog with all the best things to do and some of the finest landmarks in this amazing city.
Known as the financial capital of the country, Zurich is the largest and busiest city in Switzerland. It has a high standard of living and is one of the finest cities in the world. This wonderful city glows with a balanced mix of modern infrastructure combined with a medieval old-world charm.
We spent 1 day in Zurich and visited this amazing city. There are plenty of things to do in one day Zurich itinerary. The lanes of the central Altstadt (Old Town), waterfront promenades, and the medieval historical gems, make this European city a MUST visit once in your lifetime. One can easily spend one full day strolling around the city.
To appreciate the great sights in Zurich, we're here to help you decide what to see first. There are a few highlights of Zurich city that you should explore in your itinerary. You'll learn about all things to do in Zurich to ensure you don't miss out on any great attractions.
This Zurich itinerary travel guide blog will show you the beauty of this historical city as well as some of the travel tips. Let's check it out.
Getting To Zurich
Zurich is a great base for travelers who travel to Switzerland. International flights arrive daily at Zurich Airport, (ZRH) and trains run regularly from Zurich Airport to the main Zurich Main Train Station, Hauptbahnhof.
Use Skyscanner to find the Best Flight Deal
Here are some options to get to the city center from Zurich Airport:
Public Transport – Trains depart frequently and are very efficient. It takes about 25 minutes from the Zurich airport to the city center.
Private transport or taxi – A good option if you have tons of luggage and are traveling in a big group. Book a taxi here.
Once you're in Zurich, the train is the best way to travel around Zurich and other cities in Switzerland.
Zurich Travel Tips: If you travel by train within multiple cities in Switzerland, the best way to get around is getting a Swiss Travel Pass. You will get free travel on public transport on any train, bus, or ferry service in Switzerland and get discounted tickets to many attractions.
Check out the Swiss Travel Pass here and see, if it's worth it for you.
Things To Do in Zurich Itinerary
There is so much to do in Zurich that it is next to impossible to list. It is best experienced by having no agenda and plenty of time to just wander around and absorb the beautiful city.
We recommend that you start your Zurich itinerary from Hauptbahnhof and walk down through the famous shopping street Bahnhofstrasse to Zurich lake. Next, come back to Altstadt and give a great overview of this compact and romantic old town. Lovely stroll, detouring into the old city and back and forth across the many bridges.
What To Do for 1-Day Zurich itinerary:
Start from Hauptbahnhof.
Bahnhofstrasse (world-famous street).
Lake Zurich.
Explore the Old town – Altstadt.
Three Notable churches: Grossmuster, Fraumunster, and Peterskirche.
Day trip from Zurich To Attraction Nearby: Mount Titlis, Lucerne, Jungfraujoch.
Hauptbahnhof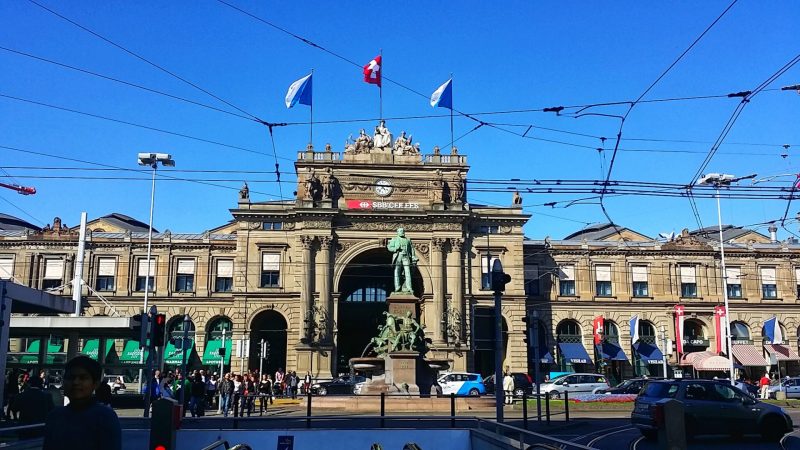 The Hauptbahnhof (HB) Railroad Station is the largest railway station in Switzerland. Located in the city center, it is a very important train station that connects the city through trams, and inter-city travels through the fast trains. Buses are also accessible.
The old building itself is a historic piece with the Renaissance architecture of big windows, doors, and classic hallways. It has multiple floors containing hundreds of shops on the lower levels, brightly lit up everywhere. Many shopping and food options are scattered all over the Station. Everything is nicely organized and explained with clearly signposted.
Beautiful architecture for photos from the adjacent shopping district.
Bahnhofstrasse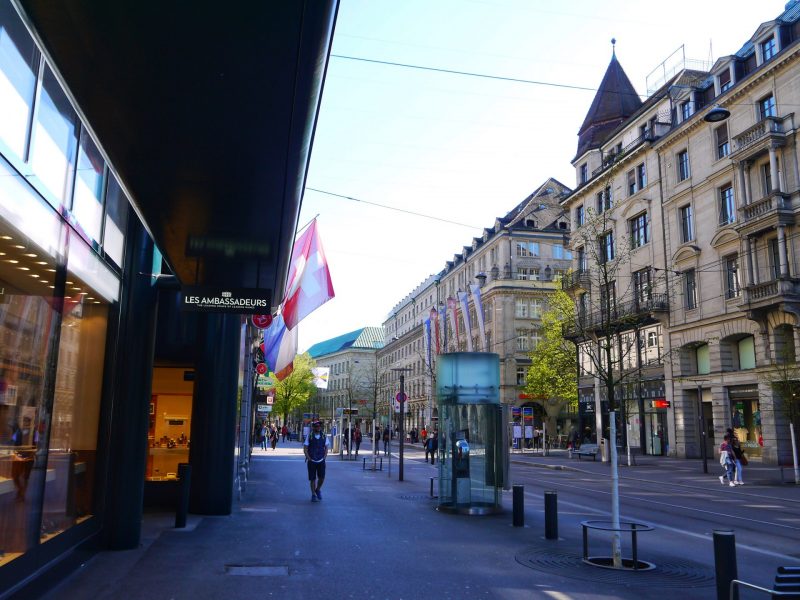 If you're into shopping, Zurich boasts one of the most expensive streets in the world. This world-famous Bahnhofstrasse is Zurich's main downtown street, spanning 1.4 km from the main train station and leading one to Lake Zurich.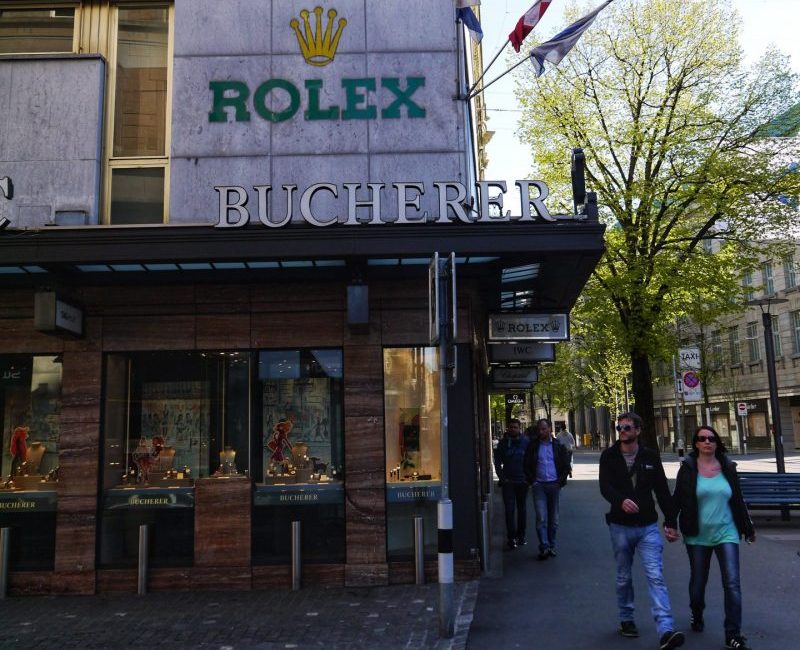 Bahnhofstrasse is a significant street as it has the world's finest luxury brands and branded products in the shop. Even if anyone does not want to shop on this street, it is worth taking a walk to look at the stores and the prices of the items for sale in these stores.
It's lovely to window shop, or shop and take in the lively vibes of this beautiful street. Good place for shopping for gifts and stylish fashion.
Lake Zurich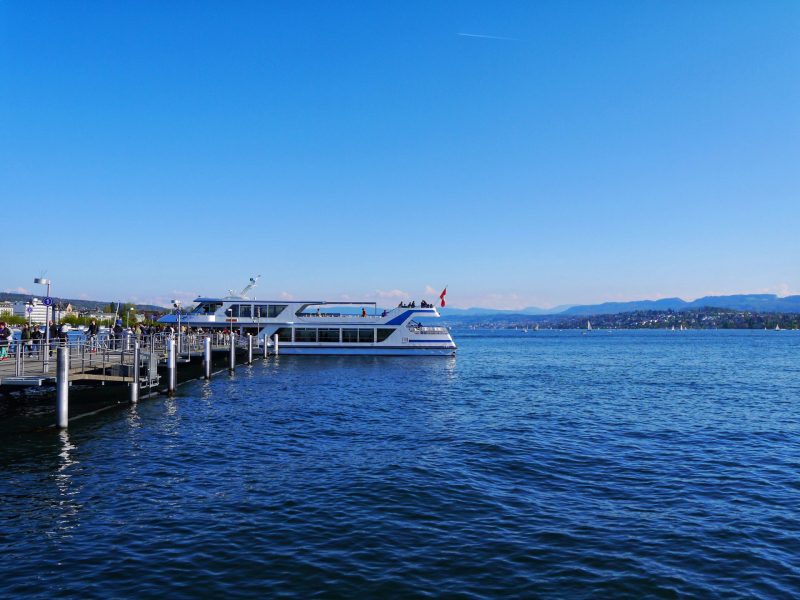 The lake of Zurich is spectacular and you can't visit Zurich without coming across Lake Zurich. It is a beautiful lake that stretches along and up the river banks. You can spend a whole day on the shore of the lake, watching nature and the various animals that swim in it.
Besides, a great way to see Lake Zurich is to take a one-hour boat ride. Right next to the Swiss National Museum on the Limmat River is a boat dock. The trip will take you down the Limmat to Lake Zurich.
A simply spectacular lake which is well worth a visit just to admire the scenery and the boats.
Explore Old town – Altstadt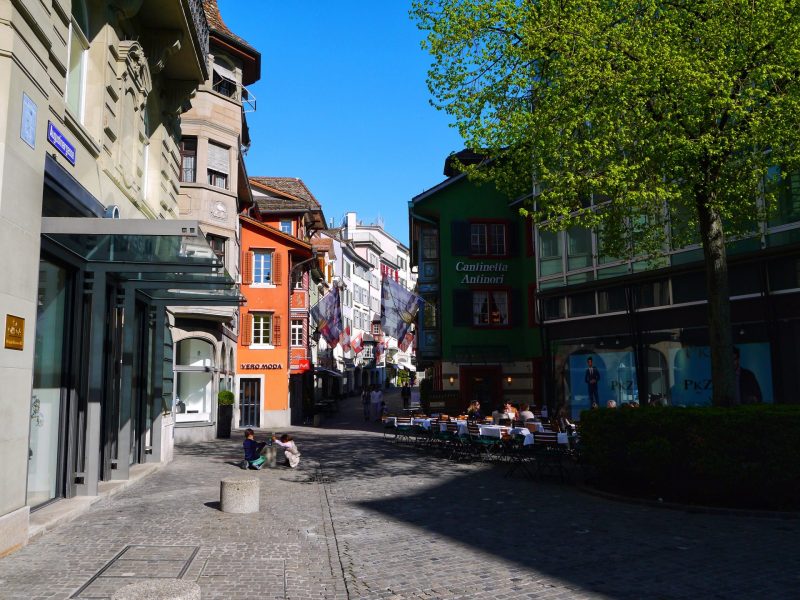 When visiting any European city, the best thing to do is simply stroll through the Old Town and enjoy the atmosphere. It not only helps to plan out the rest of the trip but also lets to see the top attractions in a short time. Just put on your comfy walking shoes and explore the old town.
The Old Town in Zurich is based just off the Bahnhofstrasse and is easily accessible from the main train station as well as from the lake.
The old town has many charming old buildings with interesting shops, cafes, and restaurants. Cobbled streets lined with medieval buildings and small laneways awaiting you to explore. Quaint little squares that seem to take you pleasantly by surprise with chairs left out to sit and enjoy life. The Limmat River flows through the city of Zurich, making the old town very picturesque and beautiful.
There are countless galleries and shops where you can pick up some Swiss chocolate or delicious cheese. Like any old town spend time here and find some hidden gems in the form of old shops cafes and eateries. Stop for a light lunch or a refreshing drink at one of the outdoor cafes and restaurants.
Three Notable churches
In the heart of the Old Town, you will find the three notable churches in Zurich: Grossmuster, Fraumunster, and Peterskirche. All very well worth a visit.
Grossmuster, a 12th-century church, and site of the Reformation in Switzerland.
Fraumunster boasts stained glass windows by Giacometti and Marc Chagall.
Peterskirche has the largest clock face in Europe.
Grossmunster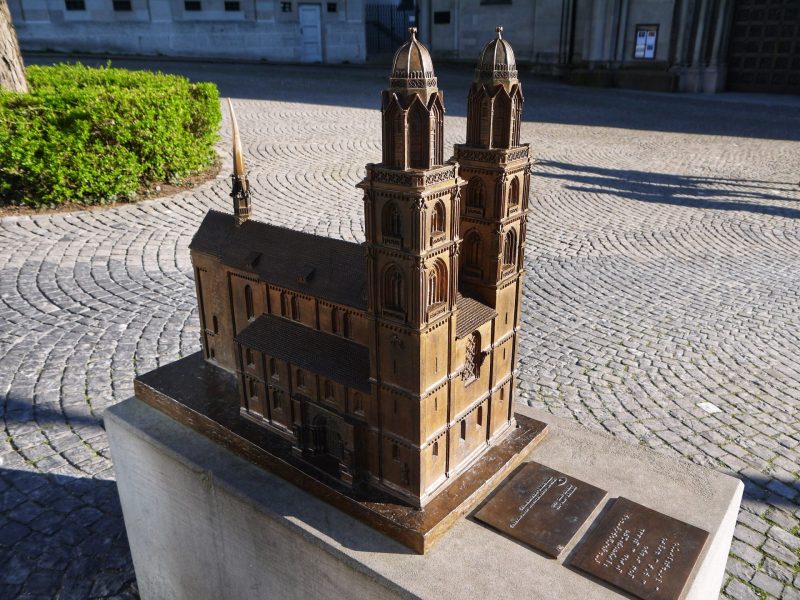 Grossmünster is one of the most important churches in Zurich, both historically and symbolically. It is a part of the four main churches in Zürich with a lot of history behind it. The name means "Great Minister" and The Grossmünster church is a Protestant church and plays an important part in the reformation in Switzerland.
The Grossmunster church itself is the most recognized landmark in the city of Zurich with its twin towers standing tall over the Limmat River. The building with a simple interior but beautiful stained glass windows. You can walk up the towers which offer picturesque views over Zurich. It costs 5CHF to climb up the 187 steps for a birds-eye view of the city.
A stunning and historical landmark in Zurich.
Fraumünster Church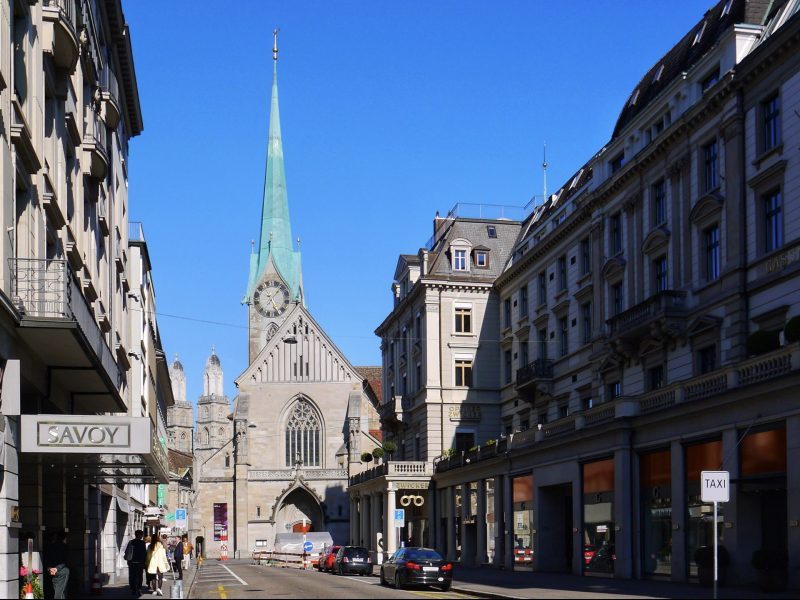 Next, from the Grossmunster, and walked to Fraumünster by the bridge that connects both churches. The bridge is called the Münsterbrücke, and from here you can soak in the city views on both sides of the river bank. Münsterbrücke is a pedestrian and road bridge over the Limmat river in old town Zürich.
Founded in 853, the Fraumünster (Church of Our Lady) is a must-visit in Zurich. It is the oldest church in Zurich with a simple interior and gothic structure. Best known for the stained glass windows of Marc Chagall and Augusto Giacometti. Admission is CHF 5 if you're a fan of modernist stained glass. Photography is not permitted inside this church.
St. Peterskirche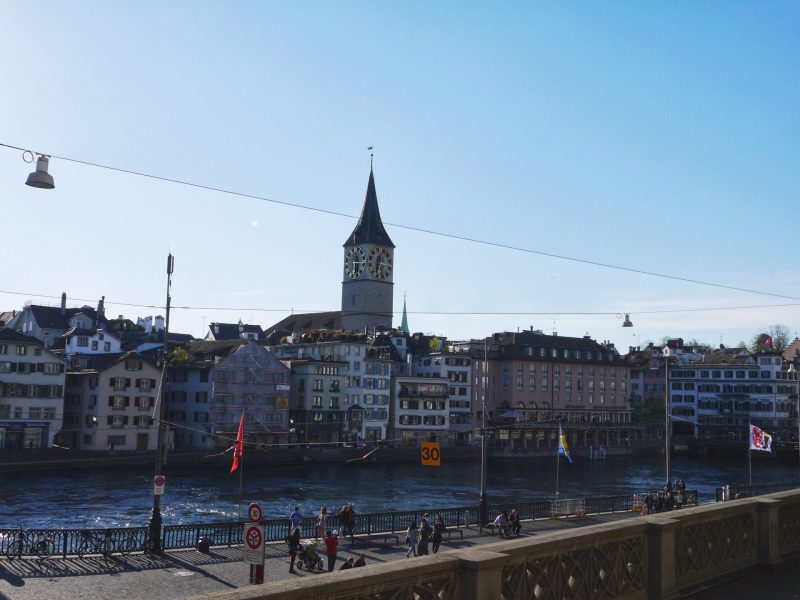 Nestled a short distance from the Fraumunster Church through some narrow streets near Linderhof Hill, St. Peterskirche is one of the main churches in Zurich. It was built in phases from about 1000 AD to 1300 AD and the bell tower features a large clock on its north-facing side, considered to be Europe's largest clock face. The clock tower had been for centuries Zurich's 'official local time'.
Although not as fancy as other churches, it has its charm, and we liked the simple architecture inside. No admission fee and no restrictions on photography.
Day Trip From Zurich To Attraction Nearby
The Zurich itinerary above is a very relaxed sort of trip with plenty of time to relax and not push yourself. You can always opt for one of the many exciting day trips from Zurich to explore the surrounding areas.
If you would like to know more about these opportunities, check out this overview of the best Zurich day trips.
Mount Titlis has provided a surreal experience up the Swiss Alps, to witness the snowy mountain and be involved in some of the winter activities. This place is family-friendly. If you're interested in Mount Titlis, consider joining the Day Trip to Mount Titlis from Zurich with a professional tour guide and well-planning for your entire trip.
Lucerne is a popular day trip from Zurich, a charming city located only 50 minutes from Zurich. Wander through the old town and the medieval lanes, and explore the city. Lucerne is also a great hub for day trips to Mt. Pilatus and Mt. Rigi. Here is the Lucerne Travel Guide Blog.
Jungfraujoch – Get ready yourself on top of the world with this full-day trip. The UNESCO World Heritage Site of the Swiss Alps is home to the world's highest train station at 3500 meters. Set an entire day aside for this mountain tour! For hassle-free, consider getting the Jungfraujoch Day Tour from Zurich.
Where To Stay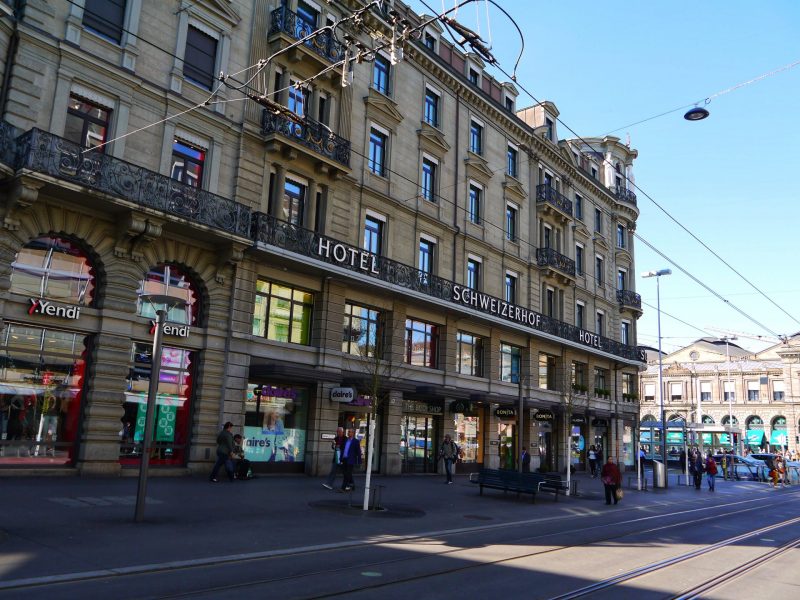 If you're looking for the best area to stay for your Zurich trip, you're in the right place. There are loads of great accommodations in Zurich to choose from, depending on your budget.
We highly recommended staying in the Old Town as it is easy to get around.
Motel One Zürich is my top pick for the mid to budget choice. It was in a convenient area with most things a short walk away, including the main shopping area, train station, and the lake, easily walkable within the Old Town. The staff was enormously friendly and accommodating. A perfect place to stay in Zurich.
Central Plaza boasts a first-class location and great facilities. It is situated right at Zurich's Central Square next to the main railway station. The Bahnhofstraße, Zurich's most popular shopping street, is only a few steps away from the Central Plaza. The great location and the amazing design of this lovely hotel are matched by the friendly, welcoming service, and helpful personnel. Book your stay here.
Zurich Travel Tips
How Many Days For Zurich?
2 Days in Zurich is a fair amount of time to explore the city. I would recommend spending 1 day in the city and a day trip out to the attraction nearby.
How To Get Around in Zurich?
Zurich is relatively compact and walkable. Most of the highlights are located in and around the historic old town which means it will be super easy to navigate in Zurich. But still, the transportation system is excellent in Zurich, and you can easily commute from one Zurich district to another.
What is the best time to visit Zurich?
Generally speaking, there is no bad time to visit Zurich, although we would prefer to avoid the holiday and festival season. Zurich experiences all four seasons, and each comes with its own benefits. We find that a warm spring or a sunny autumn weekend is the most ideal. But even during the Christmas period, Zurich is well worth a trip with its beautiful market stalls.
Overview: Planning on Zurich Itinerary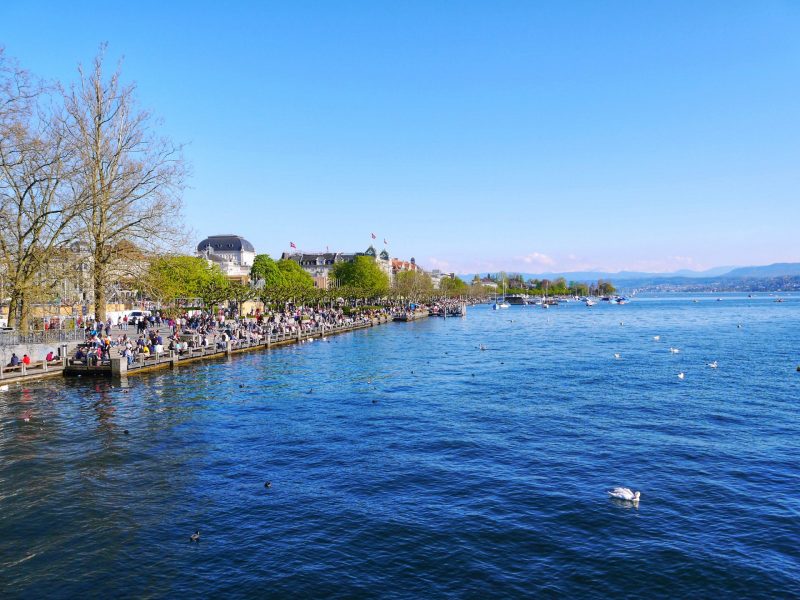 All in all, we hope you enjoyed our Zurich itinerary as much as we did. There is so much to do in Zurich Old Town that it is next to impossible to list. It is best experienced by having no agenda and plenty of time to just wander around and absorb the beautiful old architecture, restaurants, coffee shops, and history.
For sure one must visit Grossmünster Church, St. Peters Church, Fraumünster Church, and walk along Lake Zurich and also Bahnhofstrasse. All of Old Town seeps with history and uniqueness that can only be experienced by losing yourself in time by wandering and discovering it at your own pace.
If you are planning a trip to Switzerland, makes sure to spend at least one day in Zurich to truly experience all of the amazing things to do in the city.
Need more inspiration on how to plan your travel itinerary in Switzerland, check out other travel blog posts here: Switzerland itinerary: A Complete Travel Guide Blog
Popular cities with a detailed travel guide blog to visit in Switzerland:
Jungfrau Region: