Last updated on December 11th, 2023
Planning a trip to Ko Lipe? We have spent time on to list down all the best hotels and resorts on the island for your perfect tropical island holiday. Here is a quick guide to finding your perfect place on the island – Where to stay in Koh Lipe.
Located in the southernmost of the Andaman Sea, Koh Lipe is one of Thailand's best island paradises. It is home to gorgeous white sand beaches, breathtaking sea views, with smiling locals welcoming your visit. A perfect destination for a laid-back holiday.
When getting to Koh Lipe, for sure, there's a lot to experience to enjoy for your holiday on this tropical island. Choosing your best stay in Koh Lipe becomes the most important task for your holiday. Koh Lipe is a tiny island, but surprisingly, there are a lot of options when choosing where to stay in Koh Lipe. Accommodation is available all over the island, with different budget ranges. From the luxury resorts, high-to-mid-range hotels, and beach huts, Koh Lipe has something for everyone. You'll need to choose your ideal accommodation for your island holiday.
Make the most of your trip to Thailand's tropical island paradise with this accommodation guide on the best resorts and where to stay in Koh Lipe.
Quick Tips: Where To Stay in Koh Lipe
There are a few main places to stay in Koh Lipe for first-timers, which are Sunrise Beach, Sunset Beach, Pattaya Beach, and lastly Koh Lipe Walking Street. Each of the places has its own beauty and features to enjoy. Depending on your requirements, there are many accommodation options to choose from in each place. Since the island is pretty small, no matter what you'll choose you won't be secluded.
Plan your Koh Lipe gateway easy – here's where to stay in Koh Lipe and why.
If you prefer fewer crowds and with tropical island atmosphere, stay in Sunrise Beach. This area is also convenient as it is connected with Walking Street with all the restaurants and shops situated. There are many beach-front resorts and hut-like bungalows to choose from. The perfect mix of relaxation and convenience.
Sunset Beach is the isolated, quietest, and most tranquil area on Koh Lipe. Staying here means you'll be able to witness the stunning sunset over the sea. It is lesser foot traffic from visitors, the perfect place to stay in Koh Lipe for a truly laid-back holiday.
Pattaya Beach is the main beach and also the busiest area on the Koh Lipe. Ferries and speedboats mostly will be landed in this area, so this is very convenient to walk to the lodging when arriving in Koh Lipe. It has the most seafront beach restaurants and bars along the beach. Best place to stay in Koh Lipe for the party vibe.
If you are looking for where to stay in Koh Lipe on a budget, the walking street is the one that you're looking for. Most of the budget accommodations and hostels will be situated along the street. Besides, make sure to read the description that rooms are offer with fan and cold water, or rooms with air conditioning and hot water when you find those budget accommodations. Some properties will offers cheaper prices without provided those ameties.
Sunrise Beach
In our opinion, the best place to stay on Koh Lipe is Sunrise Beach. The reason is simple, the name says it all. Sunrise beach will pamper you with the beautiful sunrise view, from the sandy white beach and beautiful emerald color seawater. Additionally, Sunrise Beach is also very convenient when getting around the island. The walking street is connected at the end of this area with a 5-minute stroll.
For a laid-back island holiday, you may consider the hut-like bungalow accommodations along the beachfront along Sunrise Beach. It is less touristy with fewer crowds and features with stunning sea view.
Ten Moons Lipe Resort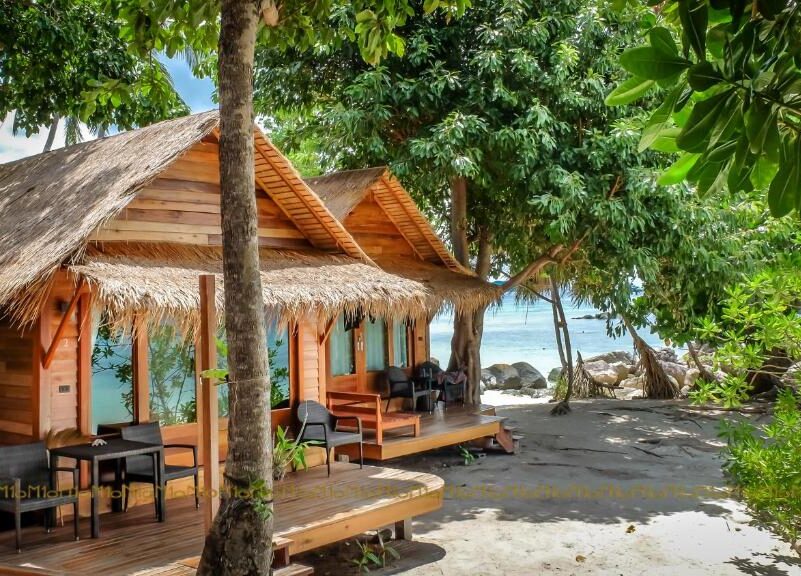 Ten Moons Lipe Resort is situated in the best spot on the island. It has a beautiful beach and staying here will be rewarded with the best beach and great view every day. Guests also can use all snorkel gear. Besides, a short walk will bring you to the town or you can enjoy your time by strolling down the beach.
Ten Moons Lipe Resort is a very well-run, amazing resort. The staff are extremely kind and helpful. The restaurant is open from 7 am till late for meals and drinks. Recommended Ten Moons Lipe Resort for a relaxing beach gateway.
Lipe Beach Resort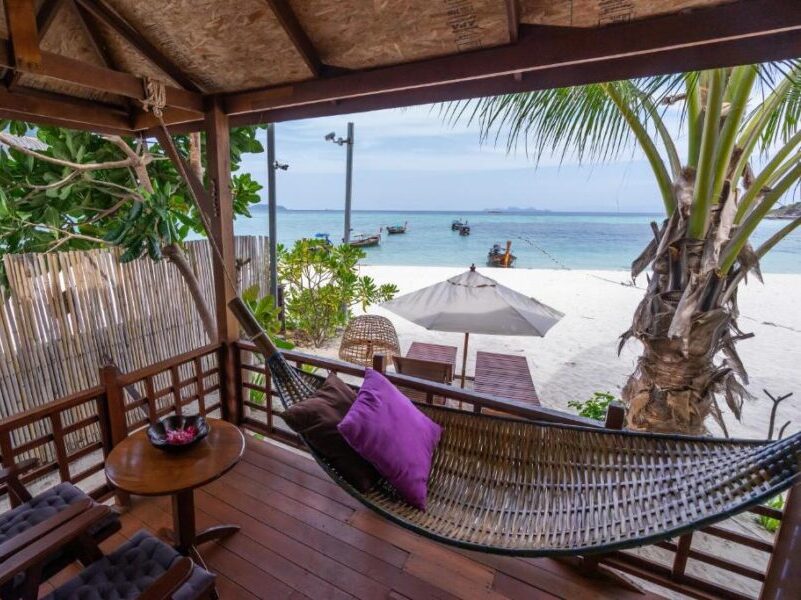 Lipe Beach Resort is one of the best places to stay in Ko Lipe for those who want to be close to a quiet, beautiful beach with a gorgeous coral reef out front. The location is fantastic, right on the beautiful sunrise beach and away from the main street's noise. Great value for money and definitely recommended for a stay in Koh Lipe!
Click here to book your stay at Lipe Beach Resort.
Cabana Lipe Beach Resort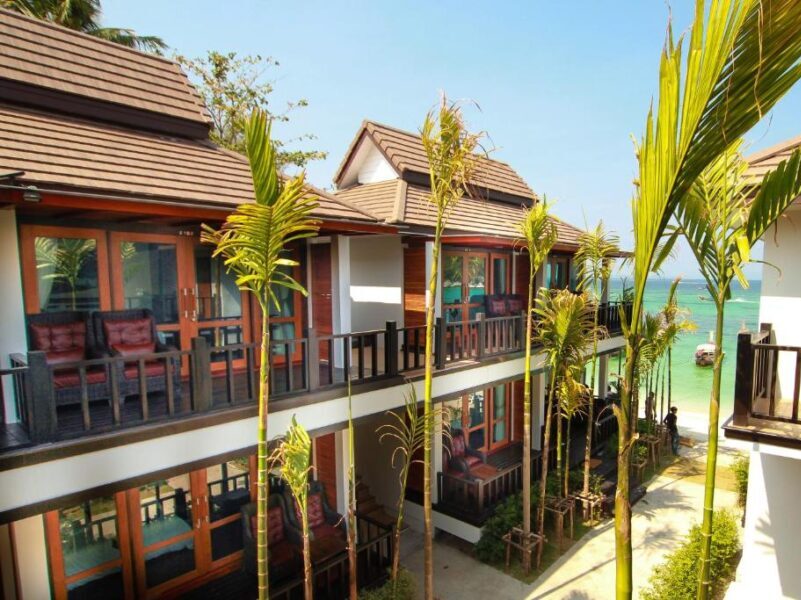 Cabana Lipe Beach Resort is a perfect option when choosing where to stay in Koh Lipe, The property is right on the beachfront where you can walk to the beach easily. It also features sunrise viewing where you get to enjoy the great view from the room every morning. While breakfast is served to your room daily and it is exciting to find out how you would start the day. The staff is also very helpful and friendly. Great value for money and definitely recommended for a stay in Koh Lipe!
This is where I stayed during my island holiday to Koh Lipe. Highly recommended!
Pattaya Beach
Pattaya Beach is the busiest place in Koh Lipe and has the most bars and restaurants. You can easily find food and drink in this area. This popular beach also has many accommodation options at cheaper prices. However, take note that Pattaya Beach is the place where the ferry comes in during the high season, making it slightly noisier compared with others beaches in Koh Lipe.
Bundhaya Resort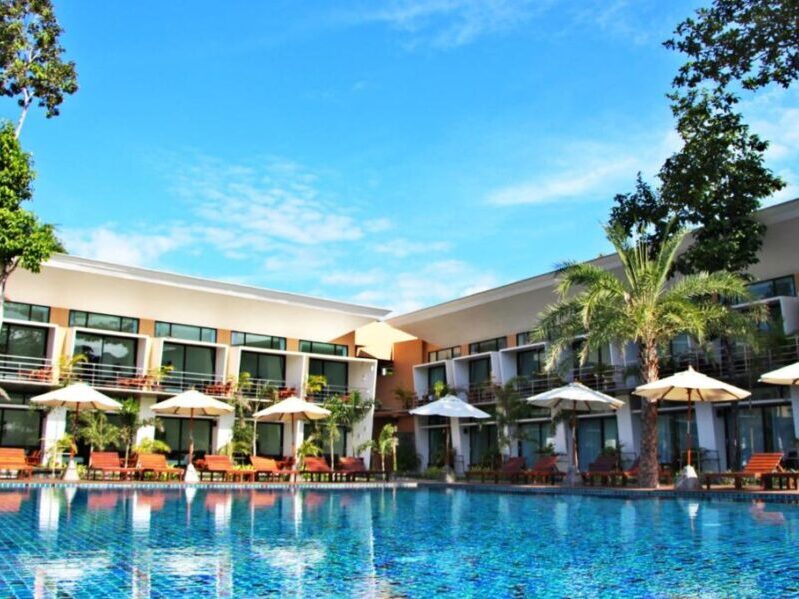 Bundhaya Resort is a beautiful beachfront resort located nearby walking street. It is right besides the ferry boat drop off on Pattaya Beach, so you can get to the resort easily. Air-conditioned rooms and bungalows are constructed entirely out of wood and surrounded by tropical greenery. You will have your breakfast buffet with amazing seaview everyday!
Check the availability and book your room at the Bundhaya Resort.
Castaway Resort Koh Lipe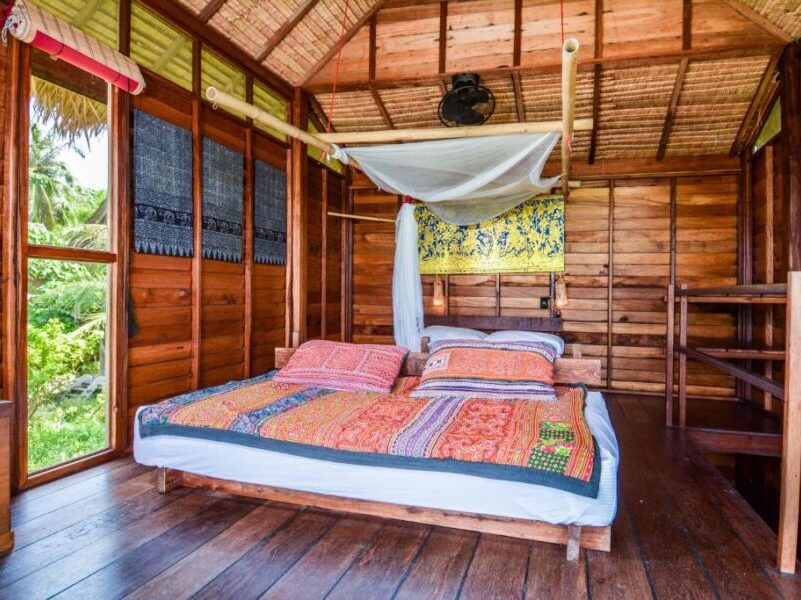 Castaway Resort Koh Lipe is a super beautiful traditional style beach hut located on Pattaya Beach. The tropical vibes await guests to stay in these wooden bungalows made with natural materials.
The building is made with the traditional Thai design where you can get the natural freeze from the sea wind or help with the ceiling fan. The location is excellent which is right next to the beach and only a few minutes walk to the walking street. A great pick for those who look for tranquillity stay in Koh Lipe.
AKIRA Lipe Resort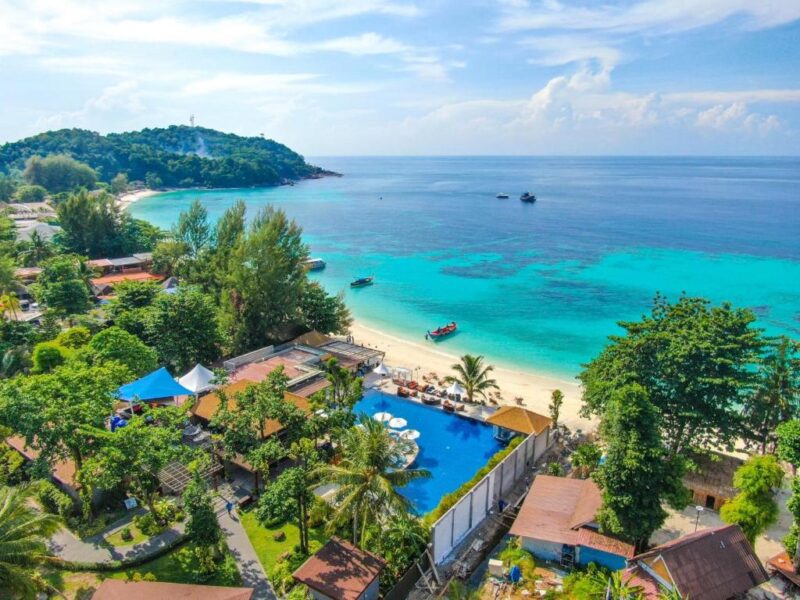 AKIRA Lipe Resort is one of the popular picks for where to stay in Koh Lipe. The luxurious bungalow boasted of a beachfront location and is within walking distance to the lively walking street. There are 3 well-designed swimming pools, a garden, a gym, and a kids' club, making it very suitable for family with kids. All the staff making their best to make you feel like their valued guests.
Everything on Akira is absolutely amazing! Click here to book your stay at AKIRA Lipe Resort.
Sunset Beach
If you're planning for a truly laid-back tropical island holiday and wandering where to stay in Koh Lipe for a few days or weeks, I would suggest you to go for the Sunset beach. That is not many accommodation options as this area is more isolated. That's mean less people and less tourism compared to the Pataya Beach and walking street area.
Here are the few recommendation hotels on and around Sunset Beach:
Bayview Sunset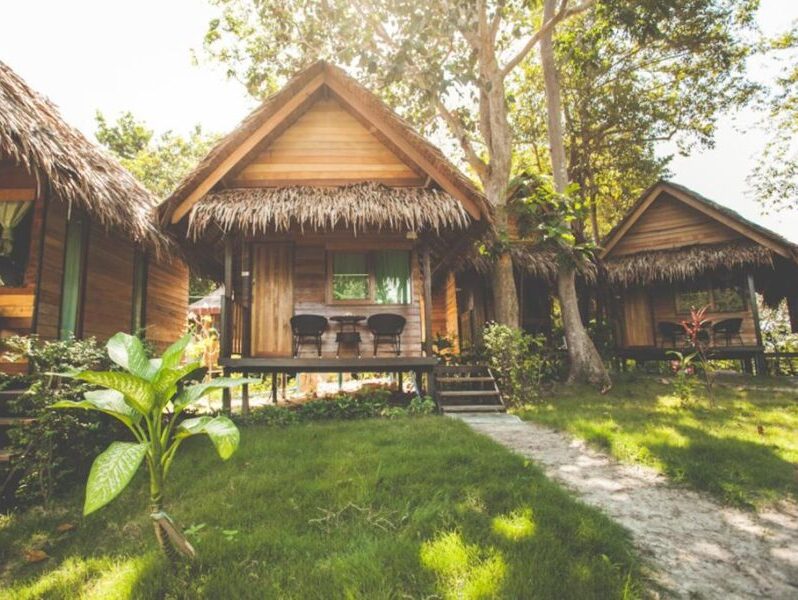 Bayview Sunset is the perfect hotel for you if you want to escape the city chaos. It has the older Thai-style wooden Bungalows located in a very beautiful green area with great privacy. But you will stay can still have beautiful views from the sea view room.
Bayview Sunset is located right by the sunset beach and you'll also find a good snorkeling spot in front of the hotel. The bed is super comfy and the staffs are very helpful.
The Cliff Lipe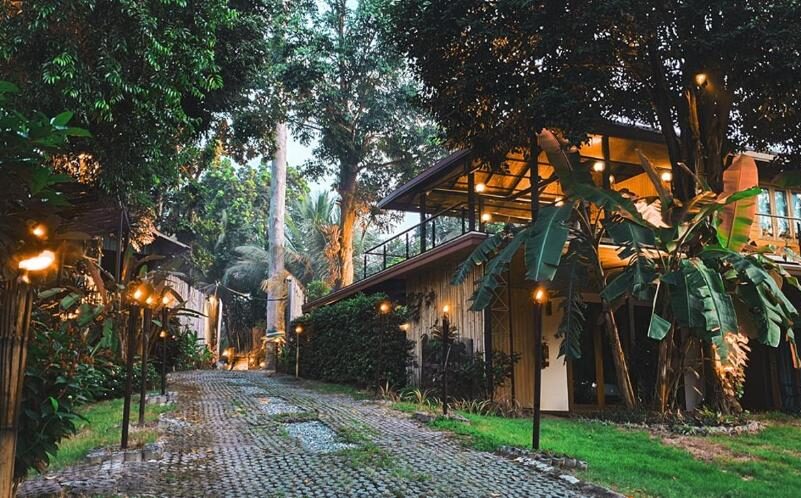 The Cliff Lipe is the best place to stay if you are looking for a relaxing stay at the beautiful island. Perched atop a scenic cliff, your stay in Cliff Lipe features with stunning blue sea of the Sunset beach. You could also rent the kayaks and snorkels for free from the owner. The property also has the private beach where you can chill out or sunbathing on the beach leisurely.
Click here to book your stay at The Cliff Lipe.
Longbay Lipe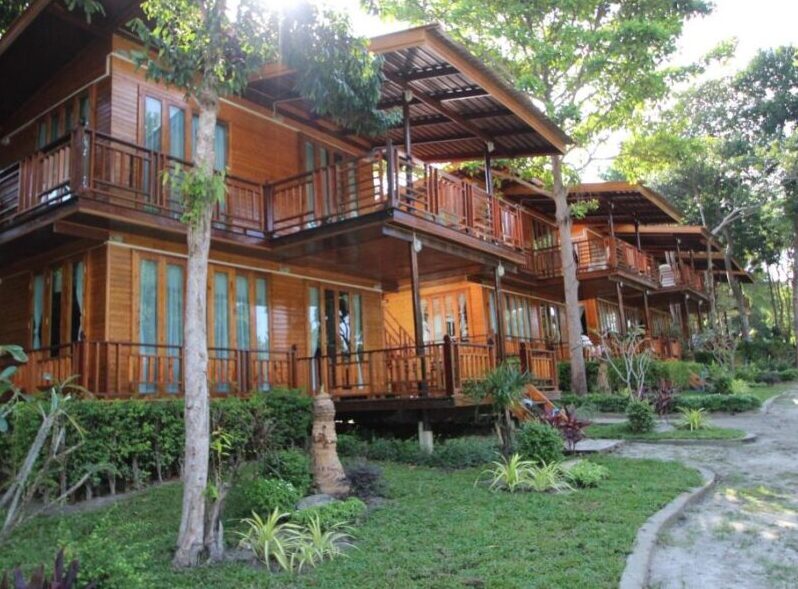 Longbay Lipe is a 2-star guest house, offers air-conditioned rooms with a private bathroom and all rooms feature with seaview. The locations is situated between the Sunrise beach and Sunset Beach with 10-minutes walking distance from the hotel. It is a bit hidden in the jungle and isolated from the noise. A place to stay for travelers who want to away from hustle and bustle of the city life.
Koh Lipe Walking Street
Most of the time, the beachfront hotels will be more expensive, but you can also find some good deals from the hotels along Walking Street. The walking Street is a great place to stay for budget travelers. This area is connected the Pattaya Beach and Sunrise Beach. So you will be within walking distance to all the remaining main spots if you choose your accommodation on the walking street.
Here is the best pick for a budget stay in Koh Lipe's Walking Street:
Sangchan hostel
Sangchan Hostel is one of the popular budget accommodations on the Koh Lipe. It is centrally located in the middle of all the action but far enough from all the noise and the people. Everything is within 5-10 minutes of walking distance and easy to access all the beaches on foot. The host is very welcoming and helpful. The rooms are clean and hygienic.
Excellent value for someone looking for a vacation on a budget. Highly recommended by all the guests for a budget stay in Koh Lipe.
Final Tips on Where To Stay in Koh Lipe
What part of Koh Lipe is best to stay in for first-time visitors?
For first-time visitors, Sunrise Beach or Pattaya Beach is generally the best place to stay in Koh Lipe. Beaches here feature a stunning sea view and yet are convenient for getting around with restaurants, bars, and shops accessibility easily.
Should I stay in Sunrise Beach or Pattaya Beach?
We highly recommended staying in Sunrise Beach compared to Pattaya Beach. Sunrise Beach is more private, and tranquil, featuring the best sunrise view every morning. There are many mid-range accommodation options to choose from for your island gateway holiday.
Where to stay in Koh Lipe on a budget?
The Koh Lipe Walking Street has most of the budget accommodations in Koh Lipe. But staying here does not offer sea view and beach. But you can walk to the nearby beaches easily.
Overview: Koh Lipe Best Stay
All in all, we hope this accommodation guide can help you to decide where to stay in Koh Lipe. We highly recommended to stay in the beachfront accommodation for an island experience that you won't regret it. Our editor's pick is the AKIRA Lipe Resort on Pattaya Beach and Ten Moons Lipe Resort on Sunrise Beach. Get the one best suit for your island gateway!
Friendly reminder to all who looking for accommodation to stay in Ko Lipe. Like most of Thailand, prices fluctuate greatly based on the season. Prices might be a bit higher during peak season and you might need to book further in advance to make sure you find a great place. If you're on a budget it would be best to avoid peak season, which is December to February. The prices during peak season can be double or triple compared to the low season.
Planning a trip to Thailand? Check out these travel blog for your trip to Thailand.
Island Holiday in Koh Lipe:
Island Holiday in Phuket:
Travel to Bangkok: