Last updated on September 23rd, 2023
Jeju Must Eat, Sister Noodles (Jamae Guksu /자매국수) is a hidden gem restaurant and highly recommended by locals. It is located at Guksu Geori (Noodle Street) at Jeju city.
We kicked start our Jeju road journey today with the traditional food of Jeju – a bowl of tasty pork noodles at Jeju must eat, Sister Noodles (Jamae Guksu /자매국수). Jamae Guksu is one of the Jeju must eat in our Jeju food guide list.
We were there on the weekend morning around 10 a.m. and surprisingly already have a waiting queue in front of the restaurant. We parked our car on the backstreet and walk to the restaurant as the available parking in front of the restaurant was already full.
How To Order At Jamae Guksu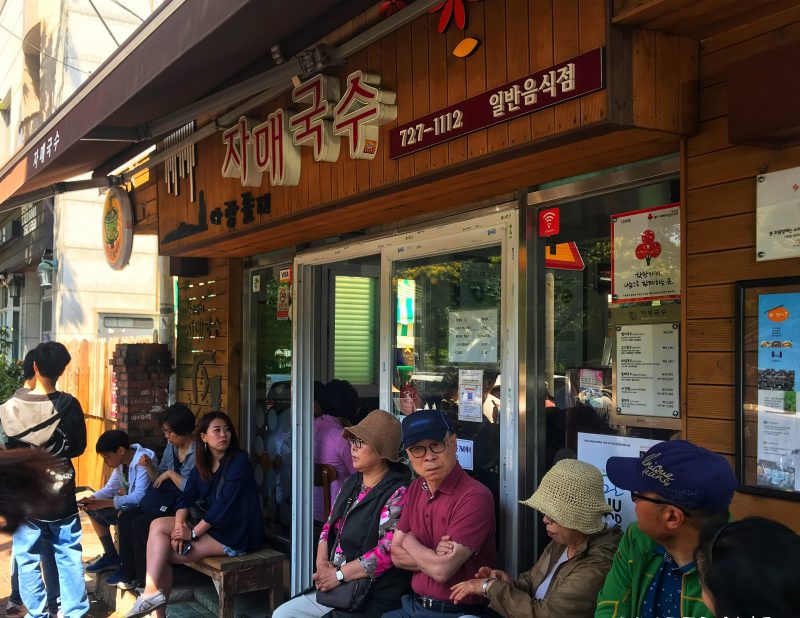 There is a queuing machine located at the front door but unfortunately all in Korean. We looked at each other but still continue to proceed with the ordering.
At first, the machine will ask you to key in how many people before proceeding to food ordering. There is the English menu stated outside of the restaurant but not on the older machine. We just blindly ordered the noodles based on the price as we would like to try out all the noodles. We also would like to add on the "mui-mandu" (dumpling) as a side but end up giving up.
Once everything is done, you will be required to key in your phone number as the reminder message will be sent to your phone when it is your turn.
We try to key in our country phone number as we are using the Wifi eggs but the machine keeps on pop up error message. We ask for help from the customer behind and she explained that the Korean phone number should start with 010-XXX-XXXX. So we end up modifying our phone number in order to complete the booking.
For safe, we still proceed to the counter and inform the ajumma to alert us when it is our turn. I would suggest you direct proceed to the counter to ask for a queuing number instead of get the queuing number at the machine-like us.
The Menu of Jamae Guksu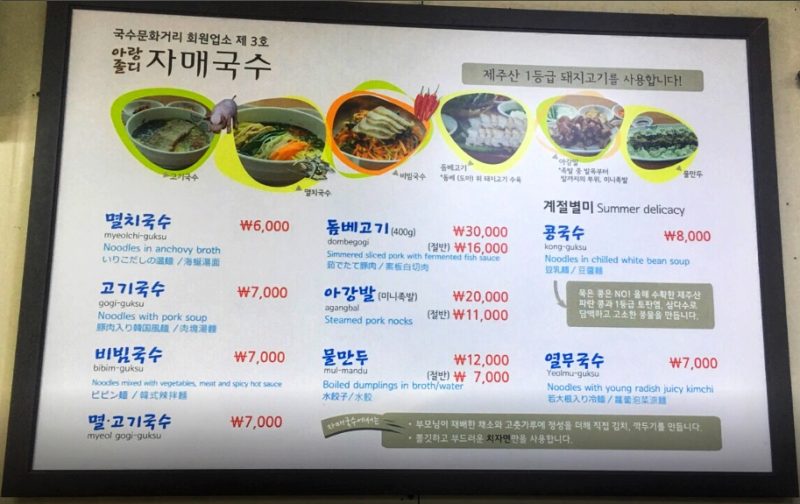 Although the line is long the waiting time consider fast. We were waiting outside for around 20 minutes before our table got cleared up. The restaurant itself is not too big and only can fit less than 20 tables.
Visited customers are majority Korean instead of foreigners like us. Once we get into our table, the staff then brought some side dishes and our bowl of noodles came really quickly.
Jamae Guksu – Gogi Guksu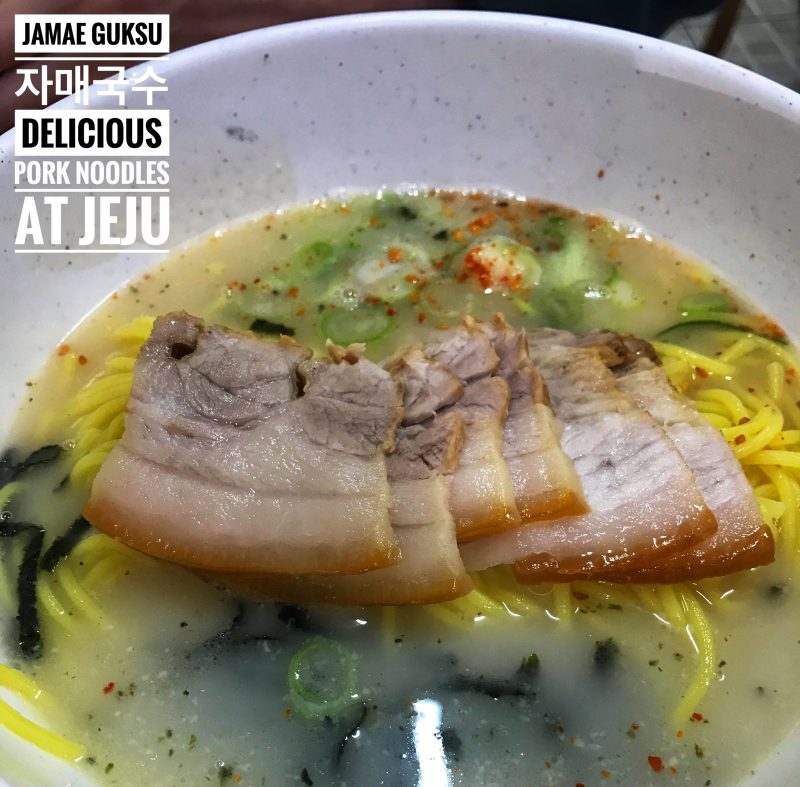 Gogi Guksu /고기국수 is the Japanese style of pork noodle soup with slices of pork belly in light milky pork broth. The soup broth is tasty, pork slice is generously spread across bowl.
Jamae Guksu – Bimbi Guksu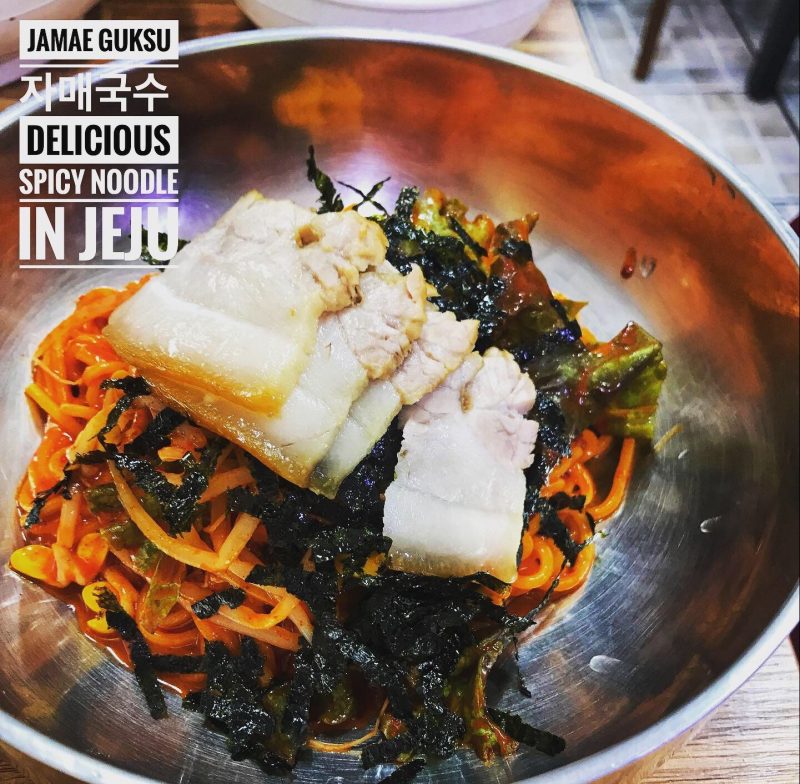 Bibim Guksu /비빔국수 is the dry mixed spicy noodles with a mixture of vegetables like cucumber, kimchi cabbage, lettuce, and mung bean sprouts. Some pork belly slices are also served together with the Bibim Guksu.
Jamae Guksu – Myeolchi Guksu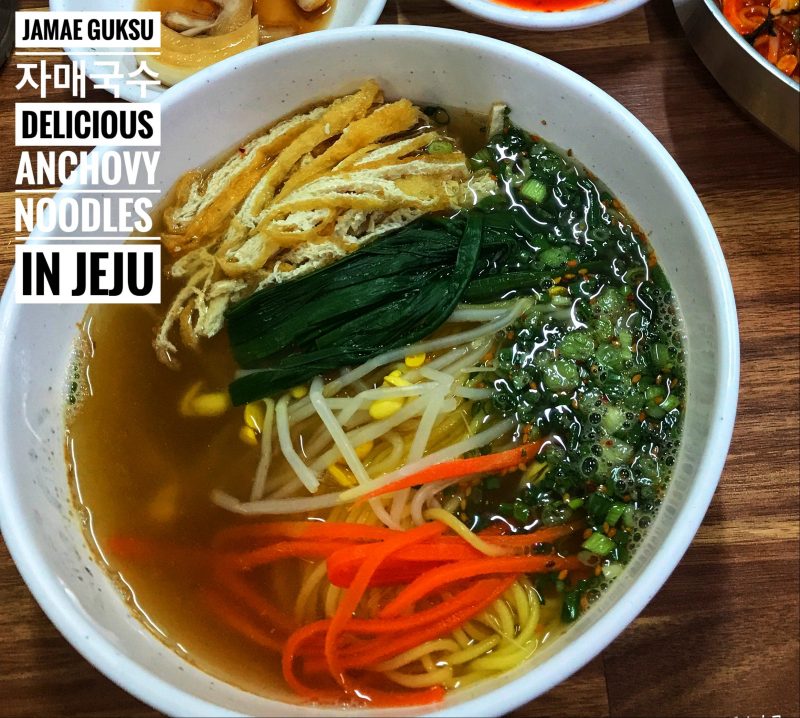 Myeolchi Guksu/멸치국수 is the noodles in vegetables in fried Anchovy Broth.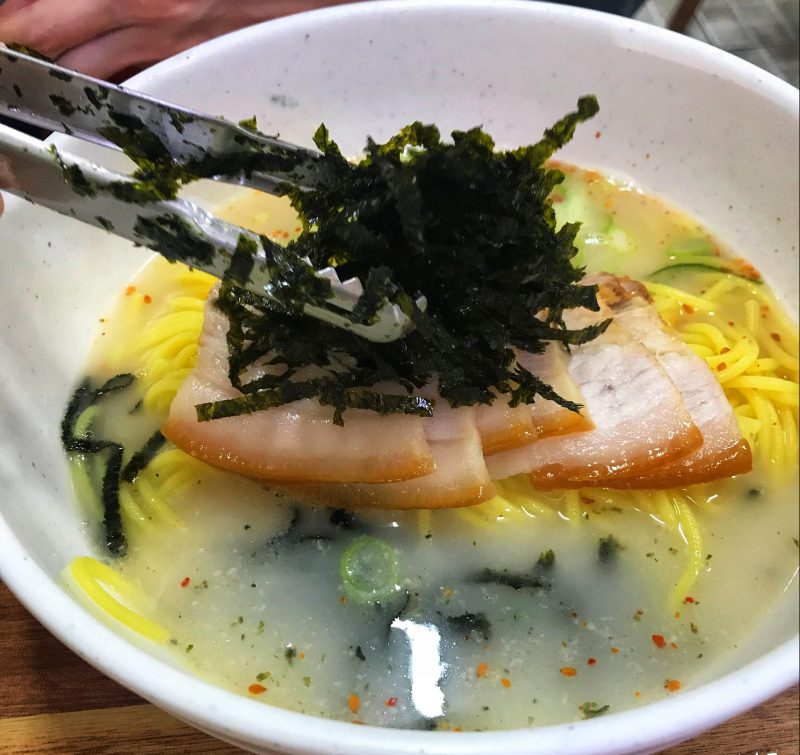 The broth is Gogi Guksu is slow-cooked by Jeju black pork for more than 10 hours, making it so delicious and tasty.
A container of seaweed is placed on the table, take as much as you want to enhance your guksu. The taste of the guksu becomes very savory and delicious.
We ended up unable to finish the whole three bowls of noodles due to the big portion.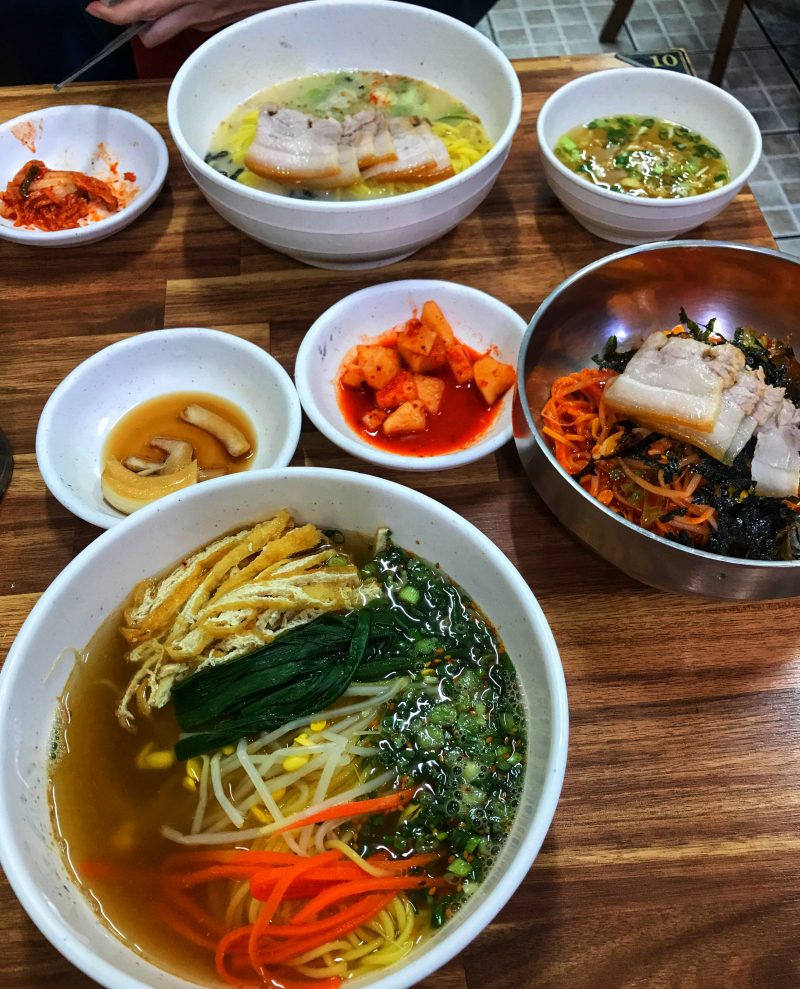 As we have ordered all the noodles soup from Jamae Guksu and personally I do feel the Gogi Guksu is still the best. The Gogi Guksu tastes really good with mouth-watering delicious. The meat is also refreshingly light, thinner, and less fatty.
I strongly recommend eating here as the taste is good and cheap.
How To Go To Sister Noodles/Jamae Guksu
We went to Jeju must eat, Sister Noodles aka Jamae Guksu by driving from our hotel, Whistle Lark before continuing our 6 day Jeju Road Trip. However, limited parking is available in front of the restaurant on first come first serve basis. Alternative to park at the backstreet of the restaurants.
If you need help to look for the best rental car company in Jeju, check out RentalCar.com, the most reliable rental car company with the best price guarantee.
[intergeo id="QN3ITM"][/intergeo]
Address: 6, Wollang-ro 4-gil, Jeju, Jeju Island 63098, South Korea
Opening Hours: Daily 9 a.m to 9 p.m
Korea GPS Tel No: 727-1112
Top Five Jeju Must Eat Restaurants
Jeju foodie guide on the best 5 eatery restaurant on Jeju Island. Highly recommended and should include in your Jeju itinerary.