Last updated on September 23rd, 2023
Jeju must eat, Samseonghyeol Haemultang served the best seafood hot bowl with fresh and live seafood in Jeju island.
When you come to Jeju, you will want to try their fresh seafood. Seafood is served fresh and cheap in Jeju. Haemultang is a Korean spicy seafood stew filled with an abundance of fresh seafood in a hot bowl with entire octopus, mussels, abalones, scallops, clams, crab! The most shocking part at Jeju, it was served live.
A bowl of haemultang, traditional Korean spicy seafood stew is very popular at Jeju, thanks to its wide variety of delicious shellfish and other seafood freshly caught from the ocean.
Samseonghyeol Haemultang Restaurant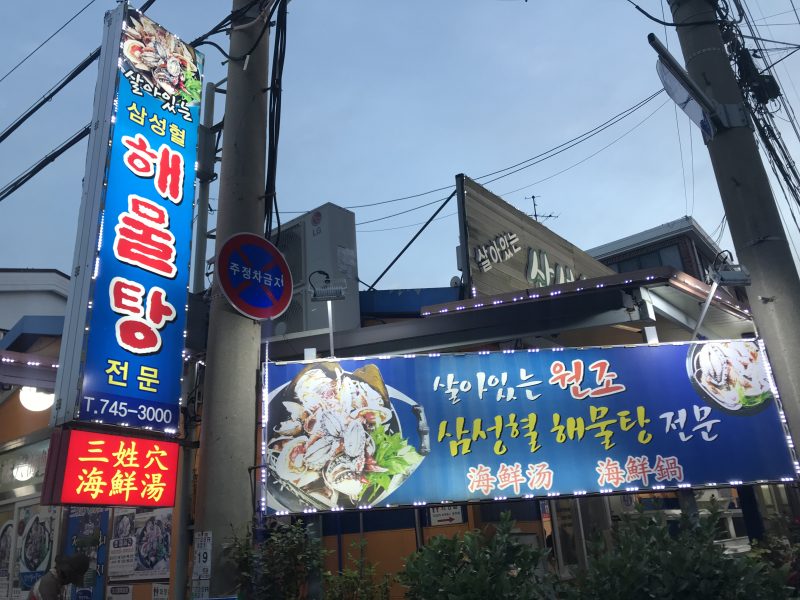 Samseonghyeol Haemultang located in the residential area of Yeon-dong but still managed to accumulate a huge number of returning customers due to its popularity.
There is a car park area to park your vehicle opposite the restaurant.
We arrived at Samseonghyeol Haemultang restaurant around 7 p.m. and ask to wait for about 10 minutes before seated.
How To Order At Samseonghyeol Haemultang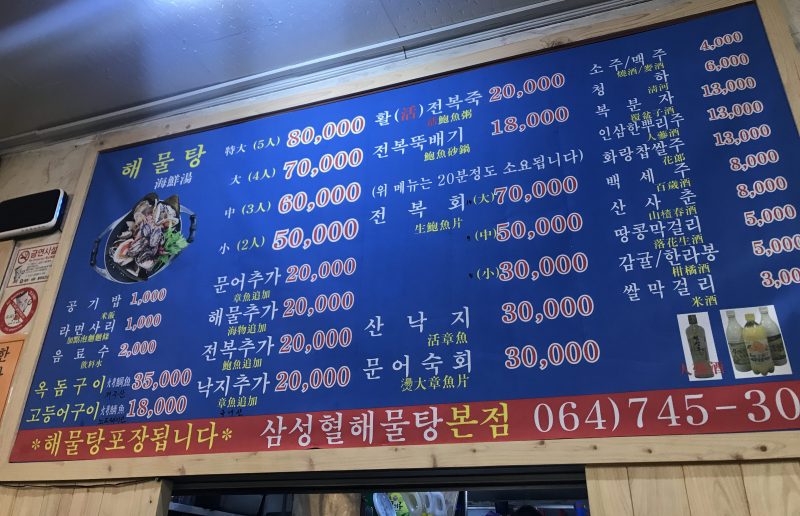 The menu is only in Korean and Chinese, probably the target customer are Chinese who love shell food so much compare with western. The major foods on the menu are the live seafood hot pot in small, medium and large, size relating to how many are in your party and abalone slices.
The set comes with a pack of noodles with some vegetables but you still can add on rice or noodles for a little extra. But we advise you see on the portion first before add on any side.
Price listed during our visit at 2019 May:
Super Large (5 person): ₩80,000
Large (4 person): ₩70,000
Medium (3 person): ₩60,000
Small (2 person): ₩50,000
We ordered the famous Haemultang in the smallest portion for 2 people at ₩50,000.
Jeju Must Eat: Samseonghyeol Haemultang Seafood Hot Pot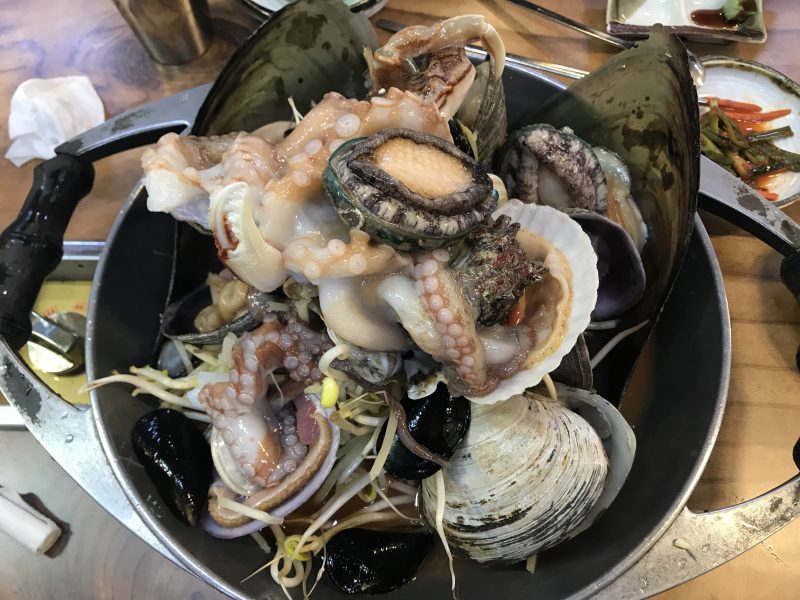 Our bowl of haemultang came to us very quickly and we were so amazed and shocked when the food served. It looked grand with a mountain of shellfish, abalone, scallops, and crabs with an octopus squirming on top and a large portion of bean shoots at the bottom.
The portion is so huge even for the smallest pot. It probably can cater for 4 people for the small one. The seafood hot pot is cooked in front of you and we felt a little cruel while waiting.
The live octopus and abalone were still alive and moving, still tried its best to wriggle out from the heated pot.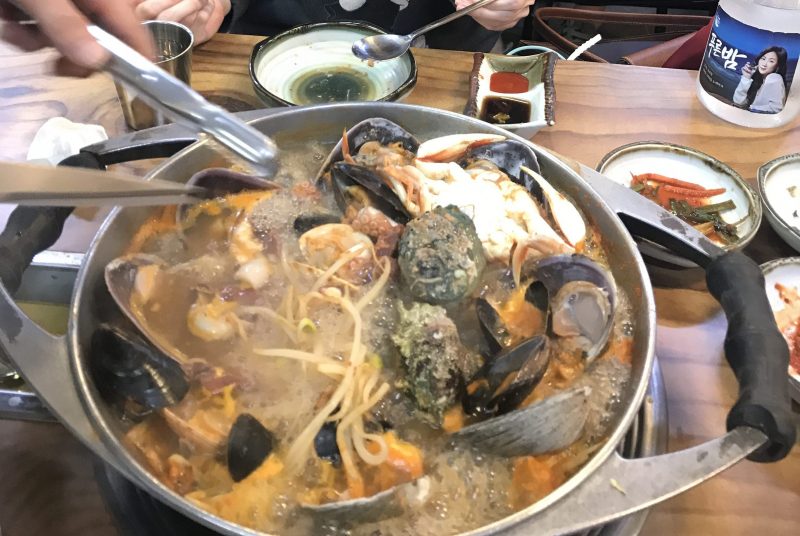 The staffs were very attentive, occasionally came to take care of our hot pot to make sure the food was well cooked. They were helping to get rid of the shells, removed the inedible parts, cutting up the octopus and abalone into pieces so it would cook quicker.
The soup was slightly on the bland side, but become very mouth-watering after the seafood cooked through. It won't be very spicy with the sweetness of vegetables and seafood. Probably a little spicier will even better.
Add Noodles At The End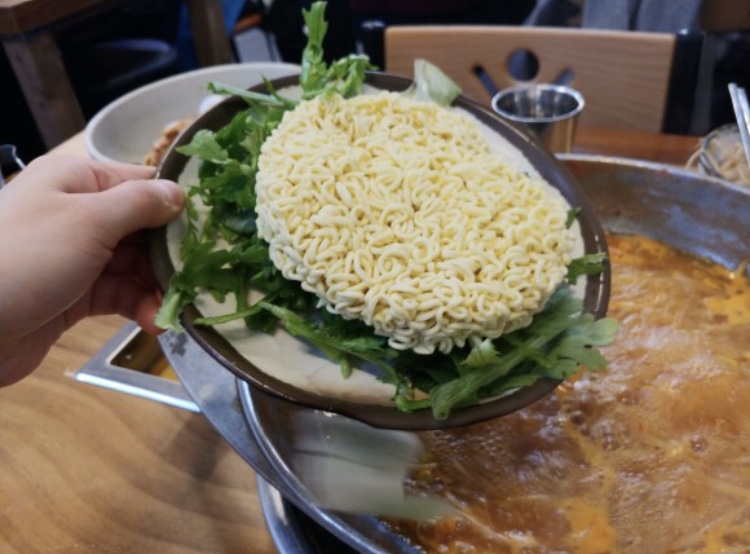 Be sure don't drink too much on the soup, a pack of instant noodles and some greens which come together with the set will be added at the end.
The noodles will absorb the essence of seafood and become super delicious seafood noodle. It was an incredible way to end the meal. We try our best but it was too full and can't finish the food. If seafood is not your thing, I don't recommend trying this restaurant.
For seafood lovers, I am sure you will fall in love with their seafood hot pot. It's cheap and delicious for such a huge bowl of fresh seafood.
How To Go To Samseonghyeol Haemultang
Jeju must eat, Samseonghyeol Haemultang restaurant was not too hard to find follow the GPS. The distance is less than 10 minutes drive from Jeju airport. It located at Yeon-dong with many hotels, shopping malls, and eatery around. Alternative, you can choose to stay in Jeju city like Astar Hotel, Hotel Shalom Jeju with public transport accessibility and coming here by bus or taxi.
Looking for a reliable car rental company in Jeju? Compare the car rental price from Rentalcar.com with a high reputation from customer with best price guarantee.
Note: Samseonghyeol Haemultang is moving to new address at 2022.
Address: 20 Seondeong-ro 5-gil, Yeon-dong, Cheju, Jeju-do, South Korea [Permanently Closed]
Opening Hours: Daily from 11:00 to 23:00
Korea GPS Tel No: 745-3000
New Address for 삼성혈해물탕 도두점
Address: 23 Doduhangseo 7-gil, Doduil-dong, Jeju-si, Jeju-do, South Korea
Opening Hours: Daily from 11:00 to 23:00
Korea GPS Tel No: 749-5200
Jeju Must Eat Food Guide
Still looking for any food recommendation for your Jeju trip? Check out our Jeju Foodie Hunt for black pork, seafood, abalone and more.