Last updated on September 23rd, 2023
My Jeju Aurum hotel review, lava rock oceanfront pension with fantastic sea view. Highly recommended for those look for retreat from a hectic life and relax in Jeju Island.
Thousands of hotels or holiday home available in Jeju Island. Finding the perfect stay is one of the head-ache questions to most of the travelers. Depend on your preference, some travelers will look for accommodation with public transport accessible, closer to the Jeju must-visit attraction, or perfect gateway with a luxury stay in a 5-star hotel.
We decided to look for a hotel or pension with sea view, closer to the ocean as much as possible yet still within our budget. Thanks to the effort, we found Jeju Aurum, a true hidden gem with lava rock beachfront pension in Seogwipo.
Follow us on below article for our Jeju Aurum hotel review. And you will know why we love Jeju Aurum so much. It is the best accommodation to stay during our 6 day road trip in Jeju.
How To Get To Jeju Aurum
Located nearby Seogwipo city with less than 5 minutes' drive, Jeju Aurum is one of the popular choices for holiday homestay in Jeju Island. It required 70 minutes of driving journey if you choose to come directly from Jeju Airport.
Newly renovated at 2017, Jeju Aurum is hosted by Mr. Kim and his lovely wife. Together they running the holiday home and lovely cafe at the premise.
We booked for a double room in Jeju Aurum during our second day while exploring the southern coast of Jeju Island. After visited some of the must-go in Seogwipo, we decided to go to Jeju Aurum for resting during the evening.
Follow the GPS, we drove from busy street into the narrow curvy road through a neighborhood to reach the pension.
Jeju Aurum, Seogwipo: Check Hotel Rate Here
Address: 24, Bomok-ro 64beon-gil, Seogwipo, Jeju Island 63599, South Korea
Oceanfront Holiday Home Surrounded with Palm Tree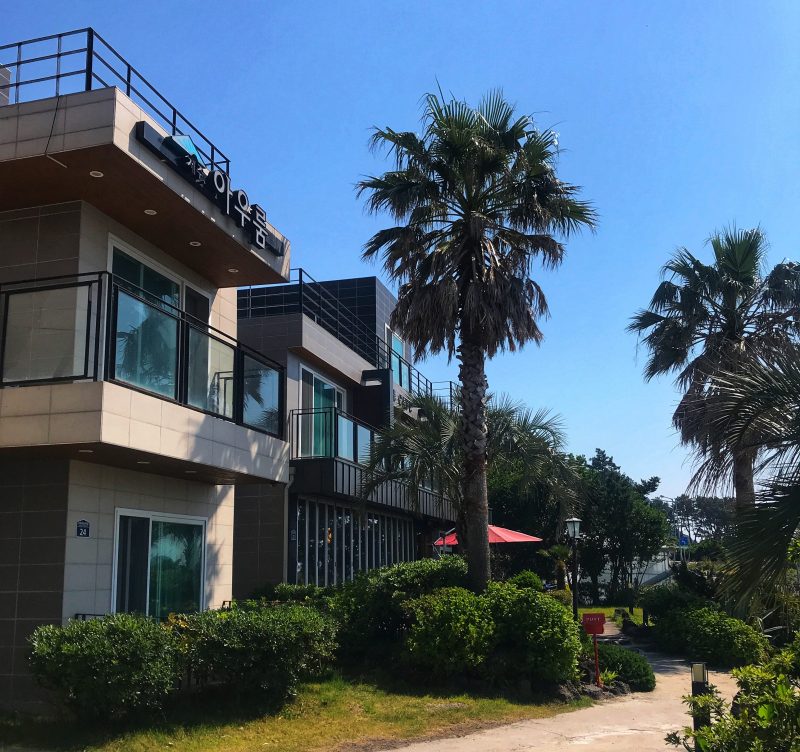 Once we reached Jeju Aurum, we immediately fall in love with this cozy pension. This property is surrounded by palm trees with beautiful ocean just in front, divided by a road. Mr. Kim welcomed us with the most warm welcome and introduced us with good English about him and his lovely pension.
Firstly, the check-in process is smooth and easy. Mr. Kim preferred for cash and it is not an issue for us. He promised that we won't disappointed for our room, with the most beautiful sea view.
There are a few blocks of building in Jeju Aurum. Our room is on the second floor nearby cafe with no lift available. So we need to carry our luggage to our room.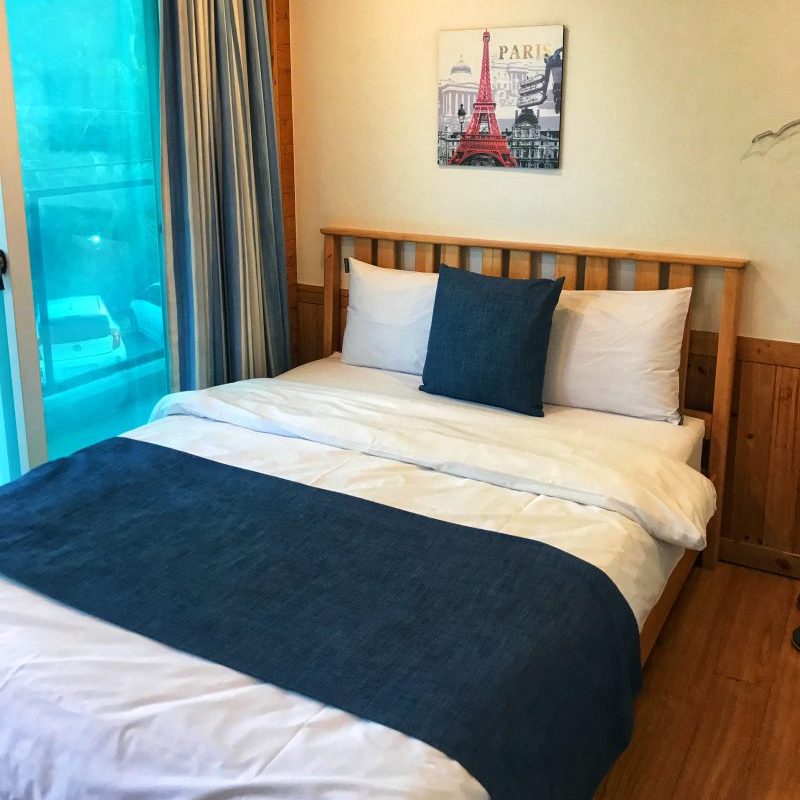 The double room is smaller than expected with a queen size bed in the middle. It comes with overlooking balcony with large glass doors, gave an unobstructed view of the ocean. The beds were very cozy and the linens were clean.
While the bathroom is huge with a small bath towel provided. Bring along your toiletries as it is common that not provided for Korean style pension. However, no kettle in the room but you can take drinking water at the common kitchen downstairs with water dispenser provided. The kitchen is ready if you want to heat up or cook for your meal.
Overall we are satisfied with the room especially for the fantastic coastal view across from the balcony.
Olle Trail Route 6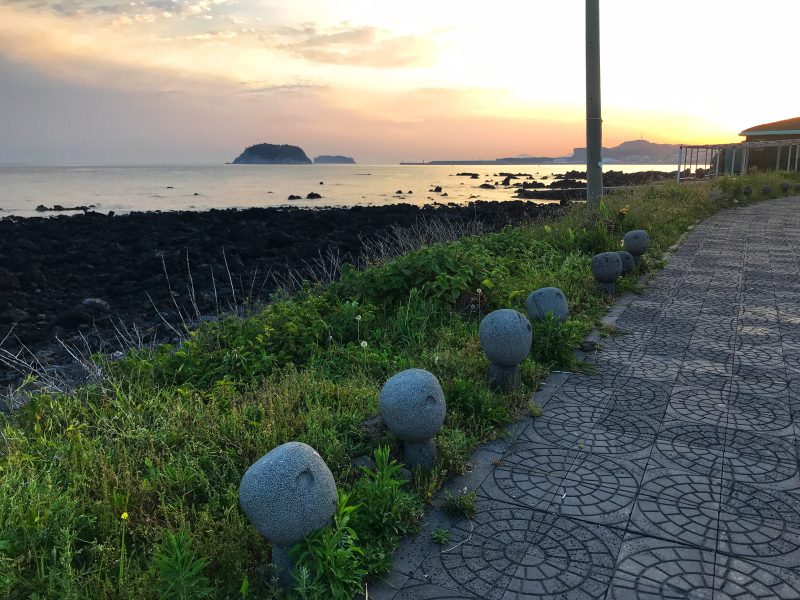 After that, we can't wait to go for a short walk at the Olle trail 6, the most beautiful walking trail in Jeju Island. Jeju Aurum is located in the middle of Olle trail 6, and we choose to stroll along the sea follow the coastal road.
Waves splashing with freezing sea wind. The location is perfect for a leisure and relaxed stay.
Amazing Sunrise and Sunset View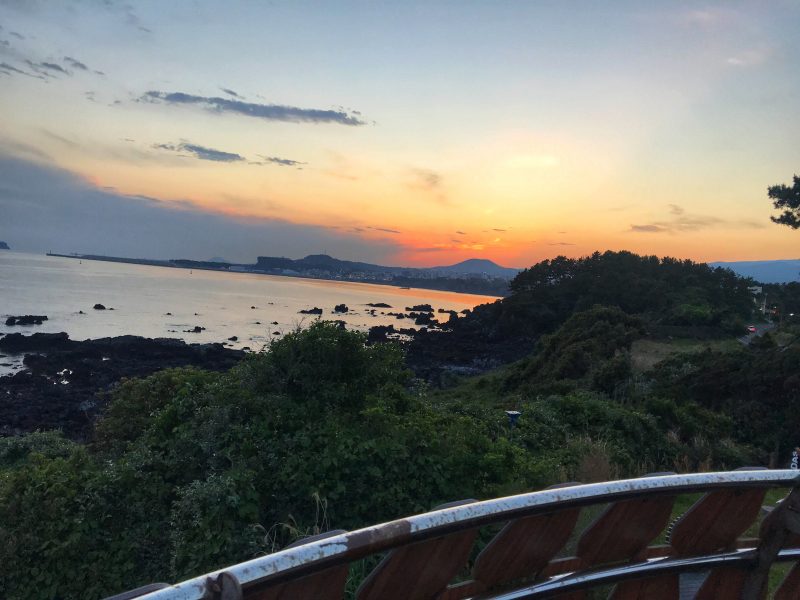 There is a nice café with a viewing platform at the end of the route. We climbed up to the viewing platform to enjoy the amazing sunset. The view is breath-taking! After the evening walk, we drove to a restaurant nearby for dinner.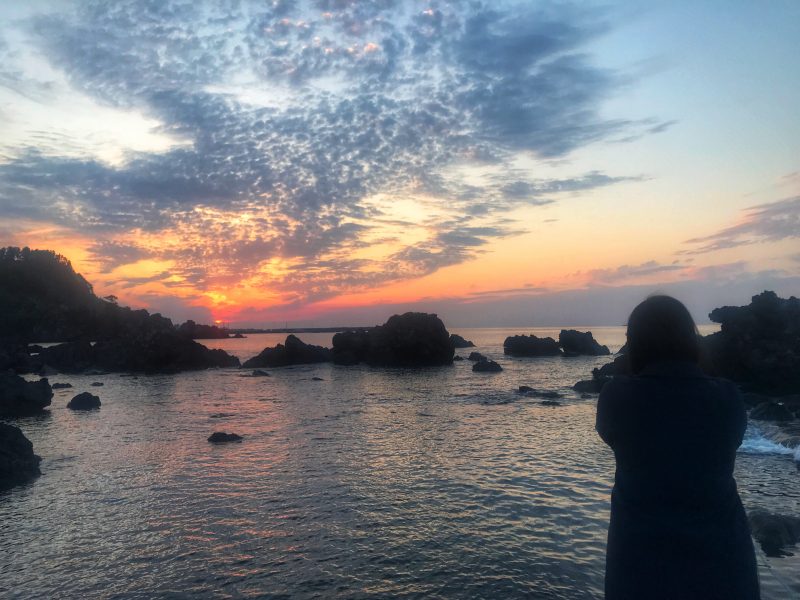 At the next day, we wake up in the early morning for the amazing sunrise view at the lava rock beach in front of the Jeju Aurum. So incredible! There is nothing better than this.
Breakfast at Jeju Aurum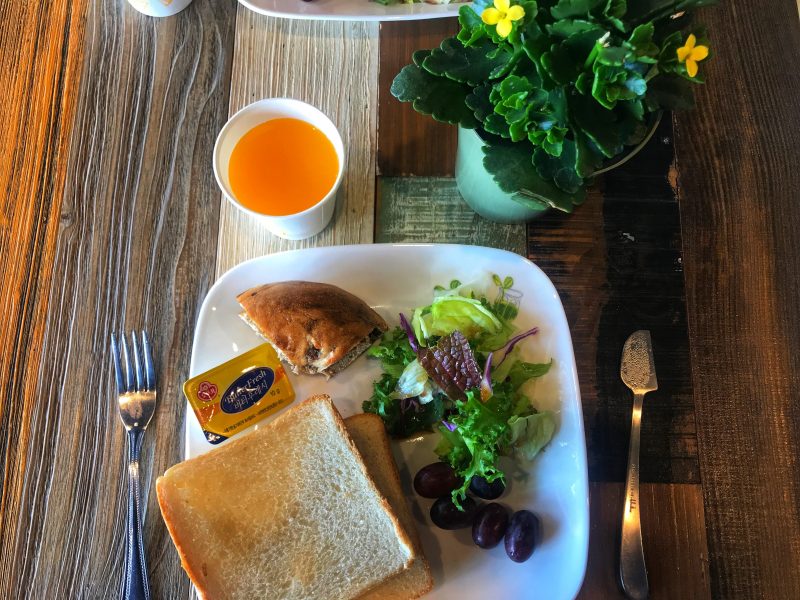 We paid for ₩3000 for breakfast at the café. It is a simple and healthy breakfast with toast, cake, salad, fruits, orange juice, and milk available.
During checkout, Mr. Kim even ask for any help or advice needed for traveling next. We are appreciated for the offer and he treats his guest with a warming heart. One night stay in Jeju Aurum is too short and I definitely will come back for a longer stay if visiting Jeju Island again.
Pros and Cons
Pros: Above all with photo attached. In short, friendly host, fantastic sea view in front of the ocean, value for money.
Cons: Possible due to the seafront location, there are lots of flies or mosquito flying around. So remember to close your door and mosquito nets. The location can be difficult to reach via public transport with bus stop is located 5-10 minutes away from Jeju Aurum. So it's better to rent a car or call for a taxi. If you need help to look for a rental car, remember to compare at RentalCars.com for the best price guarantee. We rented our car from AJ Rent-a-Car through RentalCars for 6 days road trip in Jeju.
Overall: Jeju Aurum Hotel Review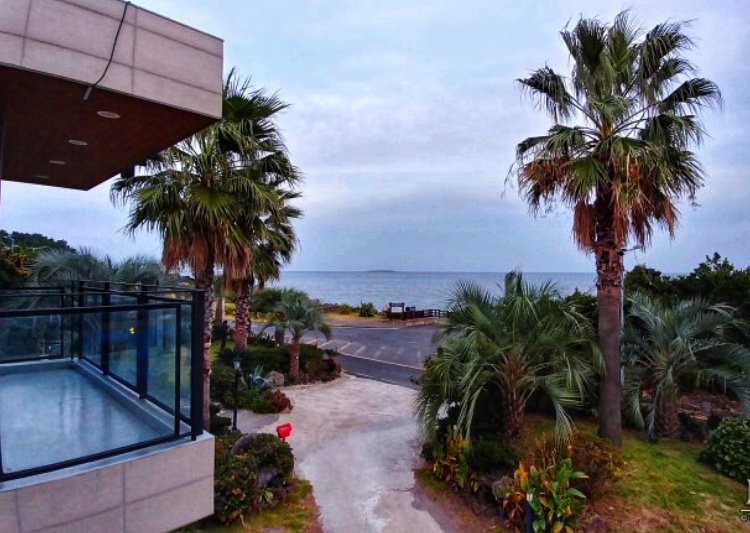 Jeju Aurum is well worth for the nature, sea view with reasonable price. We stayed at four different hotels when visited Jeju. So far Jeju Aurum is the most favorite hotel during our Jeju road trip.
It was exactly what it stated, in front ocean with amazing sea view. You can meet the spool of dolphins if you are lucky. Of course, there is room for improvement but bear in mind this is a pension. You can go for a 5-star hotel if you look for professional service.
All in all, with the price offer featuring with fantastic ocean view, Jeju Aurum is one of the best accommodation stay in Jeju Island. Limited rooms so please book as earlier as possible. Check the price and rooms available at here. (Check room availability)
Continue Read on My Jeju Road Trip Itinerary
Top Things To Do in Jeju For Your Wonderful Jeju Road Trip