Last updated on November 18th, 2023
I finally got to try the Mont Blanc dessert on one of my trips to Kyoto. The experience matched my expectations. It was so damn good. Here sharing some of my food experiences with Waguri Senmon Saori.
What is Mont Blanc? It's the French name of the highest mountain in the European Alps. But in Japan, Mont Blanc or Monte Bianco is a chestnut cake dessert that is loved by Japanese people. The Mont Blanc is made with a pureed, sweetened sponge cake base, topped with layered rich chestnut cream. The pressed chestnut cream is generously topped with long piped strings into a mountain shape. It is the nation's favorite Western-style sweet and should not be missed when visiting Jap
Many dessert shops and cafes are offering Mont Blanc desserts but one can't miss the chance to try Kyoto's best Mont Blanc from Waguri Senmon Saori. This little gem is a popular dessert place in Kyoto and is known for its Mont Blanc Chesnut dessert using the waguri (Japanese chestnut). Their desserts are served delicately and carefully that all look like pieces of art.
Waguri Senmon Saori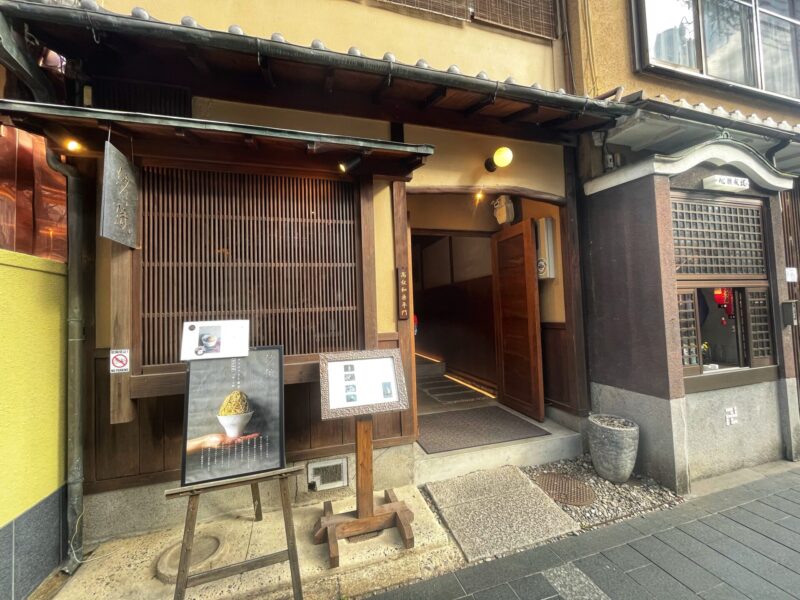 Opened in 2019, Waguri Senmon Saori (和栗専門 紗織 さをり) is a Japanese chestnut specialty shop along the Kamo River. The cafe offers many delicious desserts on their menu but the most popular item of the shop is their super silky, high-end Tanba Chestnut mont blanc. This dessert is made with 1-mm fine thin, delicately woven spirals of Japanese chestnut.
Waguri Senmon Saori is an exceedingly popular cafe with limited customers served per day. To ensure that you can taste the Mont Blanc, it's best to hurry up and grab a numbered ticket in the morning when the shop is open. It is possible that no reservation is accepted if the number is run out.
Waguri Senmon Saori (和栗専門 紗織 さをり)
Address: 170-1 Izumiyacho, Shimogyo-ku, Kyoto City, Kyoto.
Business Hours: Daily from 10:00 to 18:00 (Last order at 17:30)
Getting there: Approx. 5 min. walk from Kyoto-Kawaramachi Station on the Hankyu Line.
Expected Price: About ¥3,000
Food Visit to Waguri Senmon Saori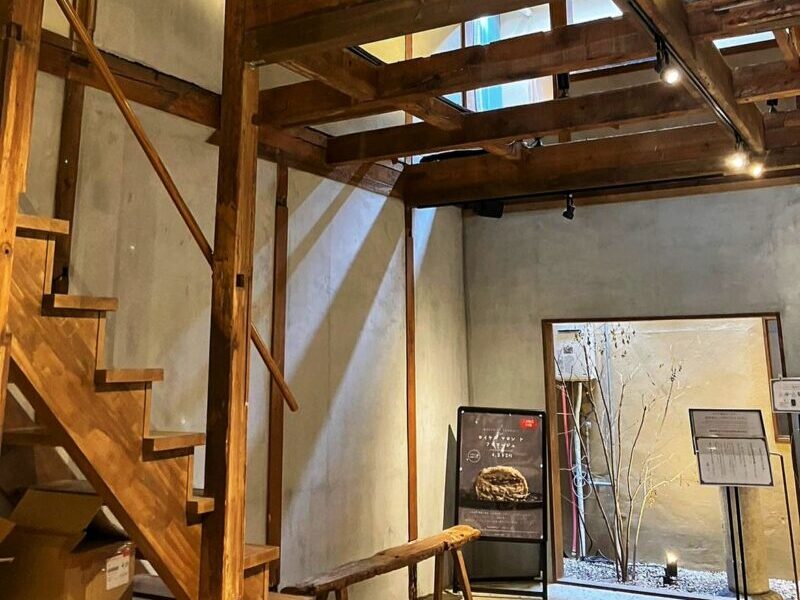 Waguri Senmon Saori is located at Kawaramachi and within walking distance from Kyoto-Kawaramachi Station. The establishment was once a Machiya house inn and rebuilt into a Japanese-style sweet cafe.
As we came early, we were among the first few customers to be seated. It was a weekday but still many people were waiting in line to taste the finest Mont Blanc. We waited for about 30 minutes to get seated. But hour-long waits or no longer taking customers aren't uncommon, so it may be a good idea to come early.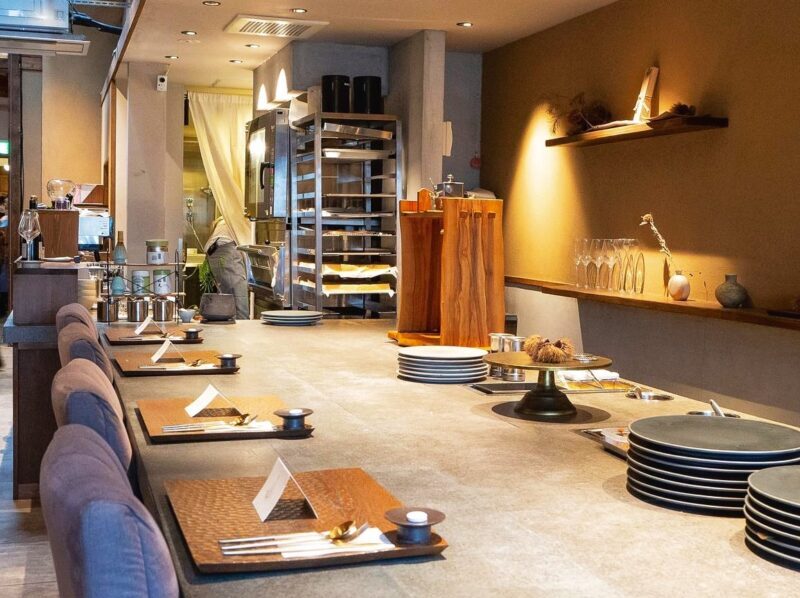 There are 2-floor dining area and the interior is very sleek and minimalist. The whole establishment gives a warm feel and a relaxed atmosphere.
On the first floor, you'll find an open kitchen where you can watch the final process of how the gorgeous sweets are being made in front.
Watch the Making of Mont Blanc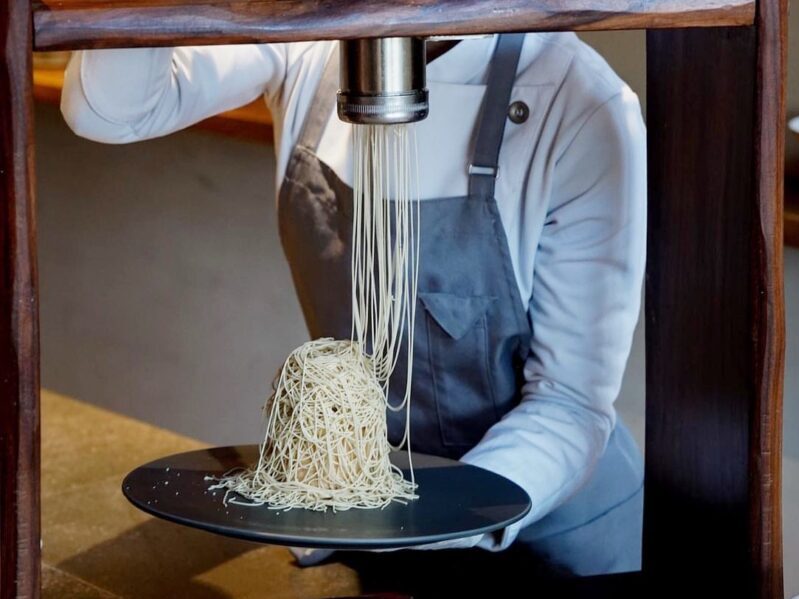 We were lucky to be seated right in front of the counter and we were able to enjoy our Mont Banc while watching the process. It was actually very enjoyable to watch the soft and smooth 1-mm fine thin of Mont Banc being made.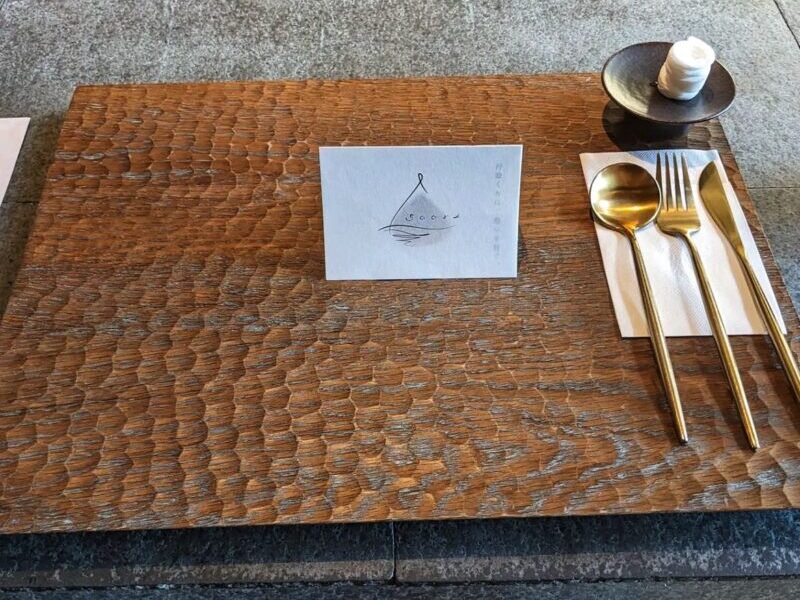 Besides the popular Japanese chestnut mont blanc, Waguri Senmon Saori also served other desserts, including the Kuriko-mochi (Chestnut flour mochi), fruit tart, and the fruit Parfait which is filled with plenty of seasonal fruit and Japanese chestnut.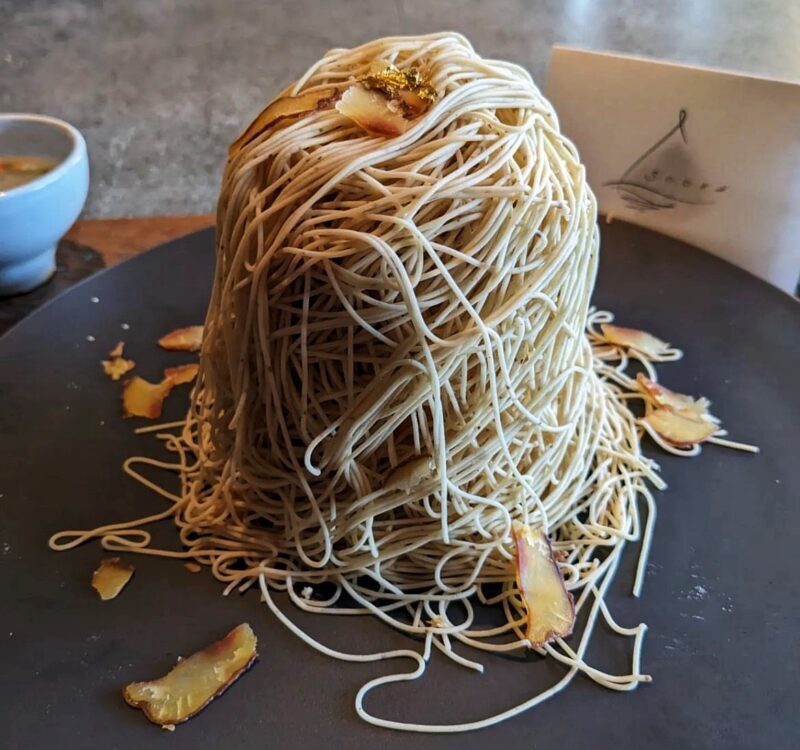 Soon, we got our plate of exquisite desserts being served. Words cannot express how good the Mont Blanc from Waguri Senmon Saori is. The flavor of the Mont Blanc was so earthy and gentle. It is rich in flavor yet light, and you can taste the natural sweetness of chestnuts.
There was something like a honeycomb biscuit and it melted in your mouth. It was so incredibly good! This heavenly dessert goes perfectly with a cup of green tea or matcha latte.
Take Out Option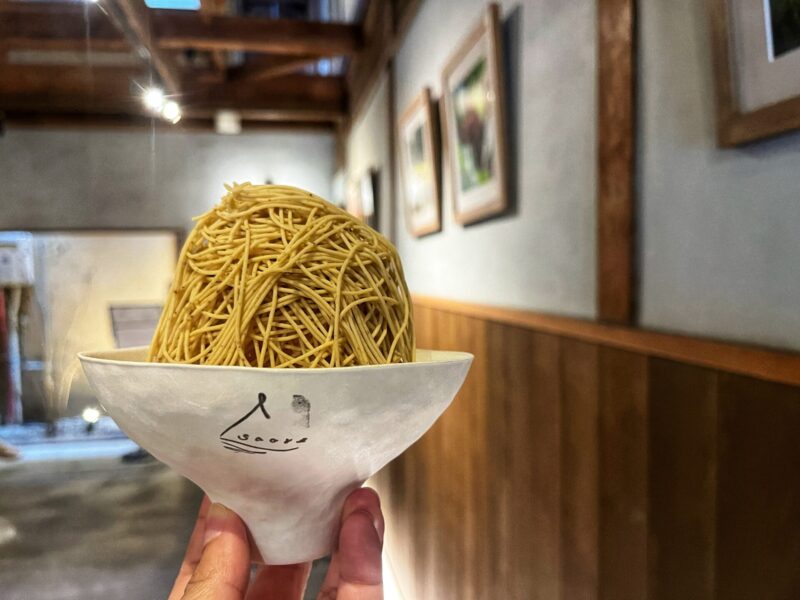 We became a fan after this very first visit and decided to come back the next day for another round. Instead of the dine-in, we chose the takeout option.
The 1-mm Japanese Chestnut Mont Blanc soft-served ice cream is served in an adorable cup. The price is also cheaper about ¥1,100.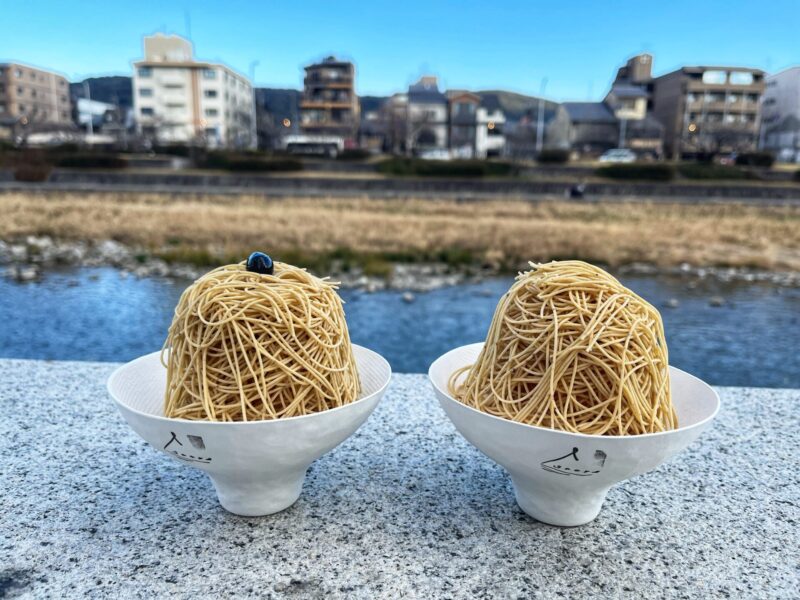 The takeout option from Mont Blanc may give you another option if you are unable to dine in. Note that it may also run out as this is a popular dessert in Kyoto.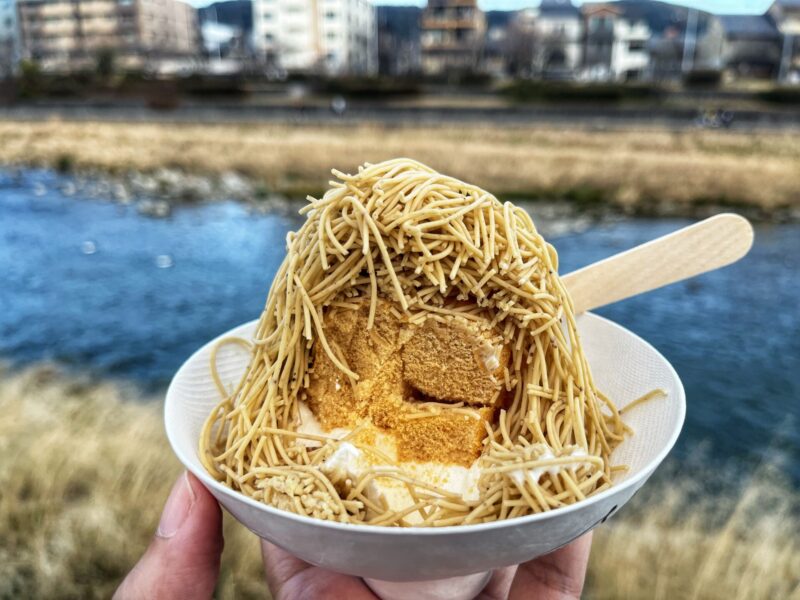 We took the Chestnut Mont Blanc soft-served ice cream to the lovely river nearby and enjoyed it. Again, we love the gentle yet flavorful chesnut taste. Absolutely delicious!
Overall: Kyoto Best Mont Blanc Chestnut Dessert
All in all, my food visit to Waguri Senmon Saori was truly unforgettable. It's a dining experience I've never had before. If you're visiting Kyoto and looking for something that is more of a culturally immersing experience, I would recommend Waguri Senmon Saori. Be sure to come early to avoid disappointment.
Lastly, if you're heading to Kyoto, feel free to also check out my Kyoto travel stories:
Related Kyoto Food Blog: