Last updated on September 23rd, 2023
For a culturally immersing dining experience, we highly recommended AWOMB Kyoto for handwoven Teori sushi. An original dish created by AWOMB.
Tucked away in a little side street off of Kyoto's main center, there is an pilgrimage to a Zen retreat restaurant in foothill of Kyoto. AWOMB is a minimalist, artistist, and chef-owner designer studio, offering the traditional and modern twist of sushi. The sushi is being presented in a deconstructed artful way for a culturally immersing experience.
Why it was so overwhelming and grasp the heart among all the locals and visitors? Well, picture speak it. The entire dining experience at AWOMB Karamasu Honten was truly unique and something you can't experience anywhere else. When you visit Kyoto, why don't you stop by AWOMB Kyoto to experience it?
Reservation For AWOMB Kyoto
Apparently, there is a total of 4 shops in Kyoto. We visited the AWOMB Karasuma Honten, which located about 30 minutes away from downtown. Take note that different reservation policies for each AWOMB shop and may change from time to time. Be sure to book in advance, as very limited table capacity. The good news is AWOMB Kyoto now accepts the online reservation.
For AWOMB Karasuma Honten, the reservation was only acceptable for lunch serving from 12 pm to 1:30 pm. While the reservation is open two months in advance, we had made a decision to confirm booking once our Kyoto itinerary sorted out.
AWOMB Karasuma Honten (Online Reservation)
Address: 189 Ebanagicho, Nakagyo-ku, Kyoto-shi, Kyoto
Telephone number: 050-3134-3003
Operating hours: Lunch 12:00-14:00 LO, Dinner 18:00-20:00 LO
Closed: No holiday
Kyoto Travel Tips:
When looking for the best price and biggest selection of hotels in Kyoto check prices for Kyoto Best Hotel from
Booking.com
. We found they are the best option and have a great cancelation policy. We recommended staying nearby Kyoto station for easy getting around. The
Daiwa Royal Hotel Grande Kyoto
is in a great strategic location with 5 minutes walk from Kyoto Station. Great sized room, and tons of restaurants and shops within walking distance.
Getting to AWOMB Karasuma Honten Kyoto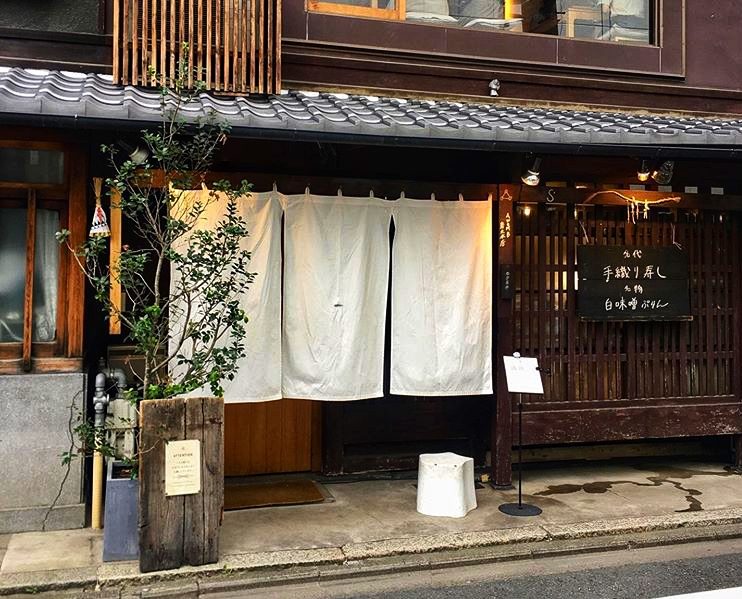 From our hotel, Daiwa Royal Hotel Grande Kyoto, we took the train to Shijo Station and walked to the AWOMB Kyoto. It was about 7 minutes walking distance to the shop.
The AWOMB Karasuma Honten is located in a residential neighborhood. It was renovated from the traditional Japanese home layout into a clean Japanese-style relaxing space as part of their decoration. The interior was very sleek and minimalist, with beautifully lit bare concrete.
After confirming the reservation, we were kindly asked to take off our shoes to enter the shop and were seated promptly. Make sure the full party to be there, else you can't get seated. We were seated on the first floor with a big garden in front where we can enjoy our lunch while looking out to all the greenery in the garden.
How To Order
AWOMB is offering three grade of roll sushi, which is standard, high, and supreme Teori sushi platter. The difference is only the amount of obanzai that change each month, depending on the season. The standard comes with 12 kinds of obanzai at ¥1,680, High with 13 kinds of the obanzai at ¥2,340, and Supreme with 15 types of the obanzai at ¥2,970.
We will only give a single option to book for the Supreme Platter during reservation. We were happy to accept it as this is what we planned to dine in AWOMB Kyoto. Take note that the price is without tax consumption. Moreover, additional vinegar rice and seaweeds are available with extra charge.
Making Your Own Teori Sushi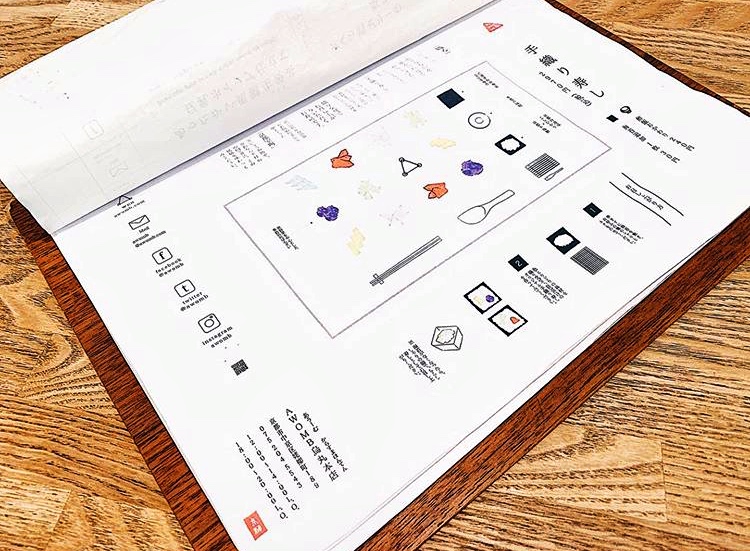 The way of how to make a roll sushi is introduced on the top of the menu. But no worry. A friendly server will show you how to make it, so just relax and enjoy your meal.
First of all, place the seaweed to the sunoko prepared at the shop and spread a thin layer of vinegar eyes on the seaweed. Nexy, put your obanzai on it and roll it.
Honestly, we were facing the difficulty to wound the obanzai into sushi roll due to the larger size compared with the size of seaweed. So we ended up rolled it into triangle roll which look much more beautiful. But, well, this is handwoven sushi experience and you're freely to DIY and make your own Teori sushi according to your desire.
Handwoven Teori Sushi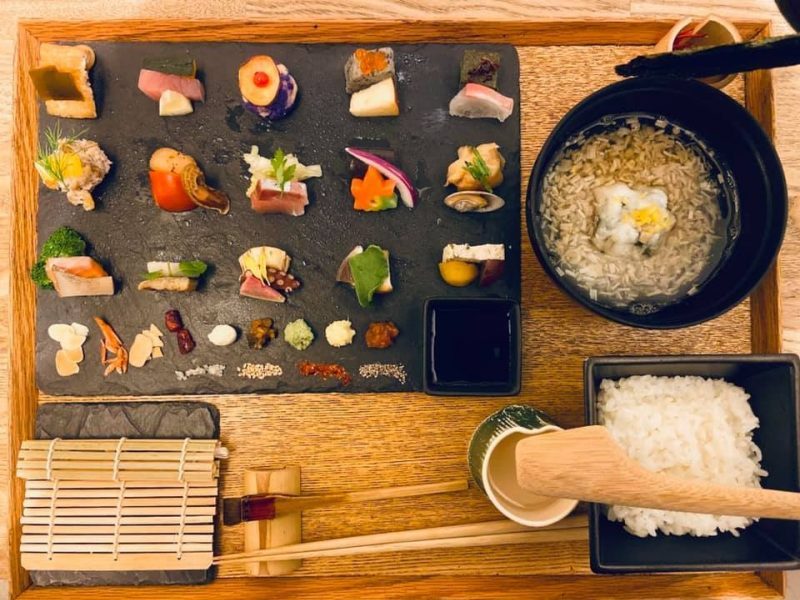 The AWOMB Karasuma Honten is the origin of hand-woven sushi. It was a new kind of sushi-style called tengiri-zushi that has a unique artistic twist to it.
The food that we had at AWOMB Karasuma Honten was called "Handwoven Sushi. It was the Supreme set with 15 types of fresh local obanzai, where you can roll your own sushi with nori (seaweed), obanzai, and rice with your own choice.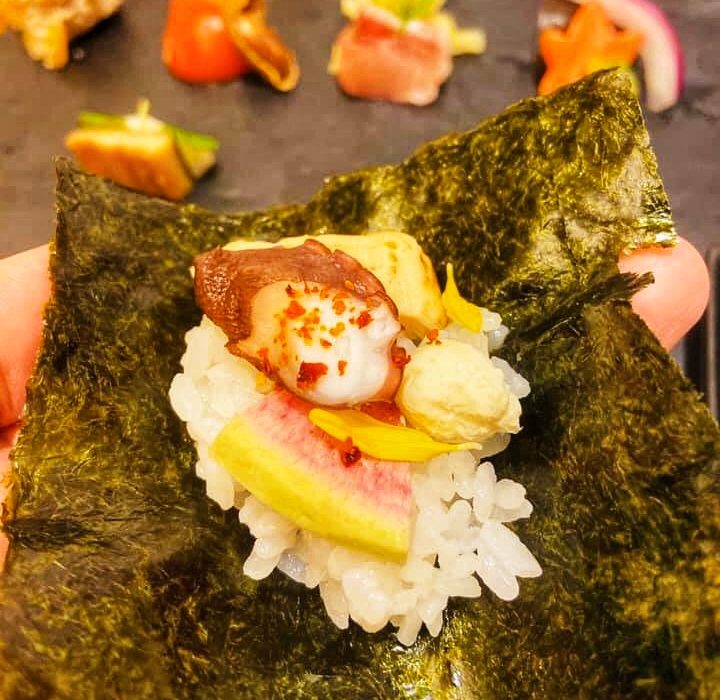 The obanzai and condiments were served in a beautifully arranged tray for you to make your own sushi. It was so beautiful on the plate when served and satisfy our eyes and palates as well. From pre-prepared fish sashimi to pickles and fruit-style dessert-style obanzai, you can feel the impact that a colorful obanzai comes out of the plate. Truly an eye feast!
The soup that comes together with obanzai is surprisingly good. Light taste and not overwhelming to the main dishes.
The taste of the handwoven sushi was delectable while the ingredient was truly fresh and high quality. It was truly a treat and exciting fun sushi making experience.
AWOMB: A Must Try Food in Kyoto
All in all, we had a lot of fun making our own DIY handwoven sushi in AWOMB Kyoto. It has deconstructed the famous Japanese cuisine and placed every single piece, one by one, in front of you to enjoy in your own sushi masterpiece.
We must admit, the portion of food is quite little and not enough for a big eater. But we truly enjoy the fantastic sushi making experience in AWOMB Kyoto. Treat this more on the experimental dining experience and you won't be disappointed!
Lastly, hope you guys find this Kyoto food post is helpful when looking for what to eat in Kyoto. Leave a comment if you have any questions or help needed. Feel free to also check out my other Kansai Japan Travel Post if you are heading to Kansai region.
Kyoto itinerary: 15 Things To Do and Eat for 3 Days in Kyoto
Kyoto Accommodation Guide: Where to Stay in Kyoto (Tips For Your Best Stay in Kyoto)
Kyoto Food Blog: Top 7 Must Eat Food in Kyoto
Kyoto Transportation Guide: