Last updated on September 23rd, 2023
The food wasn't necessarily why I visited Switzerland. But still, I tried some of the best food in Switzerland and it certainly exceeded my expectations. Sharing my recommendations on some of the must-try Swiss cuisine and budget cheap eats, including where and what to eat in Switzerland.
Swiss aren't exactly known for their food in general but still is a great opportunity to indulge in local Swiss cuisine when visiting Switzerland. During our trip to Switzerland, we ate at cafes and restaurants for local Swiss cuisine. At the same time, we also enjoy budget cheap eats at food stalls and markets. Price tags are higher in Switzerland but you do get more for your money. Take the opportunity to treat your tastebuds to a Swiss delight!
Let's start with the Switzerland food guide for the best food to eat in Switzerland and where to try them.
What To Eat in Switzerland
Here is my Switzerland Food Guide, listing some of the best food that you shouldn't be miss when visiting the country.
Swiss Fondue (Cheese Fondue, Chocolate Fondue, Meat Fondue)
Raclette
Rösti
Zürcher Geschnetzeltesbh
Swiss Chocolate
Movenpick Ice Cream
Packed Food from COOPS and Migros
Pro Tips: If you're planning a trip to Switzerland, then be sure to check out our detailed Switzerland itinerary with detailed guide and budget tips.
7 Days Switzerland itinerary: A Complete Travel Guide Blog
It'll have all the information you need – like which area to stay, what to do, how to get around, etc. – to help you plan your trip.
Swiss Fondue
The must-eat food in Switzerland food guide, for sure, is Swiss fondue. It's the national dish of Switzerland and very popular in the Alps region. Usually fondue is eat by local in winter, but you should try fondue in Switzerland at least once when visiting Switzerland.
The typical fondue is cheese fondue and chocolate fondue, and there is also meat fondue if you wanted something slightly different.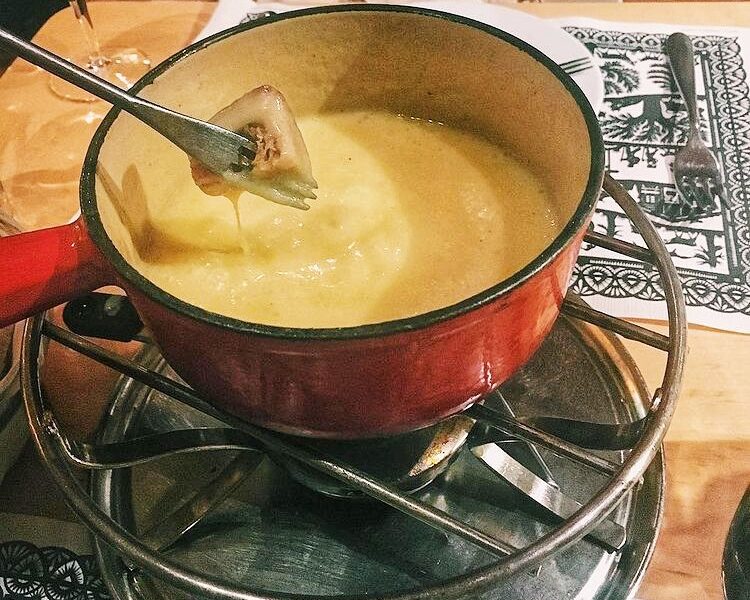 Don't miss the signature Swiss dish 'Cheese Fondue' which is made with famous Swiss cheese. Traditionally a Swiss cheese fondue is made with two different kinds of cheese, depending on the region of Switzerland you're in. It is served in a casserole, below which you put a candle to keep the cheese melted. Served with bread cubes and potatoes, which you dip in the hot cheese. Sounds like very cheesy and too greasy, but trust me, it is so tasty and delicious!
Normally served as dessert, Chocolate Fondue is also very famous in Switzerland. Dipped the dark chocolate with fruits, typically banana, apple and pear. It's crazy how something so simple can taste so good!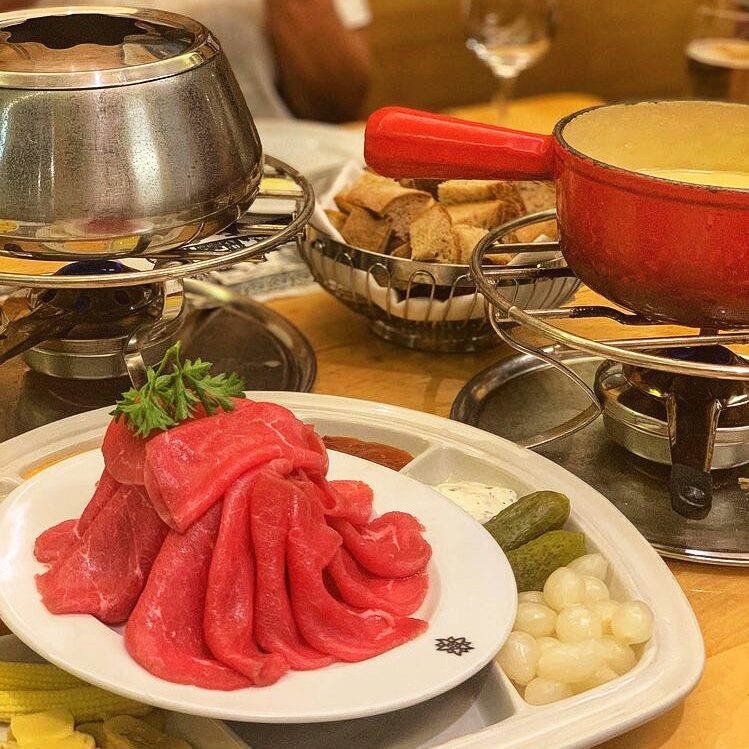 Meat Fondue may not so popular compare with cheese fondue or chocolate fondue. But it is still highly recommended if you want to try something different. The meat fondue is served with meat slides of your choices, and dipped it into the hot oil. It is similar with Chinese hot pot, but slightly different.
Where should you go for the best Swiss fondue in Switzerland? My pick is the Swiss Chuchi in Zurich. It is the the oldest fondue room in Zurich and served the delicious Swiss specialties, particularly fondue since 1953.
Related read: Switzerland food hunting at Swiss Chuchi.
Raclette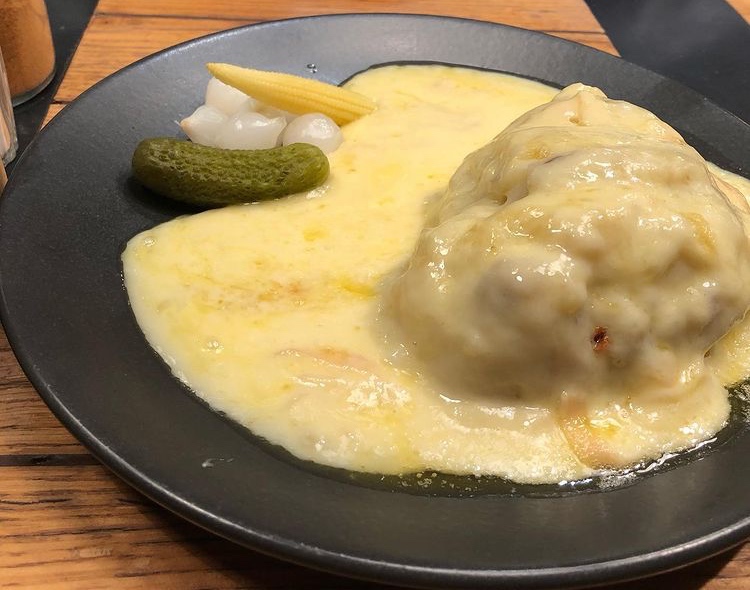 Another equally well-known Swiss traditional dish. Like fondue, Raclette is a cheese dish where a piece of cheese is placed over a stove. As the cheese melts, you scrape it off onto a melted plate. The melted cheese is typically over top of boiled potatoes, pickled onions, gherkins (pickles), cured meats, and sometimes pickled fruit.
While you can enjoy Raclette everywhere, the best place to try it is where it was invented. Valais is the place where Raclette tastes absolutely incredible.
We tasted this local Swiss delicacy in Raclette Factory, Zurich. The restaurant serves the tasty raclette made to order, with multiple options as to how you want your raclette to be flavored and condiments available. For the most classic Raclette experience, we'd recommend going for the Raclette with Potatoes and pickles. It has a distinctive cheesy aroma, which can be addictive. Make sure to ask for wine recommendations to pair with what you're eating.
Rösti
On your Switzerland trip, don't forget to try the traditional Swiss food, Rösti. Mostly made with potatoes and sometimes added with eggs or meat. The thinly grated potatoes are baked in a pan with butter until crisp and golden. It tastes similar to harsh brown where crispy on the outside, with a softer mix inside. Many people enjoy eating rosti with fried eggs, pork, bacon, and spinach.
The iconic national dish is popular throughout the country and almost all restaurants will have their version of rosti available. Bern is the home of this hearty dish and it is the best place to try the Rosti in Switzerland. We tried the famous rösti at Restaurant Brasserie Anker, Bern. This traditional beer hall restaurant offers a variety of Swiss dishes and served the best Rosti in town.
Zürcher Geschnetzeltes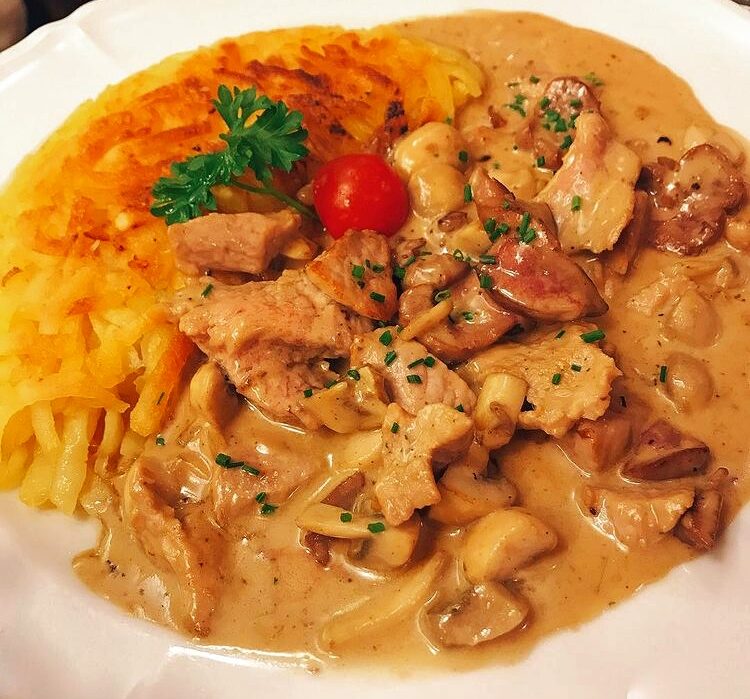 Zürcher Geschnetzeltes (or Züri Gschnätzlets in Swiss German) is a regional Swiss cuisine and is particularly popular in Zurich. Simply translates to "Zürich style sliced meat", you can find it on many of Zurich's restaurants on their menu.
The food is consists of thinly sliced veal and mushroom, topped with a creamy white wine sauce. Rösti, noodles, tagliatelle pasta, or rice are often served together with this hearty dish. Enjoying the Zürcher Geschnetzeltes is one of the best food to eat in Zurich. So don't forget to give it a try when you are visiting Zurich.
Swiss Chocolate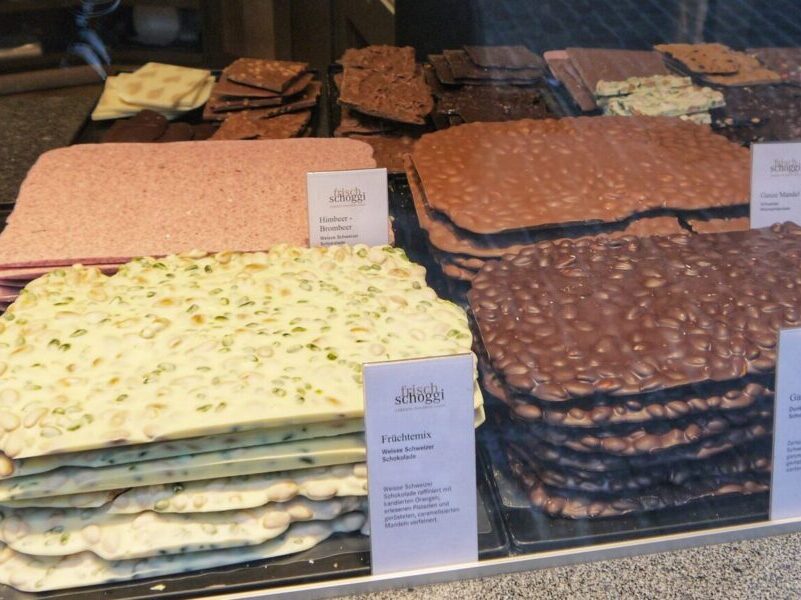 The cheese is amazing and the chocolate's even better in Switzerland. On your vacation in Switzerland, it is the best chance to indulge in the finest chocolate in the world. You can eat them, bring them home, and visit workshops if you have time.
For the chocolate lover, don't miss Läderach, one of the best Swiss chocolate in Switzerland. It is a bean-to-bar chocolate maker, offering up about 20 different combinations of chocolate with flavorings and inclusions of all sorts. Their frischschoggi (slabs of fresh chocolates), either plain (white, milk, and dark chocolate) or mixed with various delights are extremely quality and simply delicious. It was expensive but nothing can describe the taste!
Other important and beloved Chocolate-producer from Switzerland are Suchard, Lindt, and Toblerone.
Movenpick Ice Cream
If you have a sweet tooth, then you cannot leave Switzerland without having a Movenpick ice cream. Movenpick is the country's homegrown brand and it is internationally recognized as one of the best ice cream brands. There are a great variety of flavors from these masters of ice cream and always something new to discover. Their ice cream is truly amazing!
We love Movenpick ice cream and it is one of the best Swiss ice creams I have ever had. It's a wonderful moment to enjoy the icy sweet treat while taking a leisure stroll in Switzerland's old town. Smooth, light, not too sweet, and sensational to the taste bud!
Packed Food in Supermarket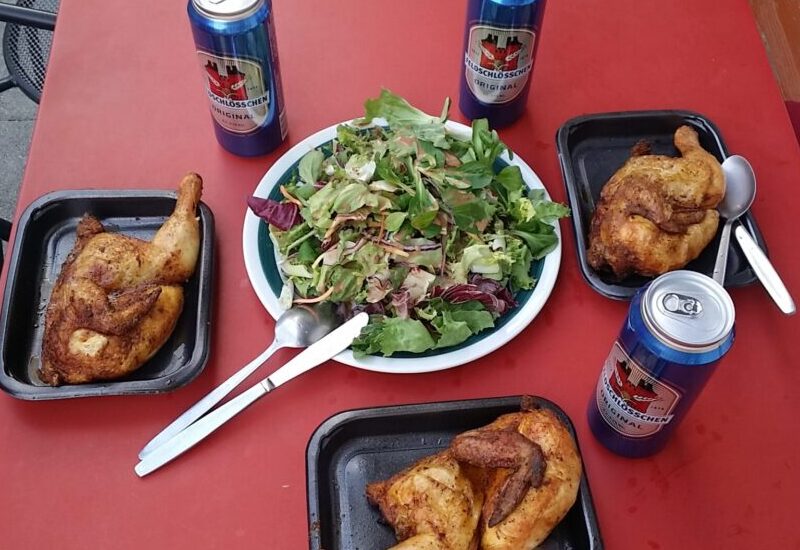 Budget travelers may think that traveling in Switzerland is challenging with a low budget. But there is a way to save on food when looking for what to eat in Switzerland on a budget. The packed food in the supermarket is a good alternative to the expensive Swiss cuisine.
Everything you need for fair food prices can be found in COOPS and Migros in Switzerland. There is a wide range of fresh tasty offerings and plenty of vegan food for breakfast, lunch, snack-to-go, or picnic shopping when traveling.
A great place for good and fresh quality at an affordable price.
Overview: Switzerland Food Guide
All in all, we hope you will have a wonderful food trip in Switzerland. This Switzerland food guide may not covered all the must-eat food in Switzerland, but we do hope it give you some tiny ideas on what to eat in Switzerland.
Lastly, feel free to continue to read on our Switzerland itinerary to some of the beautiful cities in the country.
7 Days Switzerland itinerary: A Complete Travel Guide Blog
Popular cities with detailed travel guide blog to visit in Switzerland:
Jungfrau Region: