Last updated on September 23rd, 2023
The eastern coast of Jeju has two major attractions which are Sunrise Peak Seongsan Ilchulbong and Udo Island. Both are located very close, making it superbly easy to couple up for an east coast day trip.
Every year, millions of visitors are flowing to this tiny small island. Prepare to spend a day relaxing in a peaceful atmosphere with no crowd, no nightlife, and no major attraction but beautiful nature. Natural lover, please don't miss it.
We continue our Udo Island itinerary after visiting Sunrise peak Seongsan Ilchubong. Both attractions are located nearby and it is best coupled together for Jeju's east coastline visit. If you are planning your Jeju itinerary like us. It is best to plan for a self-driving trip which greatly helps for getting around. We rented our rental car from AJ Rent-A-Car through RentalCar.com. It is pretty simple to pick up process with English is spoken staff supported. Most importantly, the best price guarantee.
Here is some helpful information with the Udo island travel guide blog included on how we spend a day at Udo Island.
Udo Island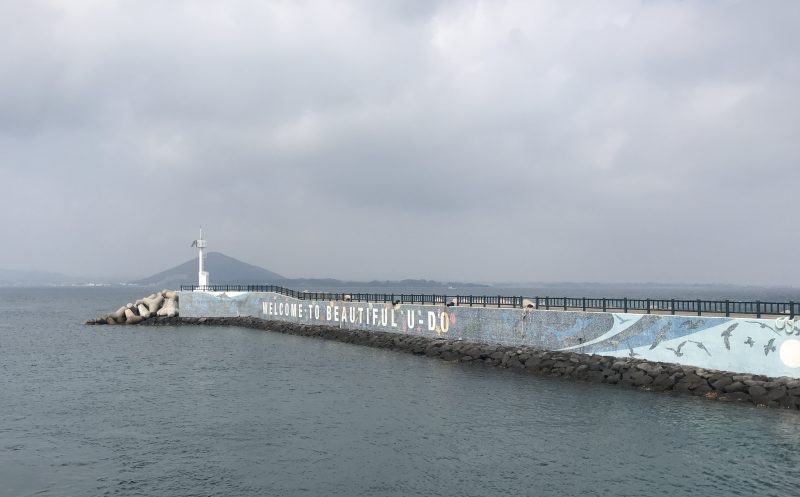 Where is Udo Island?
Udo Island, also called "Cow Island" in Hanja, is situated off the eastern coast of Jeju island. It is a volcanic islet created as a result of volcano activities a thousand years ago. The shape of the island looks like a cow lying down. It required 1 to 1.30 hours of driving journey from Jeju city of Seogwipo. So it's still recommended you stay one night in the Seongsan area.
How Do You Get To Udo Island?
The transportation from Jeju to Udo is very straightforward as the ferry is the only transportation to get to Udo Island. There are two ports at Jeju (Jongdal and Seongsan) and also two ports at Udo (Haumokdong and Cheonjin).
Is Udo Island Worth Going?
Udo Island is a place that is definitely worth your visit. It is a small version of Jeju Island that can be explored within a few hours of short visits, or within a day if you love to explore at a slow pace.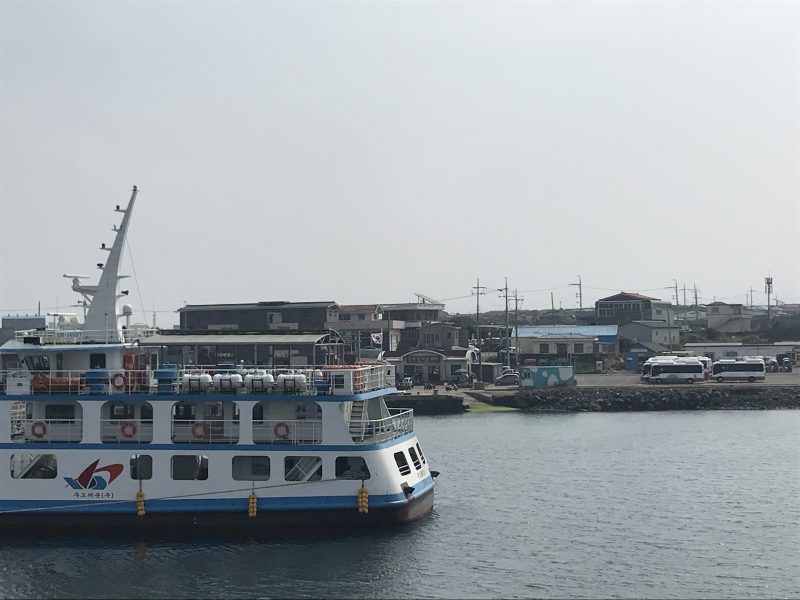 From Seongsan Port to Udo Island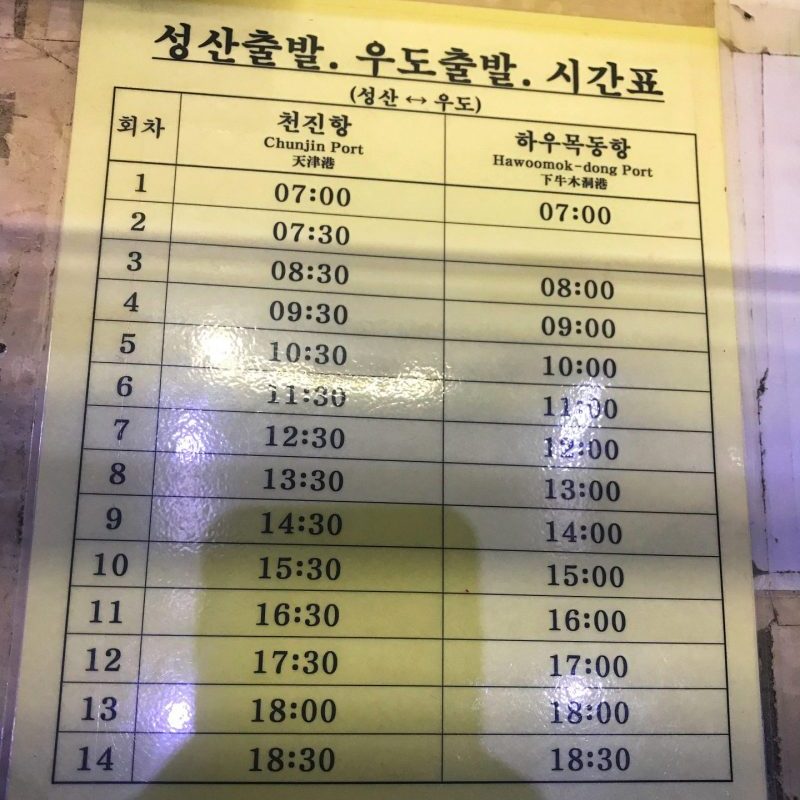 From Seongsan port to Udo Island, you will reach either Haumokdong or Cheonjin port at Udo Island. Most travelers are using this route to get to Udo Island as it is very frequent with 30 minutes in between.
From Seongsan Port to Udo: start from 8:00 until evening 17:00-18:00 (depending on the season)
Very frequent with 30 minutes intervals. Just reach Seongsan port and board the next ferry.
For those who prefer to reach the desired port at Udo island, please double-check the ferry destination at the counter.
From Jongdal Port To Udo Island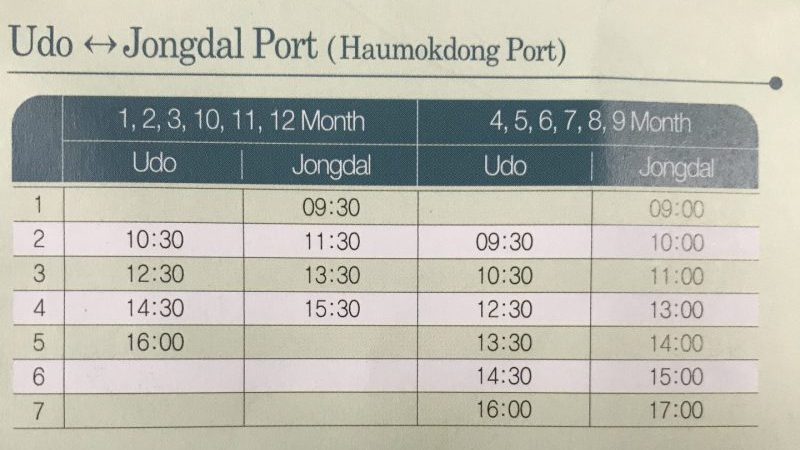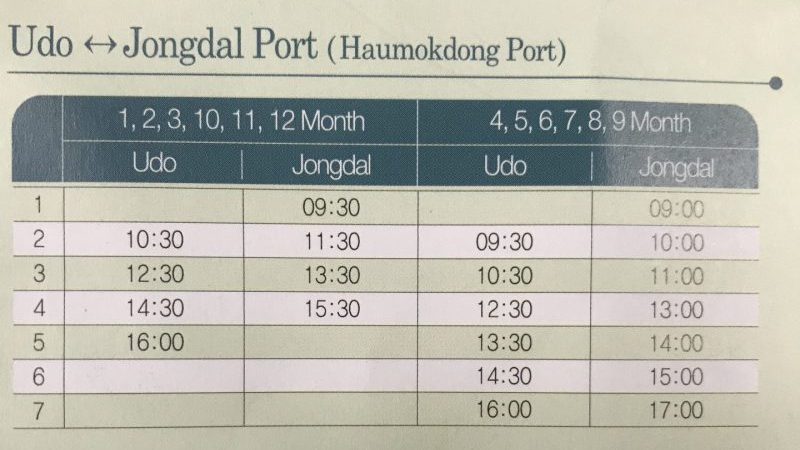 The ferry from Jongdal port to Udo Island is much lesser and you can only reach Haumokdong port.
Travel time between these two ports only takes about 15 minutes for one ferry ride.
How To Buy The Ferry Ticket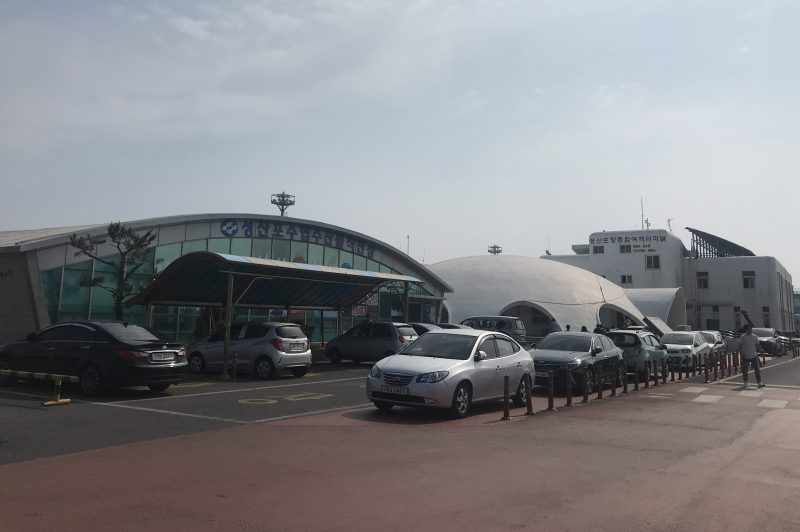 Park your car at the newly open three stories or open-air car park. The parking fee for the indoor car park is about 8,000 per day.
Follow the crowd and walk to Seongsan Passenger Terminal Port, a white domed-shape color building at the end of the walkway.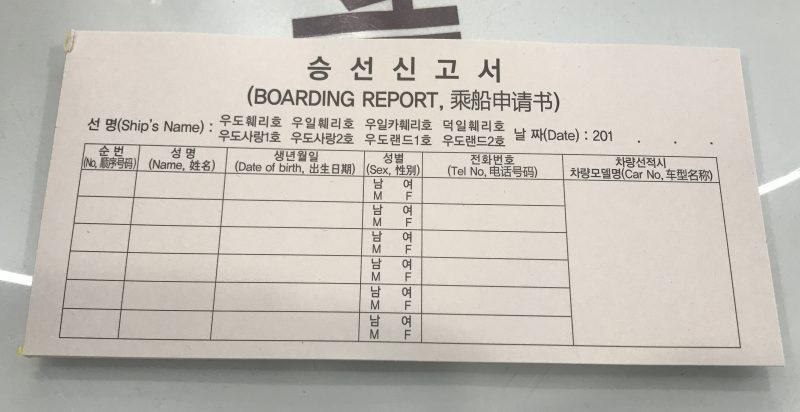 When you at the passenger terminal, no need to be hurry to the ticket counter as you need to fill up the boarding form to get your ferry ticket. Declaration forms (to be filled in duplicate) are available at the middle tables.
Remember to bring your passport for boarding registration. Passenger tickets cost about ₩8,500 for a round trip fare. The return ticket is valid for the entire day without a specific time. Remember where you keep it, else you will need to buy a new one.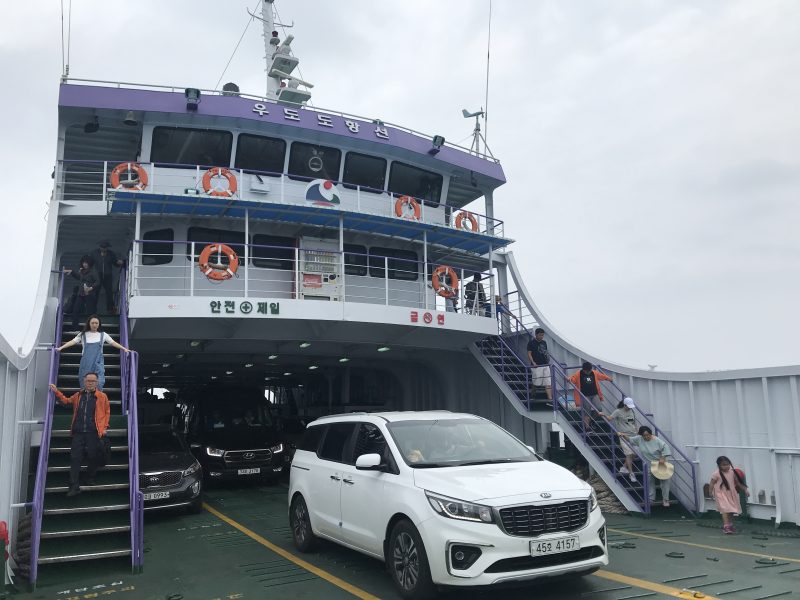 Follow the signboard or the crowd to the passenger ferry terminal and board the ferry bound for Udo Island. Normally the ferry between Udo is three levels with an upper first and second level for passengers and a lowest lower for car boarding.
The journey will take around 15 minutes only.
The earlier ferry departs from Seongsan port every 30 minutes starting from 7.30 a.m to 6 p.m. depending on the season. But it is subject to change due to weather conditions. Please double-check your weather in advance before your Udo Island trip.
Note: No car rentals are allowed to board Udo island since Aug 2017.
Getting Around At Udo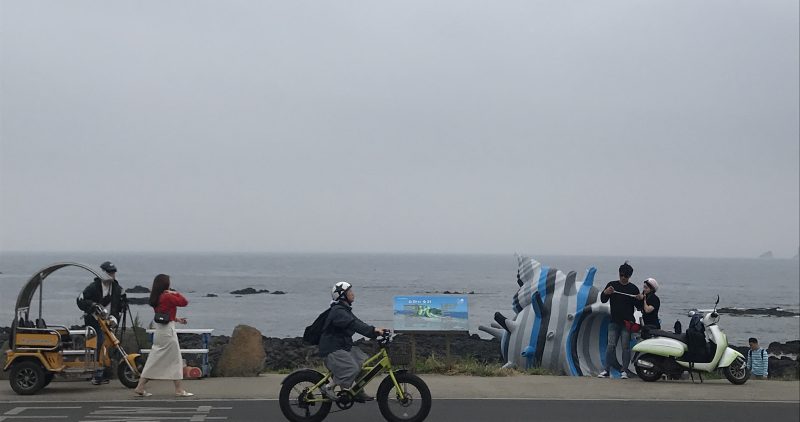 The first thing when reaching Udo Island is looking for transportation. There are numerous ways to get around Udo Island and your choice to decide.
A round trip of Udo Island can be completed by foot on its 16km of Olle trail.
Hop on and hop off the shuttle bus (valid for the whole day) at ₩5,000 is one of the options. Depart every 30 minutes and stops at the four major attraction and two major ferry pot at Udo Island.
For those who prefer to explore at your own pace, you may consider renting a motorized vehicle (ATV, scooter, electric car) in which an international driver permit is required.
Another option is a bicycle or electric bike which required some the exercise. Price about ₩15,000 for 2 hours.
No worry about finding your transportation at Udo Island as various rental shops are situated at the Udo Passenger Terminal. They will help you to get a suitable one.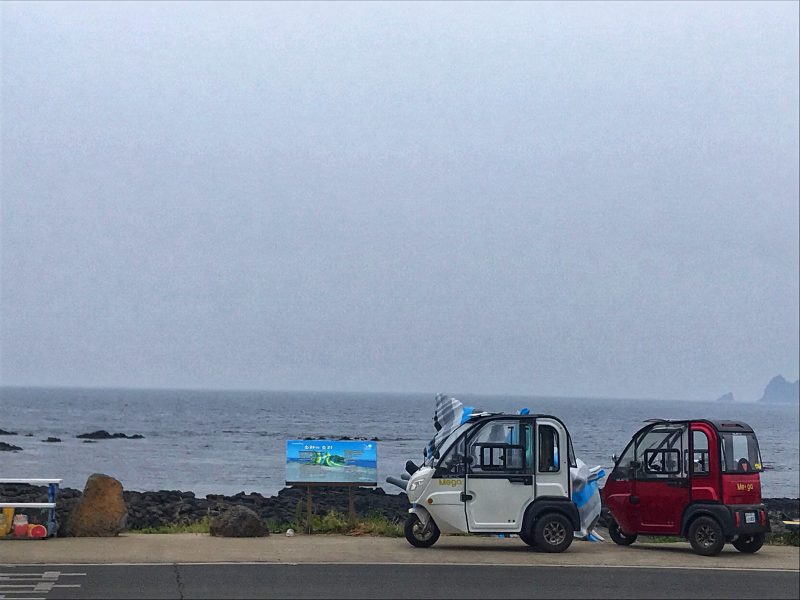 We planned for renting an electrical car for our day trip to Udo Island. It is common and super cute at Udo Island.
We thought that the required only need to have an international driving permit (IDP) for renting. But unfortunately, we got rejected due to my IDP driving class is only permitted for the car but not for motorcycles.
So we end up renting electrical bicycles to explore Udo Island. A sad story.
Udo Island Itinerary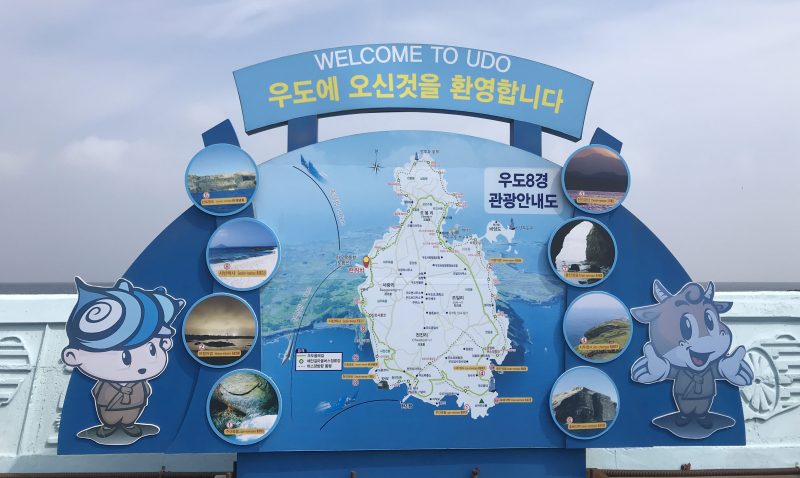 There are eight scenic wonders of Udo Island listed in Jeju Self-Governing province. But you may not need to bother it as few of them are located in some areas. Anyhow you will pass them if you are taking around the island journey.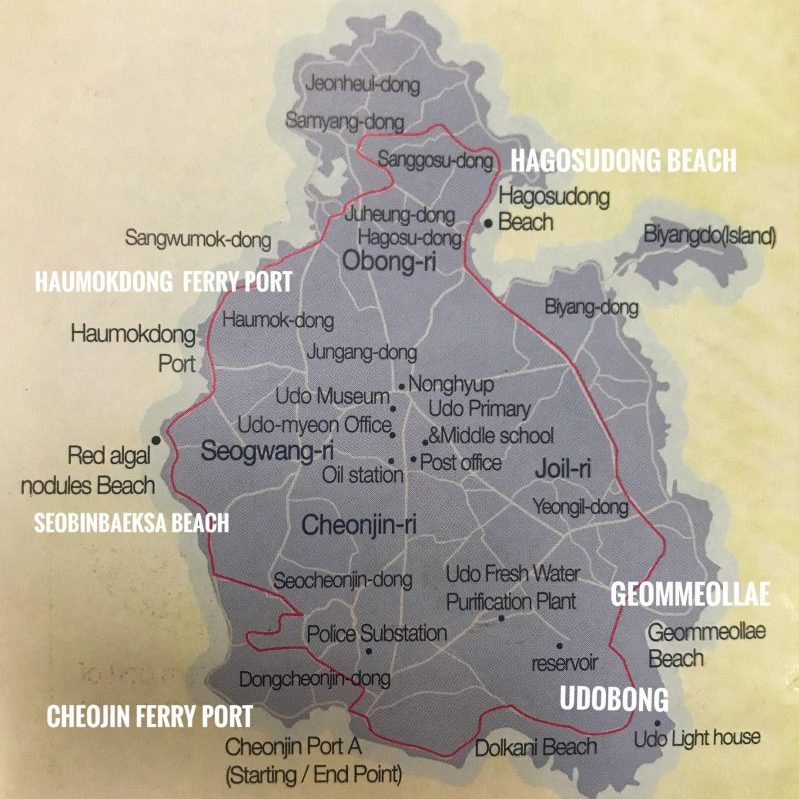 Depending on whether you arrive at Haumokdong port or Cheojin port. A day trip to Udo Island is a round island trip, whether you take a shuttle bus or self-exploring by bicycle, scooter, or electric car.
There are four major attractions of Udo Island that you hardly can miss when visiting Udo Island. The Hagosudong Beach (하고수동해변), Geommeolle Beach (검멀레해변), Udobong (우도봉), and Seobinbaeksa Beach(서빈백사), follow the clockwise direction starting from Haumokdong port. The hop-on and hop-off bus will stop at these four major attraction spots when touring around Udo Island.
Hagosudong Beach and Seobinbaeksa Beach is a good spots for you to tip your toes into the sea. However, Udobong and Geommeolle are the two spots that you hardly can miss.
Udo Island itinerary:
Do the round Udo Island trip (by shuttle bus, electrical car, bicycle, ATV, or walking)
Coastal walk at Geomeolle (Udo Island Must-Do)
Trek Up To Udobong Peak And Lighthouse
Enjoy Sand White Beaches at Hagosudong and Seobinbaeksa Beach
Eat the Udo Island Best Food (Hallasan Fried Rice, Udo Peanut Ice-cream, seafood ramen)
Coastal Walk At Geommeolle (검멀레해변)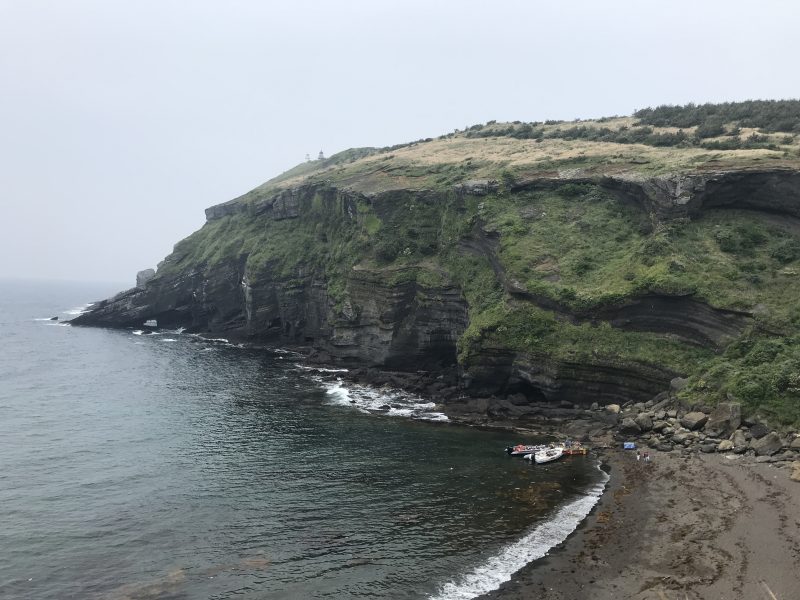 Probably the most happening area at Udo Island. Thanks to its outdoor cafe at the entrance, so you can treat yourself to its famous peanut ice cream.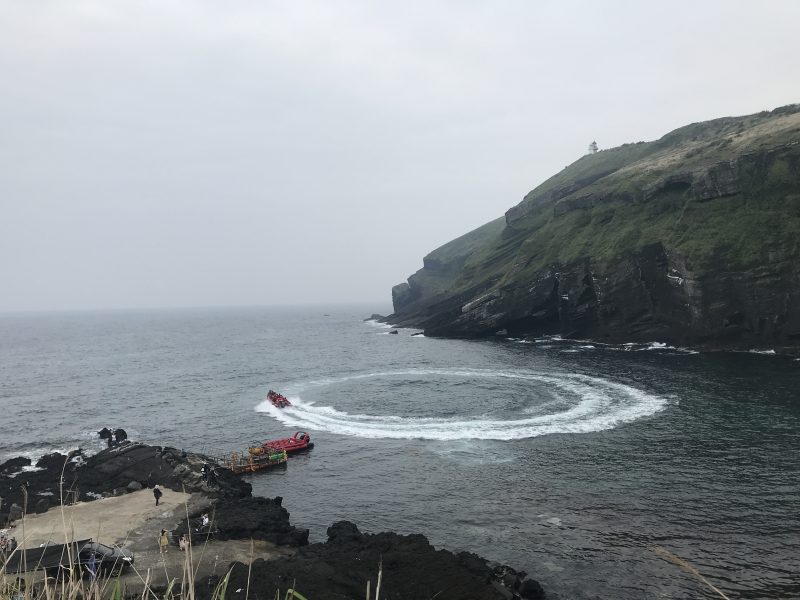 Geommeolle beach is a very small tiny 100-meter black sand beach under the cliff of Udobong which required to step down some stairs. There are black sand beaches with unusual rock formations and caves.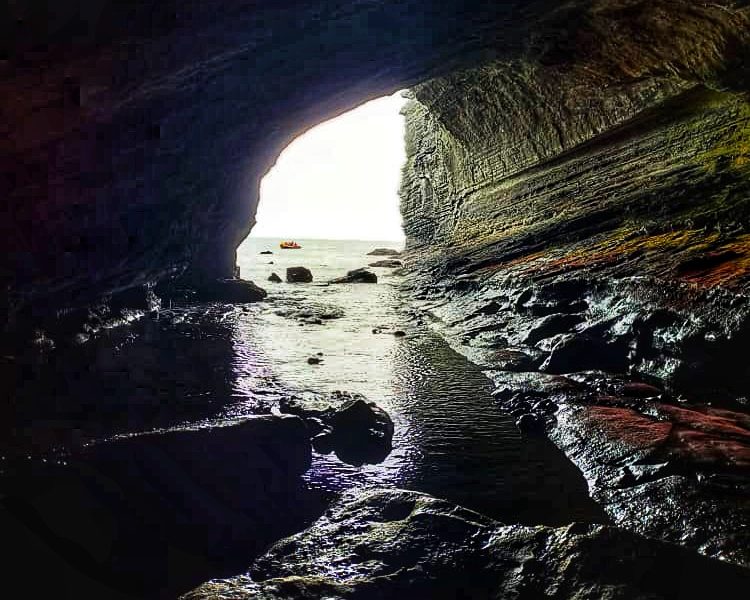 Those who want to take a closer look at Dongangyeonggul caves can walk down to the beach to take a look. There was a whale that once lived in and this is why the name comes.
You can catch a sightseeing boat ride at ₩10,000. Alternatively, enjoy walking along the coast to see the amazing cliff at Geommeolle beach, just like what we did.
Trek Up To Udobong (우도봉) Peak And Lighthouse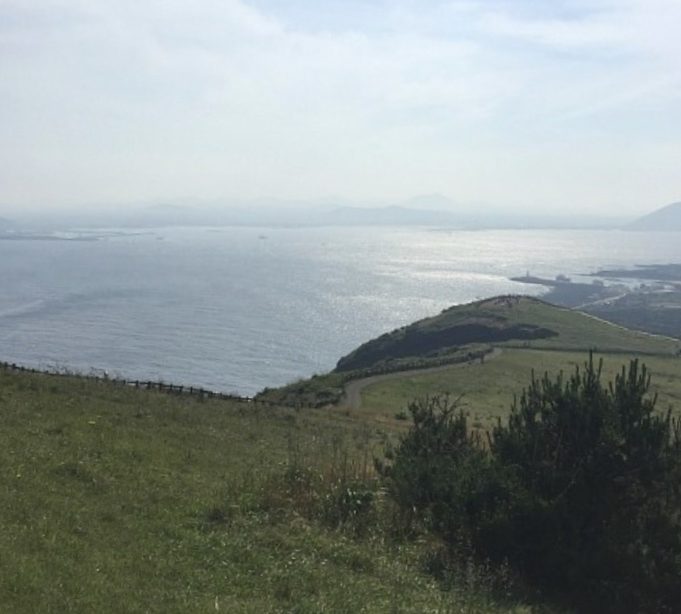 Udobong is the highest point on Udo island with the shape of a cow's head. Follow the walking path and there will be a lighthouse at the peak. And, the best view of the coast!
For those who are lazy to hike up, you can view the Udobong directly from Geommeolle.
Enjoy Sand White Beaches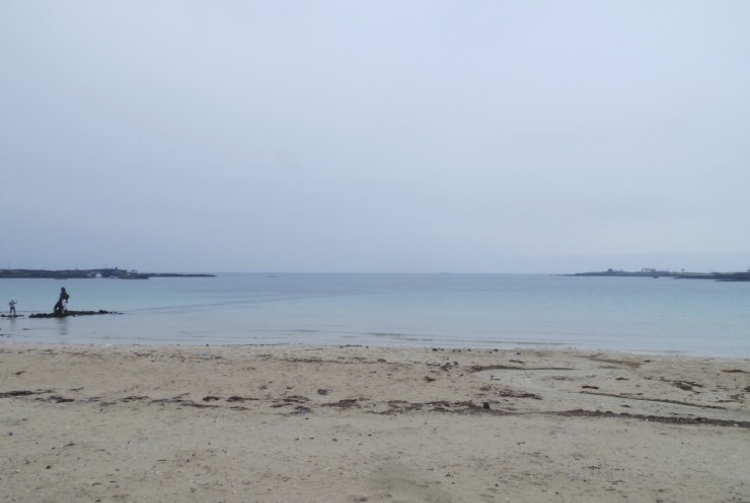 Two major beaches at Udo Island: Hagosudong Beach (하고수동해변) and Seobinbaeksa Beach(서빈백사) which face east and west respectively at Udo Island.
Walking along the sandy white beaches, dip your toes into the crystal blue seawater or you can even swim when the water is not so cold. During our visit, the water is not yet ready for swimming so most people are just taking photos of the sea view.
What To Eat At Udo Island?
We didn't plan for any restaurant during our day trip to Udo Island. But their Hallasan fried rice seems very tempting. However, we are still full when we are nearby the restaurant.
So we end up randomly picking a restaurant with a nice sea view to try on Korean seafood ramen.
Korea Seafood Ramen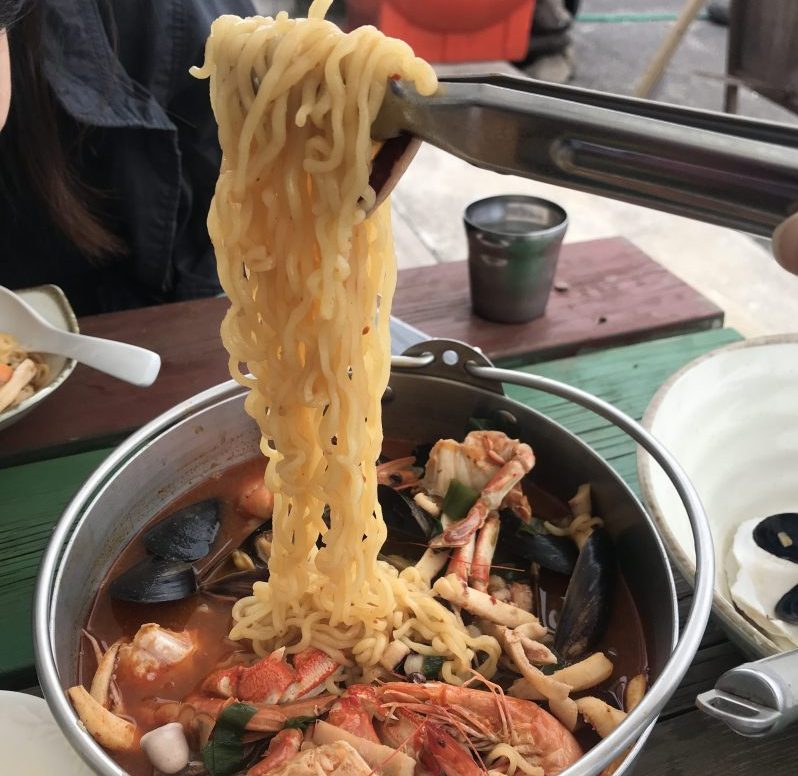 Most of all restaurants on Udo island served Korea Seafood ramen. The restaurant we went to is run by an ahjumma which served some traditional Jeju dishes. You can choose abalone porridge, seafood ramen, bibimbap, or fried rice.
We choose the Korean seafood ramen for 2 pax for our lunch. Side dishes are served as usual in Korean restaurants. Out of our expectations, the seafood ramen is served in a big cooking bowl floated with seafood. Prawn, shell, squid, octopus, scallop, and crab are cooked together with hot spicy soup noodles. It cost ₩20,000 for two people.
It's a pleasure to have noodles hot at the seaside.
Peanut Ice Cream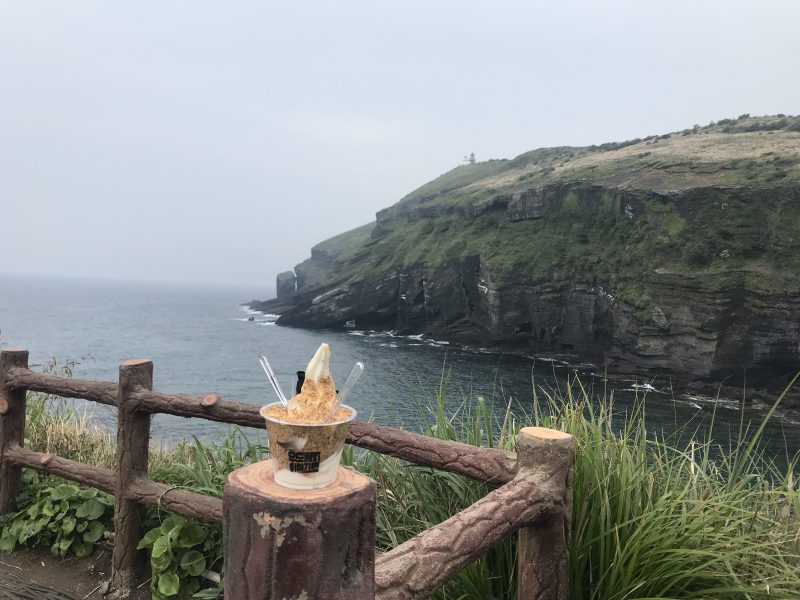 You need to try the peanut ice cream while you are on Udo Island. Mostly all cafes at Udo sells the same dessert in different cute decorations.
There is three main ice cream cafe at Geommeolle: Jimmy's (지미스), Dennis Cafe (대니스카페), and Udo Prince Story (우도왕자이야기). We just choose the Udo Prince Story which seems like the most famous at the Geommeolle. You can also find this cafe at Udobong.
The peanut ice cream is vanilla soft serve sprinkled with Udo locally grown peanut. Not that delicious but we enjoy our dessert with a nice view.
Day Trip At Udo Island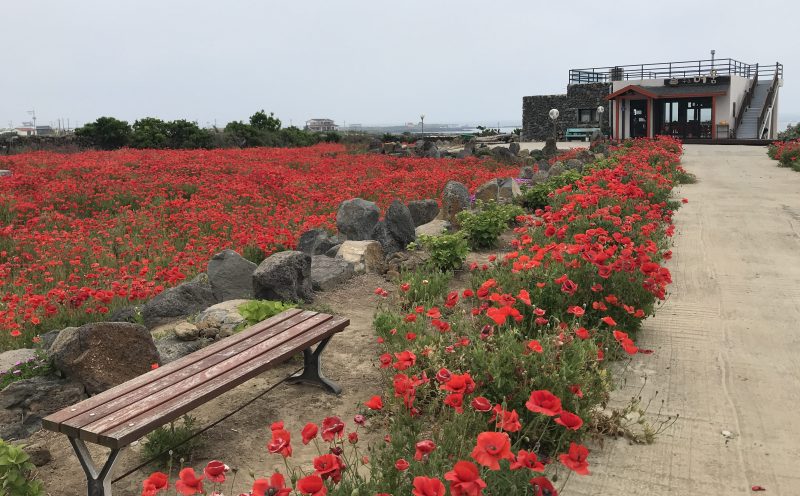 If you want to see Jeju in a day, go to Udo Island. Udo Island is like a miniature of Jeju Island with beautiful beaches, lava rocks and cliffs, and scenery along the coastal road. Sunshine will plan an important role on your Udo trip. Emerald sea can be seen around Udo Island during shinny days.
Renting an electrical bike is a good way to explore the peaceful Island. We do not have a TO-DO list in our minds. Just follow the round coast trail by electric bicycle and stop by any nice view or spot at your own pace.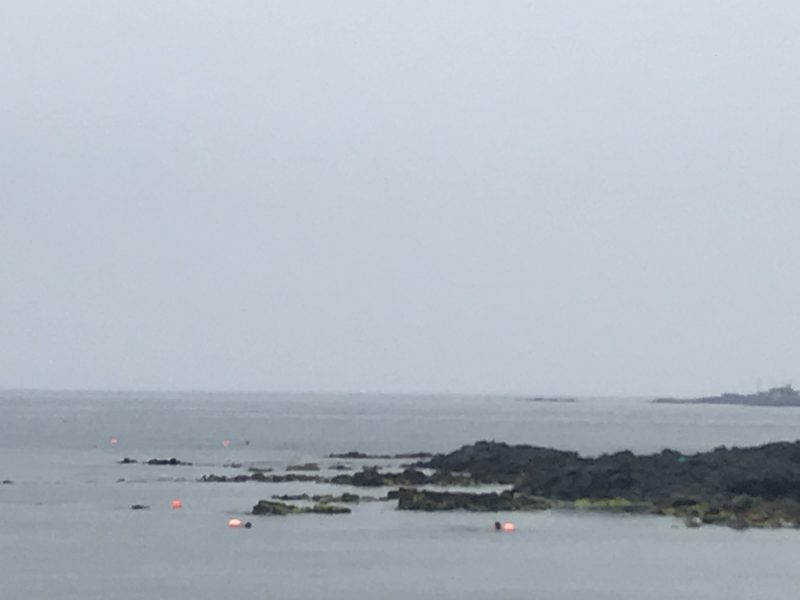 Along the coast, you can easily spot the Haenyeo, the women sea diver catching for local shellfish to earn their living. We went for a break at a cafe for peanut ice cream at Geommeolle and randomly choose a Korean noodles restaurant for lunch.
Spending a full day can be done to explore Udo Island at a slow pace. We end up spending about 4 hours completing the round Udo Island journey.
Where to Stay in Udo Island?
Accommodation at Udo Island is limited with few pensions if you want to spend a night on the peaceful calm Island. You may consider staying in Haru House in Udo and Udo White Castle Pension if choose to stay on Udo Island.
Considering that it takes over an hour to drive or two hours by bus to Udo Ferry Terminal, it is highly recommended that stay on the eastern coast of Jeju near Udo Island. It is also relatively cheaper for the accommodation on the east side mainly run by locals.
How we did to prepare for our Udo Island day trip is staying one night at B&Sun pension at Seongsan and coupled with the Seongsan Ilhulbong Sunrise Peak and Udo Island. We are heading back to Jeju city, our next destination after the wonderful day trip to Udo Island.
Need help on where to stay in Jeju? We listed some best hotels in Jeju in different areas, depending on your Jeju itinerary and transportation.
Accommodation guide: Where To Stay in Jeju
Ferry Ticket: ₩8,000 for two way
Parking Fee at Seongsan Port: ₩8,000
Korea GPS Tel No: 783-0533 (Seongsan Passenger Terminal Port)
Common Question: Can I use my Rental car to Udo Island?
One of the frequent questions on transportation arrangements to Udo Island. Can I board and bring my car rental from Jeju mainland to Udo island?
I am contacted by the Jeju Tourism Information Center to ask for confirmation. The answer is no car rental is allowed to carry to Udo island. However in some exceptional cases with proper documentation evidence.
Below are the exceptional cases to use a rental car on Udo island:
When you are accompanied by someone born before 1954. (ID card required)
When you are accompanied by a pregnant woman. (Diagnosis paper of pregnant)
A disabled person using a wheelchair.
When you are accompanied by a child of the age of 6. (Family relation certificate, copy of resident registration, or medical insurance card)
Booked accommodation in Udo in advance. (Information on the booking confirmation)
Note: Reply from Jeju Tourism Information Center.
So this is good news if you are planning to go to Udo island with a family with kids and the elderly. However, the road condition on Udo island is quite narrow with a single lane. Additionally, many visitors are driving scooters, bicycles, and electric cars. So be extra careful when driving on Udo Island.
Side note, you will need to pay an onboarding fee on passengers and cars to use the rental car to Udo island. The boarding fee for cars varies depending on car cc.
I hope this helps to plan your Udo island itinerary. Happy travel!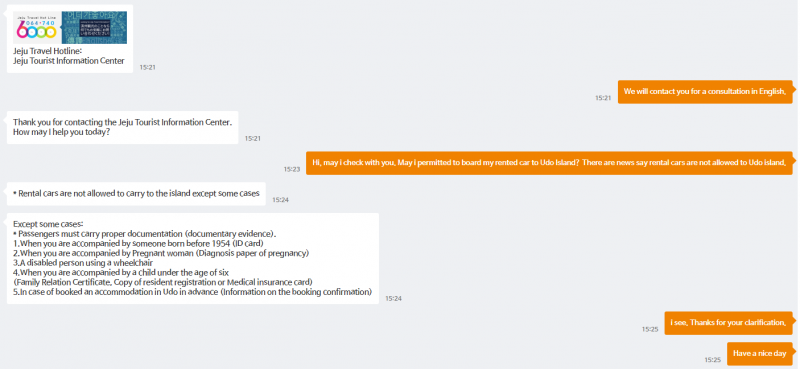 Jeju Island Road Trip
During our 6 days road trip, we enjoy our time exploring Jeju Island by self-driving. Our rental car is rented from AJ Rent-A-Car through RentalCar.com with the cheapest price guarantee. It is a very leisure and relaxing trip at our own pace. Read on if you need some ideas on how to plan your Jeju road trip.
Top Things To Do in Jeju For Your Wonderful Jeju Road Trip
Overall our Jeju road trip journey is listed as below: