Last updated on September 23rd, 2023
My Jeju south coast itinerary is the most coastal scenery with the amazing natural landscape at Jeju Island. It is very easy to access from Jeju city ( Jeju-si) and well-connected to Mt Hallasan, from attractions at the west and east coastline.
Seogwipo is the second major city on Jeju Island after Jeju city. Many travelers are based at Seogwipo for their Jeju south coastline traveling journey.
We choose to visit the wonderful Jeju island by self-driving. It is highly recommended to explore the hidden natural beauty at our own pace. Consider renting a car at Jeju island through RentalCars.com to compare various reliable car rental companies to guarantee for the best price.
Places To Visit At Seogwipo, South Coast Jeju
The amazing natural landscapes and waterfalls are listed in the must-go Jeju south coast itinerary which nearby Seogwipo city.
Gifted by heaven for the three famous waterfalls: Jeongbang Falls (정방폭포), Cheonjiyeon Falls (천지연 폭포), Cheonjeyeon Falls (천제연 폭포). Don't forget to visit one or maybe three of them.
Daepo Jusangjeolli Cliff (중문 대포 주상절리대) is an impressive volcanic rock formation with various shapes like pillars, cubes, or hexagons from cooling lava by the seaside. Head to the Jungmun Beach (중문·색달 해변) for the sandy white beaches after the cliff visit.
Theme museums, cafes, and galleries are mainly located in the Seogwipo area. Give a visit to the Teddy Bear Museum (테디베어 박물관) and Seokbujak Museum (석부작 박물관) together with family with kids. Enjoy a cup of coffee at Seoyeon's House (서연의 집) or Cafe MayB 카페 메이비 after the visit to Lee Jung Seop Gallery (이중섭 미술관) at his named street.
Day 3: Jeju South Coast Road Trip Itinerary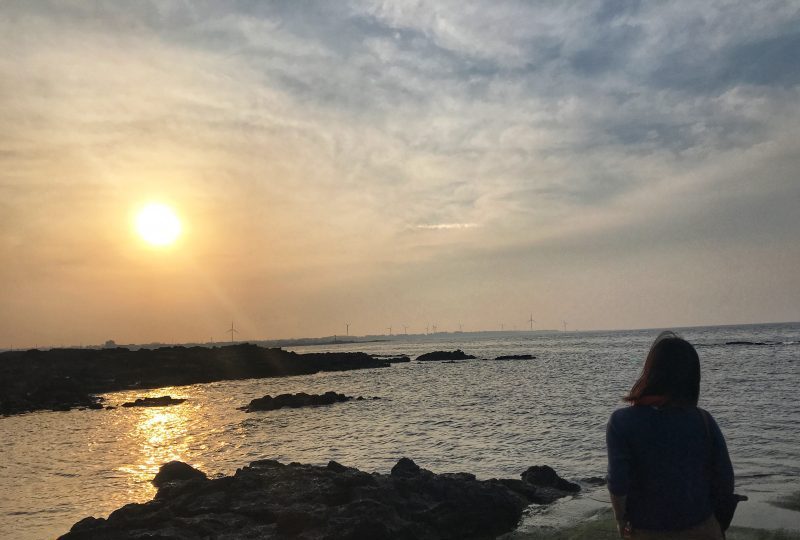 We stay at Seogwipo for one night to visit their famous waterfall and lava cliff after the west coastline journey. We both agree that one night seems like not enough. It is not about the major tourist attraction but to explore the natural beauty of the southern coastline.
We enjoy our walking journey at Jeju Olle trail 6, the most beautiful walking trail at Jeju during sunset and sunrise. We can't complete the trial journey due to time constraints. It's so much to see, eat and play at Jeju Island.
Jeju Southern Coastline Road Trip Itinerary (Seogwipo):
Wake up early for the sunrise at the lava beach in front of the pension
Jeongbang Waterfall
Daepo Jusangjeolli Cliff
Seogwipo Maeil Olle Market for lunch
Enjoy a cup of coffee at the sea view cafe
Seopjikoji
Dinner at Myeongjin Jeonbok for an Abalone feast
Jeongbang Waterfall (정방폭포)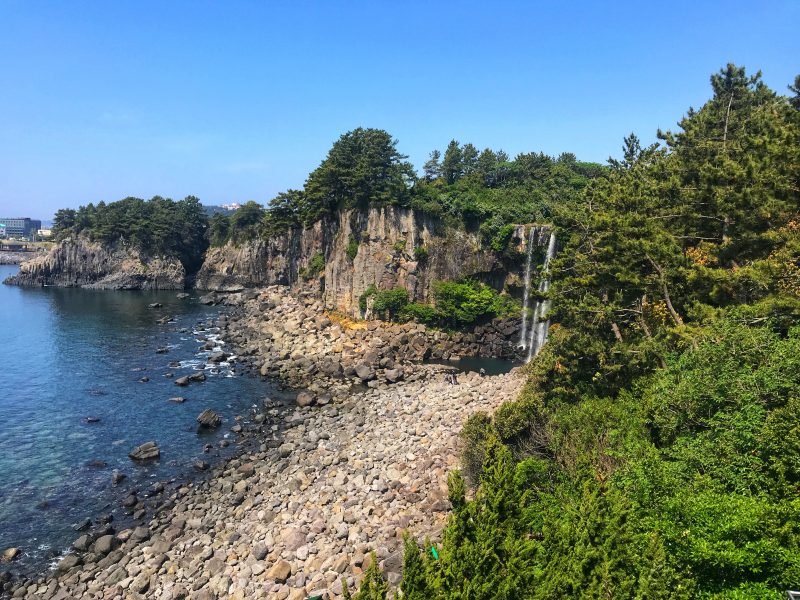 One of the famous waterfalls at Seogwipo, Jeongbang Waterfall is the only waterfall in Asia that falls directly into the ocean. Its height is about 23 meters and situated on a cliff by the sea.
Jeongbang Waterfall is located nearby Jeju Aurum pension less than 5 minutes drive. You will need to go down a hundred downhill stairs and big slippery rock for a closer look. The opportunity of viewing closer at Jeongbang waterfall is the reason we choose it among all the three falls.
Sit down at the rocky stone to enjoy the sound of the waterfall flowing. The journey took us less than 1 hour.
Address: 37 Chilsimni-ro214beon-gil, Donghong-dong, Seogwipo, Jeju-do, South Korea
Opening Hours: Daily 9 a.m to 7 p.m (Last admission 6 p.m)
Admission: ₩2,000
Korea GPS Tel No: 733-1530
Daepo Jusangjeolli Cliff (중문 대포 주상절리대)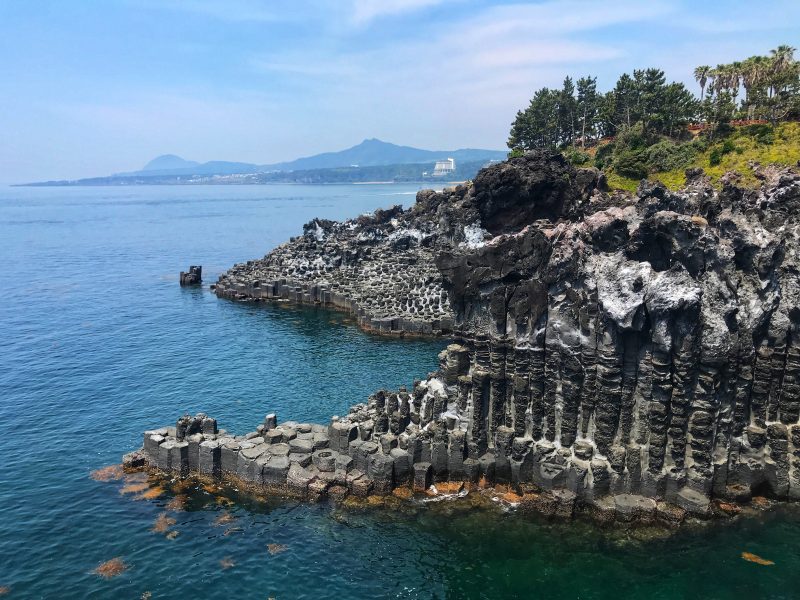 Geography lovers, don't miss this!
We continue our Jeju road trip and headed to our next destination, Daepo Jusangjeolli Cliff in the Jungmun area. Again, Daepo Jusangjeolli Cliff is the cliff formation when the lava from Mt. Hallasan erupted into the sea of Jungmun.
Take the wooden stairs which lead you along with the cliff line. The sudden contraction of molten lava due to the cooling effect of water formed it into various shapes of volcanic rock at pillars, cubes, or hexagons piled up along the coast. It is even more breathtaking when the waves of the high tide crash into the side of the cliff.
Address: 36-30, Ieodo-ro, Seogwipo-si, Jeju-do
Opening Hours: Daily 9 a.m to 7 p.m (Last admission 6 p.m)
Admission: ₩2,000
Parking fee: ₩2,000
Korea GPS Tel No: 738-1521
Seogwipo Maeil Olle Market
(서귀포매일 올레시장)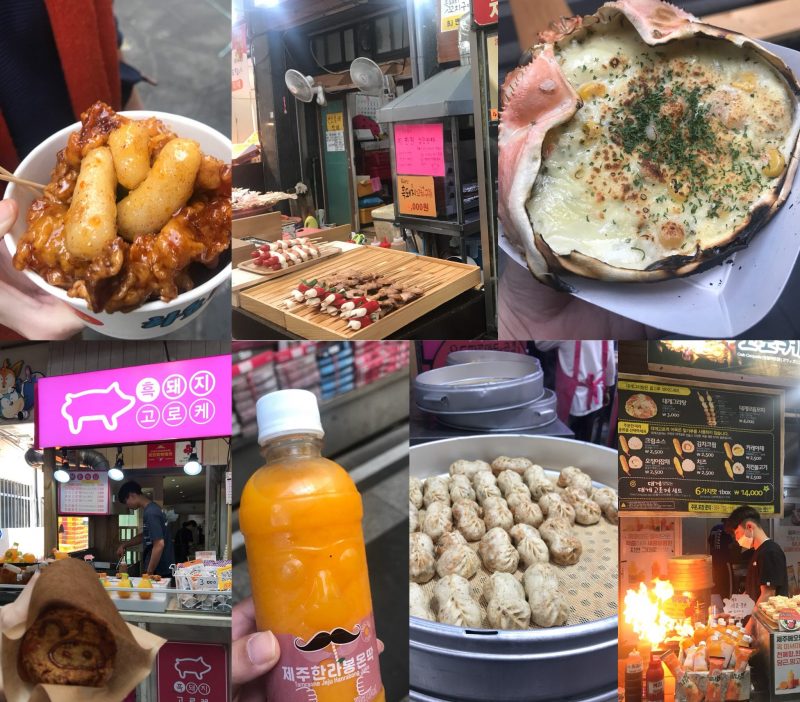 Another traditional market on Jeju Island. We take this opportunity to eat "non-restaurant" food when we are in Seogwipo. Compare with Dongmun market, Seogwipo Maeil Olle Market is much smaller, and less tourism with many locals are coming here.
The goods sold at all Jeju markets keep on repeated as fresh produce, meats, kimchi, seafood, souvenirs, and so on. The good thing about Seogwipo Maeil Olle Market is the lined seats along the middle of the market provide seating locations for customers to enjoy their food.
We bought a lot of street food like black pork and crab croquettes, and fried chick.
Address: 18 Jungang-ro 62beon-gil, Seogwi-dong, Seogwipo-si, Jeju-do, South Korea
Opening Hours: Daily 7 a.m to 9 p.m
Parking fee: free for street parking. Multi-story parking behind the market at
₩500
Korea GPS Tel No: 762-1949
Enjoy A Cup of Coffee At Sea view Cafe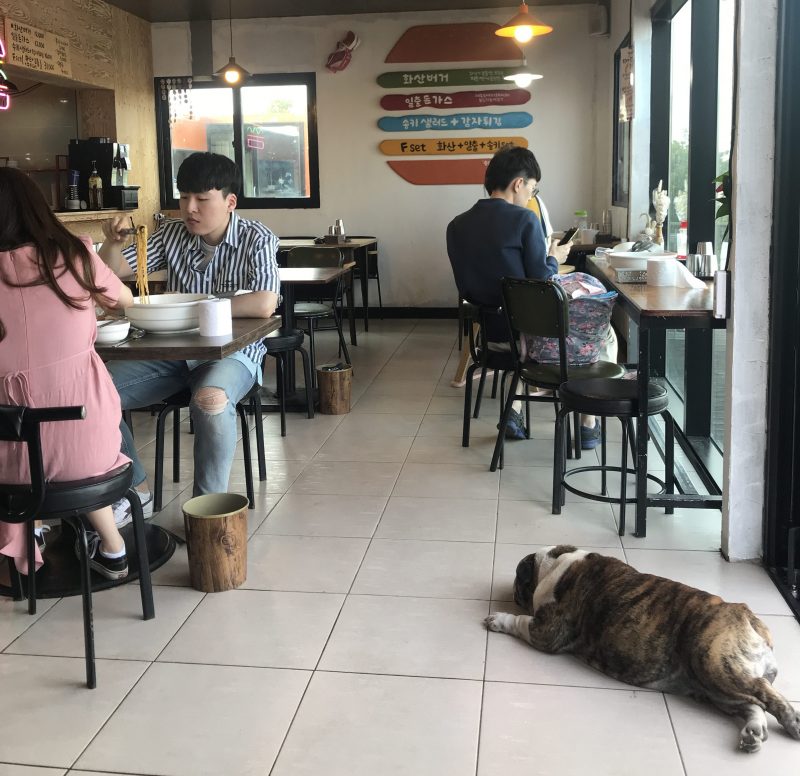 We finish the visit at the southern coastline and continue heading to the east coast of Jeju Island. We first check in to the B&Sun pension with sea view at Seongsan, an ahjumma managed local Korean pension.
There are few cafes nearby our pension and we just simply choose either one of them. Sometimes this is the fun part of the road trip, right?
Molmanong cafe is located just right at the junction before entering our pension. It serves food like cheese-flooded burgers, chicken, and pork chops with fries. You can also order the Korean seafood ramen to try on their food.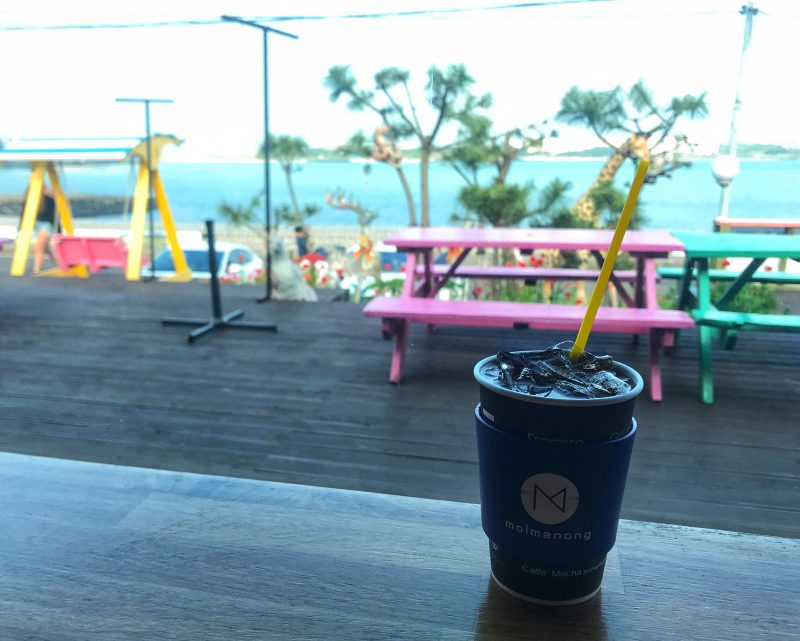 We took the window seat and order a cup of ice coffee. The cafe is not crowded and only a few tables by Korean couples come for their burger. Their food looks very tempting but we managed to hold it for the planned dinner.
Such a relaxing visit! See how the dog enjoys its day.
Myeongjin Jeonbok 명진전복 Abalone Restaurant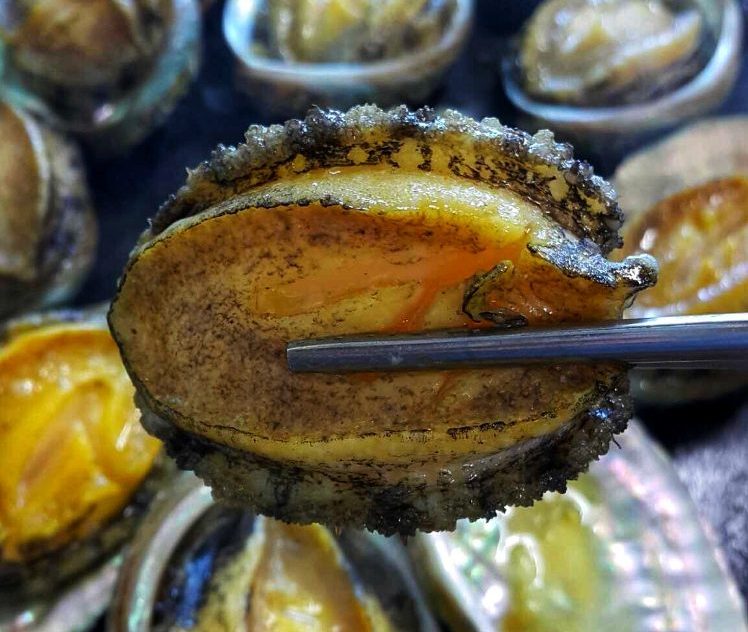 We end our day 3 Jeju south coast itinerary with a fresh abalone feast at Myeongjin Jeonbok. Myeongjin Jeonbok probably is the most well-known eatery to serve fresh abalone dishes not only to locals but also to tourists. It is located in the upper of eastern Jeju and we took about 30 minutes from our pension.
Only four types of signature abalone dishes are served at Myeongjin Jeonbok and you won't go wrong for any of it! We order three out of four dishes at Myeongjin Jeonbok and thumb up to all.
See Our Jeju Abalone Feast At Myeongjin Jeonbok. It is definitely worth the visit!
Address: 1282 Haemajihaean-ro, Gujwa-eup, Cheju, Jeju-do, South Korea
Opening Hours: 9.30 a.m to 9.30 p.m. Closed on Tuesday
Korea GPS Tel No: 782-9944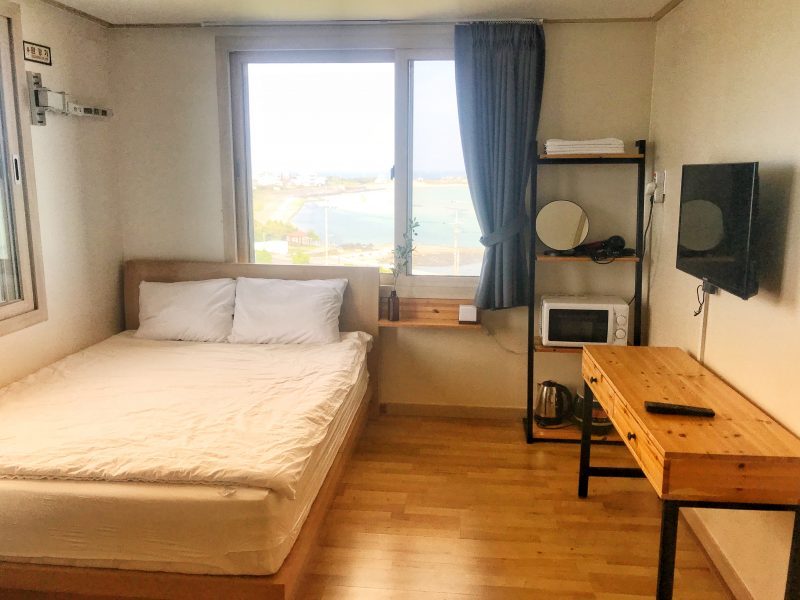 The stay of our third day in Jeju south coast itinerary decided at B&Sun pension at Seongsan. It is a five-storied sea view pension managed by an ahjumma. Ahjumma cannot speak English well, but she provided us with the hotel guide which covers everything during our check-in.
The interior of the room is new, clean, and spacious with an ocean view facing. We went up to the roof with the ultimate sea view with a cup of coffee after our morning hike at Sunrise Peak, Seongsan Ilchulbong.
The location is ideal with 5 minutes drive to Seongsan Ilchulbong and Udo Ferry Harbor. We loved our stay at this calm and peaceful pension on the east coast of Jeju.
Don't stay at the hotel, choose an ocean view pension. Find a cafe and do nothing but the sea!
Alternatively, consider staying at Co-op City Hotel Seongsan, Hotel Aroha about 5 to 10 minutes' driving distance to Seongsan Ilchulbong.
Address: 929-7, Hwanhaejangseong-ro, Seongsan-eup, Seogwipo, Jeju Island
Korea GPS Tel No: 782-7794 (Cannot find by Car GPS, use KakaoMap instead )
Limited rooms are available. Check the room availability now!
Planning On Jeju South Coast Itinerary?
From south to east Jeju, the total driving journey took us about 100km including the return journey for dinner. Thanks to the convenience of driving at Jeju island, we have more flexibility to arrange our Jeju south coast itinerary free and easily.
The famous eatery Myeongjin Jeonbok Restaurant ranked number one in our Jeju food hunt but it is not so easy to reach by public transport.
Just pick a few interested tourists who visited attractions like Jeongbang Waterfall and Daepo Jusangjeolli Cliff. I personally enjoyed the morning and evening walks at the beaches. Buy a cup of coffee and listening to sea waves will be more enjoyable.
Ultimate 6 Day Jeju Road Trip Itinerary
Read more on 6 days 5 nights Jeju itinerary with the best things to do and great food to eat for your wonderful road trip.