Last updated on September 23rd, 2023
Seongsan Ilchulbong, also known as 'Sunrise Peak' is a UNESCO World Heritage site and one of the most famous geographical features on Jeju Island's eastern edge. My Seongsan Ilchulbong itinerary included.
Famous for its magnificent view especially during the sunrise, Seongsan Ilchulbong is a tuff cone crater that was formed when the volcano erupted under the ocean about thousand years ago.
We hike up to Sunrise peak Seongsan Ilchubong as part of the east coastline itinerary. Besides, this attraction is always best to couple with a day trip to Udo Island as both attractions are located nearby. We rented our car from AJ Rent-A-Car through RentalCar.com. It is the budget Avis in Jeju with English is spoken staff supported. Most importantly, the best price after comparing various cars in a similar range. It greatly helps us from getting around for our Jeju road trip.
Read more on our Seongsan Ilchubong travel blog with a guide and itinerary included for my sunrise hiking journey.
Jeju Must Visit Attraction?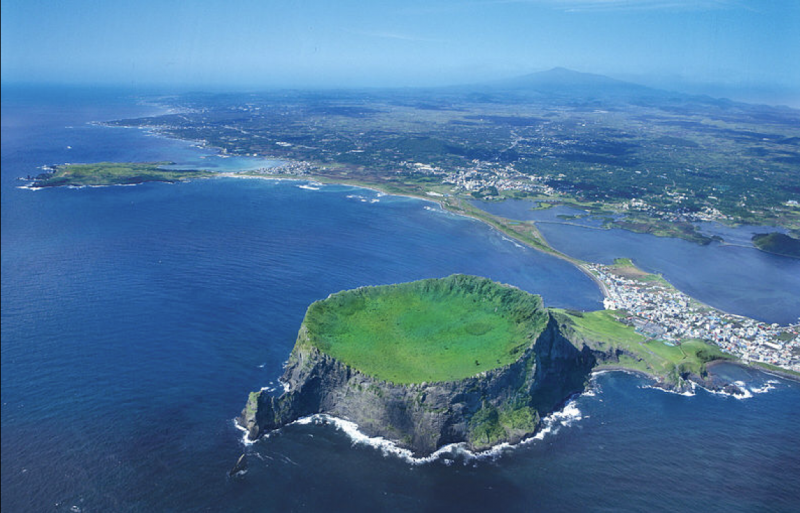 See the Wikipedia picture from the top view.
If you are asking what is the MUST visit among all the Jeju attractions, Seongsan Ilchulbong is my answer. Don't miss your visit to one of the New Seven Wonder Of Natural in the World!
Seongsan Ilchulbong rose from under the sea in a volcanic eruption over 100,000 years ago. This geographical is very rate and from afar. From the top view, the cater looks like a gigantic crown.
Best Time To Visit Seongsan Ilchulbong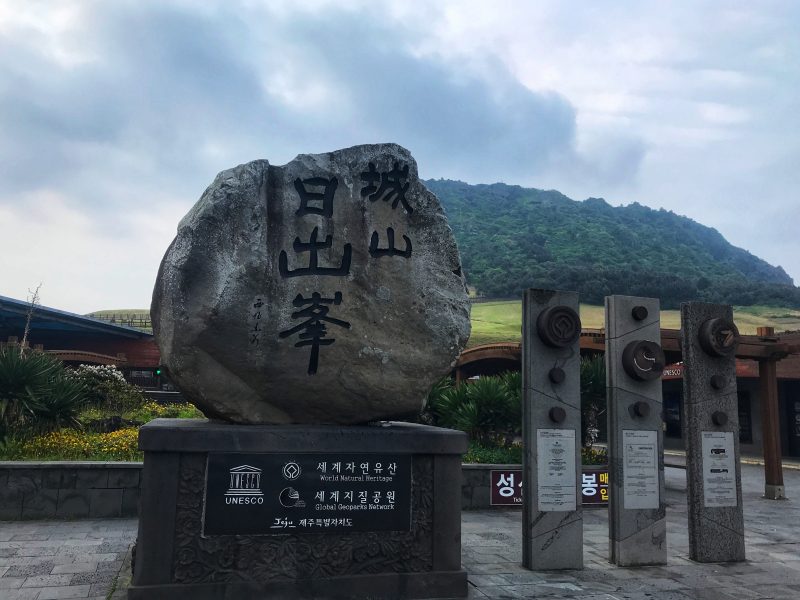 The best time to view the magnificent Seongsan Ilchulbong is during sunrise, hence nicknamed "Sunrise Peak".
Check the sunrise time if you are planning for it and be prepared for an almost 30 minutes hike to reach the top depending on your fitness. Many locals run motels and pensions are located within five to 10 minutes of walking distance.
No worry about hiking in the dark as most are well-managed walking paths and stairs. prepare a headlight or open flash from your phone if you think it is needed. There are lots of people are hiking up to a peak like you!
If you are not interested in the sunrise, please try to visit Seongsan Ilchulbong as earlier as you can. Visitors and tourist buses are coming all the way to witness its beauty in the afternoon and evening.
Seongsan Ilchulbong Itinerary
Originally we did not plan for the sunrise for our 6 days Jeju road trip. But my travel mate pursued me since we are here. So, why not?
With this sudden change, we have to wake up early morning before 5 a.m to catch the sunrise. This is the fun part of the free and easy road trip, right?
Hike Up To Seongsan Ilchulbong For SunRise
From our accommodation stay, B&Sun Pension, it took about 8 minutes to drive to Seongsan Iichulbong. It is safe for driving on Jeju Island even in the early morning. The direction of the road is clear and you will pass by some narrow streets when you almost arrive. We reached and parked our car at the entrance within a 10 minutes ride from the pension.
Seongsan Ilchulbong Before The Dawn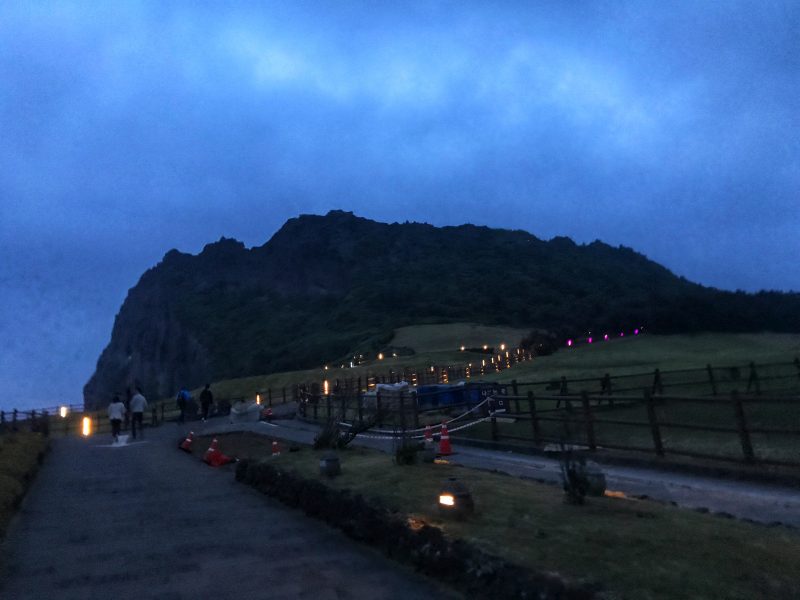 The gate of the Seongsan Ilchulbong will be open one hour before sunrise. But nobody was there, so we proceed with our hike to the peak.
It is not so tough to climb up the hill in the beginning. The pathway is well maintained and lit as the day starts breaking. So it is not so dark as we thought. And there are also people hiking up together with you in the early morning.
Stairs, Stairs And More Stairs!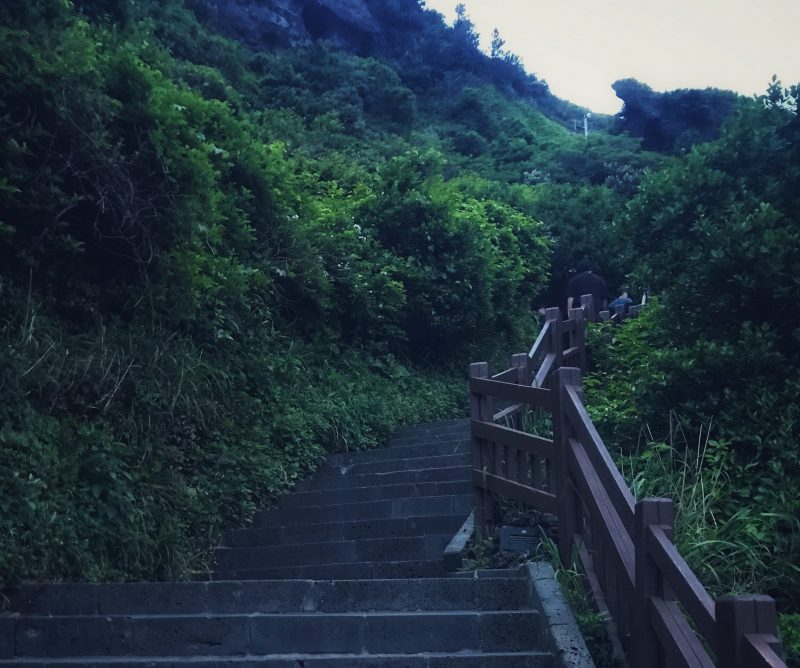 Don't forget to bring along your jacket as the wind is quite strong in the morning. However, we still sweating due to the rushing to reach the peak.
Rest points with benches are available along the walkway if you need some rest. We manage to conquer a series of stairways and pass through the few viewing platforms.
The last checkpoint before reaching the peak is the fight of stairs that required a steep climb up. Go ahead and you are almost reaching a peak!
Waiting For Sunrise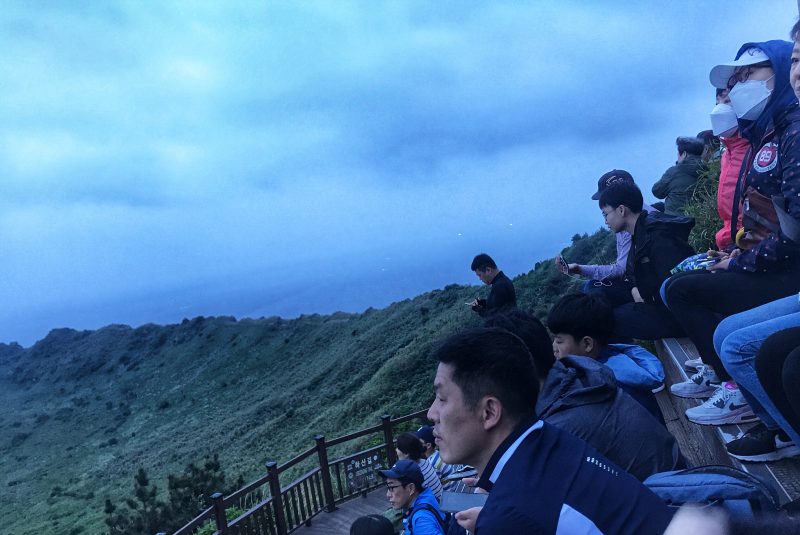 It took us about 20 minutes to the peak. There are quite a number of people waiting and staring out at the sky when we are reached.
We took a seat with a nice viewing point and wait for the sun to peek over the horizon.
View At The Peak Of Seongsan Ilchulbong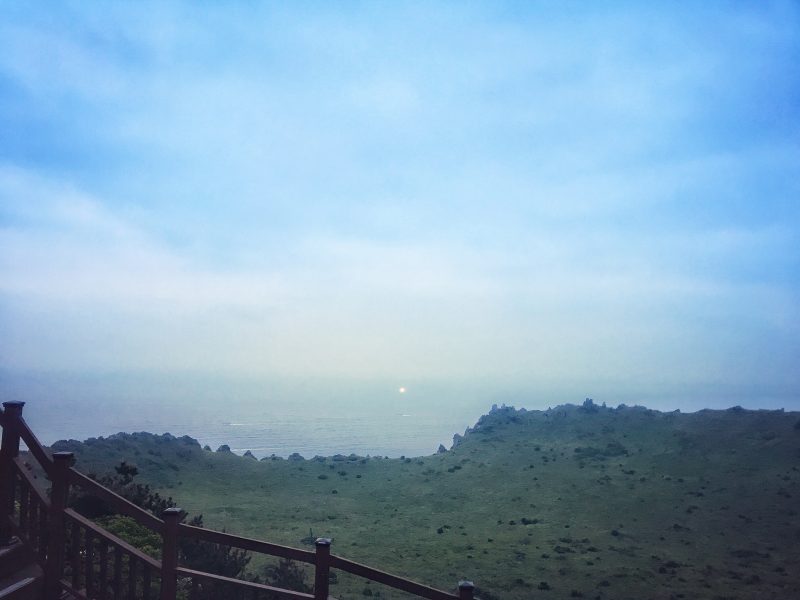 We are unluckily due to the cloudy day. The colorful sunrise with tri-colored does not occur during our visit. Else, the view of Seongsan Ilchulbong when the sun is slowly ascended with yellow shining is also very breathtaking.
We are viewing the end of the tuff cone with green at the flourishing crater. Don't forget to take the panoramic views of the Seongsan town from the peak. After taking a few photos, we were ready to be off.
Going Down From The Peak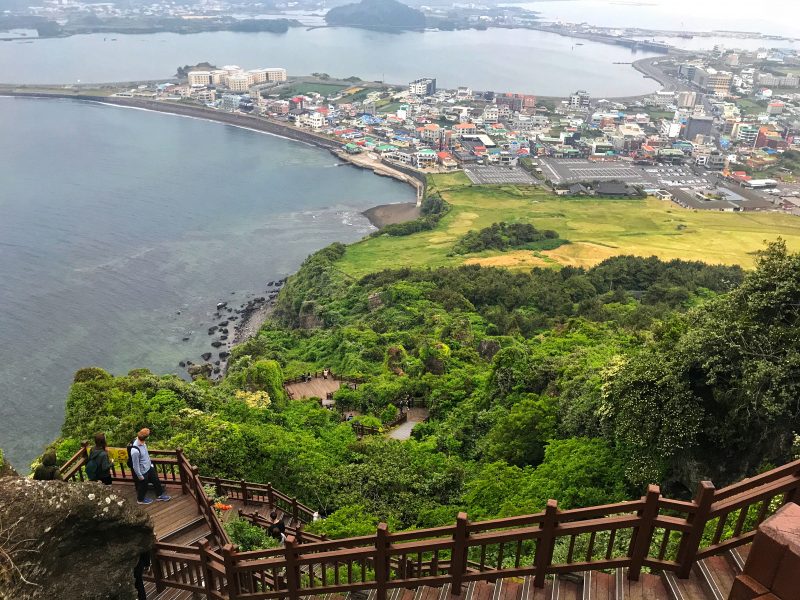 Going down is much easier with established pathways and a well-built staircase.
It took us about 20 minutes for going down due to keeping on shooting photos of the nice view.
The Coast Of Seongsan Ilchulbong
We found the view at the coast of Seongsan Ilchulbong is much nicer!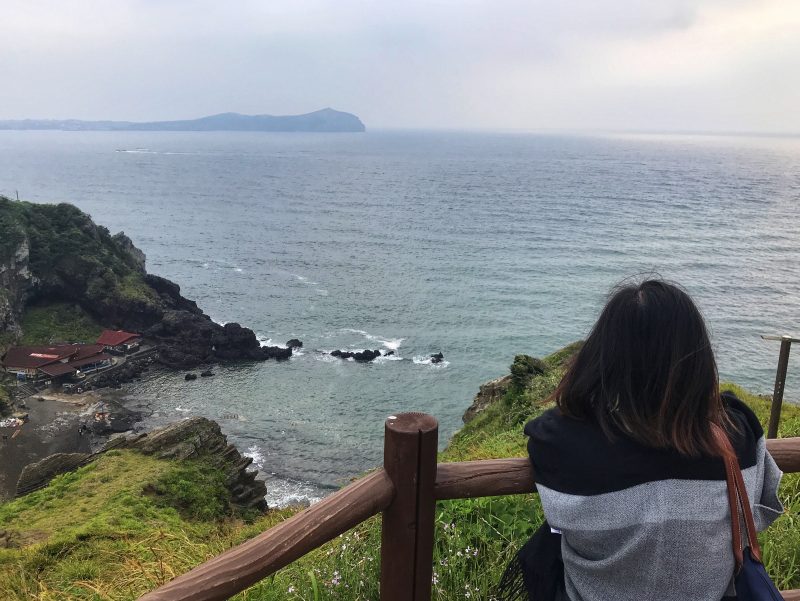 Haonyeo Performance At Seongsan Ilchulbong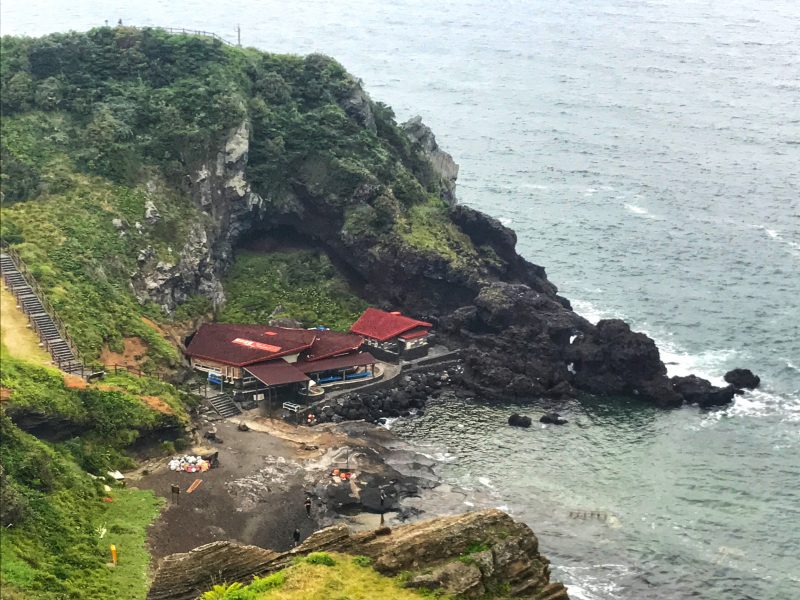 At the left end of the Seongsan Ilchulbong, there are Jeju Woman divers and Haonyeo performances for free.
If you are lucky to watch the Haonyeo performance at 1.30 p.m and 3 p.m. You may also buy the raw seafood freshly caught by the Haonyeo.
Breakfast At Seongsan Ilchulbong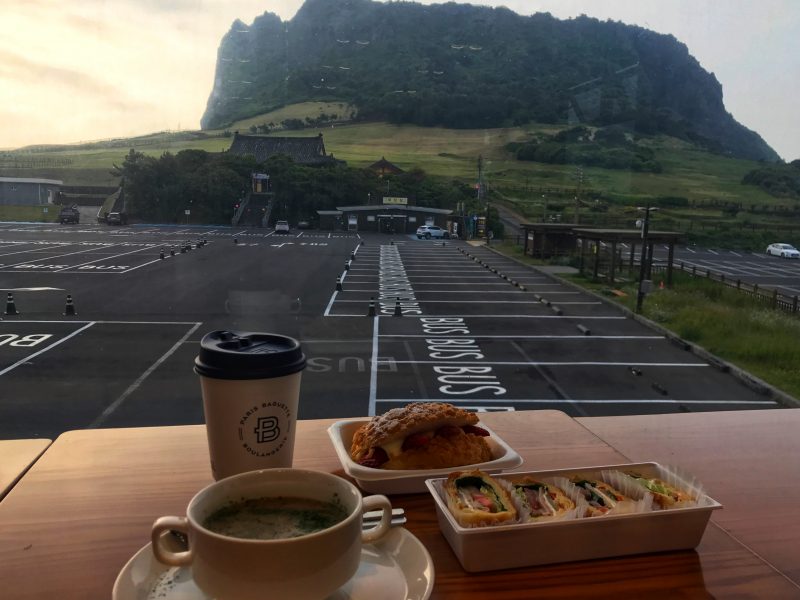 Our sunrise hike at Seongsan Ilchulbong itinerary ended with a nice breakfast at Paris Baguette. This Korean chain cafe is just located right in front of the Seongsan Ilchulbong which you hardly miss.
Nice coffee with sandwiches in front of Seongsan Ilchulbong is a good start for our fourth day of Jeju self-driving road trip.
How To Go To Seongsan Ilchulbong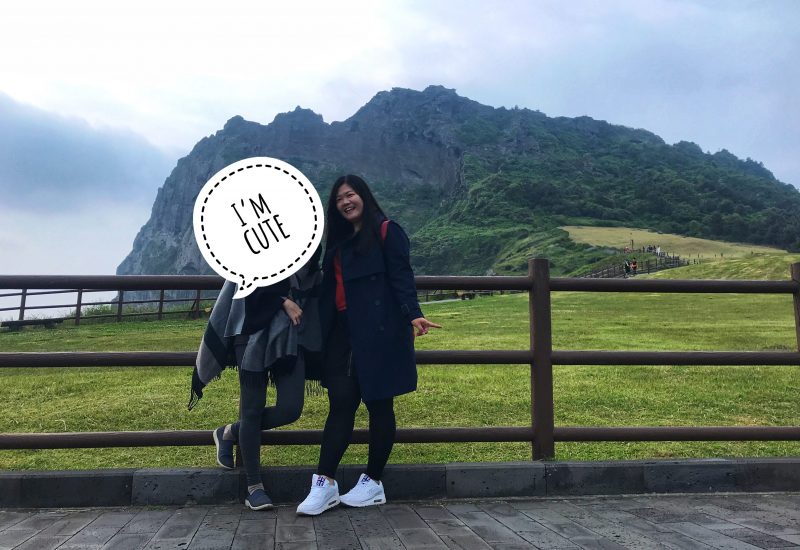 From Jeju City or Seogwipo, it required almost an hour driving journey to reach Seongsan Ilchulbong. So we highly recommended self-driving for your Jeju holiday. We rented a car through RentalCars.com, and rented it through AJ Rent A Car Company. Most importantly, the best price guarantee with English staff supported.
Besides, it is also best to stay nearby Seongsan, especially if you are planning for the sunrise. We choose to stay at B&Sun Pension and have a good sleep before the hike. B&Sun pension is a budget stay run by the Korean ahjumma family. It is located near Seopjikoji beach and still easily reaches Seongsan Ilchulbong within 10 minutes drive.
You may also look for the pensions run by locals within walking distance to the Soengsan Ilchulbong. Alternative, Co-op City Hotel Seongsan, and Hotel Aroha are great options located nearby Seongsan Ilchulbong. Easy access with less than 10 minutes drive to the entrance.
Alternatively, check for Jeju Eastern Discovery Local Tour run every Tues, Thurs, and Sat from Jeju City, or Seogwipo with good arrangements for your trip.
Address: 284-12, Ilchul-ro, Seongsan-eup, Seogwipo-si, Jeju-do , South Korea
Opening Hours: April-October 07:00-20:00 and November-March 07:30-19:00

Gate opens one hour earlier before sunrise

Admission: ₩2,000
Korea GPS Tel No: 733-1530
My Jeju Road Trip Itinerary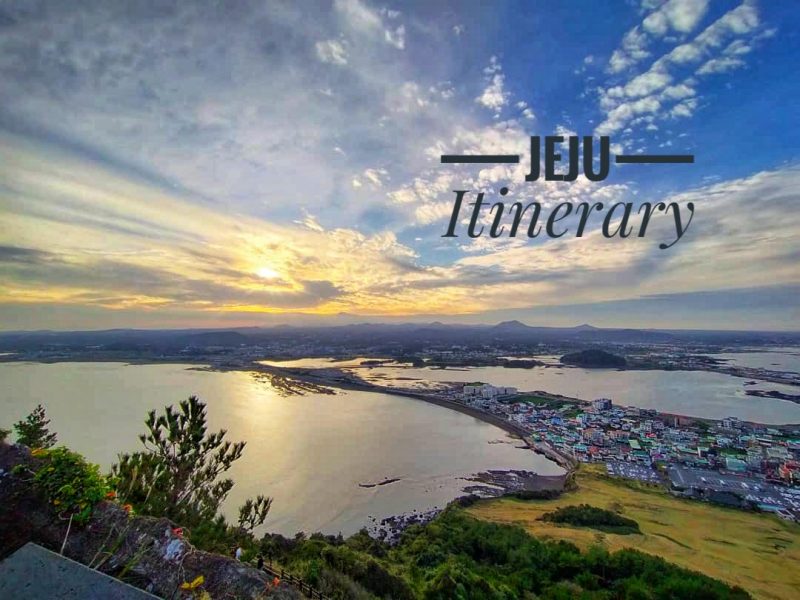 Looking for help planning your Jeju itinerary? Here is some ideas of the best things to do in Jeju for your wonderful Jeju holiday.