Last updated on December 11th, 2023
If you're looking for where to stay in Taipei while visiting this beautiful Taiwanese city, we've got you covered! We will provide you with the best places or hotels to sleep in Taipei.
Taipei is a perfect travel destination for spending a few days exploring all the delicious foods and wonderful sights. There are so many different areas and districts in the city, that choosing the best one for you will definitely be a big challenge.
Fortunately, Taipei is a fairly compact city, and the public transportation system is excellent. So no matter where you decide to stay you should be able to get around the rest of the city fairly easily. The MRT is so convenient that it almost doesn't matter where you stay.
There were also many nice hostels in Taipei, guesthouses or minshu. This MUST-read accommodation guide will cover off where to stay in Taipei, Taiwan.
Editor Tip: Where to Stay in Taipei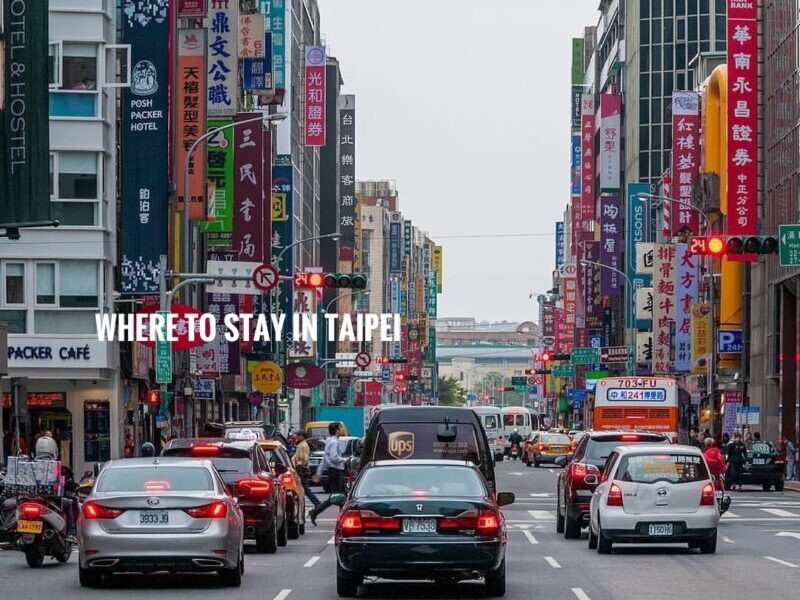 There are 12 Taipei districts, namely Songshan, Xinyi, Daan, Zhongshan, Zhongzheng, Datong, Wanhua, Wenshan, Nangang, Neihu, Shilin, and Beitou. Among all, we have selected the 6 best districts to stay in Taipei that are relevant and interesting for travelers, especially for those visiting the city for the first time.
Here are the popular places where to stay in Taipei:
Ximending (WanHua): Perfect place to stay in Taipei for first-time visitors. Packed with a night market, shopping area, and food.
ZhongZhen District: The city's central and close to Taipei Main Station. Best place to stay in Taipei if your itinerary has a lot of day trip options.
Xinyi District: A modern financial district with upscale shopping malls and lots of great restaurants. Close to Taipei 101. The most luxurious area to stay in is Taipei.
Datong District: The best area to stay in Taipei for budget travelers. You'll find cheaper and more spacious accommodation in Datong.
ZhongShan District: Zhongsan District is best suited for laid-back travelers looking for a more traditional vibe. 
Daan District: Best place to stay in Taipei for families. Countless of the best eateries and hipster cafes at Daan area.
Taipei Accommodation Tips: We recommend booking your favorite hotel as soon as you find it. Popular hotels and cheaper room options are running out fast. You will need to look for more expensive options.
To make your trip to Taiwan more convenient and affordable, it may be better to stay in one accommodation for all nights. They have a remarkable train and bus system anyway, so returning to your accommodation shouldn't be a huge problem.
Ximending (Wanhua)
Ximending in Wanhua District is the best place to stay for first-time visitors to Taipei. It is a fun neighborhood and always buzzing with activity no matter what time of day it is. It's especially fun at nights on weekends when young Taiwanese flock to the area to party. The atmosphere is lively.
There are lots to see and do if you choose to stay at Ximending. A mere 15-minute walk from trendy Ximending are some of Taipei's most popular cultural attractions, like Longshan Temple and Bopiliao Historical Block. It is also very convenient to get around in Taipei city with public transport well-connected. The Taipei Main Station is just one station away!
Best Hotels in Ximending (Wanhua)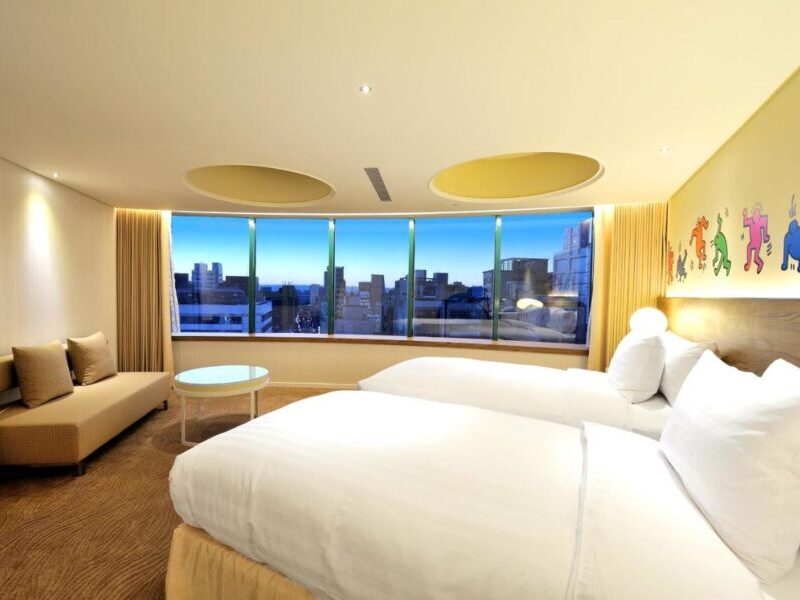 High-Range:
Green World Hotel (Zhonghua) – A popular choice among travelers when looking for where to stay in Taipei. The hotel is located at Ximending, with 5-minute walk from Taipei Railway Station.
Just Sleep Ximending – Conveniently located with a short 2-minute walk from MRT Ximen Station and Ximending Shopping Area. So getting out and about is pretty easy from here.
Hotel Midtown Richardson – A simple and sleek room located right next to MRT Ximen Station. It provides you with all the amenities during your stay. Walking distance to Taipei's famous shopping street!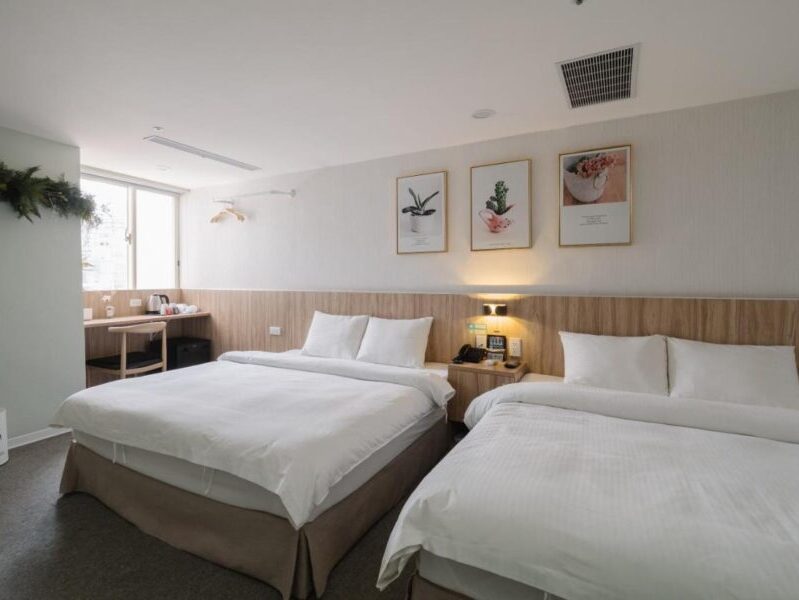 Mid-Range:
Hotel Attic is a great mid-range hotel in the best neighborhood in Ximending. The property is very cozy and has inviting vibes. It is located a 3-minute walk from MRT Ximen Station and 5 5-minute walk to Red House Ximending.
Muzik Hotel (Ximen Station Branch) is a nice and clean 3-star hotel in Taipei with reasonable price tag! You will only be a few minutes away from Ximen MRT Station and Ximending marketplace, where guests can enjoy shopping.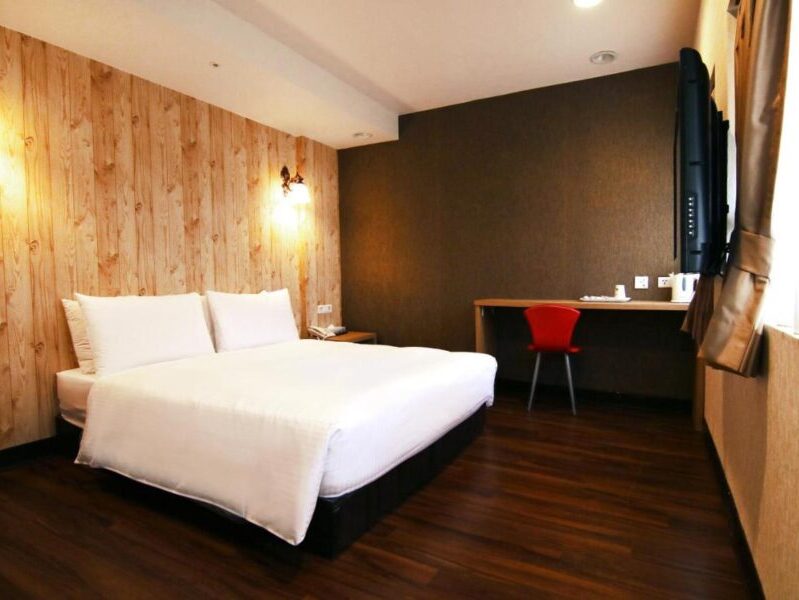 Budget Hotel / Hostel:
LIHO Hotel Hankou – Here's another excellent budget-friendly accommodation if you're looking to be in XImending. Simple rooms and conveniently located with only a 2-minute walk from MRT Ximen Station. It's truly one of the best hotels in one of the best neighborhoods out there and I recommend you get a reservation.
Fun Inn Taipei Hostel – This is a great budget accommodation in the Ximending, Taipei. The hostel is located only a 5-minute walk from MRT Beimen Station. It offers simple and affordable accommodations with free WiFi access. Dormitories for 4 to 12 people and female dormitories are offered.
Zhongzhen District
Another best place to stay in Taipei is Zhongzhen District. This area is the center of Taipei city. You will be in the middle of the action at all times and within walking distance of all the important attractions. Besides, Taipei Main Station is also located at Zhongzhen. You can plan your day trips or go outside of Taipei which is very convenient.
There are many accommodation options to choose from in Zhongzhen District Taipei. You can find luxurious 5-star hotels hostels and guesthouses for budget travelers. If you feel like this is the right area for your stay, here are the best hotels we have selected for you:
Best Hotel in Zhongzhen District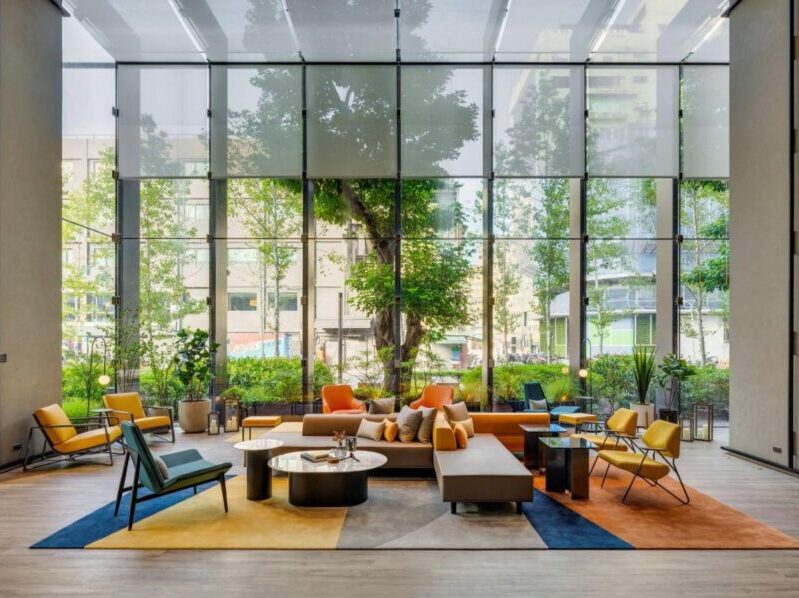 High-Range:
Hotel Resonance Taipei, Tapestry Collection by Hilton is a gorgeous hotel in Taipei. The room design is simple and modern, the furniture arrangement is made to make the room become more spacious. I'm sure you will love all the great facilities this hotel has to offer!
Cesar Park Hotel Taipei is located directly opposite Taipei Main Station which links to Taipei Metro, Taiwan High Speed Rail, Taoyuan Airport MRT, and Bus Terminal. The room size is impressive and clean. The staff is very friendly and helpful. Everything is excellent.
Mid-Range:
Via Hotel Taipei Station – This sleek and minimalist 3-star hotel is located in the heart of the neighborhood. It is close to all the interesting attractions you might want to visit and a 10-minute walk from Taipei Main Station. It's definitely great for two travelers.
Finders Hotel – In case you're still looking for your perfect middle-priced hotel located in Zhongzhen District, this one's for you. It is within a 5-minute walk of shopping options at Ximending and a 10-minute walk to Taipei's main station. The rooms are spacious and comfortable. Complementary snacks and playground which is great for family travelers.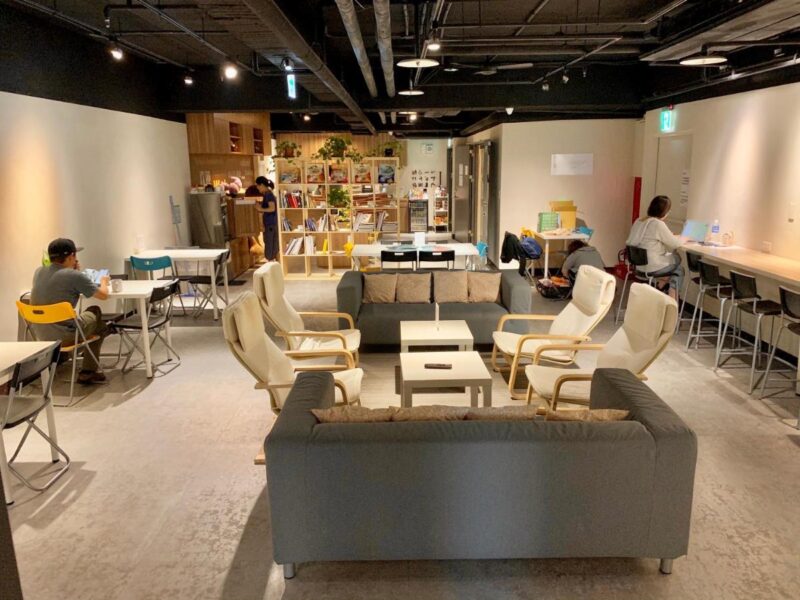 Where to stay in Taipei on a budget:
Cavemen Hostel Taipei Station Youth Branch – Here's one of the best places to stay for low rates! Very close proximity to the train and bus stations, shopping establishments, and restaurants. The hostel is clean and modern.
miniinn – If you're looking for a budget dorm near the main station, this is it! It is very convenient just a few steps to Taipei's main station. Affordable, friendly staff, and a nice communal area.
Xinyi District
Xinyi District is the most cosmopolitan and wealthiest district of Taipei. This is the best area to stay in Taipei if you are looking for a luxury hotel in Taipei. You will be surrounded by some of the most modern buildings, boutique shops, shopping malls, and plenty of Taipei nightlife spots.
The city's most iconic landmark, Taipei 101 – the tallest skyscraper in the country is located in Xinyi.
Where to stay in Xinyi District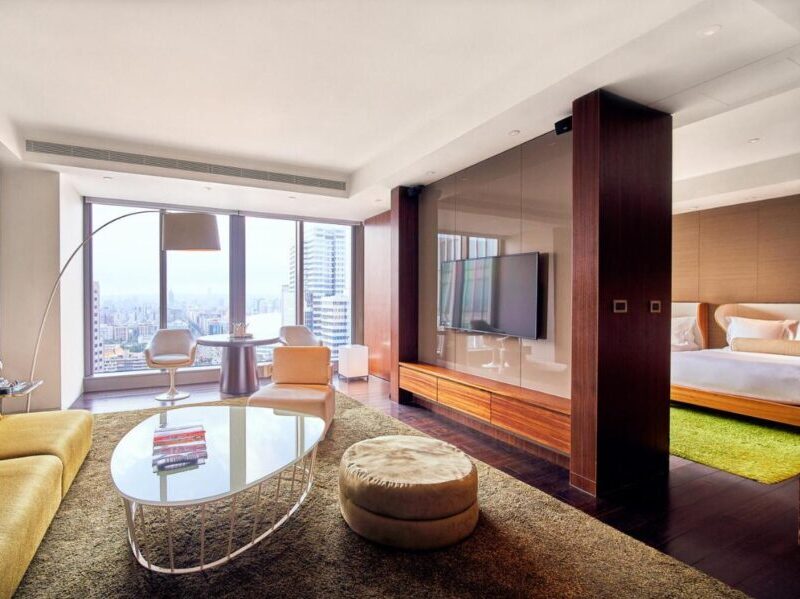 Best Luxury hotels in Taipei:
Grand Hyatt Taipei, is one of the top luxury hotels in Taipei. The hotel offers a wide range of amenities for a comfortable stay. It is located right next to the world-famous landmark Taipei 101 with a connecting bridge, and directly adjacent to Taipei World Trade Center and Taipei International Convention Center.
W Taipei – An amazing 5-star luxury hotel located in the Xinyi district, perfect for an upscale stay in Taiwan! I'm sure you will appreciate the amazing rooms with artistic and chic decor and the stunning views of Taipei 101!
Shangri-La's Far Eastern Plaza Hotel is one of the city's most popular luxury hotels. Located in the heart of the bustling Xinyi district, this five-star hotel offers guests a luxurious and indulgent stay. It features all the amenities you would expect from a luxury establishment including a rooftop outdoor swimming pool with panoramic Taipei city
High-Range:
The Tango Hotel Taipei XinYi is one of the best high-mid-priced hotels where you can stay in this area of Xinyi. This hotel is located right in the heart of the neighborhood and a 4-minute walk from City Hall MRT Station. The rooms are simply gorgeous and I'm sure you will love all the great facilities this hotel has to offer!
Pacific Business Hotel is the perfect choice for travelers looking for a slightly affordable Taipei hotel in Xinyi. You can expect spotless rooms, comfy beds, and a great breakfast spread when staying in the Pacific Business Hotel.
Datong District
Datong is located right near Zhongzheng. It isn't as exciting as Ximending or as close to tourist attractions as Zhonzheng or Xinyi. However, you'll encounter fewer tourists at Datong here. Notable attractions in Datong District include the Museum of Contemporary Art (MOCA), Confucius Temple, beautiful Dihua Street, and the local's favorite Ningxia Night Market at Datong.
If you're wondering where to stay in Taipei on a budget, Datong is a great option.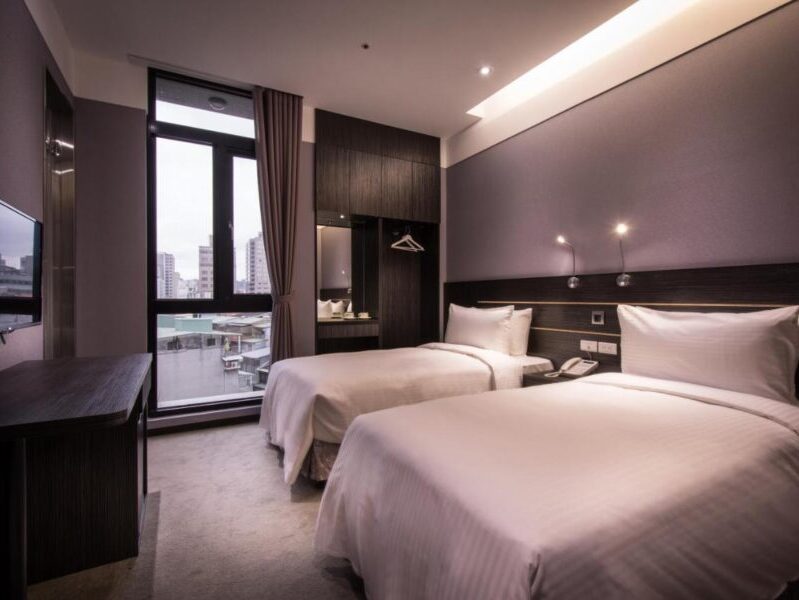 High-Range:
City Suites Nanxi offers clean and well-decorated rooms for guests to stay in Datng District. The location is superb, within walking distance to NingXia night Market, and DiHua shopping street. A short walk to the Airport MRT station and Beimen station.
Mid-Range:
Yi Su Hotel-Taipei Ningxia – Just a few steps from Ningxia Night Market, Yi Su Hotel-Taipei Ningxia offers clean and modern guest rooms in Datong District. Many eateries nearby. The price is reasonable and great value for the money.
Queens Hotel – The property is clean and near Taipei's main station and Ningxia night market. It's very accessible and near restaurants and convenience stores. Another great choice for where to stay in Taipei.
Zhongsan District
Zhongsan District is best suited for laid-back travelers looking for a more traditional vibe. It is one of the city's classiest districts, filled with a wide range of museums, upscale galleries, and designer brand stores. Zhongshan has a good selection of accommodation options catering to all budgets.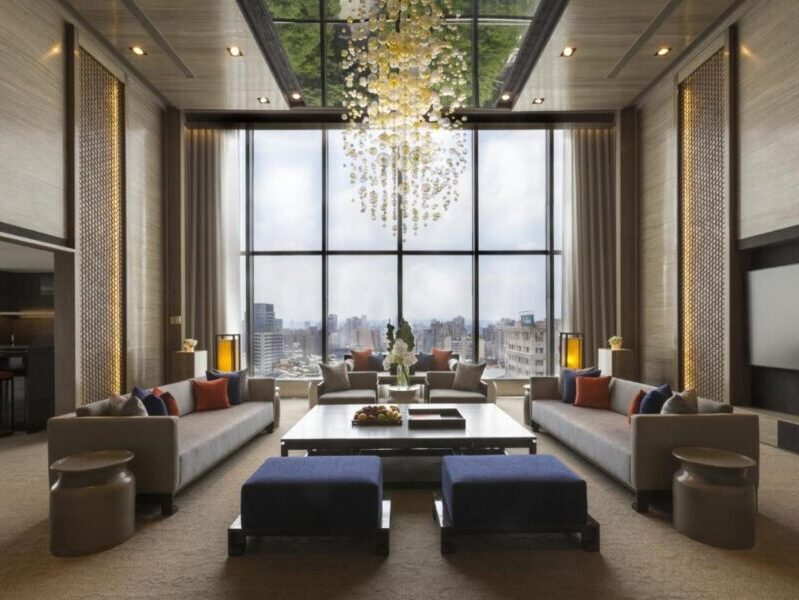 High-Range Hotel in Zhongshan District:
Regent Taipei is another example of the best place to stay in the Zhongshan District if you're looking for a spoiled vacation. The modern building with an elegant interior design, featuring comfortable guestrooms and suites with chic decor.
Mid-Range:
Royal Inn Taipei Nanxi is conveniently located in the heart of Taipei's commercial district. It is just a 1-minute walk from Zhongshan MRT Station and Mitsukoshi Department Store. The hotel offers spacious and well-appointed rooms with a flat-screen TV, bathtub, and free internet access.
Ambience Hotel Taipei – This accommodation has superb rooms, perfect for a good night's sleep. It is near many metro line options and very easy to get around in the city. The room is comfortable and the staff is super friendly and helpful.
Daan District
Daan District is one of the most popular neighborhoods to stay in Taipei for family travelers. This is mostly due to the fact that Da'an is very nice and quiet but still has a lot of eateries around. There are countless of the best eateries and hipster cafes at Daan. You can just hop to Da'an MRT Station and visit the downtown area.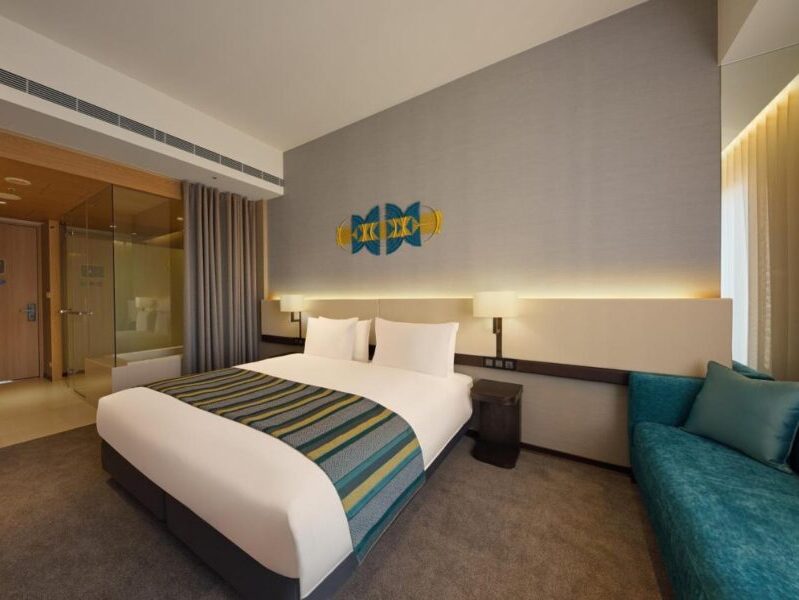 High-Range:
MGH Mitsui Garden Hotel Taipei Zhongxiao is one of the popular accommodations for where to stay in Taipei. It is the Japanese concept with free access to the public bath that overlooks the city. Excellent location especially with the metro only steps away from the hotel. The staff are professional and courteous.
Taipei Fullerton Hotel is a gorgeous 4-star hotel perfect for travelers looking for an upscale stay at affordable rates. It is strategically located in the Daan district and less than 5 minute walk from Da'an Station. There are many shops and eateries a short walk away.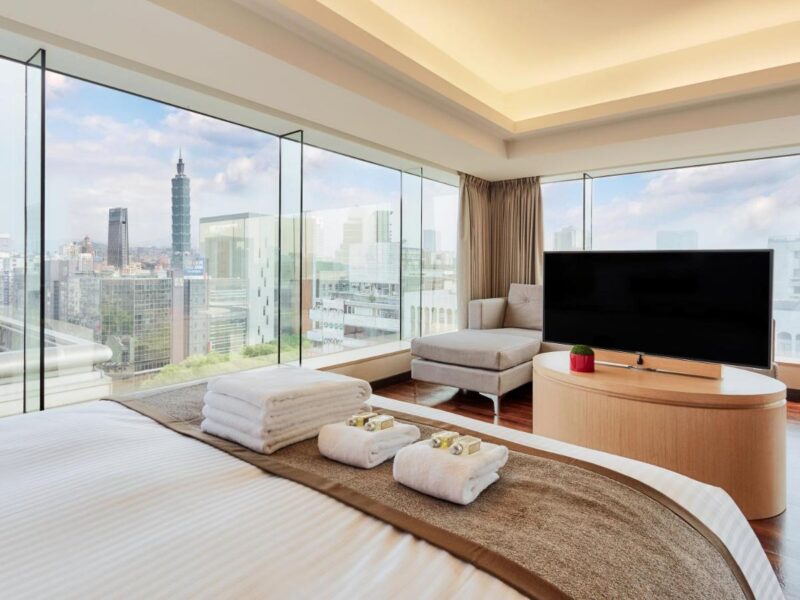 Mid-Range:
Eastin Taipei Hotel – This is a 3-star hotel in the Daan district, perfect for those wondering where to stay in Taipei for a great value! Clean, modern, and comfortable. It is located in the center of the city with many shops and eateries nearby. It is conveniently 4-minute walk from the Zhongxiao Fuxing MRT station.
Hej Hotel – This cozy 3-star hotel offers surprisingly affordable rates without sacrificing style and comfort. The hotel is clean and cozy stay in Taipei. The entire facility is impeccably clean and the staff is extremely help. The location was just a few feet from the MRT which is very convenient.
Overall: Best Place to Stay in Taipei
That's it! This is my complete guide for Taipei accommodations that fit every taste and pocket! I hope you are able to find your place to sleep when visiting the city. Whether it is your first time or you have been to Taiwan a few times, you must know where to stay in Taipei when you are done touring for the day. Choosing the ideal place to sleep is an important first step in planning your trip.
If you need help planning your itinerary in one of the most wonderful cities in Taiwan, I recommend you check out my posts below so you will have a better idea of all the activities that you can do in the city!